Cadillac CT4-V Blackwing
The Cadillac CT4-V Blackwing was first seen in a teaser aired during the Rolex 24 At Daytona endurance race, and was officially unveiled on February 1st, 2021. The range-topping model is set to enter the market during the summer of 2021 as a 2022 model year vehicle.
Cadillac CT4-V Blackwing Quick Facts

| | |
| --- | --- |
| Model years: | 2022 – Present |
| Assembly Location: | Lansing Grand River Plant, Michigan, USA |
| Layout: | Front-Engined, Longitudinal |
| Engine: | Twin-turbocharged 3.6L V-6 LF4 |
| Horsepower: | 472 |
| Torque: | 445 |
| Transmission: | 6-Speed Manual, GM Hydra-Matic 10-Speed Auto" |
| Driven Wheels: | Rear-Wheel |
| Confirmed Availability: | U.S.A. |
| Predecessor: | – |
| Successor: | – |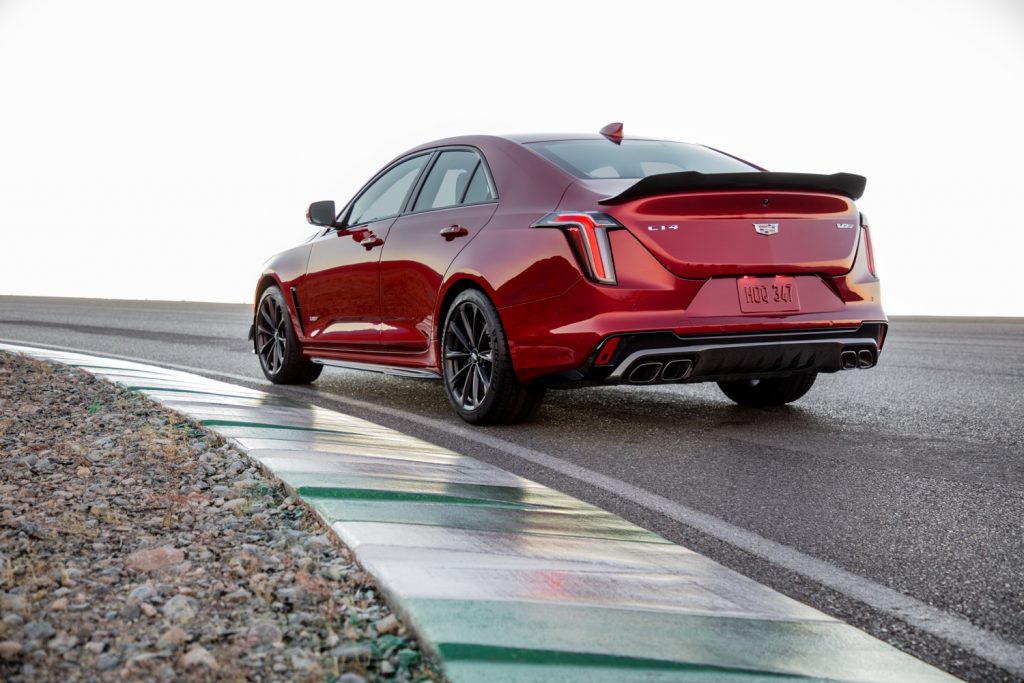 First-Generation
The first-gen CT4-V Blackwing sedan is equipped with the torquey twin-turbocharged 3.6-liter LFY V6 under the hood, with a boosted output rating of about 10 more horsepower compared to its in indirect predecessor, the beloved ATS-V.
The CT4-V Blackwing rides on the GM Alpha 2 platform, which is an upgraded iteration of the first-generation Alpha platform. The all-new model will be assembled at the GM Lansing Grand River plant in Lansing, Michigan, and was designed and engineered to compete directly against the following vehicles:
BMW M2 Coupe
Mercedes-Benz A45 AMG and CLA45 AMG
Audi RS3
Additionally, thanks to its larger size, the CT4-V Blackwing will also indirectly compete with the BMW M3, Mercedes-Benz C63 AMG / C63 AMG S, and Audi RS5 Sportback.
From a positioning standpoint, the CT4-V Blackwing will represent an all-new entry for Cadillac, which has never had an ultra-high-performance vehicle in the C-sedan segment. From a mechanical standpoint, the CT4-V Blackwing will be more closely related to the first-generation ATS-V Sedan.
The 2022 Cadillac CT4-V Blackwing model has only been confirmed for the U.S. market so far. That said, we expect the high-performance variant to also make its way to Canada, Mexico, the Middle East, and possibly Russia.
Performance Features
The 2022 CT4-V Blackwing offers various performance-enhancing equipment, including two optional carbon-fiber packages, dubbed Carbon Fiber 1 Package (CFZ Pkg) and Carbon Fiber 2 Package (CFV Pkg).
Carbon Fiber 1 Package – $4,100
Front splitter
Front wheel well deflectors
Front dive planes
Rear extra aero spoiler
Carbon Fiber 2 Package – $5,230
Requires Carbon Fiber 1 Package
Rocker moldings
Rocker extensions
Rear valance diffuser
Those looking to order their very own Cadillac CT4-V Blackwing should be aware that the Carbon Fiber 2 Package cannot be ordered without the Carbon Fiber 1 Package, meaning that the total cost of the Carbon Fiber 2 Package is $9,330. While the carbon fiber components are often seen as a cosmetic enhancement, the performance aspect is arguably more important. According to Cadillac, the wind-tunnel-tested carbon fiber packages can reduce lift by 75 percent compared to the standard aero.
Brembo brakes are standard for the high-performance sedan, though it does not offer a carbon ceramic option like the larger CT5-V Blackwing.
A 'high-performance' steering wheel is also available, and is included with either of the optional high-performance front seats. Compared to the standard steering wheel, the optional steering wheel is leather-bound instead of sueded microfiber and includes a V-Mode button, Performance Traction Management switch, carbon fiber trim, and VIN numbering.
The performance data and video recorder is another option for buyers who want to log their track sessions.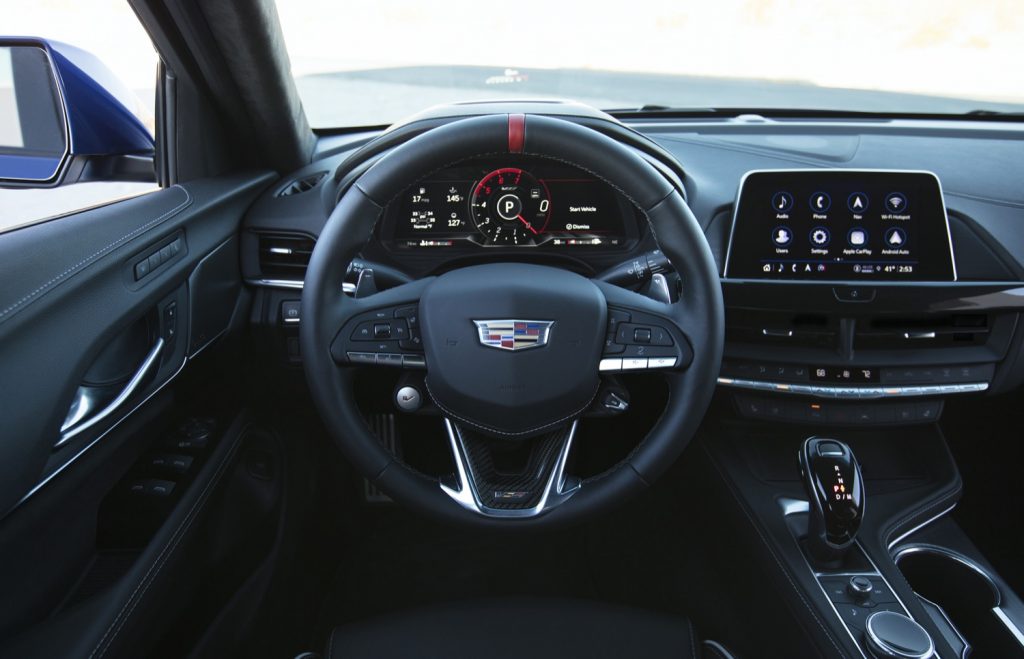 Timeline
May 29, 2019: GM announces all-new, 2020 Cadillac CT4-V as new, intermediate performance model
June 1, 2019: GM shows "next-level Cadillac CT4-V" prototype at the 2019 Detroit Grand Prix
June 5, 2019: GM President, Mark Reuss, reflects on Cadillac's new two-tier V-Series strategy
June 14, 2019: Cadillac performance variants manager, Mirza Grebovic, says that Cadillac V-Series models will "go out with a bang" before EVs take over
June 27, 2019: "next-level" Cadillac CT4-V spied running laps
July 1, 2019: GM Authority exclusively reports that next-level Cadillac CT4-V will be called "Blackwing"
July 16, 2019: CT4-V Blackwing rumored to use twin-turbo 3.6L V6 LF4 engine from ATS-V
July 31, 2019: new spy video shows CT4-V Blackwing prototype, seemingly with twin-turbo V6 engine note and manual transmission
August 8, 2019: Cadillac President, Steve Carlisle, says that GM is committed to V-Series performance products
December 18, 2019: Cadillac CT4-V Blackwing spied undergoing testing, revealing more about high-performance sedan
January 28, 2020: GM Authority discovers via its sources that CT4-V Blackwing will, in fact, use the LF4 engine from ATS-V
March 17, 2020: another CT4-V Blackwing prototype spied undergoing testing
March 30, 2020: GM Authority publishes "What to expect from Cadillac CT4-V Blackwing"
April 2, 2020: COVID-19 pandemic delays various GM vehicle launches, including CT5- Blackwing
April 18, 2020: a report indicates that HSV could import CT4-V Blackwing to Australia
April 24, 2020: GM Authority renders the CT4-C Blackwing
May 27, 2020: GM Authority reports that CT4-V Blackwing will not be made available in China
June 29, 2020: CT4-V Blackwing caught testing at GM proving grounds
August 20, 2020: GM teases CT4-V Blackwing steering wheel and GM Authority notices some easter eggs on the steering wheel teaser
October 28, 2020: GM Authority spies CT4-V Blackwing prototype undergoing testing, giving us our best look yet at the upcoming super sedan
October 30, 2020: GM announces that the CT5-V Blackwing and CT4-V Blackwing will offer magnesium wheels as an option
October 31, 2020: GM Authority confirms that CT4-V Blackwing will go on sale in the summer of 2021 as a 2022 model year vehicle
December 10, 2020: GM announces that the CT4-V Blackwing (and CT5-V Blackwing) will ship standard with a manual transmission with 3D printed parts
Sales
See Cadillac CT4 sales numbers for all markets, including the United States, Canada, Middle East, Russia, and South Korea.
Notes:
Cadillac CT4 sales are comprised of all CT4 variants, including CT4, CT4-V, and CT4-V Blackwing.
Information for market (country) specified.
Sales information compiled from various sources by GM Authority and Motrolix.
Gallery
Cadillac CT4-V Blackwing Photos
Discussion
Discuss the Cadillac CT4-V Blackwing in our Cadillac forum.
More CT4-V Blackwing News
1

Plus, low-interest financing is available on 2023 and 2024 models.

0

Ten colors are available in total.
Cadillac CT4-V Blackwing Pages