Cadillac DPi-V.R Prototype Race Car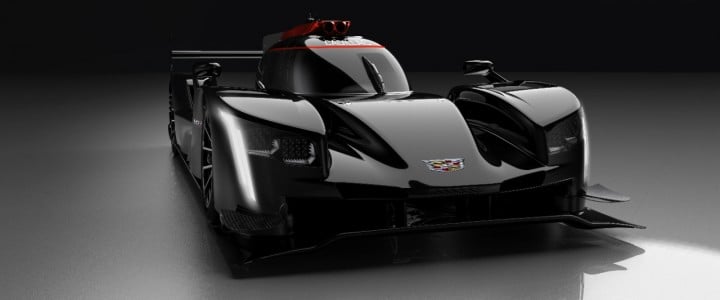 Cadillac DPi-V.R Prototype Race Car
The DPi-V.R is a specialized Cadillac race car set to compete in the Prototype class of the 2017 IMSA WeatherTech SportsCar Championship series. The introduction of the DPi-V.R marks Cadillac's return to the pinnacle of prototype racing after being absent for 14 years.
Most recently, Chip Ganassi Racing has announced it will return to the IMSA WeatherTech Sports Car Championship in 2021 with a single Cadillac DPi-V.R entry.
Cadillac DPi-V.R Quick Facts

| | |
| --- | --- |
| Model years: | 2017 – Present |
| Assembly Location: | Lansing Grand River Plant, Michigan, USA |
| Layout: | Front-Engined, Longitudinal |
| Engine(s): | 6.2L Small Block V-8,5.5L Small Block V-8 (current) |
| Horsepower: | 600 |
| Torque: | – |
| Transmission: | 6-Speed Sequential Automatic |
| Driven Wheels: | Rear-Wheel-Drive |
| Availability: | – |
| Predecessor: | – |
| Successor: | – |
Overview
"Cadillac is proud to return to the pinnacle of prototype racing in North America after a 14-year absence," said Johan de Nysschen, president of Cadillac. "Cadillac's V-Performance production models — the ATS-V and CTS-V — are transforming our brand's product substance, earning a place among the world's elite high performance marques. The Cadillac DPi-V.R further strengthens our V-Performance portfolio, placing Cadillac into the highest series of sports car racing in North America."
Developed to perform, the Cadillac DPi-V.R has been designed to contribute to the functional performance of the prototype using elements gleaned from the current lineup of Cadillac V-Performance models, especially the CTS-V supersedan.
"The DPi-V.R race car was an exciting new canvas for the Cadillac design and sculpting team," said Andrew Smith, Global Cadillac Design executive director. "The studio embraced the opportunity to interpret the Cadillac form language, line work and graphic signature for this premier prototype racing application. Every detail of the final design was selected to support the car's on-track performance and unmistakable Cadillac presence."
Design
The design details giving the DPi-V.R car its distinctive Cadillac appearance and presence include:
Vertical lighting elements
Signature sheer, sculptural quality of the body
Bold bodyside feature line
V-Performance wheels
Brembo brakes
V-Performance emblems
Canopy graphic inspired by the Cadillac daylight opening
Subtle cues such as the cooling vents and the air intake were designed in the studio, the latter in the trapezoidal shape of the Cadillac crest.
Technology
The DPi-V.R is equipped with the new Rear Camera Mirror first seen on the Cadillac CT6 Sedan and available on the Cadillac CTS, XT5 and Escalade for the 2017 model year.
Powertrain
The Cadillac DPi-V.R was originally propelled by a race-prepared, naturally aspirated Cadillac 6.2 liter V-8 engine that shares its inherent architecture with the LT4 V-8 engine powering the third-generation Cadillac CTS-V (640 horsepower) and LT1 V-8 engine in the fifth-generation Cadillac Escalade (420 horsepower).
This generation engine produced approximately 600 horsepower in race-specification, which includes IMSA-mandated air restrictors and a max redline of 7,600 RPM. The engine transfered power to the rear wheels through a six-speed sequential paddle-shift transmission developed by X-Trac.
For the 2018 season, Cadillac reduced the engine size to 5.5-liters for the 2018 IMSA season in search of more drivability.
| Detail | Cadillac CTS-V | Cadillac DPi-V.R |
| --- | --- | --- |
| Engine Type | 6.2L/376 cu in V-8 | 6.2L/376 cu in V-8 |
| Induction | Supercharger | Natural Aspiration |
| Fuel System | Direct fuel injection | Fuel injection |
| Horsepower | 640 @ 6,400 RPM | 600 @ 6,800 RPM (approx.) |
| Torque | 630 lb.- ft. @ 3600 RPM | Series spec based |
| Lubrication | Semi-wet sump, 1.0 G | Dry sump |
| Transmission | 8-speed automatic with LC | Transverse sequential |
| Brakes | Brembo 4-wheel disc, 2-piece | Brembo 4-wheel disc |
| Weight | 4,141 lbs. (1,878 kg.) | 2,050 lbs. (930 kg.) |
| Final Drive | Electronically variable
limited slip | Viscous mechanical limited slip |
Development
In developing the Cadillac DPi-V.R, Cadillac and its designers collaborated with key partners including:
Chassis builder Dallara
Wayne Taylor Racing and Action Express Racing
Earnhardt-Childress Racing (ECR) Engines
Motorsports
The Cadillac DPi-V.R made its racing debut in the Prototype (P) class of the 2017 IMSA WeatherTech SportsCar Championship series — the fastest and most technologically advanced sports car racing series in North America.
The race car took a 1-2 finish in its first-ever competition outing — the Rolex 24 At Daytona on January 28-29, 2017, with the No. 10 DPi-V.R finishing first and the No. 5 entry of Action Express claiming second.
Drivers
For the 2017 24 Hours of Daytona, the Cadillac DPi-V.R was piloted by Wayne Taylor Racing  drivers Jeff Gordon, Max Angelelli, Ricky Taylor and Jordan Taylor.
Gallery
Cadillac DPi-V.R Pictures
DPi-V.R Race Car News
0

A daring late-race pass secured the win for Cadillac.

31

On track testing begins this summer.