Cadillac 4.2 Liter Twin-Turbo V-8 LTA Engine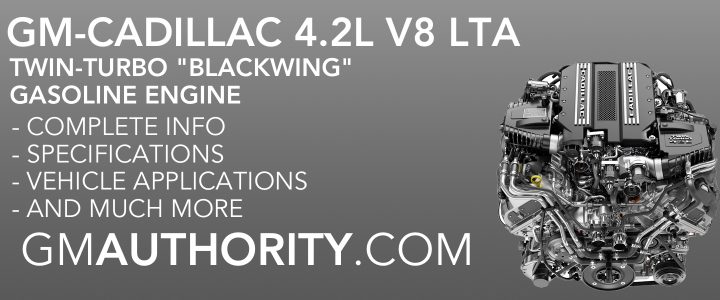 Cadillac 4.2 Liter Twin-Turbo V-8 LTA Engine
The 4.2 liter V8 is an eight-cylinder, Dual-Overhead Cam (DOHC) gasoline engine produced by General Motors for use in Cadillac luxury vehicles. The engine, known internally as Blackwing and assigned GM RPO code LTA, is an all-new, clean-sheet engine design while also being Cadillac's first-ever twin-turbo V-8 engine. The engine first launched in the 2019 Cadillac CT6.
Overview
The Cadillac 4.2L Twin-Turbo V-8 LTA engine is a clean-sheet design. It was developed as a small-displacement V-8 with the goal of delivering exceptional power density of 131 hp (98 kW) per liter, for 550 horsepower (410 kW) and 640 pound-feet of torque (867 Nm) in the 2019 Cadillac CT6-V (previously announced as the 2019 CT6 V-Sport and then changed to CT6-V) and 500 horsepower and a 574 pound-feet of torque in the CT6 Platinum.
The LTA engine introduces various unique design elements developed to balance performance and efficiency with compact, mass-efficient packaging.
"Designing an all-new engine was the best way to achieve the performance goals for the CT6 V-Sport," said Jordan Lee, chief engineer of the Cadillac 4.2L Twin-Turbo V-8 LTA engine. "It builds on Cadillac's well-established turbocharging know-how and forges new ground with innovative features that deliver exceptional performance and refinement."
The engine features the following highlight characteristics:
Twin-scroll turbochargers
Electronic wastegate control
Twin water-to-air charge coolers
Twin throttle bodies
Direct injection
Dual-independent camshaft phasing
Variable-pressure oiling system
Stop/start technology

First DOHC V-8 Since Northstar
The Cadillac 4.2L Twin-Turbo V-8 is the first Dual Overhead Cam (DOHC) eight-cylinder engine from Cadillac and General Motors since the duo discontinued the Northstar V8 engine in 2010. Since then, all Cadillac and GM eight-cylinder engines were designed using the Overhead Valve (OHV) configuration otherwise known as a "push-rod" that's been the a key characteristic of GM Small Block engines since their introduction decades ago.
It is believed that Cadillac and GM used a Dual Overhead Cam design for the LTA for two specific reasons, despite the overhead valve design that GM has perfected over the years being highly effective:
The operational characteristics of an overhead valve engine might not be as "smooth" as that of a modern DOHC motor.
Some luxury car buyers have a certain negative stigma about push-rod engines in luxury vehicles, which by some are viewed as outdated and "old school"
It's also worth noting that DOHC engines are more powerful than overhead valve engines from a displacement standpoint, though exceptions to this rule do exist. For instance, a 4.2L DOHC motor will likely be more powerful than a 4.2L OHV motor. But despite its more efficient use of displacement, the physical size of a DOHC engine is typically larger than that of an OHV engine, since the DOHC configuration is taller due to the placement of the cams above the valves.
Hot V Layout
At the center of the Cadillac 4.2L Twin Turbo V-8 engine is a "hot V" configuration that transposes the conventional layout of the cylinder heads' intake and exhaust systems to mount the turbochargers at the top of the engine – in the valley between the heads – to virtually eliminate turbo lag and reduce the engine's overall packaging size.
In a conventional turbocharged engine, the cylinder heads receive the pressurized air charge through ports at the top of the engine and the exhaust exits through ports on the lower outside of the heads into manifolds connected to the turbochargers. In Cadillac's innovative hot V design, the intake-charged air enters through the lower outside of the heads and exits through the top inside – where the turbochargers are integrated with the exhaust manifolds. This results in a quick spool-up, translating into more immediate power delivery. The design also enables closer mounting of the catalytic converters, for efficient packaging.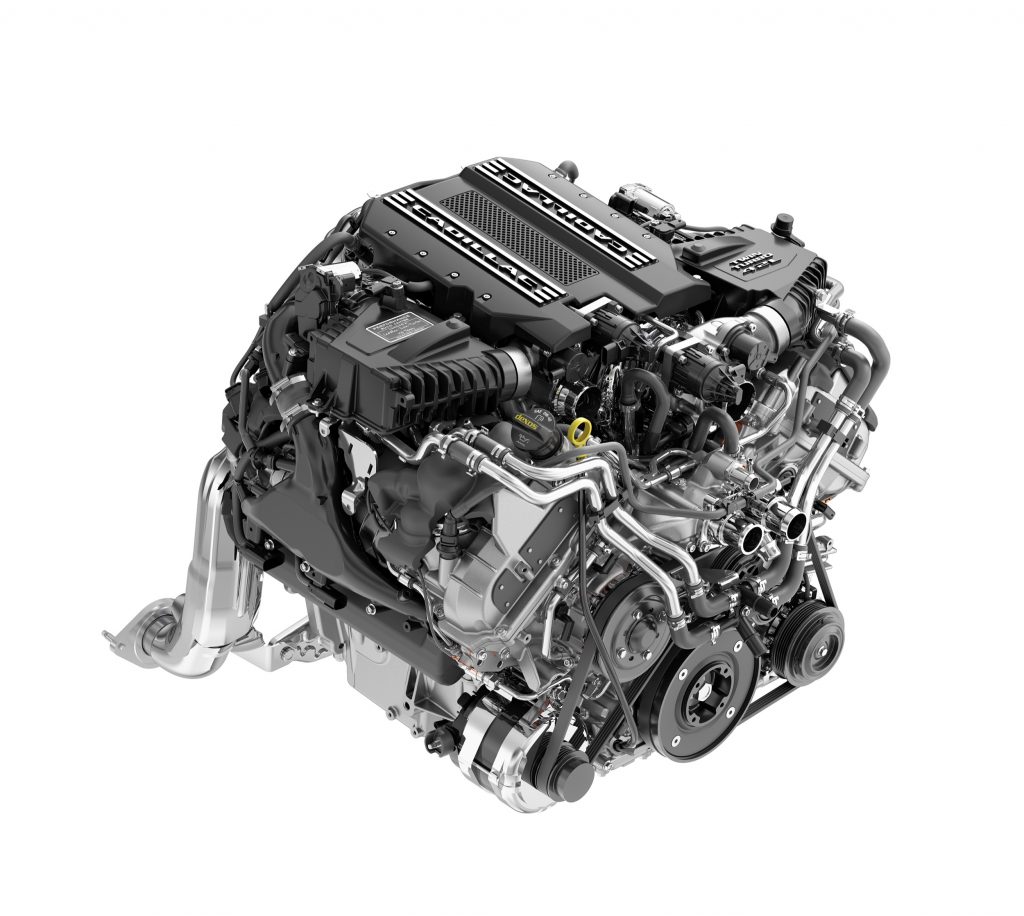 Big Punch, Small Displacement
The foundation of Cadillac's new Twin-Turbo V-8 engine is an all-new, durable and lightweight aluminum cylinder block that houses an equally robust, lightweight rotating assembly composed of a forged steel crankshaft, forged steel connecting rods and high-strength aluminum pistons.
The crankshaft's 90.2mm (3.55 inch) stroke complements the cylinder bores' 86mm (3.39 inch) diameter to give the engine its 4.2L (255 cubic-inch) displacement.
The engine's comparatively small bore dimension enables the reduction in the size and weight of the pistons, optimizing the engine's geometry to match the fast-rev capability permitted by the engine's low-inertia, twin-scroll turbochargers. The result is exceptional responsiveness and immediacy of power across the rpm band.
The turbochargers produce up to 20 pounds of boost (1.38 bar) and are matched with electronic wastegate control for more precise boost management and more responsive torque production. In fact, 90 percent of the engine's peak torque is available at only 2000 rpm, and it is carried through 5200 rpm for a confident, virtually bottomless power reserve.
Twin-Scroll Turbochargers
The turbos' twin-scroll design broadens their performance capability, offering quicker response and greater efficiency. Instead of a single spiral chamber (scroll) feeding exhaust gas from the exhaust manifold to drive the turbine on each turbocharger, the engine's twin-scroll design has a divided housing with two exhaust gas inlets and two nozzles to drive the turbine. Generally, one of the nozzles contributes to quicker response and boost production, while the other contributes to overall peak performance.
Each of the engine's integrated exhaust manifolds/turbocharger housings splits the exhaust channels from the cylinder head so the exhaust flows through separate scrolls based on the engine's exhaust pulses. When matched with precise valve timing, that separation leverages exhaust-scavenging techniques to optimize gas flow, improves turbine efficiency and reduces turbo lag.
The electronically controlled wastegates – one per turbocharger – are used for more precise management of the engine's boost pressure and subsequent torque response for smoother, more consistent performance. They are independently controlled on each cylinder bank to balance the turbo compressors' output, for greater boost pressure response.
Water-To-Air Charge Cooling
An efficient water-to-air charge-cooling system contributes to the engine's performance, enhancing the turbochargers' effectiveness. Similar in concept to an engine's radiator, the system's intercoolers cool the boosted air charge before it enters the cylinders. Cooler air is denser, which means there is more oxygen in a given volume, resulting in optimal combustion and resulting more power.
The system on Cadillac's 4.2L Twin-Turbo V-8 LTA engine features a pair of heat exchangers located above the valley-mounted exhaust manifold/turbocharger housings. The turbos pump pressurized air directly through the heat exchangers and into the cylinder heads. The heat exchangers are cooled by their own coolant circuit.
The intercoolers lower the air charge temperature by more than 130 degrees F (74 C), packing the combustion chambers with cooler, denser air. Also, the system achieves more than 80 percent cooling efficiency with only about 1 psi (7 kPa) flow restriction at peak power, which contributes to fast torque production.
Dual Throttle Bodies
Before entering the combustion chambers, the cooled air charge flows through a pair of throttle bodies, one for each engine bank. Each electronically-controlled throttle body has a 59mm diameter opening.
Additional Technologies
Direct injection: the purpose of direct fuel injection is to optimize efficiency and performance. With direct injection, a higher compression ratio – 9.8:1 – is possible because of a cooling effect as the injected fuel vaporizes in the combustion chamber, reducing the charge temperature to lessen the likelihood of spark knock.
High-pressure fuel pumps: a pair of engine-mounted, camshaft-driven high-pressure fuel pumps supplies fuel to the specialized injectors at 5,075 psi (350 bar), with each pump supplying fuel to one bank of the engine.
Active Fuel Management (AFM): also known as cylinder deactivation, AFM imperceptibly shuts down half of the engine's cylinders in certain light-load driving conditions to enhance fuel economy. Unique deactivating rocker arms are used for each of the four valves of the cylinder being deactivated.
DOHC design: Dual Overhead Camshafts (DOHC) and a virtually silent chain-driven valvetrain contribute to the smoothness and the high output of the Cadillac 4.2L Twin Turbo V-8. Meanwhile, dual independent continuously variable valve timing (iCVVT) helps deliver optimal performance and efficiency. The dual independent system, which allows the intake and exhaust valves to be phased at different rates, promotes linear delivery of torque with near-peak levels over a broad rpm range, and high specific output (horsepower per liter of displacement) without sacrificing overall engine response or drivability.
Block-placed oil jets: oil jets located in the block are used for performance and temperature control. Four jet assemblies in the engine drench the underside of the pistons and the surrounding cylinder walls with an extra layer of cooling, friction-reducing oil. The jets reduce piston temperature, allowing the engine to produce more power without reducing long-term durability.
Variable-pressure oiling system: a variable-displacement vane oil pump enhances efficiency by optimizing oil pressure as a function of engine speed. With it, the oil supply is matched to the engine load rather than the linear operation of a conventional, fixed-flow oil pump.  The engine uses 10 quarts of General Motors' dexos2 0W40 motor oil.
Auto engine stop/start: stop/start technology shuts down the engine when the vehicle stops momentarily, such as at stoplights. The engine automatically restarts when the driver takes their foot off the brake. An auxiliary battery powers electric accessories such as the climate system, power windows and radio during engine restarts.
Versions
The Cadillac 4.2L Twin-Turbo V-8 LTA engine will be available in two versions:
A regular-output version making 500 horsepower (373 kW) and 573 pound-feet (778 Nm) of torque (originally announced as 553 pound feet)
A high-output variant making 550 horsepower (410 kW) and 640 pound-feet (867 Nm) of torque (originally announced as 627 pound-feet)
Specifications
| | |
| --- | --- |
| Type: | 4.2L twin-turbocharged DOHC V-8 with Active Fuel Management, direct injection and stop/start |
| Production code: | LTA |
| Bore and stroke (in / mm): | 3.39 x 3.55 / 86 x 90.2 |
| Block configuration: | 90-degree V-8 with five cross-bolted nodular iron main bearing caps; with provisions for jet-spray oil cooling |
| Block material: | A319 sand-cast aluminum with pressed-in iron liners |
| Crankshaft: | Forged steel |
| Pistons: | High-strength hypereutectic aluminum with friction-reducing polymer skirt coating |
| Connecting rods: | Forged steel with floating wrist pins |
| Cylinder heads: | Cast aluminum "hot V"-type with 36mm intake valves and 29mm sodium-filled exhaust valves |
| Compression ratio: | 9.8:1 |
| Valvetrain: | Dual overhead camshafts; four valves per cylinder with and dual independent valve timing |
| Firing order: | 1-5-4-3-6-8-7-2 (1-4-6-7 with Active Fuel Management engaged) |
| Ignition system: | Coil-on-plug |
| Fuel delivery: | Direct injection with dual electronically controlled 59mm throttle bodies |
| Turbocharging system: | Two low-inertia twin-scroll turbochargers with electronically controlled wastegates and water-to-air intercooling |
| Max boost: | 20 psi (1.38 bar / 138 kPa) |
| Assembly Process: | Hand assembled |
| Assembly Location: | GM Performance Build Center at Bowling Green Kentucky, USA |
Vehicle Applications
| Model Year | Brand | Model | Transmission | Power hp / kW @ RPM | Torque lb-ft / Nm @ RPM |
| --- | --- | --- | --- | --- | --- |
| 2019-2020 | Cadillac | CT6 | 10L90 | 500 / 373 @ 5000-5200 | 574 / 778 @ 2600 – 4600 |
| 2019-2020 | Cadillac | CT6-V | 10L90 | 550 / 410 @ 5700 | 640 / 867 @ 3200 – 4000 |
The new Cadillac Twin Turbo V-8 is mated to the new GM 10-speed automatic transmission designated 10L90 and assigned RPO code MHS. Its wide, 7.39 overall gear ratio spread enhances off-the-line performance and contributes to reduced engine speed on the highway, which enhances refinement and efficiency. Smaller steps between the gears also help the engine maintain the optimal speed for maximum power at almost all vehicle speeds.
| Type: | Hydra-Matic 10L90 10-speed electronically controlled automatic |
| --- | --- |
| Robustness: | 10L90 |
| Gear ratios (:1) | |
| 1st | 4.696 |
| 2nd | 2.985 |
| 3rd | 2.146 |
| 4th | 1.769 |
| 5th | 1.520 |
| 6th | 1.275 |
| 7th | 1.000 |
| 8th | 0.854 |
| 9th | 0.689 |
| 10th | 0.636 |
| Reverse | 4.866 |
The engine will likely be used in other Cadillac vehicles in various forms of tune, including the Cadillac CT4, Cadillac CT5, and the production version of the Cadillac Escala concept.
Assembly
Each Cadillac 4.2L TT V-8 DOHC LTA engine will be hand-built at the Performance Build Center at the GM Bowling Green, Kentucky facility.
Cadillac Exclusivity
Cadillac has stated several times in its announcements that the Twin Turbo V-8 LTA will be exclusive to Cadillac vehicles. Cadillac officials have also stated the same in direct communication with GM Authority.
However, it could be possible that other GM vehicles will use variants of the engine with different tunes, such as the mid-engine Corvette. Doing so would keep the LTA "exclusive" to Cadillac, while allowing other models to benefit from the motor's overall architecture.
It's very likely that the LTA Blackwing will be used in other Cadillac vehicles in various forms of tune, including the ultra-high-performance version of the Cadillac CT5.
Announcement
The Cadillac 4.2L Twin-Turbo V-8 LTA engine was announced on March 21st, 2018 in conjunction with the 2019 Cadillac CT6, which received a refresh (also known as a fafelift, midcycle enhancement/MCE) for the 2019 model year.