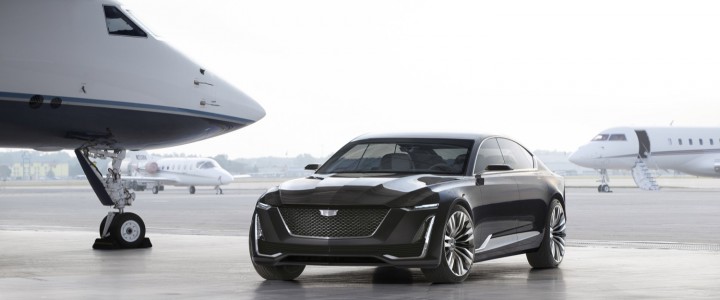 Cadillac Escala Concept
The Escala is a concept vehicle from General Motors' Cadillac brand that represents "the next evolution of Cadillac design and previews the craftsmanship and technology being developed for many future models". The concept also previews "the design and technical ideas driving the next phase of Cadillac's ongoing expansion".
Objectives
According to global Cadillac president, Johan de Nysschen, Escala is a concept car with two very clear objectives.
"First, Escala is a statement of intent for the next iteration of the Cadillac design language, and also technical concepts in development for future Cadillac models. Secondly, Escala builds Cadillac's aspirational character, signaling the brand's return to the pinnacle of premium."
Cadillac also states that the Escala was designed to be both a driver's car as well as an indulgent flagship sedan that serves as a more elite and expressive companion to the recently-launched 2016 Cadillac CT6 — the brand's new range-topping, full-size prestige sedan.
The Escala is also the third in a series of concepts Cadillac has debuted at Pebble Beach in recent years, following the Ciel convertible and and Elmiraj coupe, which debuted in 2011 and 2013, respectively.
Production Intent
In the first two decades of the 2000s, Cadillac has released a new slate of models featuring expressive design and exhilarating performance — driver's cars taking Cadillac into a new chapter of its storied 114-year history. The Escala builds on that even further.
"Escala is a concept car, but one based upon the unrelenting rise of our product substance," says Cadillac chief Johan de Nysschen. "Depending on the development of market segment for large luxury sedans, Escala is a potential addition to our existing product plan."
Exterior
The Escala features the shape of a large 4-door sedan with an expansive liftback design emphasizing its considerable scale and versatility. It stands at 210.5 inches (5347 mm) in overall length, making it roughly 6 inches longer than today's CT6.
Cadillac states that the Escala features a new and evolved face of Cadillac design "that will begin appearing on production models soon". This facia includes a new expression of Cadillac's vertical lighting, which as been a signature of the brand since 1948. Organic light emitting diode (OLED) lighting elements are thinner and set deep within the fascia, creating a sinister look, day and night.
Other details are seen upon closer inspection, including a three-dimensional precision pattern in the grille design and 22-inch wheels with two layers of spokes.
"This concept shares how Cadillac will bring forward a new experience that is uniquely American, and unmistakably Cadillac," says Andrew Smith, executive director of Cadillac Global Design.
Interior
"Escala is an expressive symbol of reward and an exhilarating driving experience. On the interior, we pushed further. It's about precision and ingenuity in craftsmanship, and the artistic integration of technology."
The concept features a "dual personality" interior crafted with distinctly different zones: the front is about intensely focused-modern technology, while the rear is meant for relaxation.
"My brief to the designers was to create a car you desperately want to drive, and also one in which you want to be driven," Smith said. "So rather than a single design, this interior consists of two themes. It was an opportunity for our designers to break the rules a little bit, exactly what Cadillac should do from time to time."
The front of the cabin presents an array of three thin and curved OLED screens that are layered in front of the driver. The back sides of the screens are wrapped in hand-stitched leather embossed with the Cadillac script. This array of three screens consolidate the traditional "cluster" of driving gauges with the "center stack" into one integrated unit.
Like all Cadillac models in production today, the interior of the Escala concept is assembled using hand cut-and-sewn techniques. But the Escala introduces several new and unique touches that blend overt luxury with covert technology. For instance, the concept makes broad use of hand-tailored fabric on the door trim and seating areas. This technique was inspired by suiting material used by Cadillac's partners in the fashion industry, and provides a new level of hand-applied craftsmanship and color, unique in today's auto interior landscape.
Technology
Escala presents new designs for in-vehicle connectivity and its control, delivering a prototype for the user experience in development for future production models.
The system features a central control module that enables the driver to execute tactile commands across the spectrum of connectivity functions, in addition to voice and gesture control technology. Inside the controller sits an updated version of Cadillac's "flying Goddess" icon, a nod to the brand's illustrious heritage.
Platform
The Escala Concept utilizes Cadillac's new RWD-centric large luxury car architecture known as the Omega platform.
Also used by the Cadillac CT6, The architecture features one of the world's most advanced body structures that debuted on the new CT6. The mixed-material construction enables unprecedented agility and efficiency.
Powertrain
Escala uses a new 4.2-liter twin-turbo V-8 engine that serves as a prototype of a new system currently in development for future Cadillac models. The advanced engine utilizes Active Fuel Management technology, enabling the engine to run in a fuel-saving 4-cylinder mode.
Naming
Cadillac states that Escala is Spanish for scale.
Debut
Following a series of private previews, the Cadillac Escala concept was unveiled on August 18th, 2016 at the Pebble Beach Concours d'Elegance.
Specs
Cadillac Escala Concept Overview

| Model | Escala Concept |
| --- | --- |
| Body Style | 4-door sedan with lift-back rear opening |
| Height | 57.3 in / 1455 mm |
| Width | 76.7 in / 1948 mm |
| Length | 210.5 in / 5347 mm |
| Wheelbase | 127.1 in / 3228 |
| Engine | 4.2-liter Twin Turbo V8 |