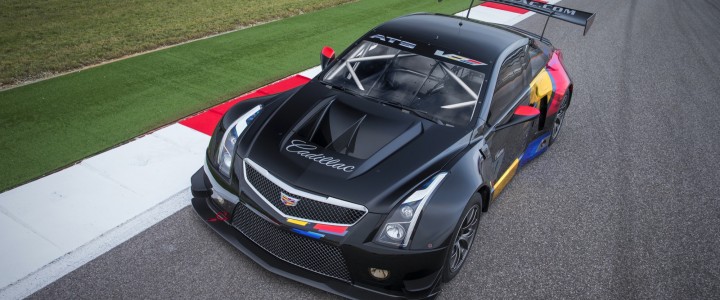 Cadillac ATS-V.R
The Cadillac ATS-V.R is a race car that was developed for racing in international FIA GT3-spec events. The ATS-V.R Coupe begins competition in 2015, replacing the CTS-V.R Coupe.
Cadillac Racing unveiled the 2015 Cadillac ATS-V.R Coupe race car on Friday, November 14th, 2014 at the Circuit of The America's, with drivers Johnny O'Connell and Andy Pilgrim pulling the cover off their new race car. The reveal took place a week ahead of the 2014 Los Angeles International Auto Show, where Cadillac unveiled the all-new ATS-V lineup — the 2015 ATS-V Coupe and 2016 ATS-V Sedan.
Cadillac ATS-V.R Quick Facts

| | |
| --- | --- |
| Assembly location | Pratt & Miller Engineering, USA |
| Platform | Alpha |
| Layout | Front-Engined, Longitudinal |
| Engine | Twin-Turbo 3.6L V-6 LF4.R |
| Horsepower | 600 |
| Torque | 520 |
| Transmission | Sequential Six-Speed |
| Drive wheels | Rear-Wheel-Drive |
| Availability | U.S.A. |
| Predecessor | None |
| Successor | None |
Overview
The ATS-V.R was the racing extension of the 2016 Cadillac ATS-V Coupe, which – at the time – was the next-generation of elite, high-performance Cadillac vehicles. The ATS-V Coupe represented the culmination of over a decade of high-performance V-Series engineering into a compact model — and was a first for Cadillac.
"The V-Series is the highest expression of Cadillac's rising product substance," said Johan de Nysschen, Cadillac president. "Elevating and expanding the V-Series is the next logical step in Cadillac's growth, including this new race car developed in GT3-specification, enabling us to pursue racing on a more global scale."
Powertrain
The heart of the ATS-V.R is GM's LF4.R engine, a twin-turbocharged V6 capable of making as much as 600 horsepower.
The motor is a racing version of the production-spec LF4 3.6L twin-turbo V6, itself a derivative of the LF3 3.6L twin-turbo V6. The engine features specific technical upgrades for the GT3-spec race car, including:
Larger, twin BorgWarner turbochargers
Increased capacity intercoolers
Competition engine management
Direct, side-exiting exhaust
"This car sounds wicked and screams like it's ripping holes in the air. I love it," said Andy Pilgrim, Cadillac Racing driver. "We have paddle gear shifters for the first time, and I'm enjoying the new tools. The engine torque is remarkable, as always, pulling strongly out of the corners."
Aerodynamics
The ATS-V.R features many aerodynamic modifications to meet FIA GT3 specifications. An aero kit gives the ATS-V.R a strong stance, and the carbon fiber front splitter – complemented by corner-mounted dive planes — provides frontal aerodynamics.
A full under-tray directs air beneath the car to the rear diffuser, helping create a downforce-producing effect that plants the 18-inch racing tires to the track. In addition, the redesigned fenders contain FIA-mandated tire sizes.
ATS-V.R Track Record
The ATS-V.R was built to meet international FIA GT3 specifications, a highly-coveted pedigree that allows it to potentially compete in more than 30 different GT series events around the world. Other marques in this ultra-competitive racing class include Aston Martin, Audi, Bentley, BMW, Ferrari, Lamborghini, McLaren and Porsche.
The FIA is the governing body for worldwide motorsport, with the GT3 class representing a specific set of specifications for racing cars based on production models.
The lightweight aluminum block and heads of the ATS-V.R's LF4.R are counterbalanced by a rear transaxle unique to the race car, giving it a front-rear weight distribution of 49 – 51 percent.
"The Cadillac ATS-V.R is a 170-mph billboard for the next generation of Cadillac's V-Series," said Cadillac Racing driver Johnny O'Connell. "On top of its power, its aerodynamic package should pay off in the fast corners and I'm looking forward to unleashing it."
Cadillac Racing
Cadillac Racing was established in 2004. Since then, it has amassed 26 wins, 91 podium finishes (including wins) and 22 pole positions with the CTS-V sedan and CTS-V Coupe race cars.
Cadillac is a five-time winner of the Pirelli World Challenge Manufacturer Championship, including the series' past three seasons, as well as 2005 and 2007. Team Cadillac drivers won the Pirelli World Challenge Driver's Championship in 2005 with Pilgrim and in 2014, 2013 and 2012 with driver Johnny O'Connell.
The ATS-V.R replaces the CTS-V.R as the official race car of Cadillac Racing.
Specs
Cadillac ATS-V.R Specs
Model:
Cadillac ATS-V.R
Construction:
Reinforced eight-point welded roll cage; carbon fiber hood, deck-lid, front fenders, doors, rear fenders
Engine:
LF4.R 3.6L, Twin-Turbo V6 with production aluminum block and heads. Developed and built by GM Powertrain
Power (hp / Kw):
Up to 600 / 447 @ 7400 RPM
Torque (lb.ft. / Nm):
520 / 704 (unrestricted)
Fuel supply (L / Gal):
120 / 31.7 fuel cell
Engine management:
Programmable Bosch MS5.1
Turbocharging:
BorgWarner EFR Series twin-turbochargers, boost set to FIA specifications
Intake:
Carbon fiber with integral high-capacity water-to-air-intercoolers
Exhaust:
Side exit direct exhaust from turbos, no mufflers
Transmission:
Xtrac sequential six-speed rear-mounted transaxle; steering wheel-mounted paddle shift; no lift shift; limited slip differential with 3.13 final drive
Traction control:
Electronic, driver adjustable
Brakes:
Brembo six-pot front with 380mm rotor, four pot rear with 355mm rotor; Bosch ABS M4 controls with driver-adjustable modes
Suspension:
Three-way Penske adjustable shocks, front and rear independent SLA suspension
Chassis:
Reinforced production unibody with race-designed safety cage
Pedals:
Close-ratio foot pedal box, accelerator, brake, clutch pedals
Steering:
ZF hydraulic power-assisted rack and pinion steering
Wheels, front:
BBS 12" x 18" aluminum
Wheels, rear:
BBS 13" x 18" rear
Tires, front:
Racing tires, 315/680 x 18, series spec
Tires, rear:
Racing tires 325/705 x 18, series spec
Aero kit:
Carbon fiber five-piece aero kit includes side skirts, front splitter, fascia and dive planes, rear diffuser and rear bumper cover
Dry weight (lb / kg):
2,900 /1,315
Other Features
Motorola two-way radio
Pratt & Miller-developed side-impact-reducing crush box
Carbon fiber custom-molded cool seat and competition driver air conditioning system
Willans six-point racing driver seat belts
Dash display rearview cameras
Gallery
Discussion
Discuss the Cadillac ATS-V.R in our Cadillac forum.
Cadillac ATS-V.R News
0

The Corvette C8 and C8.R will feature prominently in the game.

0

Johnny and Canaan O'Connell will share a race car for the first time at next weekend's PWC SprintX season finale.