2015 Cadillac ATS-L Sedan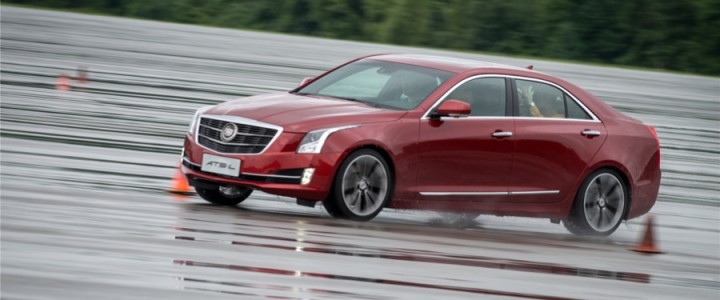 2015 Cadillac ATS-L Sedan
The ATS-L is a long-wheelbase variant of the Cadillac ATS compact sport luxury sedan. The vehicle was developed specifically for China to compete with long-wheelbase versions of the BMW 3 Series, Mercedes-Benz C-Class, and Audi A4.
Based on the Cadillac ATS Sedan already sold in global markets, the ATS-L was developed with a focus on enhanced luxury and comfort along with uncompromising driving dynamics. It features a wheelbase that is 85 mm (3.34 inches) longer than its non-L brother, maximizing legroom by 27 mm (1 inch) and headroom by 73 mm (2.87 inches) for passengers riding in the back seat.
The ATS-L also features several ergonomic enhancements to its the rear seats, with nine major storage compartments, including additional compartments on the rear doors, a redesigned central armrest console in the rear seat, as well as a cup holder with a removable cover.
Just like its slightly shorter sibling, the ATS-L delivers a nimble and balanced ride thanks to its 50/50 front-to-rear weight distribution made possible by a high-strength and lightweight architecture, Brembo Brakes, Magnetic Ride Control suspension, and high-performance run-flat tires. It comes with a high-performance turbocharged 2.0-liter inline four engine that is available in two different tunes. Paddle shifters on the steering wheel enable the driver to select manual, comfortable, sporty or anti-skid driving modes.
Interestingly, the ATS-L does not utilize Cadillac's revised Crest logo, instead launching with the outgoing Wreath and Crest emblem.
The 2015 ATS-L is manufactured at a Shanghai-GM plant and went on sale in China in August 2014.
The ATS-L is offered with two versions of GM's 2.0-liter turbocharged inline four-cylinder engine.
Known as 25T and 28T, both engines are actually the same turbocharged 2.0-liter I4 Ecotec LTG motor found in other GM and Cadillac products globally, but with different output characteristics. The more powerful 28T variant makes 275 horsepower (205 kW) and 295 pound-feet (400 Nm) of torque, enabling the ATS-L to sprint to 60 MPH (100 KM/H) in a brisk 6.2 seconds. The 25T variant, meanwhile, makes a still-respectable 226 horses (169 kW) and 260 pound-feet (353 Nm) of torque, allowing the ATS-L to complete the same sprint in 7.1 seconds. To note, the "non-L" ATS only offers the lower-output 25T engine in China.
2015 Cadillac ATS-L 2.0L Turbo Engine Tunes

| Engine: | 28T | 25T |
| --- | --- | --- |
| Power (hp): | 275 | 226 |
| Power (kW): | 205 | 169 |
| Torque (lb-ft): | 295 | 260 |
| Torque (Nm): | 400 | 353 |
| 0-100 km/h (seconds): | 6.2 | 7.1 |
About GM's 2.0L Turbo I4 LTG Engine
The 2.0-liter LTG is powerful yet efficient thanks advanced technologies like Spark Ignition Direct Injection (SIDI) and an active variable displacement pump. The use of highly rigid parts reduces noise and vibration, while reinforcing durability. The powerplant has been named one of Ward's 10 Best Engines. In North America, the ATS offers the 28T LTG motor, along with the naturally-aspirated 2.5-liter I4 LCV and 3.6-liter V6 LFX.