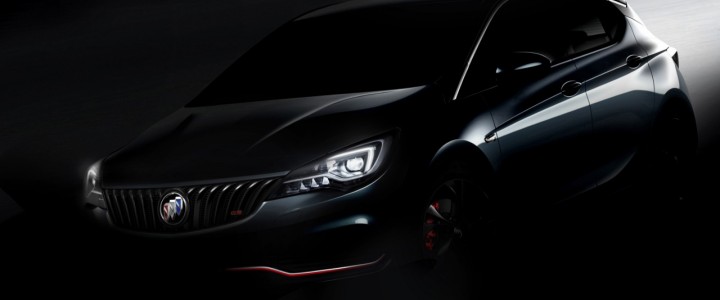 2017 Buick Verano GS
For the 2017 model year, General Motors' Buick brand will introduce a performance-oriented version of the Verano called Verano GS in the Chinese market. The launch comes a year after Buick launched the all-new 2016 Verano sedan in the Chinese market.
Following is speculative and unconfirmed information about the 2017 Buick Verano GS. This page is a continuous work-in-progress and will be updated on a regular basis as we await official details from General Motors and Buick.
If you notice any inaccuracies about the information provided, have recommendations, or suggestions to share, please let us know here.
On October 28th, 2015, Buick officially released the following images and confirmed that the Verano hatchback and Verano GS will go on sale across China by the end of 2015. The brand states that the models will have "a sporty interior design and advanced infotainment system that will project a dynamic image for trendsetters."
"The Verano Hatchback and Verano GS feature Buick's signature 360-degree wraparound interior layout. They have a driver-oriented center console with horizontally flowing lines that visually stretch their space, which is enhanced by a long wheelbase of 2,662 mm and an efficient design."
"The Verano GS has a stylish basic black interior that accentuates its dynamism. It is complemented by red accents, such as a strip across the center console, exquisite red stitching and Flame Red ambient lighting. Boosting its sportiness are a multi-function steering wheel with a paddle shifter, Alcantara sports car-like seats, and carbon fiber-pattern trim on the center console and seats."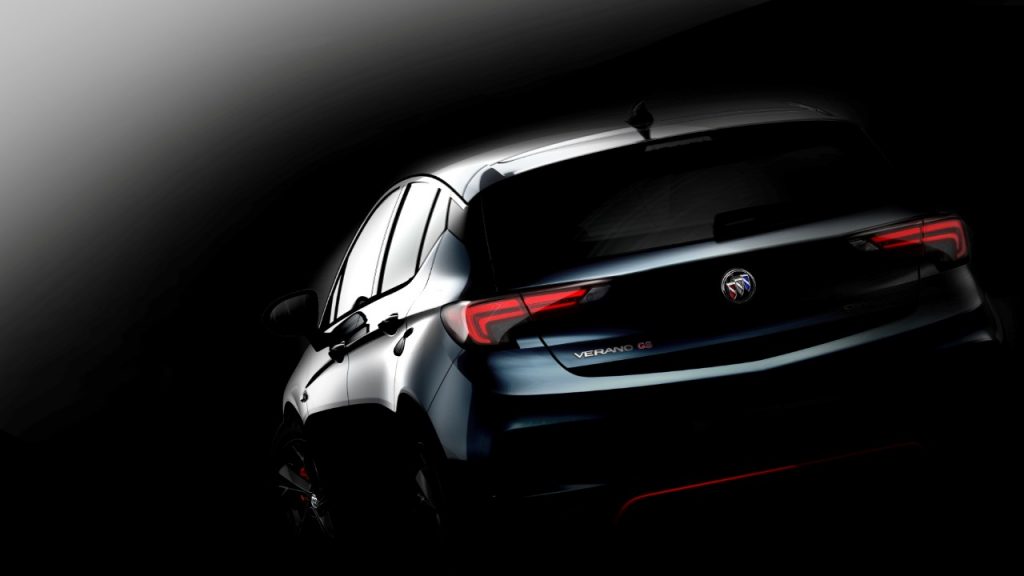 Both models will be equipped with the Apple CarPlay smartphone integration system that allows users to seamlessly connect their iPhones through the Buick IntelliLink infotainment system. From there, all iPhone features and built-in apps – including Siri, phone, maps, music, messages and podcasts – are accessible via the high-resolution 8-inch-diagonal IntelliLink display in the center console.
Buick also confirmed that the Verano GS will come with a 4.2-inch high-resolution driver information center "for an exhilarating driving experience". The brand states that such a feature is "seldom found in its segment".
The brand did not provide any other details, including powertrain information, what body styles the Verano GS will be available, or what it will cost.
Here's what we expect from the 2017 Buick Verano GS:
More sporty exterior styling than the non-GS Verano coupled with a sporty cabin with front bucket seats, black and red accents throughout the cabin, and other sporty characteristics throughout.
Available in the five-door hatchback body style; a sedan variant is possible, but we are not going to hold our breath for one.
Powered by a high-output variant of GM's 2.0L Turbo I4 LTG Ecotec engine making in the vicinity of 270 horsepower and 270 pound-feet of torque mated to a choice of a six-speed  manual or seven, possibly eight-speed automatic/automated manual (DSG) and sending power to the front wheels.
Featuring sport-tuned suspension including HiPer Strut front suspension to mitigate torque steer and improve other handling characteristics as well as the Selective Ride Control adaptive suspension system. High-performance Brembo brakes are a possibility.
Apple CarPlay integration (confirmed)
Based on GM's global D2XX platform, the same architecture that underpins the non-GS 2016 Buick Verano in China, 2017 Buick Verano, 2016 Chevrolet Cruze, and other vehicles. The platform features the necessary structural rigidity and lightweight characteristics to deliver a sporting driving experience.
The Verano GS will essentially be a Buick-badged version of the upcoming Euro-market Opel Astra OPC/Vauxhall Astra VXR, just like the entire Verano lineup is a Buick-badged version of the Opel-Vauxhall Astra range.
The Buick Verano GS will launch in China before the end of 2015. Though Buick has yet to announce plans to make the vehicle available in North America, we strongly believe that it will be offered sometime in the 2018-2019 model year timeframe.
Following are official photos provided by Buick of the 2017 Verano GS. We will update this section as we receive more pictures.