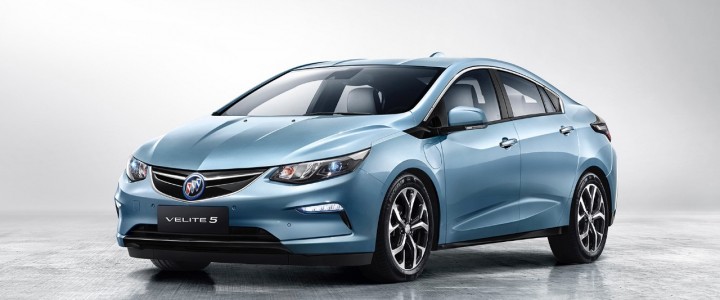 2017 Buick Velite 5
The Velite 5 is an extended-range electric vehicle from General Motors' Buick division. A first for Buick, the Velite 5 is exclusive to the Chinese market and is essentially a rebadged second-generation Chevrolet Volt.
Vehicle highligts include:
Power Split technology used in both pure electric and extended-range mode ensures that each power source contributes its fair share in different driving modes to maintain high energy efficiency and provide consistent driving performance.
Multiple intelligent safety systems include adaptive cruise control (ACC), lane keep assist (LKA), automatic parking assist (APA) and high-beam assist (HBA). All trims come with 10 air bags as standard.
Modern aestheticism and compact coupe styling blend with interior spaciousness to meet a range of user needs.
Keyless entry and push-button start enhance convenience.
A highly efficient automatic air-conditioning system filters out PM2.5 fine particulate matter and odors.
A Bose premium sound system has eight speakers for acoustic pleasure.
Next-generation OnStar telematics service is free of charge for five years. With 4G LTE, users can enjoy a range of safety and security, connectivity and mobility services.
OnStar's mobile app enables users to remotely monitor vehicle conditions, such as power level and charging status, and search for public charging facilities.
An 8-inch high-definition touchscreen supports Bluetooth, voice recognition and Apple CarPlay, offering a safe high-speed connectivity experience for the driver and passengers.
Drivetrain, Range, Fuel Economy
Equipped with GM's latest intelligent electric drive system, the Velite 5 offers up to 768 kilometers of range in extended-range mode. Its prioritized pure electric driving mode provides 116 kilometers of range, thereby fulfilling consumers' demand to commute with zero petroleum consumption and zero emissions.
The Velite 5 features GM's proven EVT electronic controlled intelligent variable transmission. The system has a double high-performance, permanent-magnet electric motor drive unit. This supports its hybrid-exclusive 1.5L direct injection engine as well as its new-generation lithium battery pack.
The 2017 Velite 5's average fuel economy performance is as low as 0.9 liter/100 kilometers.
Production
The Velite 5 is manufactured in China. It is the first hybrid vehicle manufactured in China with fuel consumption below 1.0 liter/100 kilometers.
Trim Levels & Pricing
The 2017 Buick Velite 5 will offer trim levels:
1.5GL is priced at RMB 265,800
1.5GS is priced at RMB 295,800
Each of the two trims is eligible for a subsidy of RMB 36,000 from SAIC-GM.
Reveal
The 2017 Buick Velite 5 was revealed at Auto Shanghai 2017.