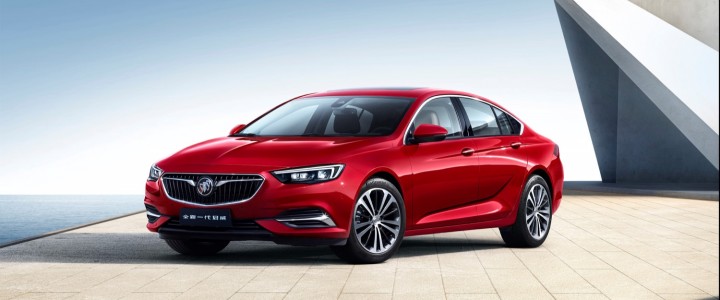 2018 Buick Regal Sedan
All-new for the 2018 model year, the Buick Regal Sedan arrives exclusively for the Chinese market. The model features a sleek, sporty, coupe-like design with the spirited performance of a premium sports sedan.
This article is about the 2018 Buick Regal Sedan for the Chinese market.
For the sixth-generation Buick Regal, the Regal Sedan was replaced in North American with the Sportback form factor. The two models different slightly in rear-end appearance and the amount of cargo space. For information on the North American-market Regal Sportback, see this entry: 2018 Buick Regal Sportback.
Exterior
The 2018 Buick Regal Sedan features Buick's latest premium design language that pairs more expressive proportions with improved passenger space. A visually low and tailored design pushes the wheels farther to the corners thanks to a wheelbase that's over 92 mm (3 inches) longer than that of its predecessor, totaling 2,829 mm (111 inches).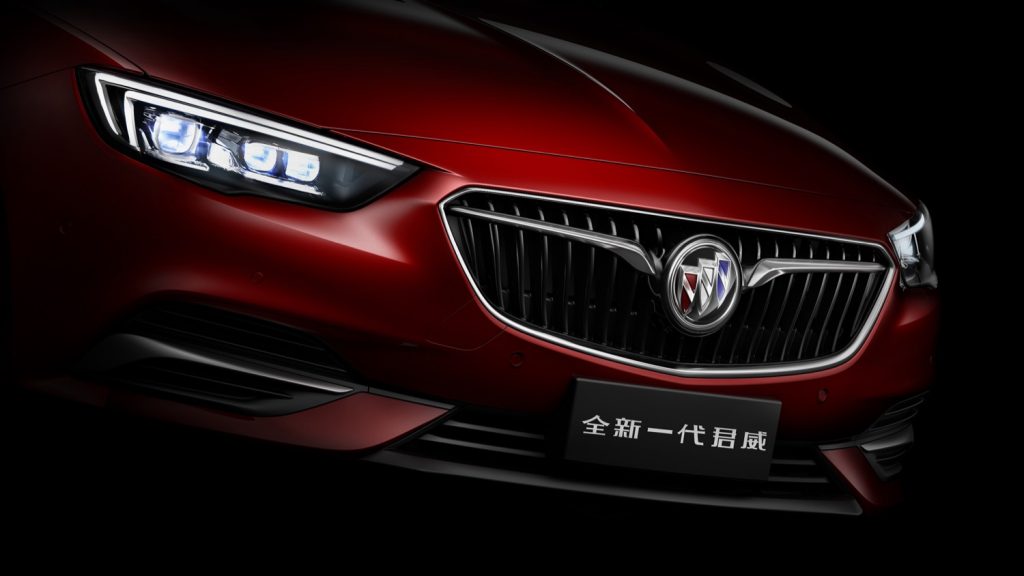 Up front, Buick's tri-color shield logo sits atop the brand's new winged grille, which is flanked by LED daytime running lights featuring Buick's signature Wing design elements as well as low-placed fog lights. New Matrix LED headlamps have eight intelligent lighting modes and a lighting distance of 400 meters for greater driving safety at night. The headlights are thin, enhancing the low and wide appearance of the front end.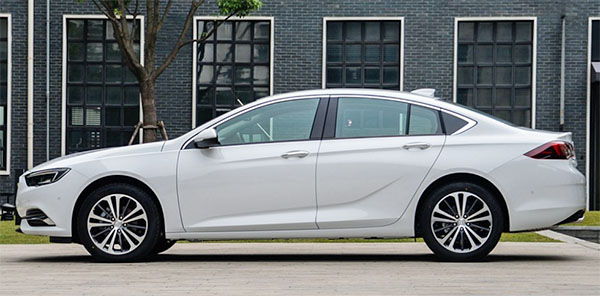 The profile features a coupe-like roofline that communicates expressive style and passion, representing an evolution of the traditional three-box sedan design. The roofline is clearly outlined by a chrome accent piece, with a sharp, C-style curve at the C-pillar.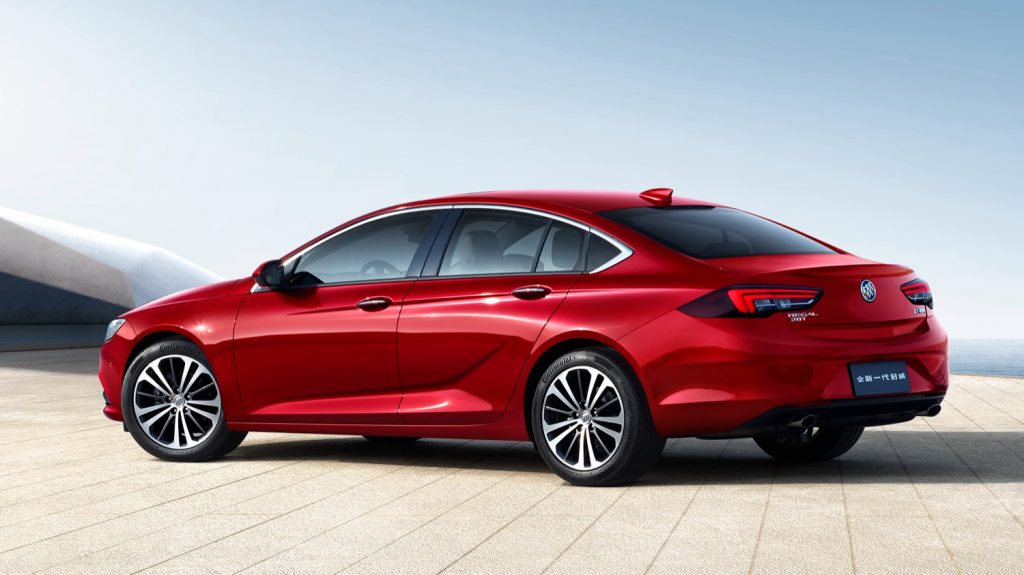 A stylized "fin" sits just aft of the rear glass, housing the vehicle's various antennae while the fuel door is located on the passenger side. To note, the hood-mounted portholes that graced the previous-generation Regal and other Buick models are not present on the 2018 Regal family.
The rear end features Buick's tri-color shield flanked by LED-accented taillamps, an integrated decklid spoiler and circular dual exhaust outlets. Notably, the Regal Sedan has a longer decklid than the Regal Sportback.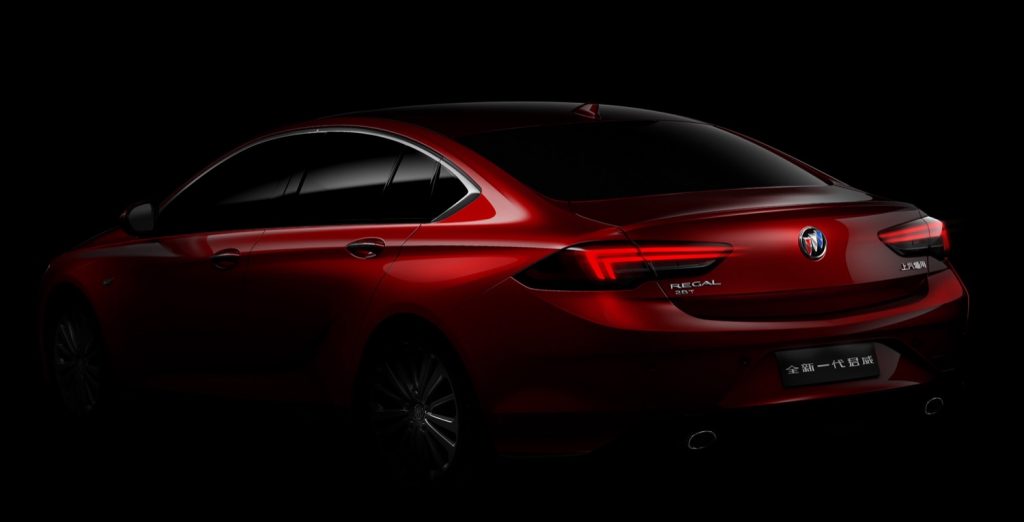 Interior
In keeping with its sporting and luxurious nature, the new Regal Sedan's cabin takes a driver-centric approach. The center stack, for instance, skews towards the driver for an integrated feel, and the cabin's craftsmanship is characterized by clean lines, uncluttered surfaces, premium materials and a host of modern technologies,
Over 80 percent of the interior is covered in soft materials. Refinement is further enhanced by leather accents and hand-sewn double stitching. Moon White ambient lighting combined with dual 8-inch center console LCD screens adds to the high-tech and luxurious feel.
The vehicle features Signature Buick QuietTuning, which now includes all-new tire insulation to help reduce road noise.
In-Vehicle Technology
The 2018 Regal Sedan is filled with the latest in-vehicle technologies, including standard push-button start and entry, Buick's latest infotainment system with Bluetooth and Apple CarPlay compatibility, and more.
Infotainment Systems
A 4.2-inch infotainment system with Bluetooth and Baidu CarLife smartphone display mirroring is standard on 20T Vantage, 20T Elite and 20T Luxury models. An 8-inch system with Bluetooth and Apple CarPlay is standard on 20T Prestige, 28T Dignity, 28T Prestige and 30H Elite and 30H Luxury modelsmodels.
Audio Systems
A 6-speaker audio system is standard, while an 11-speaker Bose Centerpoint surround sound system premium audio system is optional.
Connected Services
Every Regal Sedan comes equipped with an OnStar 4G LTE Wi-Fi hotspot (AT&T data plan purchase is required after limited data trial period) and five years of the OnStar Basic Plan at no additional cost.
The all-new Regal is the first model from the brand to offer cloud-based services. The technology supports Apple CarPlay and Baidu CarLife. Users can listen to Kaola FM and NetEase Cloud Music online, and access 4S store service information quickly and accurately.
Customers receive five years of free basic OnStar service, which includes:
OnStar 4G LTE with Wi-Fi turns turns into a Wi-Fi hotspot. The intelligent home interconnection function works with OnStar's electronic fence and mobile phone app to enable activation of home appliances.
Head-Up Display
The all-new Regal offers a full-color head-up display (HUD), which shows speed, infotainment information, and navigation and safety prompts.
Powertrain
The 2018 Buick Regal Sedan is offered with two direct-injection turbocharged engines and a hybrid powertrain.
Gasoline Models
The base engine is the new turbo 1.5L LFV SIDI engine, which offers class-leading power of 125 kW (167 horsepower) and 252 Nm (185 pound-feet) of peak torque. It has estimated combined fuel consumption of 6.3 liters/100 km.
The up-level engine is the turbo 2.0L LTG SIDI engine. Named one of Ward's 10 Best Engines, the powerplant produces a maximum power of 192 kW (257 horsepower) and peak torque of 350 Nm (258 pound-feet of torque). The engine enables the all-new Regal to sprint from 0 to 100 km/h (60 mph) in only 7.2 seconds.
All engines are mated to the latest Hydra-Matic GM 9-speed transmission. Leveraging more than 60 GM-patented technologies, the gearbox delivers smooth shifting and improved performance, reliability and fuel efficiency.
The all-new Regal Sedan also comes standard with stop/start technology.
Hybrid Model
The all-new Regal Sedan is also be available as a hybrid featuring the following components:
GM's hybrid-specific 1.8L direct-injection engine (LKN)
GM's patented EVT electronically controlled intelligent variable transmission
A highly integrated TPIM (Traction Power Inverter Module)
A double high-performance, permanent-magnet electric motor drive unit
The electric drive system is supported by an industry-leading high-performance lithium-ion battery pack. It delivers estimated fuel consumption of 4.3 liters/100 km.
Safety
The 2018 Regal Sedan offers new levels of crash prevention and protection, including ten standard airbags.
The vehicle also features the latest-generation smart safety technology that Buick calls "eProtect" in China. It includes:
Buick's first active hood pedestrian safety system also makes its debut on the 2018 Buick Regal. The system senses the imminent impact of a pedestrian between 16-30 mph and uses a pyrotechnic actuator to lift the back of the hood up about 4 inches to lessen the impact and potentially reduce injury.
Chassis & Suspension
The chassis of the 2018 Regal Sedan has been tuned for refined control and a confident everyday driving character.
The sedan has an optimized MacPherson strut front suspension that is matched with aluminum steering knuckles and a stiffer hollow anti-roll bar for improved comfort and more precise handling. The rear is driven by a four-link independent rear suspension and rear dampers with advanced concentric piston valves to ensure better flexibility and further contribute to agile and steady handling.
The all-new Regal's high-strength rigid body has shed about 160 kg over its predecessor, supporting improvements in safety, handling, comfort and fuel efficiency.
Hill Start Assist is standard.
Weight Reduction
The 2018 Regal uses an advanced body structure that is stiffer, stronger and approximately 200 pounds lighter than the previous-generation Regal, resulting in a better driving experience, increased agility and better fuel economy. The weight reduction is the result of GM's new E2 platform on which the new Regal is based.
Availability
Where
The 2018 Regal Sedan is sold exclusively in China.
When
The all-new 2018 Buick Regal Sedan was launched in China on July 21st, 2017.
Global Variants
The sixth-generation Buick Regal is available in several body styles and variants in various global markets. The Buick Regal Sedan, however, is not available in any other market except for China.
Following are all the major derivatives of the sixth-generation Regal family.
Brand
Model
Body Style
Market
Buick
Regal Sportback
Sportback / Liftback
North America
Buick
Regal GS (Regal GS Sportback)
Sportback / Liftback
North America
Buick
Regal TourX
Rugged Wagon
North America
Buick
Regal
Sedan
China
Buick
Regal GS
Sedan
China
Opel
Insignia Grand Sport
Sportback / Liftback
Europe (excluding United Kingdom)
Opel
Insignia Sports Tourer
Wagon
Europe (excluding United Kingdom)
Opel
Insignia Country Tourer
Ruggedized Wagon
Europe (excluding United Kingdom)
Vauxhall
Insignia Grand Sport
Sportback / Liftback
United Kingdom
Vauxhall
Insignia Sports Tourer
Wagon
United Kingdom
Vauxhall
Insignia Country Tourer
Ruggedized Wagon
United Kingdom
Holden
Commodore
Sportback / Liftback
Oceania (Australia
New Zealand)
Holden
Commodore Tourer
Wagon
Oceania (Australia
New Zealand)
More information:
Competitors
The Buick Regal Sedan competes with the following vehicles:
Audi A4 Sedan
Volkswagen Passat Sedan
Volkswagen CC
Acura TLX
Platform
Like all sixth-generation units of the Buick Regal, the 2018 Regal Sedan rides on GM's E2 platform shared with the following vehicles:
All sixth-gen Buick Regal variants:
Opel Insignia (second generation) / Vauxhall Insignia
Holden Commodore NG
Chevrolet Malibu (second generation)
Cadillac XT4 (first generation)
Buick LaCrosse (third generation), which rides on the long wheelbase variant of E2 platform
Production
The 2018 Buick Regal Sedan is produced at the SGM Jinqiao plant operated by Shanghai GM (SGM), a joint venture between GM China and its Chinese partner, SAIC.
Regal GS
The 2018 Regal Sedan has a Regal GS derivative that features unique exterior and interior design. Unlike the North American-market Regal GS, the Chinese-market model does not get a different engine, but is instead limited to exterior, interior and chassis enhancements – with no changes to the powertrain.
The exterior of the Chinese-market Regal GS has a black wing grille with bright black wing strips and upright "fangs." The distinct grille is complemented by a body kit under the front bumper and new 18-inch black five-spoke sports hubs. Its integrated aerodynamic tail comes alive with chrome-plated dual exhausts, an expanded body kit and a red GS badge.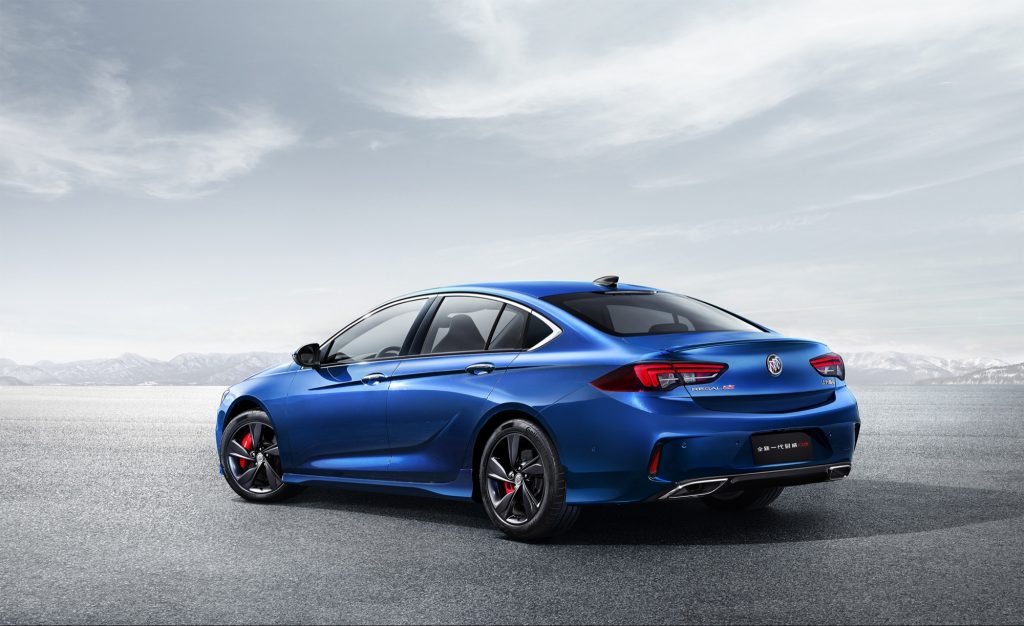 The GS features exclusive black sports interior, including a flat-bottom steering wheel with a metal shift paddle and sporty seats certified by AktionGesunderRücken (AGR).
The new FlexRide adaptive driving system allows the driver to switch between Auto, Comfort and Sporty modes. Combined with new-generation Continuous Damping Control (CDC), it scans road conditions and adjusts damping in real time for comfort and maneuverability. Brembo four-piston front brake calipers in combination with FNC brake discs enhance braking.
Trim Levels & Pricing
The 2018 Buick Regal sedan is available in ten variants in China, including a hybrid electric model. The vehicle is priced between RMB 175,800 and RMB 269,800, or $27,623 and $42,393 USD (converted on May 2, 2018).
Trim levels are as follows:
1.5L Turbo engine:

20T Vantage
20T Elite
20T Luxury
20T Prestige

2.0L Turbo engine:
1.8L Hybrid System:
The Regal GS, meanwhile, is priced at RMB 239,800-269,800 ($37,679 and $42,393 USD; converted May 2, 2018).
Colors
The 2018 Buick Regal Sedan is offered in the following exterior colors in China:
Agate Red
Dark Jade Black
Flax Gold
Ivory White
Royal Blue (GS-specific)
Starry Sky Purple (GS-specific)
Specifications
Overview
| Model: | Buick Regal |
| --- | --- |
| Body style: | midsize sedan |
| Driveline: | transversely-mounted front engine; front-wheel drive |
| Construction: | Unibody |
| EPA vehicle class: | sedan |
| Manufacturing location: | China |
| Key competitors: | Audi A4, Volkswagen CC |
Exterior Dimensions
| Metric / Model | 20T Vantage | 20T Elite | 20T Luxury | 20T Prestige | 28T Dignity | 28T Prestige | 30H Elite | 30H Luxury |
| --- | --- | --- | --- | --- | --- | --- | --- | --- |
| Wheelbase (in / mm): | 111.4 / 2829 | 111.4 / 2829 | 111.4 / 2829 | 111.4 / 2829 | 111.4 / 2829 | 111.4 / 2829 | 111.4 / 2829 | 111.4 / 2829 |
| Overall length (in / mm): | 192.9 / 4902 | 192.9 / 4902 | 192.9 / 4902 | 192.9 / 4902 | 192.9 / 4902 | 192.9 / 4902 | 192.9 / 4902 | 192.9 / 4902 |
| Overall width (in / mm): | 73.3 / 1863 | 73.3 / 1863 | 73.3 / 1863 | 73.3 / 1863 | 73.3 / 1863 | 73.3 / 1863 | 73.3 / 1863 | 73.3 / 1863 |
| Overall height (in / mm): | 57.3 / 1456 | 57.5 / 1461 | 57.5 / 1461 | 57.5 / 1461 | 57.5 / 1461 | 57.5 / 1461 | 57.3 / 1456 | 57.3 / 1456 |
| Track front (in / mm): | 63.1 / 1603 | 62.7 / 1593 | 62.7 / 1593 | 62.7 / 1593 | 62.4 / 1585 | 62.4 / 1585 | 62.7 / 1593 | 62.7 / 1593 |
| Track rear (in / mm): | 63.3 / 1607 | 62.9 / 1597 | 62.9 / 1597 | 62.9 / 1597 | 62.5 / 1589 | 62.5 / 1589 | 62.9 / 1597 | 62.9 / 1597 |
| Curb Weight (lbs / kg): | 3152 / 1430 | 3152 / 1430 | 3152 / 1430 | 3152 / 1430 | 3373 / 1530 | 3373 / 1530 | | 3384 / 1535 |
Powertrain (Gasoline engines)
| Engine: | 1.5L I-4 | 2.0L I-4 |
| --- | --- | --- |
| GM RPO Code: | LFV | LTG |
| Layout: | Inline 4 | Inline 4 |
| Aspiration: | turbocharged | turbocharged |
| Displacement (cu in / cc): | 90.9 / 1490 | 122 / 1998 |
| Block material: | cast aluminum | cast aluminum |
| Cylinder head material: | cast aluminum | cast aluminum |
| Valvetrain: | DOHC, four valves per cylinder with CVVT | DOHC, four valves per cylinder with CVVT |
| Fuel delivery: | side direct fuel injection | side direct fuel injection |
| Drive Wheels: | FWD | FWD |
| Horsepower (kW / hp @ rpm): | 125 / 168 @ 5600 | 192 / 257 @ 5400 |
| Torque (Nm / lb.-ft. @ rpm): | 252 / 185 @ 2000-4000 | 350 / 258 @ 2000-5000 RPM |
| Transmission: | 9-speed automatic | 9-speed automatic |
| Acceleration 0-100 km/h (sec): | 9.5 | 7.2 |
| Combined FE (L/100km): | 6.3 | 7.4 |
| Fuel-saving technology: | automatic engine start/stop | automatic engine start/stop |
Powertrain (Hybrid model)
| Engine: | 1.8L I-4 |
| --- | --- |
| GM RPO Code: | LKN |
| Aspiration: | atmospheric / naturally-aspirated |
| Displacement (cu in / ml): | 110 / 1796 |
| Block material: | cast aluminum |
| Cylinder head material: | cast aluminum |
| Valvetrain: | DOHC, four valves per cylinder with CVVT |
| Fuel delivery: | side direct fuel injection |
| Max rated power (kW / hp @ RPM): | 94 / 126 @ 5000 |
| Max torque (Nm / lb-ft @ RPM): | 175 / 129 @ 4750 |
| Main electric motor max. power (kW / hp @RPM): | 60 / 80 @ 4000 |
| Main electric motor max. torque (Nm / lb-ft @ RPM): | 275 / 203 @ 0-4000 |
| Assistant electric motor max. power (kW / hp @ RPM): | 54 / 72 @ 4000 |
| Assistant electric motor max. torque (Nm / lb-ft @ RPM): | 140 / 103 @ 0-4000 |
| Combined max. power (kW / hp): | 136 / 182 |
| Combined max. torque (Nm / lb-ft): | 380 / 280 |
| Battery unit capacity (kWh): | 1.5 |
| Drive Wheels: | FWD |
| Transmission: | Electric Variable Transmission (EVT) |
| Acceleration 0-100 km/h (sec): | 8.8 |
| Combined FE (L/100km): | 4.3 |
| Fuel-saving technology: | automatic engine start/stop and exhaust thermal energy recycling |
Wheels & Tires
| Metric / Model | 20T Vantage | 20T Elite | 20T Luxury | 20T Prestige | 28T Dignity | 28T Prestige | 30H Elite | 30H Luxury |
| --- | --- | --- | --- | --- | --- | --- | --- | --- |
| Wheels: | 16-inch double five-spoke fashion aluminum alloy wheels | 17-inch five-spoke sport aluminum alloy wheels | 17-inch five-spoke sport aluminum alloy wheels | 17-inch five-spoke sport aluminum alloy wheels | 18-inch multi-spoke dual-color aluminum alloy wheels | 18-inch multi-spoke dual-color aluminum alloy wheels | 17-inch five-spoke sport aluminum alloy wheels | 17-inch five-spoke sport aluminum alloy wheels |
| Tires: | 205/65R16 | 225/55R17 | 225/55R17 | 225/55R17 | 245/45R18 | 245/45R18 | 215/55R17 | 215/55R17 |