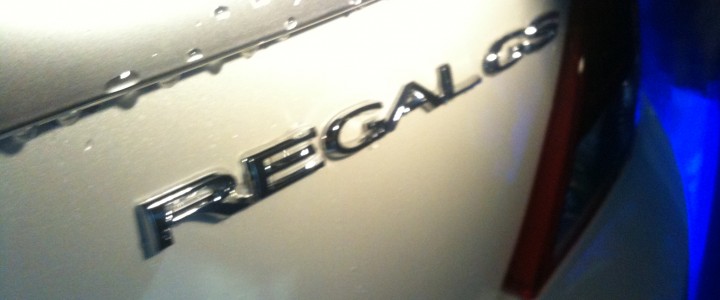 2017 Buick Regal GS
As Buick completely overhauls (redesigns and re-engineers) the Regal lineup for the 2017 model year, it's also expected to bring out an all-new, performance-oriented Regal GS (Grand Sport).
Following is speculative and unconfirmed information about the 2017 Buick Regal GS. This page is a continuous work-in-progress and will be updated on a regular basis as we await official details from General Motors and Buick.
Please note: it's possible that the GS variant of the all-new, sixth-generation Regal will launch later than the "standard" non-GS models. If that will be the case, then the sixth-gen Regal GS will likely debut as a 2018 model year vehicle.
If you notice any inaccuracies about the information provided, have recommendations, or suggestions to share, please let us know here.
Following are our expectations of the 2017 Buick Regal GS:
Like its non-GS brother, the 2017 Regal GS based on GM's new global, front-drive midsize E2XX platform shared directly with the 2016 Chevrolet Malibu. The longer wheelbase variant of the E2XX platform is known as P2XX and will underpin the 2017 Buick LaCrosse.
The E2XX architecture will allow the new Regal GS to drop significant amounts of weight — to the tune of 300 pounds (136 kg) compared to the last-generation Regal GS, thereby improving key driving characteristics such as acceleration, braking, and handling, as well as fuel economy
Powered by a high-outpout variant of GM's 2.0L Turbo I4 LTG engine making close to 300 horsepower and 300 pound-feet of torque mated to a choice of either a six-speed manual or an eight-speed automatic transmission hooking up to the latest Haldex all-wheel drive system, like the one in the new Buick Envision crossover
Handle better than its non-GS brother thanks to performance-oriented enhancements to the chassis and suspension system, including:

Four-wheel independent suspension
Unique High Performance Strut (HiPer Strut) front suspension design that reduces torque steer, provides more linear and communicative steering through improved camber control, improves impact isolation on bumps and rough surfaces
Interactive Drive Control system that allows the driver to select different drive modes
Four-wheel-disc brake system with front Brembo brakes (caliper and rotors)

Feature styling enhancements that reflect its more sporting character and support its higher levels of performance
Deliver a more sporting cabin thanks to such features as more supportive front seats and a flat-bottom steering wheel