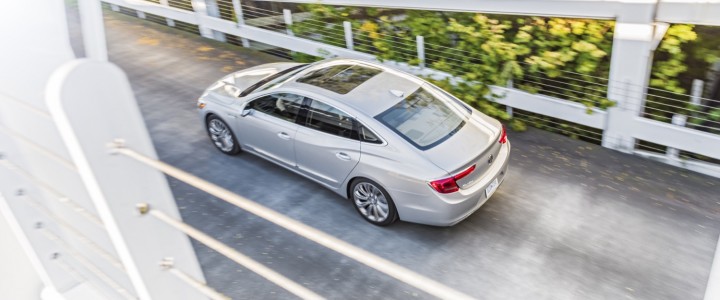 2019 Buick LaCrosse
The Buick LaCrosse receives a few minor changes and updates for the 2019 model year, the most notable of which is the addition of the 2019 LaCrosse ST trim level. Another note of significance is the fact that this is the final model year for the North American LaCrosse, as it has been discontinued in the Canada, Mexico, and United States Markets. As such, the 2020 Buick LaCrosse is a China-only affair.
Changes, Updates, New Features
Deletion of two exterior colors
Addition of two new exterior colors
Addition of 2019 LaCrosse Sport Touring (LaCrosse ST) model/trim level
Addition of a new cargo net accessory
Introduction of a new electronic-powered parking brake
Introduction of in-cabin air ionizer, which is designed to eliminate odors and improve air quality, as standard on the Avenir model
See detailed 2019 Buick LaCrosse changes, updates and new features here: 2019 Buick LaCrosse changes log.
The updates and changes described here are specific to the U.S. market and may be different for other markets.
Body Styles
The 2019 Buick LaCrosse continues to be offered as a full-size four-door sedan.
Platform
Like all third-generation units of the Buick LaCrosse, the 2019 LaCrosse continues to ride on GM's E2 platform shared with the following vehicles:
Buick Regal (2018 and newer)
Opel Insignia (2017 and newer)
Holden Commodore (2018 and newer)
Next Chevrolet Impala (if the Impala lives on past the current generation)
Production
The 2019 Buick LaCrosse is assembled by GM USA at the GM Detroit-Hamtramck factory near Detroit, Michigan, USA.
Availability
The 2019 LaCrosse followed the regular GM model year rollover sequence, and launched in the third quarter of the 2018 calendar year.
Beyond 2019
As stated, the third-generation Buick LaCrosse has been discontinued in the North American market after being introduced for the 2017 model year. A refreshed version of the current-gen Buick LaCrosse is available exclusively in China, and we expect it to remain there until at least until the 2022 model year. The prospect of an all-new, future Buick LaCrosse is uncertain at this time.
Discussion
Discuss the 2019 Buick LaCrosse in our Buick forum.
News
Follow our coverage of Buick LaCrosse news.
2019 Buick LaCrosse Pages