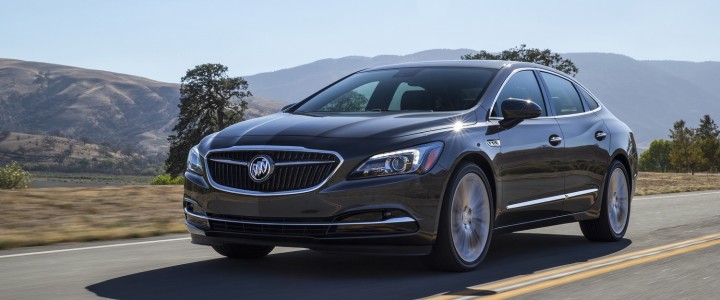 2017 Buick LaCrosse
The 2017 Buick LaCrosse made its debut at the 2015 Los Angeles Auto Show. Set to arrive as a 2017 model year vehicle in the second or third quarters of 2016. The full-size sedan is all-new (completely reengineered and redesigned) and represents the third generation of the LaCrosse nameplate that offers an "all-new design, sophisticated technologies, and more-responsive performance", according to Buick.
"The new LaCrosse signals the next phase of Buick's international momentum," said Duncan Aldred, vice president of Buick Sales and Marketing. "Its quietness, comfort and connectivity were developed to set new standards in the segment, supported by technologies not offered on competitors such as the Lexus ES. It is also drop-dead gorgeous."
2017 Buick LaCrosse Overview

| | |
| --- | --- |
| Model years: | 2017-present |
| Production years: | 2016-present |
| Launch date: | September 2016 |
| Classification: | full-size premium/luxury sedan |
| Platform: | P2XX E2XX Long |
| Markets: | North America, China |
| Related (North America): | 2016 Chevrolet Malibu |
| Related (Europe): | 2017 Opel Insignia |
| Related (Oceania): | 2018 Holden Commodore" |
The 2017 LaCrosse features all-new everything, from the exterior and interior to the powertrain, suspension, and in-vehicle technology.
Vehicle highlights include:
About 300 pounds (136 kg) lighter and stiffer than second-gen LaCrosse
Technologically-advanced, responsive, and fuel-efficient 3.6L V6 engine paired with a new eight-speed automatic transmission
New five-link rear suspension and available HiPer Strut front suspension
Available electronically controlled Continuous Damping Control active suspension with selectable Touring and Sport modes
Driver-selectable Electronic Precision Shift
Available advanced, all-new dual-clutch AWD system
Efficiency-enhancing low-drag disc brakes with Duralife rotors
Electric power steering system with Lead/Pull Compensation
Easier rear-seat entry/egress and more usable storage space
Available wireless charging, available Teen Driver and configurable, LED driver information center with 8-inch-diagonal color display
Perforated leather-appointed front seats with new lumbar massaging feature
IntelliLink with frameless 8-inch-diagonal color touchscreen featuring Apple CarPlay, Android Auto and OnStar 4G LTE with Wi-Fi hotspot integration
Background
The 2017 LaCrosse arrives at a very opportune time for the Buick brand. It is widely believed that the second-generation Buick LaCrosse was developed during a time when General Motors was strapped for cash and product development funds, given that the vehicle was released in the months after GM's emerged from Chapter 11 bankruptcy proceedings.
Though the second-gen LaCrosse was received to positive critical acclaim, it leaves various areas for improvement that the all-new model aims not only to address, but also to deliver a vehicle better than the competition.
Hot or Not
Following the unveiling of the 2017 LaCrosse, we asked readers to vote on their opinion about the new sedan. Following are the poll's results:
Exterior
The all-new, 2017LaCrosse Introduces the new face of Buick, which is influenced by the dramatic cues of the award-winning Avenir concept. Notably, it features a new grille design with a large opening distinguished by the return of a three-color – red, silver and blue – Buick tri-shield insignia, accented by wing-shaped elements set against darkened waterfall grille bars.
Longer, lower and wider than the current model, the 2017 LaCrosse is built on a stronger yet lighter structure. In fact, it is about 300 pounds lighter than the current LaCrosse – thanks largely to the use of press-hardened, high-strength steels – which contributes to greater efficiency and more responsive handling.
The new LaCrosse's expressive exterior design creates a new proportion, rendering a more dramatic road presence. The front wheels have been pulled forward and the wheelbase stretched 2.7 inches (65 mm), while the overall length is only 0.6-inch longer (15 mm). The dynamic proportion is further enhanced by a roofline that's 1.6 inches (40 mm) lower than the current model.
The longer wheelbase is matched by wheels pushed outward 1.3 inches (33 mm) in the front and 1.1 inches (28 mm) in the rear, while the car's width has grown only 0.4-inch (10 mm), creating a wheels-at-corners stance that conveys road confidence.
"It's a sleeker design that looks confident and purposeful," said Holt Ware, exterior design director. "Stretching the wheelbase, lowering the roofline and making it slightly wider creates a dramatic effect that is enhanced by the design's supporting elements such as the swept headlamps."
LaCrosse's new proportion is further complemented by an all-new grille that signals the next chapter in Buick's design anthology. Inspired by the Avenir concept, it's distinguished by a new, three-color tri-shield insignia set on a wing-shaped element. Contrasting with darkened waterfall grille bars and spanning the width of the opening, it connects the grille and headlamps, and emphasizes LaCrosse's new sculptural surfacing. The design was introduced on the Avenir concept and was inspired by the 1954 Wildcat II concept.
"It's the new face of Buick – one that reflects the sophistication, modernity and international reach of this evolving brand," said Ware. "The new, winged motif also emphasizes the wider, lower proportion of the LaCrosse."
The signature sweepspear body-side design element has been reinterpreted in a modern fashion, enhancing the car's sculptural identity. It has a split design that gives the body side a greater perception of depth, while picking up additional body lines, for an elegant, uninterrupted flow from the front fenders to the rear.
The 2017 LaCrosse's body lines are reinforced by a longer, uninterrupted "daylight opening" – the portion of the upper body between the A- and C-pillars. They're ringed with chrome, which adds a tastefully restrained premium accent to the body side.
Other details blend form and function such as outside mirrors mounted on pedestals on the doors rather than the corners of the front side windows. The design offers a greater field of view, while the mirror housings were shaped in the wind tunnel to help reduce wind noise.
Aerodynamic considerations also drove the dynamic sweep of the decklid, which acts as a spoiler to optimize airflow over the LaCrosse, and the front of the car features deflectors in front of the tires to reduce drag.
Additional exterior elements include:
High-intensity discharge headlamps and LED signature lighting are standard
LED taillamps are standard
Eighteen-inch wheels are standard and 20-inch wheels are available
Active grille shutters
Capless fuel filler on all models
Interior
The new LaCrosse's interior is designed to offer an open and inviting space for passengers – one that is relaxing, luxurious and well-connected. Sculpturally beautiful form and premium materials complement technologies developed for effortless interfacing.
It is the first Buick with a new single cockpit design aesthetic, characterized by a horizontal form that sweeps across the instrument panel and into the doors. It also incorporates a "floating" center console that positions the controller for the new Electronic Precision Shift high and close to the driver, while creating storage space below the console for items such as a handbag or tablet.
"There is fluidity in the interior forms – a seamless ambience that flows throughout the cabin," said Liz Wetzel, interior design director. "Like the exterior, there is sculptural beauty in the interior's functionality, complemented with high-quality, authentic materials and exceptional attention to detail."
That attention to detail includes soft materials for virtually every touchpoint; real French stitching on the seats, instrument panel and more; and genuine aluminum sill plates and wood décor trim, depending on the model.
"There is a handcrafted essence that is inviting and rewarding," said Wetzel. "It is clean environment that is designed to refresh and inspire."
A number of new and enhanced available luxury features amplify the LaCrosse's comfort quotient:
Three fashion-inspired interior trim choices:

Jet Black
Dark Atmosphere and Shale
Jet Black and Brandy

Contemporary Moon White ambient lighting
Eight-way-adjustable heated and ventilated front seats with new massage feature – with improved heating for quicker warm-up on cold mornings
Perforated leather-appointed seats
Heated steering wheel with power tilting/telescoping steering column
Dual-zone automatic climate control
Power rear sunshade
Premium Bose audio system
It also offers greater, more practical storage space and easier access. The rear doors, for example, open wider and offer easier entry/egress, and the trunk not only offers approximately 7 percent more storage space than the current model, but was configured to accommodate four golf bags.
The new LaCrosse builds on the exemplary reputation of the current model – already a benchmark in the segment – to offer an even quieter driving experience that contributes to the car's comfort and enjoyment.
Significantly, the Buick QuietTuning team employed a dissipative approach to sound attenuation rather than the current model's barrier system. That means the sound is absorbed primarily with a specialized, lightweight dissipative dash mat rather than heavier noise-blocking pads.
Additional quieting features include:
New five-link rear suspension provides greater isolation from road noise than the current four-link design
Active noise cancellation is standard on all models
Acoustic wheelhouse liners
Acoustic-laminated windshield and front side windows
Triple-sealed doors
Improved body noise-path sealing
The windshield wipers "park" below the hood line to reduce wind noise
Colors
2017 Buick LaCrosse Exterior Colors
The 2017 Buick LaCrosse is offered in the following 11 exterior colors:
Premium, Extra-Charge Colors
Dark Cherry Metallic (limited edition color)
Ebony Twilight Metallic
White Frost Tricoat
Graphite Gray Metallic
Dark Sapphire Metallic
Quicksilver Metallic
Dark Forest Green Metallic
Pepperdust Metallic
Crimson Red Tintcoat
2017 GMC Acadia Interior Colors
The 2017 Buick LaCrosse is offered in three interior color combinations:
Jet Black
Dark Atmosphere and Shale
Jet Black and Brandy
Technology
As one of the segment's most technologically advanced vehicles, the new LaCrosse offers a host of communication and convenience features designed for effortless connectivity.
The central technology is the latest edition of Buick IntelliLink, which is controlled by a new, frameless 8-inch-diagonal color touchscreen located at the center of an ergonomically optimized instrument panel. Along with the climate system and other features on the "center stack," it was designed with fewer buttons and controls for more intuitive use.
Phone integration technology is paired with IntelliLink and is designed to take phone features users would want to access while driving and put them on the 8-inch display via Apple CarPlay or Android Auto. The features allow customers to use select smartphone apps through the touchscreen interface. Many features can be controlled via voice commands through a button on the steering wheel, helping drivers keep their eyes on the road and hands on the wheel.
Additional LaCrosse technology highlights include:
All-new Electronic Precision Shift – Rather than a traditional shifter, gears are chosen and engaged via a simple toggle pull. It provides smooth, precise and responsive shifting while enabling added storage in the center console.
Configurable, high-definition driver information center – Located in the center of the gauge cluster and flanked by round instrument binnacles, it has a large, 8-inch-diagonal full-color display.
Head-up display – This available feature offers four page views: speed, audio, navigation and performance. It also offers alerts for certain active safety features such as Lane Keep Assist and Forward Collision Alert.
Available Teen Driver Technology – It encourages safe driving habits for new drivers by muting the audio or any device paired with the vehicle when front-seat occupants aren't wearing their safety belts. It also provides audible and visual warnings when the vehicle is traveling over predetermined speeds – and offers a "report card" for parents.
Wireless charging – When equipped with this available feature, the phone storage slot in the center console enables inductive charging without the need for plug-ins or cables.
Powertrain
LaCrosse's all-new 3.6L V6 engine with direct injection and dual overhead cams represents the second generation of GM's acclaimed DOHC V6 engine family and incorporates new features such as Active Fuel Management (cylinder deactivation) and Stop/Start technology.
Active Fuel Management system temporarily deactivates two the 3.6L's cylinders in light-load driving conditions to enhance fuel efficiency and seamlessly reactivates them when the driver demands full power.
With the efficiency-enhancing Stop/Start system, the engine is shut down in certain driving conditions such as stop-and-go city driving to reduce fuel consumption, automatically restarting when the driver takes his or her foot off the brake pedal.
Additionally, noise-reducing features including an all-new cam drive system contribute to the vehicle's benchmark quietness.
The 3.6L is estimated at 305 horsepower (227 kW) and 268 pound-feet of torque (363 Nm); and it's matched with a new eight-speed automatic transmission.
LaCrosse's new twin-clutch AWD system offers the ultimate in grip in and control, with better performance during acceleration and cornering. It allows torque to be split between the rear wheels for optimal performance and the twin-clutch design uses independent clutch actuation to determine and control the amount of torque sent to each rear wheel.
Chassis
Thanks to its new, lighter and stiffer architecture – and a number of new and enhanced complementing technologies – the 2017 LaCrosse offers a driving experience that is as responsive and direct as it is quiet and comfortable. It also offers enhanced capability with Buick's first twin-clutch all-wheel-drive system.
A new five-link rear suspension is the central component of the improved ride and handling characteristics. It helps reduces roll center motion, enables positive lateral control and promotes excellent dynamic stability. In short, it helps keep the tires planted on all surfaces – and contributes to a quieter ride through greater isolation from road noise.
At the front, a MacPherson-strut suspension is standard and Buick's HiPer Strut suspension is used on front-wheel-drive models with 20-inch wheels. It helps reduce torque steer and maintain negative camber during cornering, improving maximum grip in all road conditions. It also improves the direct feel of the vehicle, while isolating undesirable feedback.
Available, electronically controlled Continuous Damping Control further optimizes ride comfort and handling capabilities over varying road surfaces and profiles. It's an active suspension system that can adjust damping every two milliseconds, with Touring and Sport damping modes selected by the driver through the Electronic Precision Shift.
Also contributing to LaCrosse's more-direct driving experience is an enhanced, rack-mounted electronic power steering system, which incorporates Lead-Pull Compensation. It automatically adjusts the steering angle to account for factors like crowned roads or high crosswinds.
Additional chassis and driver control features on the 2017 LaCrosse include:
Low-drag four-wheel disc brakes with Duralife rotors, which offer up to double the service life of conventional rotors
Hill Start Assist with Automatic Vehicle Hold, which can hold the brakes up to five minutes, depending on conditions
Electronic park brake
Shear-type suspension mounts that offer greater ride, handling and noise isolation attributes
Platform
The 2017 Buick LaCrosse will use the larger and more premium variant of GM's new E2XX platform. It was initially believed that the platform is called P2XX, but instead it is referred to as E2XX Super.
The architecture enables a significant weight savings compared to the Epsilon Super platform of the second-gen LaCrosse. It is expected that the next-generation Chevrolet Impala will utilize the same platform.
Safety
The 2017 LaCrosse also features extensive active and passive safety features that offer driver awareness and protection surrounding the vehicle, including:
Ten standard air bags – including two knee air bags for front passengers
Front Pedestrian Braking, which alerts drivers to and can automatically apply the brakes for pedestrians detected directly ahead in some driving conditions
Lane Keep Assist, which provides gentle steering wheel turns – and Lane Departure Warning alerts, if necessary – to help drivers avoid crashes due to unintentionally drifting out of their lane
Automatic Park Assist, which helps the driver parallel park/perpendicular park by automatically steering the vehicle into a detected parking space while the driver applies the brakes
Adaptive Cruise Control
Forward Automatic Braking
Forward Collision Alert
Lane Change Alert with Side Blind Zone Alert
Rear Vision Camera
Safety Alert Seat
Trim Levels And Pricing
The 2017 Buick LaCrosse has a starting MSRP of $32,990, including a $925 destination freight charge.
Trim level pricing for the 2017 LaCrosse is as follows.
2017 Buick LaCrosse Trim Levels & Pricing

| Trim Level | Drive Type | Starting MSRP* |
| --- | --- | --- |
| 1SV Group | FWD | $32,990 |
| Preferred Group | FWD | $36,990 |
| Essence Group | FWD | $39,590 |
| Premium Group | FWD | $41,990 |
| Premium Group | AWD | $44,190 |
* Base MSRP prices include $925 destination charge.
Complete details on 2017 Buick LaCrosse pricing and trim levels.
Competition
The next-gen LaCrosse will compete in the premium full-size luxury car segment against the:
Lexus ES
Acura TLX or RLX, depending on LaCrosse trim level
Lincoln Continental
Chrysler 300
Unveiling
The 2017 Buick LaCrosse was unveiled on November 18th at the 2015 Los Angeles Auto Show.
Availability
Where
The 2017 Buick LaCrosse will be available in all markets where GM markets the Buick brand. Currently, these include North America and China.
It's also possible that a version of the 2017 Buick LaCrosse will also be available in Europe as an Opel and Vauxhall. If this is the case, then the vehicle will slot above the Opel Insignia.
When
The 2017 Buick LaCrosse will arrive at dealers across the U.S. in the timeframe of September of 2016.
Production
The 2017 Buick LaCrosse will be produced at GM's Detroit-Hamtramck plant in Michigan for the North American market. A plant in China produces the LaCrosse for the Chinese domestic market.
Spy Shots
The 2017 Buick LaCrosse has been spied several times before its unveiling:
Pre-Release Info
In September 2015, Buick confirmed confirmed that the all-new 2017 LaCrosse will debut at the 2015 Los Angeles Auto Show in November 2015.
The brand states that the new LaCrosse will feature design cues based on the Avenir concept and will make a "striking evolution from current Buick models" with a grille design that puts a new face on the brand, including a new, three-color tri-shield insignia set on a wing-shaped element" that contrasts with darkened waterfall grille bars and spans the width of the opening." Furthermore, the wing-shaped element connects "the grille and headlamps, and emphasizes LaCrosse's new sculptural surfacing."
Buick says that the design was introduced on the Avenir concept, itself inspired by the 1954 Wildcat II concept. "It's a face all Buick models will adopt by 2018", says Buick.
"The Avenir concept shattered expectations of what a Buick could be and the 2017 LaCrosse promises to do the same," said Duncan Aldred, vice president of Buick. "Its expressive design represents a break from convention and highlights the progressiveness in all new Buick models."
Furthermore, Buick states that the design of the next-generation LaCrosse "is framed on an all-new chassis that is stronger yet lighter than the current model and serves as the foundation for a more dynamic driving experience. New technologies such as a five-link rear suspension contribute to a more responsive ride, while taking Buick's signature quietness to a new threshold – and it's a premium feature not found on many other full-size luxury models, including the Lexus ES."
Specs
Following are preliminary 2017 Buick LaCrosse specifications.
2017 Buick LaCrosse Overview
| Model: | 2017 Buick LaCrosse |
| --- | --- |
| Body style / driveline: | four-door, five- passenger sedan |
| Driveline: | front-engine, front-drive/all-wheel-drive |
| Construction: | integral |
| Vehicle type: | full-size sedan |
| Manufacturing location: | Detroit-Hamtramck, Michigan, USA |
| Key competitors: | Lexus ES 350, Lincoln MKS |
2017 Buick LaCrosse Engine
| Engine: | 3.6L V6 DI VVT LGX |
| --- | --- |
| Displacement (cu in / cc): | 223 / 3649 |
| Bore & stroke (in / mm): | 3.74 x 3.37 / 95 x 85.8 |
| Block material: | cast aluminum w/ cast-in-place iron bore liners |
| Cylinder head material: | cast aluminum |
| Valvetrain: | DOHC, four valves per cylinder, continuously variable valve timing |
| Fuel-saving technologies: | Active Fuel Management, Automatic Start/Stop |
| Fuel delivery: | direct high-pressure fuel injection |
| Compression ratio: | 11.5:1 |
| Horsepower (hp / kW @ rpm): | 305 / 227 @ 6800 (estimate) |
| Torque (lb-ft / Nm @ rpm): | 268 / 363 @ 5200 (estimate) |
| Recommended fuel: | regular unleaded |
| GM-estimated fuel economy (city / hwy): | TBD |
2017 Buick LaCrosse Transmission
Type:
eight-speed, electronically controlled automatic overdrive with torque converter clutch
Gear ratios (:1)
First:
5.25
Second:
3.02
Third:
1.95
Fourth:
1.47
Fifth:
1.22
Sixth:
1.00
Seventh:
0.80
Eighth:
0.57
Reverse:
4.01
Final drive ratio:
3.07
GM-estimated fuel economy (city / hwy):
TBD
2017 Buick LaCrosse Chassis & Suspension
Front Suspension
FWD and AWD with 18-inch wheels:
MacPherson strut coil-over-spring
AWD with 20-inch wheels:
MacPherson strut coil-over-spring
FWD with 20-inch wheels:
HiPer Strut with Continuous Damping Control
Rear Suspension
FWD and AWD with 18-inch wheels:
five-link
AWD with 20-inch wheels:
five-link
FWD with 20-inch wheels:
five-link with Continuous Damping Control
Steering type:
electric variable-effort power steering with Active Return Assist
Steering ratio:
TBD
Steering wheel turns, lock-to-lock:
TBD
Turning circle (ft / m):
38 / 11.6
2017 Buick LaCrosse Brakes
| | |
| --- | --- |
| Type: | split, dual-circuit four-wheel-disc with power assist; brake pre-fill and Electronic Brake Force Distribution |
| Rotors: | Duralife brake rotors |
| Rotor diameter x thickness (in / mm): | TBD |
2017 Buick LaCrosse Wheels & Tires
| Wheel Size & Type | Tire Size & Type |
| --- | --- |
| 18-inch aluminum | P235/50R18 all-season |
| 20-inch aluminum | P245/40R20 all-season |
2017 Buick LaCrosse Exterior Dimensions
| | |
| --- | --- |
| Wheelbase (in / mm): | 114.4 / 2905 |
| Overall length (in / mm): | 197.5 / 5017 |
| Overall width (in / mm): | 73.2 / 1859 |
| Overall height (in / mm): | 57.5 / 1460 |
| Track (front) (in / mm): | 62.9 / 1599 |
| Track (rear) (in / mm): | 63.1 / 1602 |
| Curb weight (lb / kg): | TBD |
2017 Buick LaCrosse Interior Dimensions
| | |
| --- | --- |
| Seating capacity: | 2 / 3 |
| Headroom (front) (in / mm): | 38.4 / 975 (without sunroof) |
| Headroom (rear) (in / mm): | 37.1 / 943 (without sunroof) |
| Legroom (front) (in / mm): | 42 / 1067 |
| Legroom (rear) (in / mm): | 39.9 / 1014 |
| Shoulder room (front) (in / mm): | 57.7 / 1466 |
| Shoulder room (rear) (in / mm): | 56.6 / 1437 |
| Hip room (front) (in / mm): | 54.7 / 1390 |
| Hip room (rear) (in / mm): | 55 / 1399 |
| Cargo volume (cu. ft. / L): | 14.2 / 402 |
2017 Buick LaCrosse Pages