2016 Buick Encore Sport Touring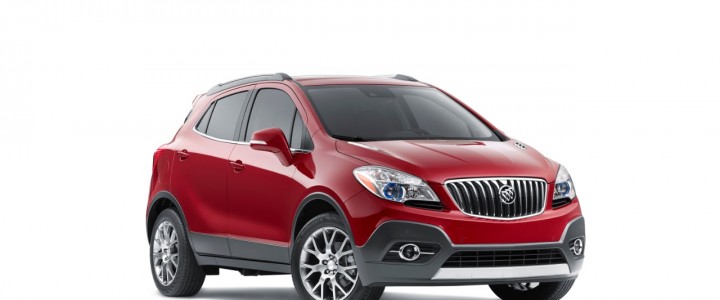 2016 Buick Encore Sport Touring
The 2016 Buick Encore introduces a new Sport Touring model that the brand describes as a "more spirited take on the popular crossover."
The Encore Sport Touring is distinguished by unique exterior cues and driven by an exclusive, all-new 1.4L Turbo I4 LE2 engine with direct injection and stop/start technology.
The exterior of the Encore Sport Touring features several unique elements compared to non-Sport Touring models, including:
Winged rear spoiler
18-inch aluminum premium-finish wheels
Body-color door handles
2016 Buick Encore Sport Touring is powered by GM's all-new 1.4-liter turbo-charged Ecotec LE2 engine mated to a six-speed automatic transmission.
Engine
The 1.4L Turbo I4 LE2 is part of a new, global family of small, power-dense engines developed to balance performance and efficiency with exceptional refinement.
Direct injection helps the motor generate an estimated at 153 horsepower (112 kW) and 177 pound-feet of torque (240 Nm), for about 11 percent more horsepower and nearly 20 percent more torque than the Encore's standard 1.4L I4 LUV engine – and a greater feeling of power on demand, particularly at low- and mid-range engine speeds. The all-new 1.4L Turbo I4 LE2 is matched with a six-speed automatic transmission.
Stop/start technology further contributes to reduced fuel consumption in stop-and-go driving by automatically shutting down the engine when the vehicle comes to a stop under certain driving conditions, such as a stoplight. The engine automatically restarts when the driver takes his or her foot off the brake.
Transmission
The 1.4L Turbo I4 LE2 is mated to GM's Hydra-Matic 6T40 MNH transmission in the Encore Sport Touring. The transmission is part of a family of six-speed front- and all-wheel-drive transaxles developed for small cars and crossovers.
2016 Buick Encore Sport Touring Overview
| | |
| --- | --- |
| Model: | Buick Encore Sport Touring |
| Body style / driveline: | subcompact luxury crossover |
| Driveline: | front-engine/front-wheel drive and all-wheel drive |
| Construction: | body-frame integral |
| EPA vehicle class: | sport utility vehicle (SUV) |
| Competitors: | Mini Countryman, BMW X1, Mercedes-Benz GLA-Class, Audi Q3, Volkswagen Tiguan |
| Manufacturing locations: | Bupyeong, South Korea (for North America) |
2016 Buick Encore Sport Touring Engines
| | |
| --- | --- |
| Engine: | Ecotec 1.4L turbocharged DOHC I4 LE2 |
| GM production code: | LE2 |
| Displacement (cu. in. / cc): | 85 / 1399 |
| Bore and stroke (in. / mm): | 2.91 x 3.20 / 74 x 81.3 |
| Block material: | cast aluminum |
| Cylinder head material: | cast aluminum |
| Valvetrain: | dual overhead camshafts, four valves per cylinder, continuously variable valve timing |
| Ignition system: | coil on plug |
| Fuel delivery: | direct injection with electronic throttle control |
| Compression ratio: | 10:1 |
| Horsepower (hp / kW @ rpm): | 153 / 112 @ 5600 (est.) |
| Torque (lb-ft / Nm @ rpm): | 177 / 240 @ 2000-4000 (est.) |
| Recommended fuel: | regular unleaded |
| Max engine speed (rpm): | TBD |
| Emissions controls: | close-coupled and underfloor catalytic converters; pre- and post-oxygen sensors |
| EPA estimated  fuel economy (FWD) (city / hwy / combined): | TBD |
| EPA estimated  fuel economy (AWD) (city / hwy / combined): | TBD |
2016 Buick Encore Sport Touring Transmission
Transmission:
HydraMatic 6T40 6-speed automatic
GM production code:
MNH
Gear ratios (:1)
First:
4.58
Second:
2.96
Third:
1.91
Fourth:
1.45
Fifth:
1.00
Sixth:
0.75
Reverse:
2.94
Final drive:
3.53
2016 Buick Encore Sport Touring Chassis & Suspension
| | |
| --- | --- |
| Front: | MacPherson strut with coil-over spring; direct-acting stabilizer bar; steel 6-point rigid attachment front cross member |
| Rear:  | compound crank (torsion beam); coil springs with twin-tube shock absorbers |
| Steering type: | column-mounted electric power steering; rack-and-pinion gear (straight ratio) |
| Steering ratio: | 16:1 |
| Steering wheel turns, lock-to-lock: | 2.72 |
| Turning circle, curb-to-curb (ft / m): | 36.7 / 11.2 |
2016 Buick Encore Sport Touring Brakes
| | |
| --- | --- |
| Type: | four-wheel disc with ventilated front discs and solid rear discs; standard ABS |
| Brake rotor diameter x thickness (front) (in / mm): | 11.8 x 1.0 / 300 x 26, ventilated discs |
| Brake rotor diameter x thickness (rear) (in / mm): | 10.6 x 0.5 / 268 x 12, solid discs |
| Anti-lock braking system: | Mando MGH60 Chassis Controls: ABS / TCS / ESC with rollover mitigation |
2016 Buick Encore Sport Touring Wheels & Tires
Wheels
Standard:
18 x 7-inch painted aluminum
Optional:
18 x 7-inch chromed aluminum
Tires:
P215/55R18 AL3 blackwall
2016 Buick Encore Sport Touring Exterior Dimensions
| | |
| --- | --- |
| Wheelbase (in / mm): | 100.6 / 2555 |
| Overall length (in / mm): | 168.4 / 4277 |
| Overall width (in / mm): | 69.9 / 1775 |
| Overall height (in / mm): | 65.2 / 1656 |
| Track (front) (in / mm): | 60.6 / 1539 |
| Track (rear) (in / mm): | 60.6 / 1539 |
| Curb weight (FWD) (lb / kg): | 3237 / 1468 |
| Curb weight (AWD) (lb / kg): | 3358 / 1523 |
| Minimum ground clearance (front) (in. / mm): | 6.2 / 157 |
| Minimum ground clearance (rear) (in. / mm): | 6.2 / 157 |
2016 Buick Encore Sport Touring Interior Dimensions
| | |
| --- | --- |
| Seating capacity (front / rear): | 2 / 3 |
| Headroom (front) (in / mm): | 39.6 / 1006 |
| Headroom (rear) (in / mm): | 38.8 / 985 |
| Legroom (front) (in / mm): | 40.8 / 1037 |
| Legroom (rear) (in / mm): | 35.7 / 907 |
| Shoulder room (front) (in / mm): | 54.1 / 1374 |
| Shoulder room (rear) (in / mm): | 52.5 / 1334 |
| Hip room (front) (in / mm): | 51.7 / 1313 |
| Hip room (rear) (in / mm): | 50.1 / 1273 |
| Passenger volume (cu ft / L): | 92.8 / 2628 |
| Cargo volume (behind rear seat) (cu ft / L): | 18.8 / 532.4 |
| Cargo volume (rear seat folded) (cu ft / L): | 48.4 / 1371 |
2016 Buick Encore Sport Touring Capacities
| | |
| --- | --- |
| Fuel tank (gal / L): | 14 / 53 |
| Engine oil (qt / L): | 4.75 / 4.5 |
| Cooling system (qt / L): | 6.9 / 6.5 |
| GVWR (FWD) (lb / kg): | 4255 / 1930 |
| GVWR (AWD) (lb / kg): | 4374 / 1984 |