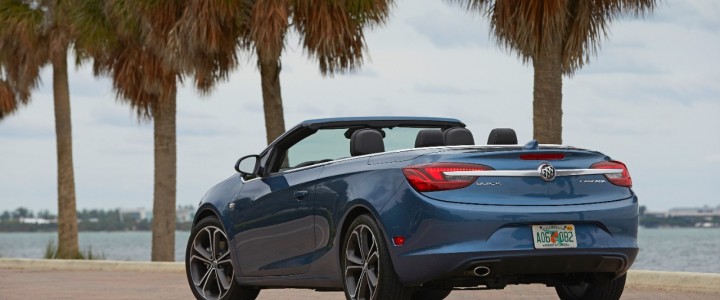 2019 Buick Cascada
The 2019 Buick Cascada receives three few minor changes and updates for its final model year. Notably, this is the last model year for the Cascada as the convertible coupe has been discontinued.
Changes, Updates, New Features
The Cascada gets the following minor changes for the 2019 model year:
Deletion of the Carrageen Metallic exterior color
Revised Sport Red exterior color availability
Body Styles
The 2019 Buick Cascada continues to be offered exclusively as a compact, two-door, soft-top convertible.
Powertrain
The 2020 Buick Cascada offers the following engine choice:
| Engine | Fuel | Aspiration | Transmission | Horsepower / KiloWatt @ RPM | Torque / Newton Meters @ RPM |
| --- | --- | --- | --- | --- | --- |
| 1.6L LWC I4 | Gasoline | Turbocharged | 6-Speed Automatic MH7 | 200 / 149 @ 5500 | 207 / 280.6 @ 1800-4500 |
Platform
Like all first-generation units of the Buick Cascada, the 2019 Cascada continues to ride on the GM Delta 2 platform shared with the following vehicles:
Buick Excelle GT/XT
Opel Astra / Vauxhall Astra
Production
The 2019 Buick Cascada is assembled by PSA Groupe at the Opel Gliwice factory in Gliwice, Poland.
Availability
The 2019 Cascada launched in the third quarter of the 2018 calendar year.
Beyond 2019
We expect that the first-generation Cascada will live at least through the 2021 model year. After that, the model could either be replaced by an all-new, future Buick Cascada or be discontinued and removed from the lineup.
Discussion
Discuss the next Buick Cascada in our Buick forum.
News
Follow our coverage of Buick Cascada news.