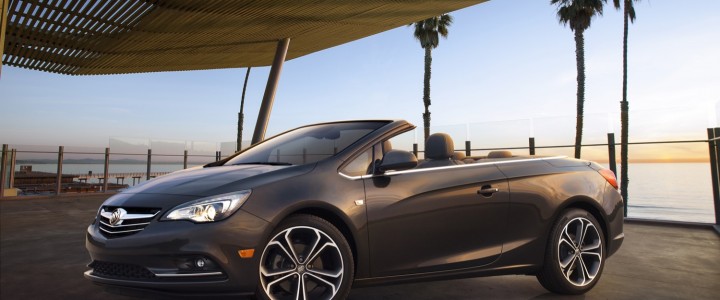 2016 Buick Cascada
The 2016 Buick Cascada is a compact, four-seater, soft-top convertible vehicle.
"The new, 2016 Buick Cascada is a beautiful, engaging convertible that represents the very best of the brand's global development practices," said Duncan Aldred, vice president of Buick. "It's a car that will delight customers with its fun spirit and help drive the momentum that's fueling Buick's success."
The 2016 Cascada represents Buick's first convertible to be offered in North America in 25 years.
Essentially an Opel Cascada/Vauxhall Cascada from Europe, the Cascada features a 2+2 seating configuration, with comfortable room for four adults, expressive driving experience that is rooted in a rigid body structure, Buick's sophisticated HiPer Strut front suspension and responsive Watts Z-link suspension in the rear, and a 200-horsepower (149 kW) turbocharged engine.
2016 Buick Cascada key highlights:
2+2 convertible with distinctive design, premium features, refinement and 4G LTE connectivity
Advanced chassis technologies including HiPer Strut front suspension and standard turbocharged performance
Insulated soft-top system opens in 17 seconds at up to 31 mph
Designed from the outset as a convertible, the Buick Cascada has a flowing, sculpted profile, with fast-raked A-pillars that convey a wind-in-the-hair flair. When lowered, the top folds neatly and completely beneath a hard tonneau behind the rear seats, giving the car a pure open-air aesthetic.
"The Cascada's design blends the suggestion of speed with sophisticated and uncompromising details," said Holt Ware, Buick exterior design director. "Most convertibles are designed from existing coupes or sedans, meaning stowage of the top is an afterthought, but not this Buick. It looks handsome and has a premium appearance when the top is lowered – and a perfect, seamless profile when it's up."
The windswept exterior design is further accentuated with a sweeping body-side line and sleek headlamps that flow into the front fenders, with Buick's signature wing-shape light-emitting diode (LED) daytime running lights delivering a distinctive appearance.
Chrome trim bridges between the wing-shaped taillights, which are also LED-lit.
The rear deck lid opens rearward to accommodate the folding softtop. The electro-hydraulic power roof system features multilayer construction – including acoustic and thermal barriers – designed for a comfortable ride in various conditions.
The 2016 Buick Cascada is available only as a soft-top convertible. A four-door sedan is sold as the Buick Verano in North America and as the Buick Excelle GT in China; a five-door hatchback is sold as the Buick Excelle XT in China and is not available in North America for the first-generation Verano.
Inside, a thoughtfully trimmed and comprehensively equipped cabin reflects Buick's renaissance. The instrument panel is wrapped with soft-touch material featuring authentic stitching, while heated front seats and steering wheel offer comfort in colder weather conditions.
The Cascada also has plenty of storage space for the trappings of a weekend getaway, including 13.4 cubic feet (380 liters) of cargo room with the top up and 9.8 cubic feet (280 liters) with the top down. The rear seatbacks fold down electronically to expand cargo capability for longer items.
Interior technology highlights include:
Buick IntelliLink with a seven-inch-diagonal color touch screen featuring Text Message Alerts, Siri Eyes Free for Apple phones with an iOS 6 or newer operating system and navigation
OnStar 4G LTE with built-in Wi-Fi hotspot
Electronic rear-seat entry system automatically powers the front seats forward by simply pressing the seatback forward. It moves the seats back when the seatback is returned to the upright position
Safety Technology
Electric safety belt presenters that use telescopic arms to slide the upper front safety belt assemblies from behind the front seat into closer reach for easier buckling
Rollover protection bars that deploy behind the rear seats when the possibility of a rollover is detected
Lane departure warning, rear park assist, rearview camera and Rainsense windshield wipers
Engine
The Cascada is driven by GM's turbocharged 1.6L I4 LWC engine rated at 200 horsepower (149 kW) and an estimated at 206 pound-feet of torque (280 Nm). With more than 100 horsepower per liter, it's one of the most power-dense engines in the segment. An overboost feature briefly pushes torque to an estimated 221 pound-feet (300 Nm).
Direct injection and variable valve timing complement the turbo engine's performance with efficiency.
Transmission
The 2016 Buick Cascada's 1.6-liter engine is mated to GM's six-speed automatic transmission.
2016 Buick Cascada fuel economy currently not available. We will update this section when Buick releases this information.
Power from the turbocharged engine is translated into driving enjoyment via the innovative suspension system, which employs the sophisticated HiPer Strut front suspension pioneered on the LaCrosse and Regal.
"Cascada's driving enjoyment is rooted in technologies that make it more comfortable and refined," said Aldred. "Its features work harmoniously to provide a safe, connected and confidence-inspiring driving experience."
HiPer Strut is based on the MacPherson strut design and features dual-path top mountings that separate the transfer of spring and damper loads to the body structure. It enhances ride and handling by reducing torque steer; more linear and communicative steering through improved camber control, and improved impact isolation on bumps and rough surfaces.
A responsive Watts Z-link design helps center the rear axle during cornering, which helps keep the Cascada's handling responses symmetrical on both left-hand and right-hand turns. The linkage's capability to center the axle during cornering delivers a more-balanced driving experience because the rear suspension better follows the lead of the front suspension.
The Z-link design is also lighter and requires less space than a typical fully independent rear suspension. The lower weight enhances efficiency, while the compact design enables the Cascada's generous cargo room.
Steering inputs are executed by a fuel-saving, rack-mounted electric power steering system, while stopping power is handled by standard four-wheel antilock disc brakes. Cascada rolls on standard 20-inch wheels.
This section coming soon.
The convertible top of the 2016 Buick Cascada drops down in 17 seconds at speeds up to 31 mph. Superior thermal and acoustic insulation contribute to driving comfort.
The Buick Cascada is essentially the European-market Opel Cascada with a Buick logo and several other market-specific adaptations for Buick. The 2016 Cascada was developed at the GM-Opel International Technical Development Center in Rüsselsheim, Germany, where more than 6,000 engineers work on Opel models, but also on products for other GM brands.
The Buick Cascada was unveiled on January 12th, 2015 at the 2015 North American International Auto Show in Detroit.
The Buick Cascada is produced alongside the Opel-Vauxhall Cascada at the GM-Opel plant in Gliwice, Poland.
The 2016 Buick Cascada convertible will go on sale in the USA in the first quarter of 2016. Buick's initial announcement has the United States being the only market where the Buick Cascada convertible is available, leaving out Mexico, Canada, and China.
The base price of the 2016 Buick Cascada is $33,990 Among the many amenities offered in the base 2016 Cascada are:
Acoustically and thermally insulated electro-hydraulic power roof that lowers in only 17 seconds at speeds up to 31 mph
Navigation and premium sound system
Rear vision camera
Remote start
Heated front seats
Heated steering wheel
Rear park assist
The Cascada Premium trim is priced at $36,990 and adds:
Forward collision warning
Lane departure warning
Front and rear park assist
Rain-sensing wipers
Twenty-inch "diamond graphic" wheels
Following are preliminary 2016 Buick Cascada specs:
| Model: | 2016 Buick Cascada |
| --- | --- |
| Body style / driveline: | two-door, four-passenger convertible; front-engine/front-wheel drive |
| Construction: | steel body-frame-integral (unibody) |
| Wheelbase (in / mm): | 106.1 / 2695 |
| Overall length (in / mm): | 184.9 / 4696 |
| Overall height (in / mm): | 56.8 / 1443 |
| Overall width (in / mm): | 72.4 / 1839 |
| Track (in / mm): | 62.5 / 1587 (front and rear) |
| Curb weight* (pounds / kg): | 3750 – 4003 / 1700 – 1816 |
| Engine: | 1.6L turbo I4 DOHC with direct injection |
| Horsepower (hp / kW): | 200 / 149 |
| Torque (lb-ft / Nm): | 221 / 280 (221 / 300 with overboost) – estimated |
| Transmission: | six-speed automatic |
| Front suspension: | HiPer Strut with direct-acting stabilizer bar |
| Rear suspension: | compound crank (torsion beam) with Watts Z-link |
| Steering: | rack-mounted electric, variable-assist rack-and-pinion |
| Brakes: | four-wheel disc with ABS and stability control |
| Wheels: | 20-inch aluminum |
| Cargo room with top up (cu ft / L): | 14.4 / 380 |
| Cargo room with top down (cu ft / L): | 9.8 / 280 |
* Curb weight ranges used from European-market Opel Cascada.
The 2016 Buick Cascada uses GM's Delta 2 platform that has been succeeded by GM's new D2XX platform.
Other vehicles using the Delta 2 platform include:
2015 – present Chevrolet Cruze Classic (China)
2008-2015 Chevrolet Cruze, Daewoo Lacetti Premiere, Holden Cruze
2010-2015 Chevrolet Volt
2009 – present Opel Astra J, Buick Excelle XT, Buick Excelle GT
2010 – present Chevrolet Orlando
2011 – present Buick Verano
2011 – present Opel Ampera
2011 – present Opel Zafira Tourer C
2013 – present Cadillac ELR
2013 – present Opel Cascada
For the Cascada, Delta 2 features a rigid body structure with high-strength steel in strategic areas, reinforced side sills and press-hardened steel in the A-pillars. The platform serves as the foundation for the Cascada's driving experience, contributing to steering precision, ride quality and quietness – as well as safety.
A 106.1-inch (2,695 mm) wheelbase enhances ride smoothness while enabling greater rear-seat legroom.