2016 Buick Velite Concept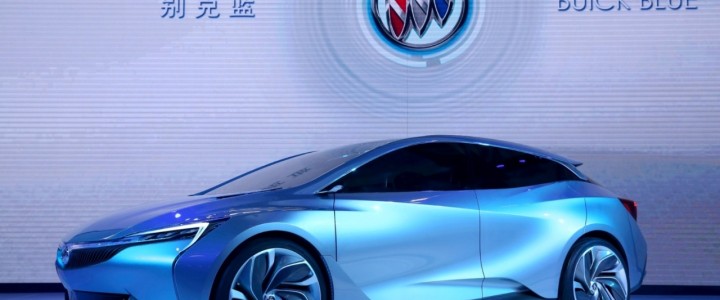 2016 Buick Velite Concept
The Velite is a concept vehicle from General Motors' Buick brand that "serves as a template for future new energy vehicles" under the brand's Buick Blue strategy. To note, the Buick Velite concept discussed here is completely different from another Buick Velite concept car that debuted in 2004.
Exterior
Buick says that the Velite concept "has an innovative crossover body that combines a sporty design with practical space".
The design is defined by flowing lines and rippling, sculpted curves, which reflect Buick's all-new design language, while improving aerodynamics. Its wing-shaped front grille is matched with intelligent matrix LED headlights, something that provides "a hint of Buick's styling for future new energy vehicles", according to the brand.
Interior
The interior of the Velite concept features an elegant interior with an integrated design that is comprised of recycled materials, a panoramic sunroof and induction ambient lighting. These elements point to design trends for upcoming new energy vehicles.
Drivetrain
The Velite concept is powered by a high-performance plug-in hybrid electric vehicle (PHEV) powertrain with GM's new-generation modular intelligent electric drive system at its core. It incorporates a high-performance modular lithium-ion battery pack.
An enhanced electric drive unit and intelligent controls help maximize performance and fuel savings under different driving conditions. The sophisticated technology will be applied in an upcoming Buick PHEV model.
Other Features
Buick says that the Velite concept "serves as a mobile network", which enables users to "enjoy an interactive human-machine experience thanks to its efficient and convenient connection with their intelligent devices as well as the application of innovative technologies such as cloud-based connection and storage, customized service and remote operation."
Another notable feature of the Velite concept is a 360-degree intelligent traffic induction system. Supported by sensors on its body, the system serves multiple functions such as providing hazard warnings, lane and safety distance keep assist, high-speed adaptive cruise control, low-speed automatic driving and night vision.
Development
Development of the Velite concept was led by the Pan Asia Technical Automotive Center (PATAC), GM's engineering and design joint venture with SAIC, thereby leveraging GM's global resources. The Shanghai-based team drew inspiration from water and traditional Chinese culture to create a vehicle that is efficient, intelligent and green.