BrightDrop ERLV
The ERLV concept, short for Electric Rapid Load Vehicle, is an anticipated electric side-loading vehicle from GM's new ecosystem of electric first-to-last-mile products, BrightDrop, which includes software and services that are designed to enhance delivery and logistics companies in an effort to move goods more efficiently. Specifically, the BrightDrop ERLV is expected to offer a means to transport multiple EP1 electric pallets at once.
Notably, the BrightDrop ERLM1 is a future concept model that is believe to be related to the ERLV, though the connection remains unclear at this time. One possibility is that a structure similar to the BrightDrop EV600 will be used to transport the EP1 electric pallets.
BrightDrop ERLV Quick Facts

| | |
| --- | --- |
| Model Years | 2021 |
| Assembly Location | GM CAMI Assembly, Ingersoll, Ontario, Canada |
| Body Style(s) | Unknown |
| Layout | Skateboard |
| Battery: | Ultium (TBD) |
| Drive(s): | Ultium Drive (TBD) |
| Availability | U.S.A., Canada |
| Predecessor | – |
| Successor | – |

Overview
While the BrightDrop ERLV remains a concept, the automaker has stated that its current two products, the EP1 and EV600, are only the beginning. BrightDrop will continue to grow its product offerings over time to include a portfolio of integrated, zero-emissions products to help drive further efficiencies and address emerging customer needs. A number of concepts are being explored, such as a medium-distance solution that transports multiple EP1s, and the ERLV rapid load delivery vehicle concept.
With plans to continue innovating, BrightDrop and FedEx Express have another pilot scheduled to take place in one of the biggest urban centers of the U.S. this quarter. FedEx Express is also slated to be the first customer of the EV600, receiving their vehicles later this year. It's possible that the ERLV is undergoing similar experimentation prior to entering the market.
"Our need for reliable, sustainable transportation has never been more important," said Richard Smith, FedEx Express regional president of the Americas and executive vice president of global support. "BrightDrop is a perfect example of the innovations we are adopting to transform our company as time-definite express transportation continues to grow. With this new suite of products, we will help improve the safety, security and timeliness of FedEx Express deliveries, while reducing our environmental impact and protecting the well-being of our couriers."
BrightDrop will initially serve customers in the U.S. and Canada. It will have a customer support team to assist with every aspect of operating and servicing BrightDrop products, including supporting charging and infrastructure installation, advising on upfitting services, and retrofitting a current fleet vehicle to integrate with BrightDrop products. BrightDrop support services will also assist with maintenance needs, including securing parts and scheduling repairs.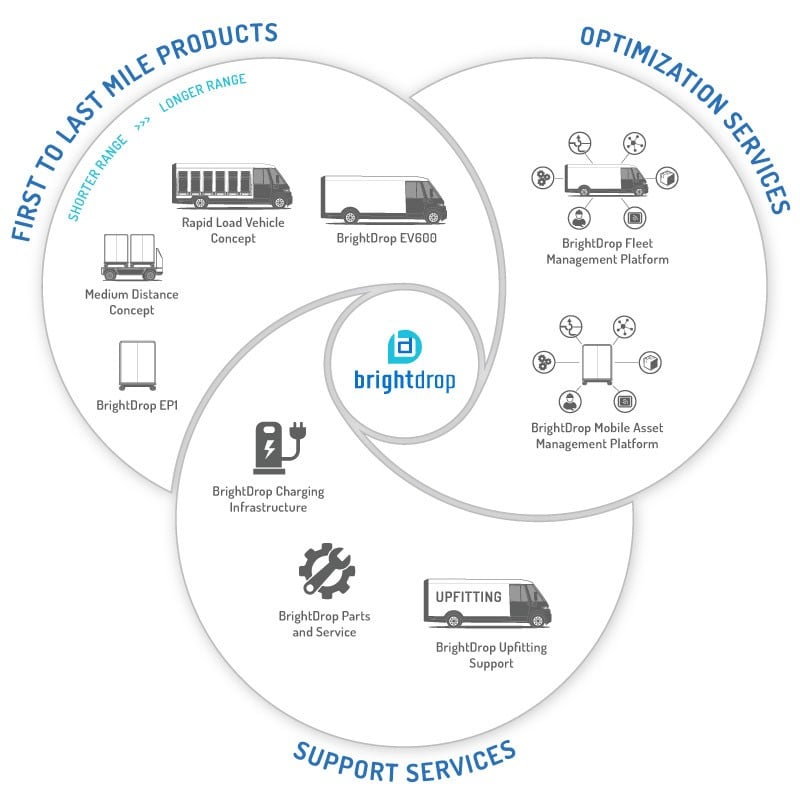 Sales
See BrightDrop ERLV sales numbers for all markets, including the United States and Canada (coming soon).
Notes:
Information for market (country) specified.
Sales information compiled from various sources by GM Authority and Motrolix.
Discussion
Discuss the BrightDrop ERLV in our Announcements forum.
BrightDrop News
10

Available in three states.

5

It will be the longest pause yet.