BrightDrop EP1
The BrightDrop EP1, the maker's first product to market, is a propulsion-assisted, electric pallet developed to easily move goods over short distances. As such, the EP1 can help reduce package touch points, costs and physical strain on delivery drivers.
BrightDrop EP1 Quick Facts

| | |
| --- | --- |
| Model Years | 2021 |
| Assembly Location | GM CAMI Assembly, Ingersoll, Ontario, Canada |
| Body Style(s) | Pallet |
| Layout | Skateboard |
| Battery: | 43V 600Wh Li-ion |
| Drive(s): | 43V Brushless Motor Drive rated at 250W |
| Availability | U.S.A., Canada |
| Predecessor | – |
| Successor | – |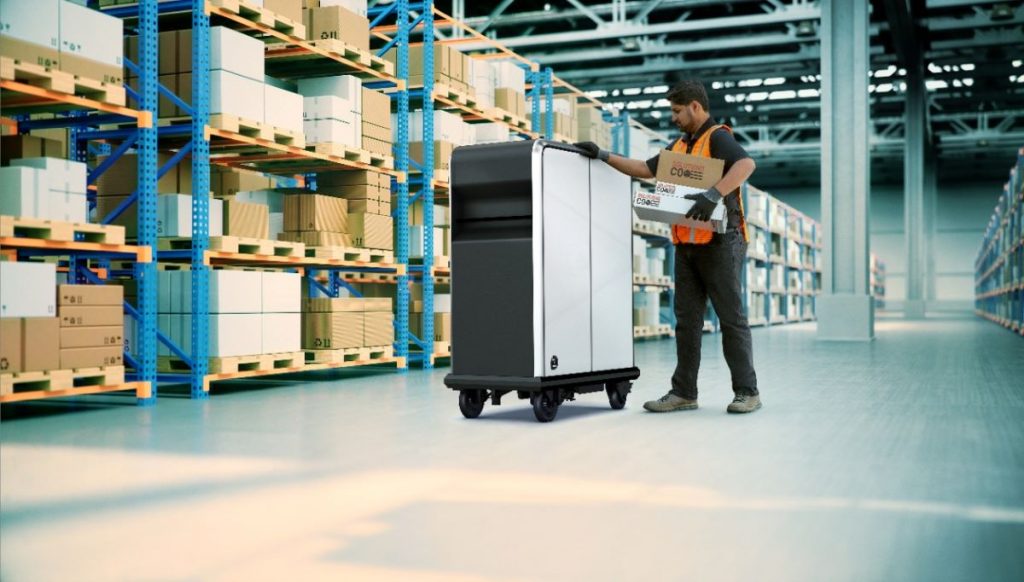 Overview
The BrightDrop EP1 was developed to easily move goods over short distances – for example, from the delivery vehicle to the customer's front door. Available in early 2021, EP1 features and benefits include:
Built-in electric hub motors with adjustable speed up to 3 mph depending on operator's walking pace.
Maneuverable in tight spaces.
Carries and secures approximately 23 total cubic feet of cargo.
Payload capacity of 200 pounds.
Adjustable shelving organizes contents.
Lockable cabinet doors allow for secure, remote access to contents.
"BrightDrop offers a smarter way to deliver goods and services," said Mary Barra GM Chairman and CEO. "We are building on our significant expertise in electrification, mobility applications, telematics and fleet management, with a new one-stop-shop solution for commercial customers to move goods in a better, more sustainable way."
The BrightDrop mobile asset management further's the EP1's usability, as its EP1 connectivity provides customers real-time features, including location monitoring, battery status, remote commands to lock and unlock, and over-the-air updates of connected features.
Usability
An EP1 pilot program has already been completed in partnership with FedEx Express. During the pilot, FedEx Express couriers were able to effectively and safely handle 25 percent more packages per day with the EP1s. FedEx Express couriers shared feedback that the EP1s were easy to maneuver and reduced physical strain.
With plans to continue innovating, BrightDrop and FedEx Express have another pilot scheduled to take place in one of the biggest urban centers of the U.S. this quarter. FedEx Express is also slated to be the first customer of the BrightDrop EV600, receiving their vehicles later this year.
"Our need for reliable, sustainable transportation has never been more important," said Richard Smith, FedEx Express regional president of the Americas and executive vice president of global support. "BrightDrop is a perfect example of the innovations we are adopting to transform our company as time-definite express transportation continues to grow. With this new suite of products, we will help improve the safety, security and timeliness of FedEx Express deliveries, while reducing our environmental impact and protecting the well-being of our couriers."
Sales
See BrightDrop EP1 sales numbers for all markets, including the United States and Canada (coming soon).
Notes:
Information for market (country) specified.
Sales information compiled from various sources by GM Authority and Motrolix.
Discussion
Discuss the BrightDrop EP1 in our Announcements forum.
Invalid Combo Category