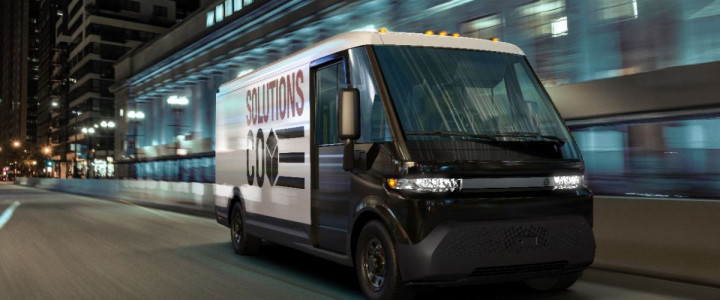 BrightDrop
General Motors has launched a new business, BrightDrop, in an effort to further GM's Global Innovation objective. As such, BrightDrop will offer an "ecosystem of electric first-to-last-mile products", which includes software and services to enable delivery and logistics companies to transport goods more efficiently. Simply put, these BrightDrop solutions are designed to help businesses lower costs, maximize productivity, improve employee safety and freight security, and support overall sustainability efforts. The EP1, an electric pallet, will be available in early 2021, while the BrightDrop Zevo 400, an electric light commercial vehicle, will be on the roads by the end of 2021.
Notably, FedEx Express will be the first customer of the new, integrated solution. The two companies teamed up to create a business solution to the challenges faced by delivery customers, and used pilot programs to refine the products and solutions.
"BrightDrop offers a smarter way to deliver goods and services," said Mary Barra GM Chairman and CEO. "We are building on our significant expertise in electrification, mobility applications, telematics and fleet management, with a new one-stop-shop solution for commercial customers to move goods in a better, more sustainable way."

Product Overview
From a growth strategy standpoint, this new business will unlock areas of B2B, expansion of the Ultium platform, including Ultium batteries and Ultium drive motors, and software and service opportunities. The new business model joins the lineup of other recently launched Global Innovation startups, such as OnStar Insurance, OnStar Guardian and GM Defense.
GM estimates that by 2025, the combined market opportunity for parcel, food delivery and reverse logistics in the U.S. will be over $850 billion. Sources also indicate that demand for urban last-mile delivery, fueled by e-commerce, is expected to grow by 78 percent by 2030, leading to a 36 percent increase in delivery vehicles in the world's top 100 cities. At the same time, this increase in demand is expected to cause delivery-related carbon emissions to rise by nearly one-third.
To help meet this surge in demand, while reducing the impact on the planet, BrightDrop is developing an integrated set of solutions to help improve almost every aspect of first-to-last-mile delivery. The BrightDrop ecosystem includes:
BrightDrop Zevo 400
Software-enabled services
BrightDrop mobile asset management
BrightDrop EV fleet management
Future concepts are currently under consideration, including a medium-distance solution concept that offers the ability to transport multiple EP1s at once as well as a rapid load delivery vehicle concept.
Availability
Initially, BrightDrop will serve customers in the U.S. and Canada. A customer support team will be available to assist with every aspect of operating and servicing BrightDrop products, including supporting charging and infrastructure installation, advising on upfitting services, and retrofitting a current fleet vehicle to integrate with BrightDrop products. BrightDrop support services will also assist with maintenance needs, including securing parts and scheduling repairs.
Customers will connect with BrightDrop through an independent sales and service network, leveraging a newly established BrightDrop dealer network to support vehicle sales and service.
BrightDrop News
5

Making deliveries in SoCal.

0

Three in Canada, the rest in the U.S.