Ariv
ARIV is the name of General Motors electric bicycle products, otherwise known as eBikes.
Inception
GM says that it created ARIV to address new trends in urban mobility and to "help people move more freely in cities by creating solutions that reduce emissions and congestion."
Described by GM as "fast, fun and healthy way to reach a destination," ARIV eBikes developed by GM's Urban Mobility Solutions division in Michigan, USA and Oshawa, Ontario, Canada. The are "backed by the power of General Motors."
In developing ARIV, GM used "automotive-grade capabilities to set high standards in eBike engineering". The automaker's extensive experience with electric vehicle motor software and controls "greatly influenced the proprietary GM motor that was built from the ground up specifically for ARIV eBikes."
According to GM, the motor delivers segment-leading power and torque for its size while also enabling speeds up to 25 kph with four levels of pedal-assisted power. Meanwhile, the "battery was validated to rigorous safety standards similar to GM's electric vehicles batteries."
Naming
The name ARIV was selected as part of a global crowdsourcing campaign announced in November 2018, when the products were revealed. The final name was selected in February 2019.
Discovery
GM Authority exclusively discovered GM's intention to enter the eBike sector back in August 2017, after discovering that Detroit-based firm filed to trademark the name "Maven Merge" in August 2017 and the term "Meld" in September 2018.
Product
The GM ARIV eBike model range launched with two models – the Meld and the Merge. Both are closely related and are essentially the same bike, but the Merge folds for easier storage.
At the heart of the ARIV eBikes is GM's own proprietary electric motor designed and built specifically for Meld and Merge. The motor allows the eBikes to travel to speeds of up to 15 mph (25 km/h) with four levels of pedal-assisted power. Meld and Merge ARIV eBikes take approximately 3.5 hours to charge their batteries, with an estimated range of up to 39 miles (64 kilometers) on a single charge.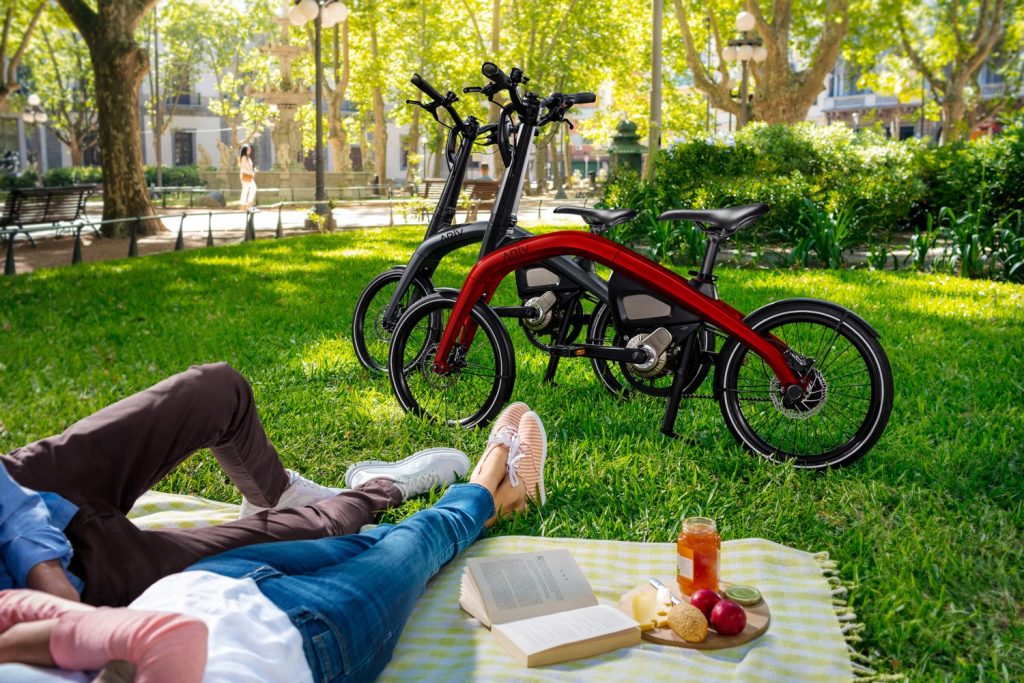 ARIV eBikes are fitted with standard safety equipment such as integrated and rechargeable LED safety lights located both at the front and at the rear of the bikes. They're also equipped with oversized brake rotors for adequate stopping power and feature internal cable routing to deliver a modern and uninterrupted design.
The Merge can be rolled on a single wheel when folded. Both models are equipped with a Walk mode feature that allows customers to walk their ARIV eBike more easily up steep terrain.
At the center of the GM ARIV bikes is a mobile app that connects to the bike via Bluetooth and displays real-time bike information such as speed, distance, remaining battery level, motor assist level, distance traveled, and other info. More functionality will be added to the app in the near future, such as a feature that will help riders arrive at their destination sweat-free.
Furthermore, the bikes are equipped with a Quad Lock mount, a system that allows the rider to securely attach a smartphone to the eBike. An integrated USB port allows riders to charge their phones while on the go.
Availability & Pricing
ARIV eBikes went on pre-order in February 2019 and went on sale in select European markets in May 2019. Launch markets include Germany, Belgium and the Netherlands due to the popularity of lithium-ion battery-powered eBikes in those markets.
As of June 2019, prices are as follows:
| Market | Meld | Merge |
| --- | --- | --- |
| Belgium | €2,800 | €3,400 |
| Netherlands | €2,800 | €3,400 |
| Germany | €2,750 | €3,350 |
Prices can change without notice. Check with your dealer for the latest pricing information.
Preorders are available via www.arivmobility.com.
Specifications
| | ARIV Meld | ARIV Merge |
| --- | --- | --- |
| Battery | GM Lithium ION (250 Watt Hours) | GM Lithium ION (250 Watt Hours) |
| Brakes | Promax Hydraulic Disc | Promax Hydraulic Disc |
| Cargo Capacity | NA | NA |
| Chain | KMC single speed | KMC eBike |
| Chainstay Length | 39.5 cm/15.6 in | 39.5 cm/15.6 in |
| Crank | Alloy, 170 mm | Alloy, 170 mm |
| Display | Ariv Integrated LED Display | Ariv Integrated LED Display |
| Folded Dimensions | NA | 80x65x43 cm/31.5×25.6×17 in |
| Frame | Hydroformed aluminum | Hydroformed aluminum |
| Frame Size | One size fits riders 5'0" to 6'0" | One size fits riders 5'0" to 6'0" |
| Front Hub | sealed bearing disc | sealed bearing disc |
| Grips | Lock-on ergo | Lock-on ergo |
| Handlebars | Promax Alloy | Arīv proprietary |
| Head Angle | 70.8 degrees | 70.8 degrees |
| Headlight | Integrated, 65 lumens | Integrated, 65 lumens |
| Kickstand | Custom, Integrated | Custom, Integrated |
| Max Rider Weight | 100kg | 100kg |
| Motor | GM Mid Drive, 250 watts | GM Mid Drive, 250 watts |
| Peak Motor Power | 635 watts | 635 watts |
| Range (UP TO) | 64 km/40 miles | 64 km/40 miles |
| Rear Cog | 14T | 16T |
| Rear Derailleur | NA | NA |
| Rear Hub | sealed bearing disc | Shimano Alfine 8speed |
| Saddle | Selle Royale Milo | Selle Royale Milo |
| Seat Angle | 76.5 degrees | 76.5 degrees |
| Seat Post | Light Skin seatpost with rechargeable taillights | Light Skin seatpost with rechargeable taillights |
| Shifter | NA | Shimano Alfine 8speed |
| Speed | 25 kph/15.5 mph | 25 kph/15.5 mph |
| Stand over Height | 55.6 cm/22 in | 55.6 cm/22 in |
| Stem | ARIV Custom Alloy | ARIV Custom Alloy |
| Taillight | Integrated LED, 10 lumens | Integrated LED, 10 lumens |
| Throttle | Walk Mode Only | Walk Mode Only |
| Tires | VeeTire Goodie Goodie 16×1-3/8 with reflective sidewalls | VeeTire Goodie Goodie 16×1-3/8 with reflective sidewalls |
| Weight | 19.5 kg/43 lbs | 22 kg/48.5 lbs |
| Wheel Size | 16 in | 16 in |
| Wheel Base | 101 cm / 39.8 in | 101 cm / 39.8 in |
More ARIV Resources
Follow these links for more GM ARIV eBike information: