2023 GMC Canyon Elevation: First Drive Review (With Video)
28
We recently drove all four trim levels of the 2023 GMC Canyon at a GM-hosted media event in Asheville, North Carolina, coming away impressed with the truck as a whole. In this write-up, we'll focus on the Canyon Elevation, which is the base trim level. In subsequent installments, we will cover the other trim levels, namely AT4, AT4X and Denali.
As per (recently-established) tradition, we're making our first drive review available in video format, which you can watch below.
How We Got Here
Running from the 2015 thru the 2022 model years, the last-generation GMC Canyon was a product somewhat lost in no-man's land. When it landed in North America after a brief hiatus for the Canyon nameplate, one that cost GM dearly in the midsize truck segment, the Canyon was riding on underpinnings that were already somewhat dated, as the GMT 31XX architecture that it was based on was already around for a few years in overseas products like the Chevy S-10. Beyond that, the Canyon wasn't particularly all that impressive. Though, it offered a baby Duramax diesel engine – likely the most unique selling proposition for the last gen truck, we'd argue that the overall formula didn't really live up to GMC's "Professional Grade" positioning. All that translated to mediocre sales performance, with the Canyon consistently placing last in its segment by sales volume. The all-new, 2023 GMC Canyon – which represents the third generation of the nameplate – aims to change that, and in a big way.
First and foremost, the all-new Canyon is positioned very differently than its predecessor. The base model, the Elevation, now carries a starting price of $36,900, which is only $300 less than the starting MSRP of a 2023 Sierra 1500. By comparison, the last-gen Canyon started at $26,800. In other words, the all-new truck is $10K more expensive right out of the gate.
However, all third-gen Canyons are built exclusively in the Crew Cab, Short Box configuration, with the Extended Cab, Long Box and Crew Cab, Long Box configurations no longer available. Additionally, all 2023 Canyons have the high and wide treatment, featuring a two-inch suspension lift and a wide track, straight from the factory. In other words, GMC has completely repositioned the all-new Canyon, giving it more content and a higher price, to boot.
Exterior
The 2023 Canyon Elevation is a looker, which is really good news for a base model. The high and wide treatment pays instant dividends when it comes to exterior appearance, as this midsize truck has a (arguably) perfect, level stance, helping it look mean and sinister right out of the box. "Even on the base trim, Alex?" Yes, even on the base trim, dear reader.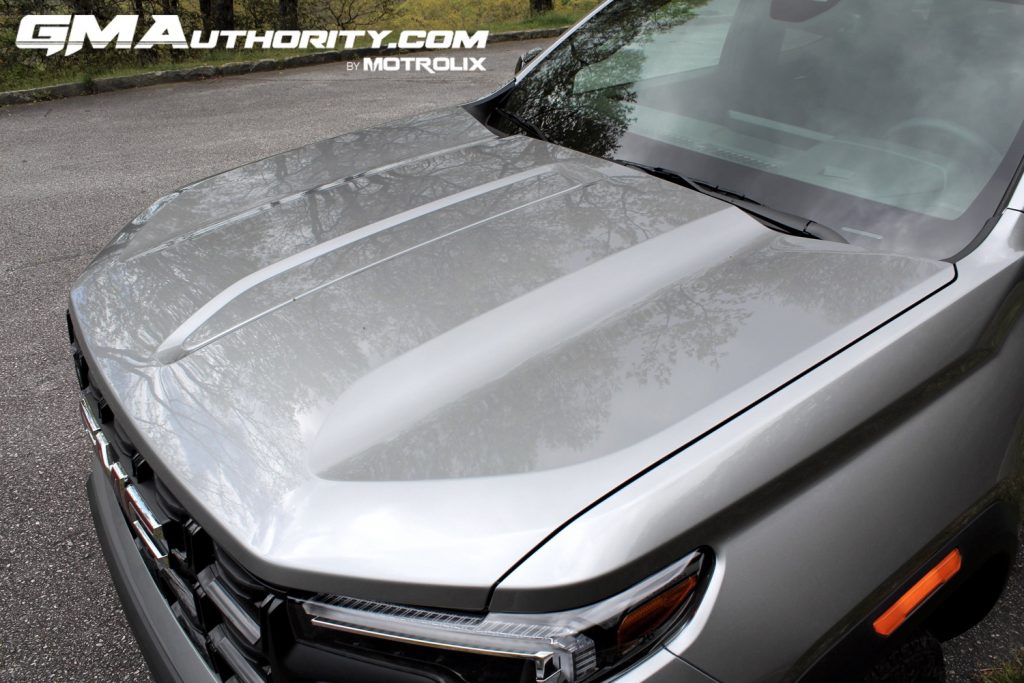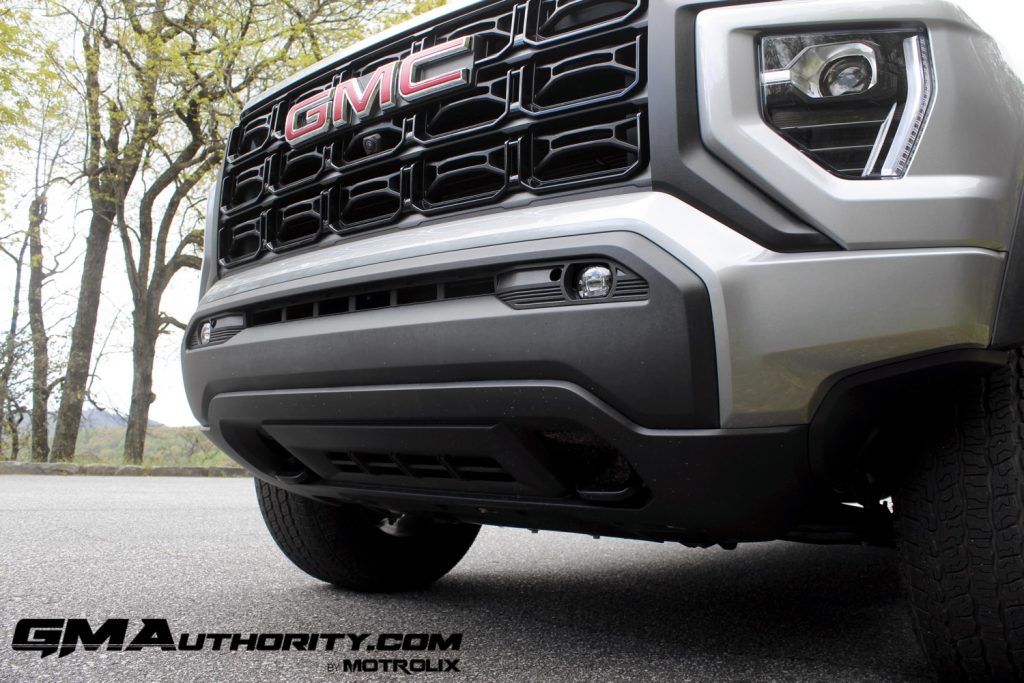 I'm a big fan of the dark grille and the new headlight treatment, which – for the first time ever – interrupts GMC's signature C-shaped lighting elements using a piece of the front fascia. The hood has some attractive surface development, and it's unique when compared to the Canyon's corporate relative and platform mate, the Chevy Colorado.
Rounding out the front end are a set of fog lights (part of an optional package on the Elevation trim) along with the front recovery/tow hooks (standard on 4WD models).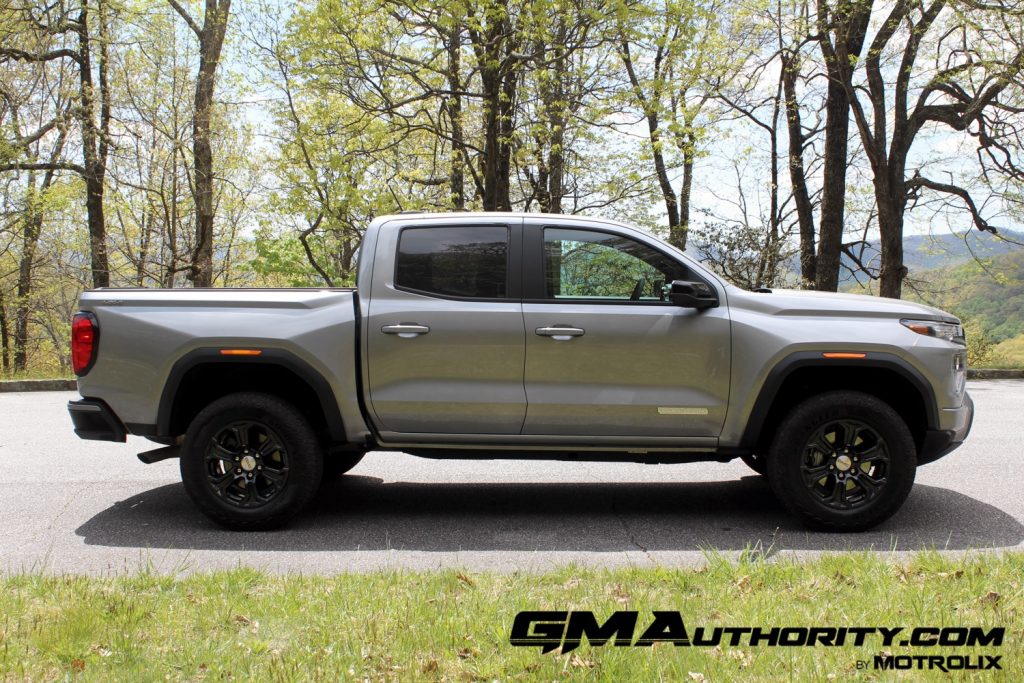 From the side, the 2023 GMC Canyon Elevation features an attractive profile, assisted by the modern proportions of the Crew Cab, Short Box setup as well as that high and wide treatment I keep bringing up. Gone is the last-gen truck's raked, "nose-forward" appearance that seemingly everyone wanted to correct with a leveling kit, which GM started offering toward the end of the model's lifecycle. Also gone is the last-gen model's relatively aggressive, forward-leaning cutline at the bottom of the cab; it's been replaced with a more traditional, vertical cutline treatment. I also love the fact that all 2023 Canyons no longer have an air dam. In case there was any doubt about this, GMC does listen to customers.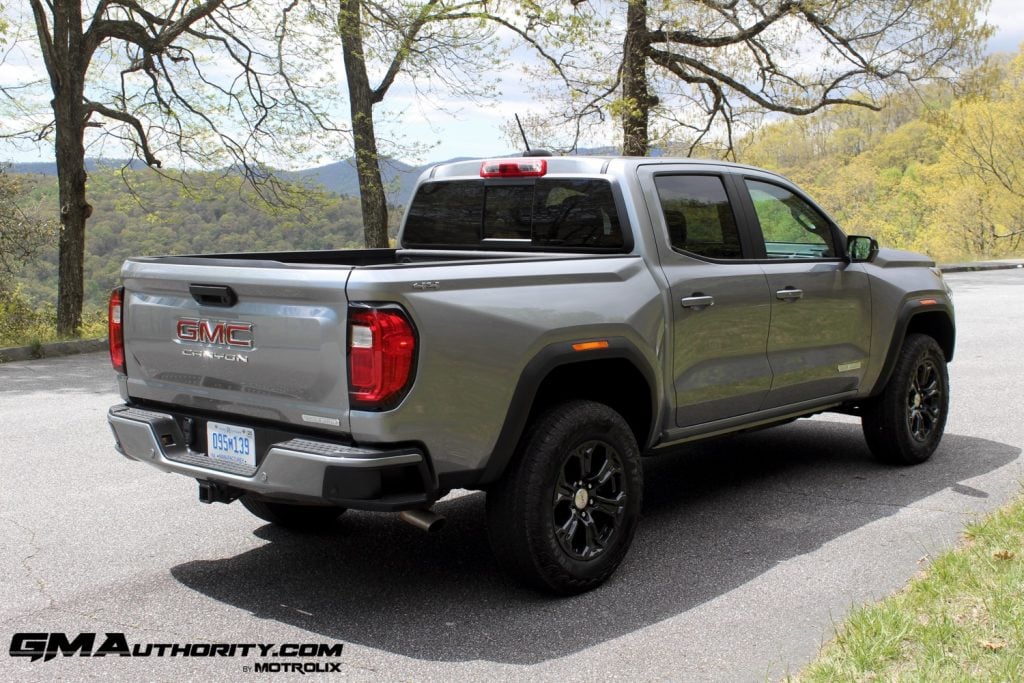 The Elevation features 18-inch Dark Grey painted Aluminum wheels (RPO code RQ8) wrapped in 31.6-inch Goodyear Wrangler Territory All Terrain tires as standard. Housing these rollers are a set of attractive wheel wells with an integrated marker light at the top of each wheel well, complete with a GMC logo, to boot. Incidentally, these marker lights are just for show, as they are not required to meet Federal Motor Vehicle safety standards.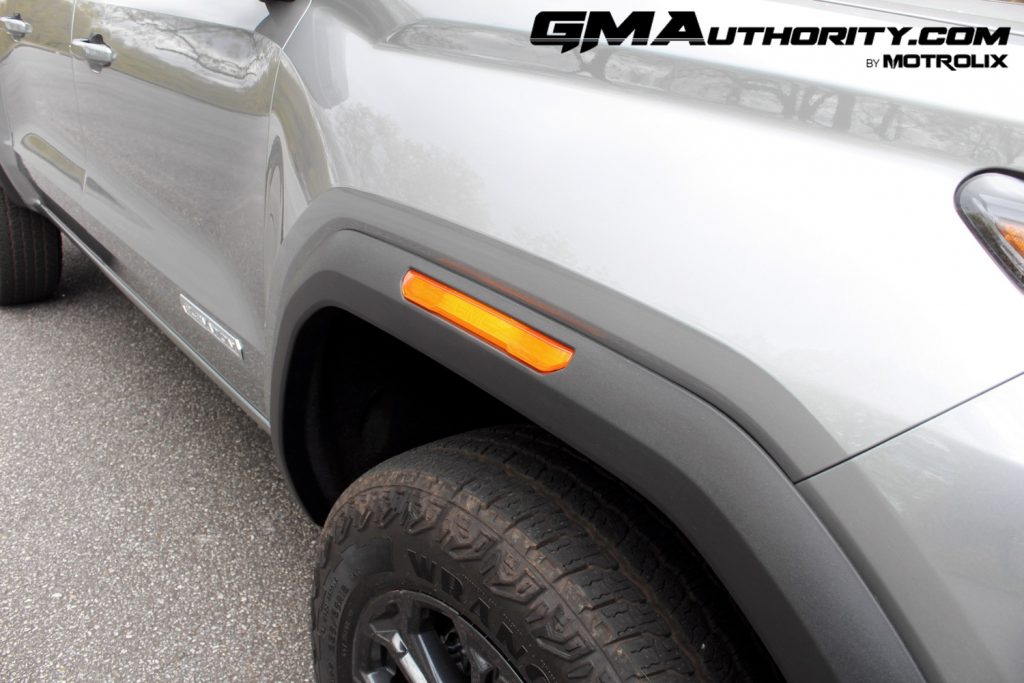 At the rear, the tail lamps feature Big Red's C-shaped signature, while the tailgate's EZ-Lift and Lower feature (optional on Elevation) makes one-handed use a breeze.
The tailgate's new integrated ruler will undoubtedly be helpful to those who need it, as will the new halfway position of the tailgate, particularly useful when carrying long items, but the big news is the MultiStow tailgate, which provides an integrated storage space within the tailgate, one that's also watertight and drainable. MultiStow can even be equipped with a Kicker sound system, perfect for those tailgate parties.
The bed features two indentations for bicycle or motorcycle tires along with four tie-downs per side as standard. A whole slew of first- and third-party bed accessories are available, including three tie-downs per side and three more at the headboard, LED cargo area lamps, and the typical spray-on bedliner with the GMC logo on the headboard. There's also GM's signature CornerStep rear bumper, though the cutouts have been reshaped for this generation.
Powertrain & Acceleration
No matter the trim, all 2023 GMC Canyon models – including the Canyon Elevation – are powered by one engine: the turbocharged 2.7L L3B inline four cylinder, in high output guise. The boosted four banger, now known as TurboMax in the Sierra 1500, is rated at 310 horsepower and 430 pound-feet of torque. By comparison, the atmospheric 3.6L V6 LGZ gasoline engine in the last-gen Canyon was rated at 308 horsepower and 275 pound-feet of torque, while the 2.8L I4 LWN turbodiesel Duramax made 181 horses and 369 pound-feet of twist.
In other words, the L3B is more powerful and more torquey than any engine offered in the last-gen truck, and it certainly feels this way when driving it. Power comes on strong, and stays strong through the RPM band. There is a slight bit of turbo lag lasting in the vicinity of a second, but once the engine is in the right RPM range, boy does it pull. And pull. And pull. You get the idea.
This is especially evident when going uphill. I also love the turbo whistle, and it's worth noting that engineers tuned the sound to be more burly, too. You can see and hear all that in the video above.
GM's second-generation eight-speed automatic transmission handles shifting duty. Now, we've already covered the fact that this updated gearbox addresses many of the issues that plagued the eight-speed in the last-gen midsize trucks. Though this transmission still exhibits some strange behavior, such as keeping a gear too long during spirited driving, I'm happy to report that most of the issues that plagued the last-gen eight have been worked out.
The Elevation is the only 2023 Canyon trim that is offered in 2WD (all other trims have 4WD as standard). Our 2023 Canyon Elevation was equipped with four wheel drive (4×4), and it certainly helped with putting the power down to the pavement.
Handling
While the Canyon has great levels of power and acceleration, it's in the handling department that it really shines. This truck handles like a dream, exuding confidence at every turn… or anything else I threw at it. Body roll is minimal, steering – though fairly numb, is precise.
Chalk this one up to a completely overhauled suspension working in conjunction with the bulldog-like track, again a byproduct of that high and wide configuration. Also, those Wrangler Territory All Terrain tires (measuring in at 265/65R18) are TPC-spec, meaning they're running a special compound made specifically for the Canyon. While the AT tires don't have the gnarly off-road grip of Mud Terrains, they can hold their own. They're also substantially more quiet and have a lot more "give" in the sidewall, with the latter bit helping during spirited on-road driving.
Though I didn't conduct any kind of instrumented braking tests, the brakes felt incredible. Not only was brake pedal modulation spot on, with a short amount of pedal travel before the pads started to make contact with the rotors, but the truck as a whole felt very stable while braking. I actually started looking for reasons to apply the brake pedal, which I must admit is not a common desire for me.
And when not being pushed in the twisties, the Canyon Elevation was calm and collected. The wheelbase, three inches longer than the outgoing model, is a big part of what makes this possible.
All in, the 2023 GMC Canyon's handling is the perfect answer to the question, "Why get a midsize truck when you can get a full-size?" While the full-sizers are certainly larger and more spacious, a back-to-back comparo with a midsizer shows that the larger trucks have too much malaise about them, feeling more sloppy, floaty and way too disconnected from the road. By comparison, the Canyon is sure-footed, precise, while being much more lively and dynamic.
Cabin, Seating & Tech
Opening the door to the 2023 GMC Canyon Elevation reveals a black cabin with black seating surfaces and gray-black accents (with a hint of chrome). While one can have any interior colorway on this model as long as it's Jet Black, the seating surfaces are available in either cloth or leatherette, the latter branded as CoreTec.
The good news is that the cabin is pretty nice overall, with soft elbow/arm rests, a soft dash, a thick-rimmed leather-wrapped steering wheel, and an optional sunroof – new for this generation and not available for the last-gen model. The screens, including the 11.3-inch center stack screen and the 8-inch gauge cluster (Driver Information Center / DIC), are crisp, bright, and display modern graphics and animations. The fact that the center stack has hard buttons for HVAC controls is much appreciated, as is the switch bank below the center stack. I'm sure many will appreciate the dual-zone climate control, though the feature is part of an optional package. Wireless Apple CarPlay and Android Auto is standard.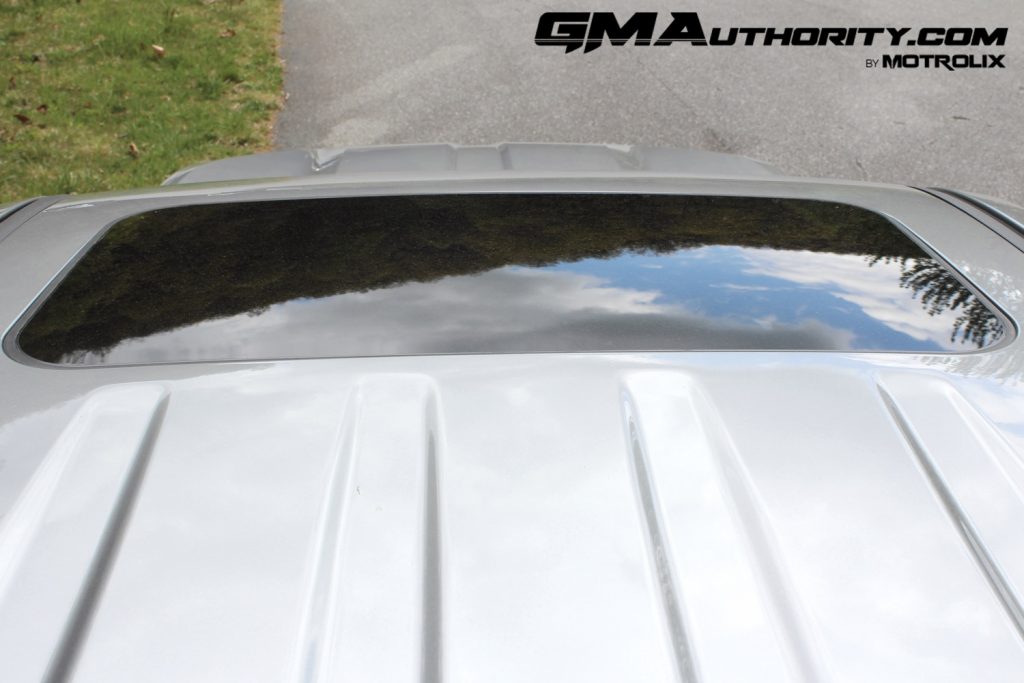 Getting in and out of the 2023 GMC Canyon with no assist steps or running boards was not particularly difficult, but also not all that easy, at least for my 5'9″ stature. Thank the "high" part of "high and wide," for that. Luckily, two types of assist steps are available straight from GMC as first party accessories.
The seats were overhauled for this generation, and are much more comfortable than those used on the last-gen Canyon. I was able to find a comfortable seating / driving position fairly quickly and easily thanks to the eight-way power driver seat with a power lumbar adjustment. Unfortunately, this is optional, as the Canyon Elevation has a measly four-way manual driver seat adjuster as standard. That's not exactly "Professional Grade." Visibility is good thanks to a large windshield and fairly large side windows.
Designers moved the shifter away from the driver – a welcome move that not only opens up the space within the center console, but also eliminates the possible issue of the shifter getting in the way of the driver's knee, a circumstance that happened on occasion in the last-gen Canyon.
I should also note that the LED projector headlights, standard on the 2023 GMC Canyon Elevation, do a great job at illuminating the road ahead. I'm happy to report that these lights are a substantial improvement over those used on the last-gen model, much appreciated in pitch-black tunnels.
As is the case with every GM vehicle that has the feature, the Surround Vision system – an optional extra in the Elevation – is downright excellent. The picture is crisp, the colors are vivid, and there's no lag. This system, which helps when parking, backing to a trailer, or anything else you want to see, should be benchmarked by all other automakers, it's truly industry-leading.
But all that doesn't come without some demerits. First, I would like to see more options when it comes to interior colorways on the Canyon Elevation. Two new color options – a brown and a gray – would be exactly what the doctor ordered. This should go without question for a truck that starts at over $40K and reaches well into the high $40K to low $50K range with a couple of options. I will note, however, that other 2023 Canyon trims offer more pleasant-looking colorways.
That brings me to the knee rests / pads, which are plastic-fantastic, and not in a good way. While all other 2023 Canyon trims have these covered in a soft material, the Elevation gets hard plastic bits here. I fully imagine that these will get uncomfortable on long drives or when the driver or front passenger use them to stabilize themselves while off-roading. For a brand whose slogan is "Professional Grade", this simply does not cut it. The same logic can be applied to the rear seat center armrest, which is optional (!!!) on the Canyon Elevation.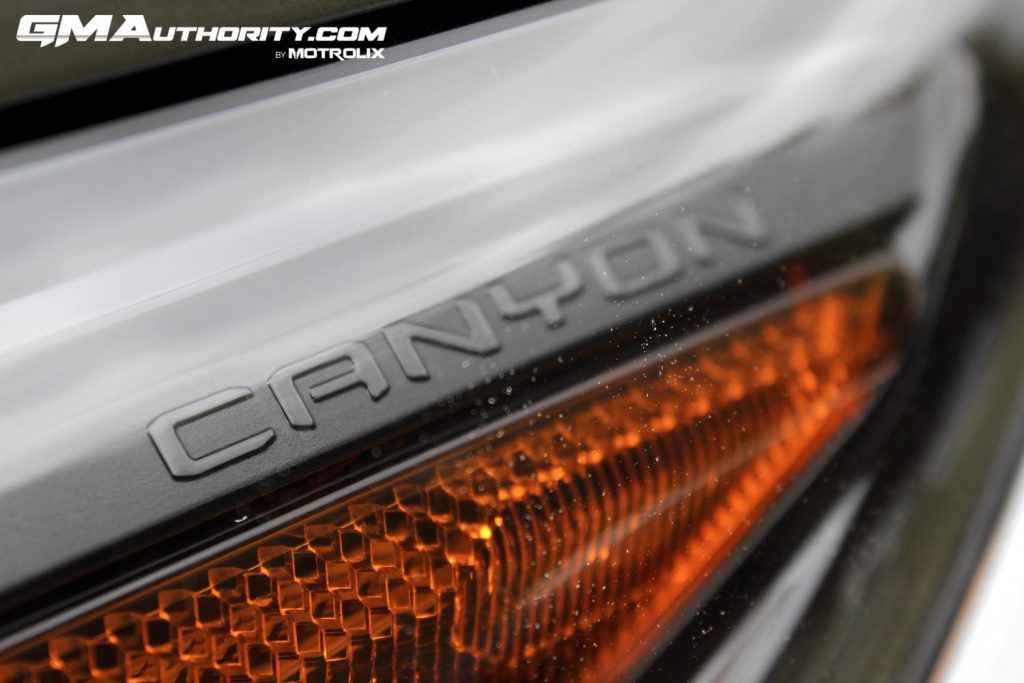 And then there's the 8-inch DIC / instrument cluster. While, as I mentioned earlier, the 8-inch unit is perfectly functional, I would love to see the 11-inch unit – standard on AT4X and Denali trims – offered as an option on Elevation. Now that would be something I'd happily fork over some of my (very) hard-earned ad dollars. I'd also pay for wireless phone charging, which is not even an option on the Elevation trim.
Two other items are not necessarily demerits, but more like things to get accustomed to. First, it's no longer possible to control the trip computers using the buttons on the steering wheel. This is now done via the center screen. The same goes for the truck's light controls: like on the 2023 Colorado, the physical light control buttons are gone. The lights are now controlled via the center stack display. At least the graphics are nice and easy to read, and the screen is responsive.
Final Thoughts
All in, the 2023 GMC Canyon Elevation is a huge improvement over the outgoing model. It looks awesome, drives incredibly well, and presents a very capable and attractive package. It also makes the case for why one would actually want a midsize pickup, instead of settling for one.
However, the price of entry – less than $1,000 short of $50K in our tester – just begs for a few features to be included as standard, and for others to become available as an option. Open it up for an interior colorway (or two) that's not black, and GMC will have an undisputed winner of the midsize truck segment, one that can unabashedly claim its "Professional Grade" status.
The good news is that The General can do all of these things as a rolling update, either during a model year or for a subsequent model year. The million dollar question is whether it will actually do it. The other million dollar question is when these will actually begin to ship en masse to dealers from the GM Wentzville plant.
Vehicle Vitals
2023 GMC Canyon Elevation 4WD
Exterior color: Sterling Metallic (color code GXD)
Interior seating material: CoreTec (leatherette)
Interior colorway: Jet Black
Starting price: $41,695 USD
Price as tested: approximately $49,315 USD
Engine: turbo 2.7L I-4 L3B High Output

310 horsepower @ 5600 RPM
430 pound-feet of torque @ 3000 RPM

Transmission: second-generation 8-speed automatic
Axle ratio: 3.42
Curb weight: 4,630 pounds
GVWR: 6,250 pounds
Maximum trailer weight: 7,700 pounds
Subscribe to GM Authority for more GMC Canyon news, GMC news, and around-the-clock GM news coverage.
Sweepstakes Of The Month: Win a Corvette Z06 and 2024 Silverado. Details here.
We are currently looking for experienced automotive journalists and editors to join our team. Make $60k-$80k per year doing what you love. We are also looking for an experienced web developer.
See details here
.