Dodge Shows Fratzonic Chambered EV Exhaust At SEMA 2022: Video
41
As the automotive industry turns towards EVs as the future of personal transportation, many enthusiasts lament the lack of an exhaust note. With GM's plan to launch 30 EVs by 2025, this mode of (… brace for impact…) silent transportation could arrive sooner rather than later. Currently, GM's cross-town rival, Dodge, is working to provide a solution to this conundrum that aims to bring an ICE-engine feel to an electric vehicle. Called Fratzonic chambered exhaust, Dodge demonstrated the system at the 2022 SEMA Show this year.
"We can't share a lot about it but it essentially uses a transducer and takes a ton of inputs from the powertrain from the driver. It uses the transducer to make the air ways make the sound. That's why we call it an exhaust, because it's an accessory that we can tune," explained Kevin Hellman, Dodge muscle car product lead, to GM Authority at SEMA 2022.
As context, a transducer is an electronic device that converts energy from one form to another. The best example of a transducer would be a microphone or a loudspeaker. However, when prompted about this, Hellman insisted it wasn't a speaker.
With the development of an EV exhaust system, Dodge is trying to give electric muscle cars a little of the sound and feel of an ICE-powered machine. In fact, Hellman told us that Dodge brought the Fratzonic concept to SEMA 2022 to receive consumer feedback to aid its development of the system. Research participants were given an opportunity to evaluate and rank different tunes of the Charger Daytona SRT Concept's "exhaust note."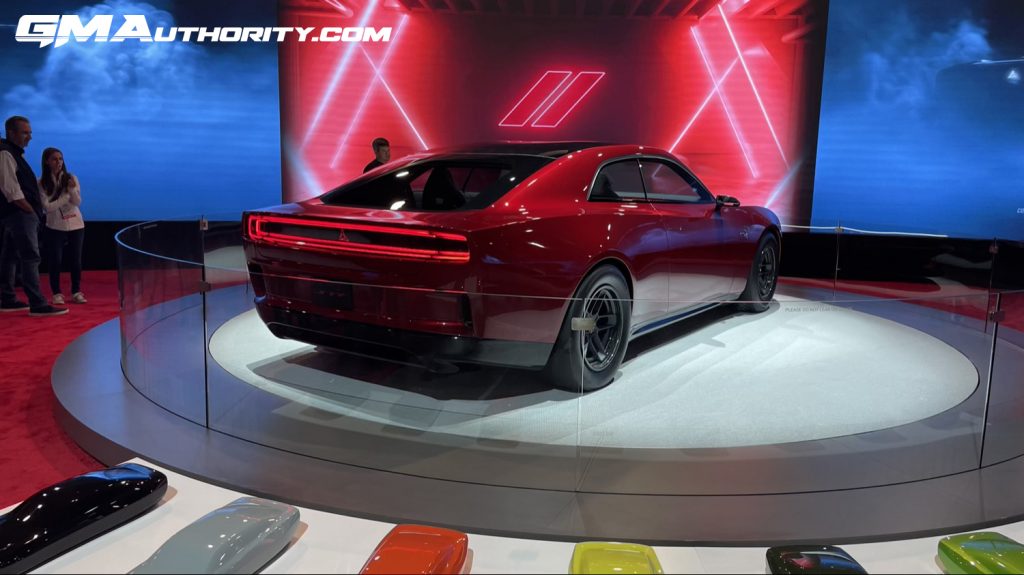 For reference, the Dodge Charger Daytona SRT concept was unveiled at the 2022 SEMA Show in Las Vegas, giving us our first look at the concept beyond its initial reveal. The vehicle represents the company's first all-electric concept that likely foreshadows an upcoming Dodge Challenger EV.
The exterior of the Dodge Charger Daytona SRT Concept is covered in Tri-coat Stryker Red paint, with a total of nine unique paint hues and nine different wheel combinations planned for display in conjunction with upgradeable power levels. Speaking of those, Dodge announced a tiered power system with nine possible powertrain output levels for the all-electric Dodge Charger muscle car concept, including a 400-volt system with a base-level of 455 horsepower, upgradeable to 495 horsepower, 535 horsepower, 590 horsepower, 630 horsepower, and 670 horsepower. Dodge also teased an 800-volt SRT Banshee powertrain package capable of producing much, much more.
Carbon fiber wheels and drag radial tires complete the performance look.
It will be interesting to see where Dodge takes this technology in the future, and how customers will react to the artificial exhaust noise. In fact, something else to watch will be how GM responds to the development of this technology, and if it will create a similar system for its slew of EVs, which is expected to include several high-performance offerings, including as two electric Corvettes – a Corvette EV crossover and a Corvette EV sedan. In fact, GM's EV lineup currently includes the Hummer EV Pickup, which – in its highest-performing format – is rated at 1,000 horsepower and 15,000 pounds of earth-moving torque.
Make sure to subscribe to GM Authority for more SEMA news, GM competition news, GM EV news, GM technology news, and around-the-clock GM news coverage.
Sweepstakes Of The Month: Win a Corvette Z06 and 2024 Silverado. Details here.