Legendary And Rare Chevy-Powered 1964 Bill Thomas Cheetah For Sale
We are currently looking for experienced automotive journalists and editors to join our team. Make $60k-$80k per year doing what you love. We are also looking for an experienced web developer.
See details here
.
7
The Chevy-powered, 1964 Bill Thomas Cheetah was conceived, designed, and built with a single purpose in mind: beat Carroll Shelby's Cobras. Unfortunately, homologation rules changes and an untimely fire would bring the party to an end just as it was getting started.
The Cheetah was the brainchild of Don Edmunds and Bill Thomas. Bill Thomas was a Corvette racer who pitched the idea of creating a Cobra killer to Chevrolet's Ed Cole. Cole agreed to lend clandestine support to the project so long as the car was produced in small enough numbers to fly under GM corporate radar.  Thomas and Edmunds designed and built the featherweight racer in Thomas' Anaheim, California shop. The Cheetah had a tube-frame chassis, Corvette suspension, drivetrain, and NASCAR-spec Chevy drum brakes, draped in a thin aluminum skin. Only the first couple were so clothed, as subsequent copies would have fiberglass shells. The fuel-injected Corvette 327 cubic-inch engine was located well behind the front wheels to achieve a 50/50 weight balance. In fact, the drivetrain was so far rearward that there was no driveshaft; the transmission was coupled directly to the rear differential.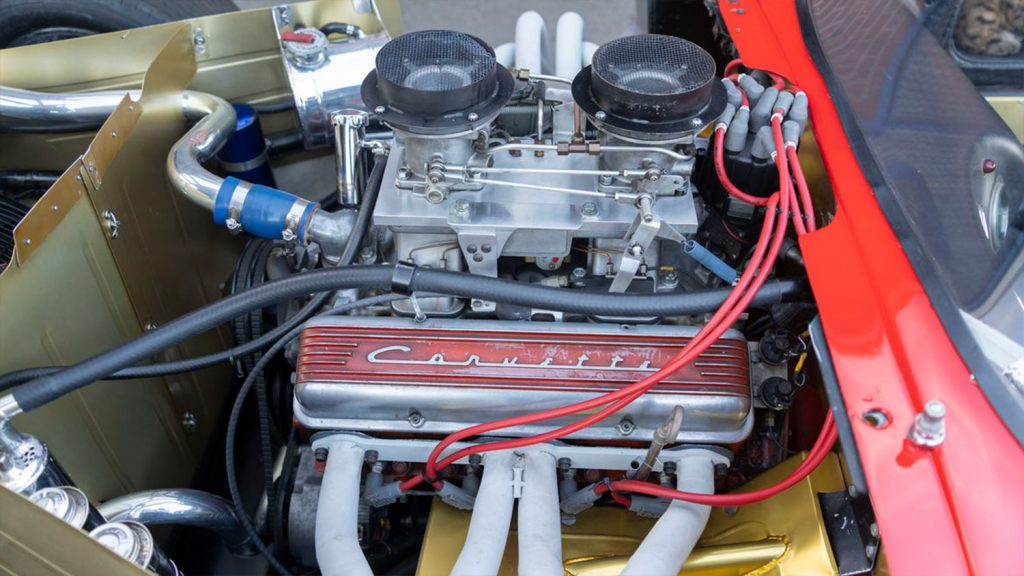 To say the Cheetah was spartan would be a gross understatement. There was no heat barrier, padding, or carpet to speak of. Since the exhaust headers were draped over the footwells, made a ninety-degree downturn, and ran along the rockers, the footwells were like an aluminum oven for the occupants' feet. There was little to the interior trim aside from a couple of vinyl-covered seats. Everything was bare bones in order to save weight. The gullwing doors had no forward pillar and were quite flimsy, needing a stick to hold them open. The aluminum formed dash held the bare essential gauges and controls. The seats were so far back, the driver sat between the rear wheels, within the roll cage. The fuel tanks were sidesaddle units made from fiberglass.
All of the weight-saving efforts paid off. The Cheetah, complete with the fuel-injected Chevy Corvette 327/Muncie M21 four-speed drivetrain, tipped the scales at just 1,700 pounds. A 289 Cobra weighed over 2,200 pounds.
The Corvette-sourced 327 fuelie was modified for the Cheetah. The Rochester Mechanical fuel injection that came on the Corvette was swapped for a Rochester Dual Meter Fuel Injection unit. That, along with special cams, crank, and race-tuning, the Small Block made well over 400 horsepower. It was not for the ham-fisted or faint of heart.
The Cheetah experienced a fair bit of early success on the race track throughout 1964 and 1965. An early copy was even featured in the Elvis Presley movie Spinout.
The original production goal was 100 units to meet with SCCA homologation minimums, but this was not to be. Around eleven Cheetahs had been built when the SCCA dropped a bomb on the Cheetah. Hagerty's Colin Comer said of the car, "Due to the Cheetah's minuscule production numbers, the SCCA immediately placed it in the cowboy class of big-bore C-Sports/C Modified where it wouldn't battle Cobras, but rather 'real' race cars such as Chaparrals, McLarens, and Lolas. And in 1964, the FIA raised the minimum production car homologation requirement to 1,000 cars. No way could a small manufacturer like Bill Thomas Motors make that many of these weapons-grade sports racers. And, knowing that the Cheetah wouldn't be able to defeat the Cobra, GM pulled their clandestine sponsorship from the program."
Don Edmunds left Bill Thomas Motors to start an endeavor of his own. Shortly thereafter, a fire burned Bill Thomas Motors to the ground. The Cheetah was over.
Our feature Bill Thomas Cheetah, serial number BTC003, is believed to have been one of the first three produced. It is one of two cars delivered to Alan Green Chevrolet in Seattle, Washington. It has been the subject of a lengthy and painstaking restoration. It has two fiberglass bodies, one green and one red, both in correct Alan Green Chevrolet livery. It has a documented racing history in period with several first place finishes.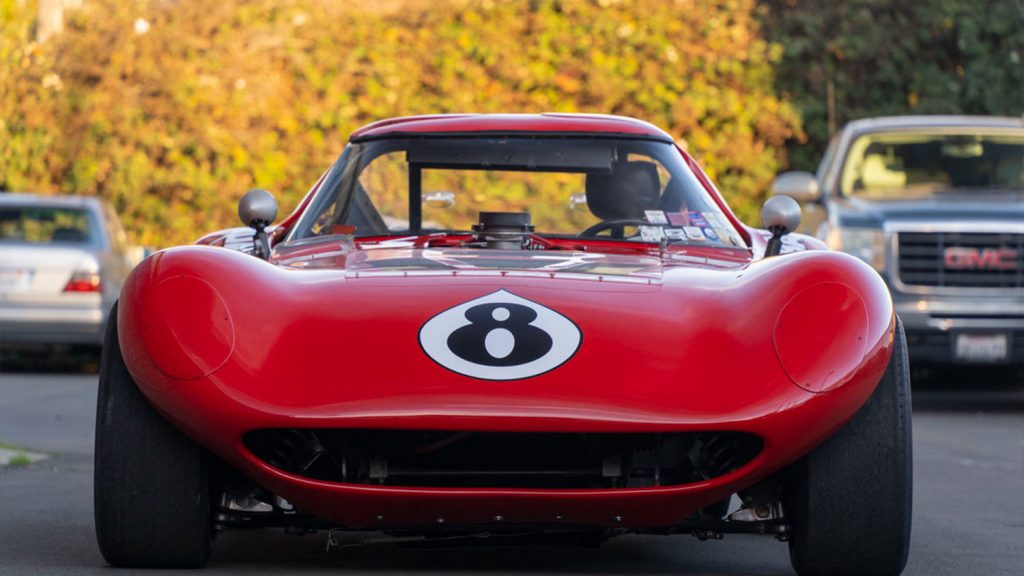 This historic Chevy-powered Bill Thomas Cheetah is accompanied by reference letters from Don Edmunds, racers Allen Grant and Larry Webb, as well as a signed letter from Bill Thomas III outlining the history of the car when purchased by Alan Green and raced in period. There is a complete ownership history with supporting documentation, and a second fiberglass body in Alan Green Chevrolet livery. It is on offer from Fantasy Junction for $490,000.
Sweepstakes Of The Month: Win a 2022 Corvette C8.R IMSA GTLM Championship Edition. Details here.
We are currently looking for experienced automotive journalists and editors to join our team. Make $60k-$80k per year doing what you love. We are also looking for an experienced web developer.
See details here
.