How To Tell Cadillac V-Series From V-Series Blackwing Model: Video
We are currently looking for experienced automotive journalists and editors to join our team. Make $60k-$80k per year doing what you love. We are also looking for an experienced web developer.
See details here
.
2
The Cadillac CT4-V and CT5-V Blackwing models are the most capable high-performance luxury sedans that the luxury marque has ever marketed. However, their identity has gotten a bit murky during the transition to the twp-tiered V-Series approach. Wherein "XYZ-V" was used to designate the range-topping performance, it is now positioned mid-pack, while "XYZ-V Blackwing" denotes the real and range-topping beast. Throwing a wrench into the mix is that the Blackwing cars are not badged any differently than the "regular" V-Series models. With that in mind, we figured an overview on how to quickly distinguish a top-of-the-line V-Series Blackwing model from their less potent CT4-V and CT5-V counterparts was very much in order.
Differences between the two V-Series tiers pertain to the front and rear lower fascias, carbon fiber treatments, wheel design and sizing, tire sizes, a small yet significant difference in body work, and color options. And if you happen to peep in through a window and see a manual transmission, then it's a dead giveaway that you're looking at a Blackwing. Now, on to the exterior differences.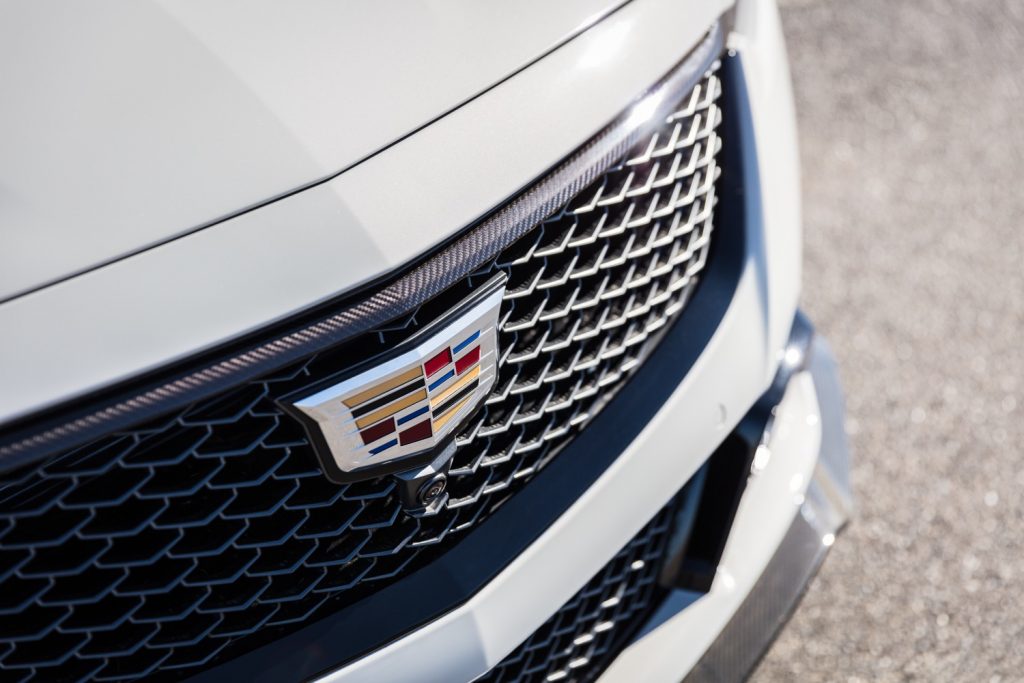 Front End
Starting up front, the V-Series Blackwing models flaunt a redesigned lower fascia, with larger openings and different grille treatments, which allow for more optimal engine cooling. The differences become more pronounced on models equipped with the optional carbon fiber packages, which start at $4,100 for Carbon Fiber Package 1 plus an additional $5,230 for Carbon Fiber Package 2 (for a combined cost of $9,330). Notably, the first package encompasses the front end while the second package adds to the sides and rear of the vehicles.
Opting for the exterior carbon fiber components gives the smaller CT4-V Blackwing a much more aggressive demeanor, as it gets canards / dive planes in addition to a front splitter and front wheel well deflectors.
The same can be said for the CT5-V Blackwing, though unlike the smaller CT4-V Blackwing it does not receive canards but does receive a more aggressive front splitter and front wheel well deflectors. The larger sedan also gets a carbon fiber grille when equipped with Carbon Fiber Package 2.
Side Profile
Moving to the sides, the biggest giveaway will be the front fenders, which are much more pronounced thanks to openings ahead of the front door that aid in engine and brake cooling, while also improving underhood aerodynamics. While it may be easily missed by a less passionate passerby, we happen to think the reworked front fenders are a very appealing improvement over the non-Blackwing sedans.
Similar to the front end, the differences in the side profiles of the vehicle become more pronounced with the addition of carbon fiber components. As a reminder, Cadillac only offers such carbon fiber packages for the Blackwing models, not for the CT4 / CT4-V or CT5 / CT5-V.
Cadillac CT5-V Side Profile
Another distinction that's most visible at the sides of the vehicle would be the wheels and tires. The CT5-V Blackwing offers three 19-inch wheel sets and the CT4-V Blackwing offers three 18-inch sets. Comparatively, the CT4-V and CT5-V offer quite a few more options, though none are as wide as the wheels that are bolted to the more powerful Blackwing models, which need all the traction they can get.
To clarify, there's also the magnesium wheel option for Blackwing models, though these are not yet available.
Cadillac CT4-V Blackwing Wheels
If you see any of these wheels on a Cadillac V-Series model, then you know it's most likely a Blackwing, though it's possible for non-Blackwing owners to bolt these units to their non-Blackwing models.
Cadillac CT5-V Blackwing Wheels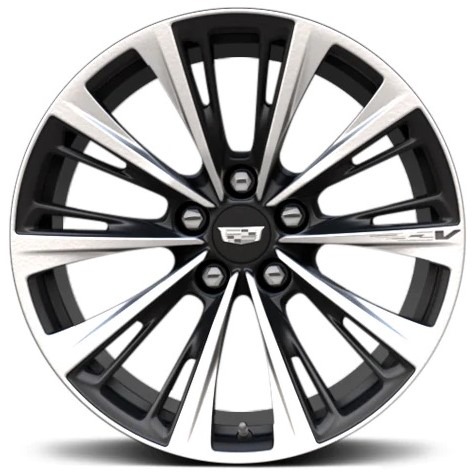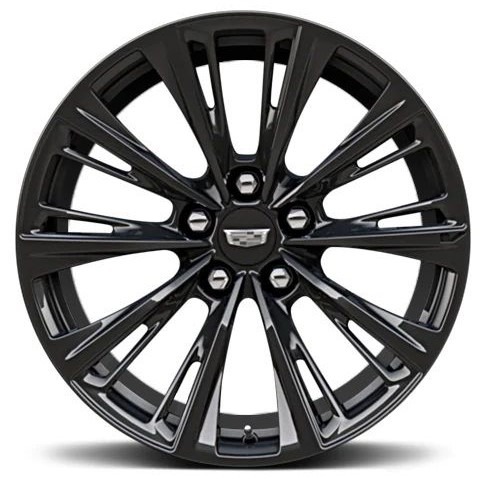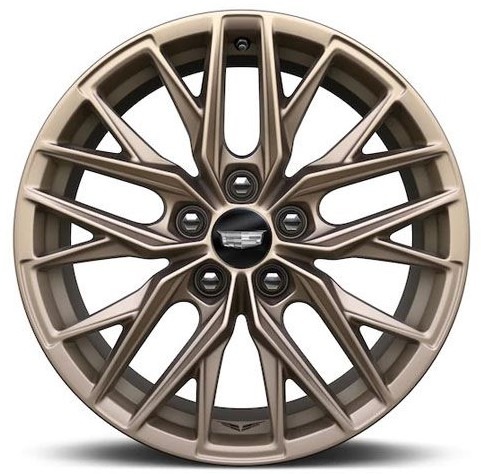 And in the event that you can get close enough to the car, here are the tire sizes for all CT4 and CT5 models for reference:
CT4
Luxury: 225/45R17
Premium Luxury: 235/40R18
Premium Luxury with Diamond Sky: 235/35R19
Sport and V-Series: 235/40R18
V-Series V-Series Blackwing: P255/35ZR18 front and P275/35ZR18 rear
CT5:
Luxury and Premium Luxury: 245/45R18
Sport and V-Series: 245/40R19
Premium Luxury with Diamond Sky: 255/35ZR20
V-Series Blackwing: P275/35ZR19 front and P305/30ZR19 rear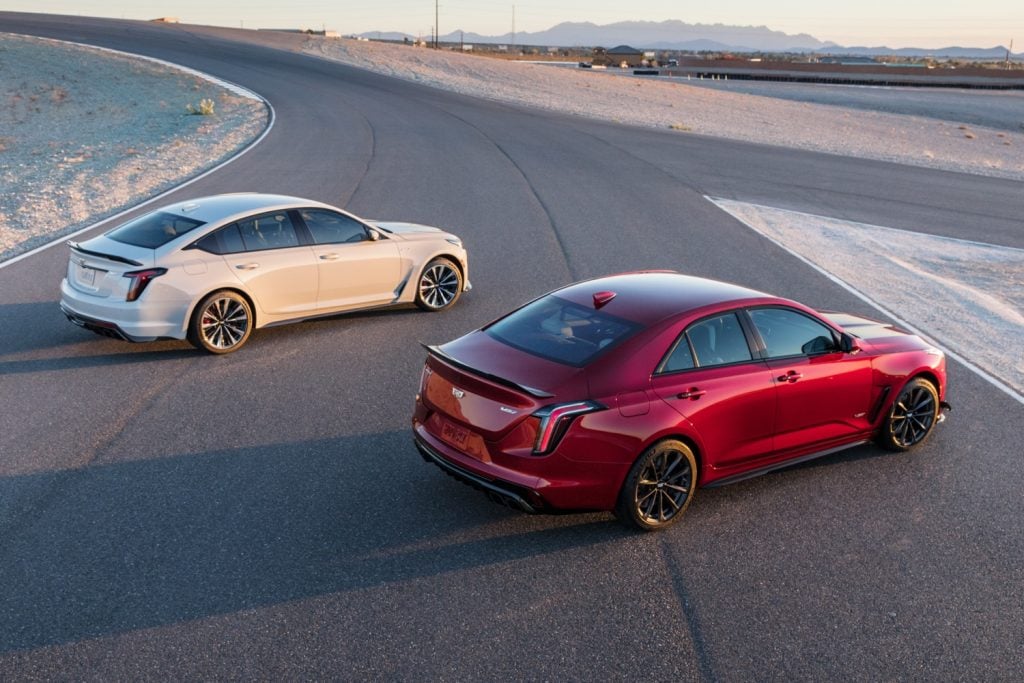 Rear End
Moving out back, the biggest Blackwing giveaways will be a reworking of the rear diffusers, always finished in black, as well as the darkened exhaust tips compared to the bright polished chrome tips of the non-Blackwings. Notably, both of the V-Series models in question feature four trapezoidal exhaust outlets at the rear. Additionally, any presence of aforementioned carbon fiber goodness will also tell you that you're looking at a Blackwing.
Speaking of
Of course, the rear of either Blackwing will have a beefier presence when compared to the more pedestrian  stance of the CT4, CT4-V and CT5, CT5-V, courtesy of the wider wheels and tires. The sounds coming from the tailpipes will also be rather distinct, as both Blackwing models provide more robust exhaust notes with the CT5-V Blackwing being a bit more rambunctious thanks to its supercharged 6.2L LT4 V8, which packs 668 horsepower and 659 pound-feet of torque. Meanwhile, the CT4-V Blackwing's twin-turbocharged 3.6L LF4 V6 makes 472 horsepower and 445 pound-feet of torque, while still delivering a healthy exhaust note.
The ability to own or even drive any of the  fine Cadillac Blackwing machines is a blessing, but for those who want the best of the best, the Blackwing models are the way to go. Now that you've read this quick guide, you're basically an expert in distinguishing the between the V-Series Blackwing top-dogs and the non-Blackwing V-Series models.
2022 Cadillac CT4-V Blackwing Photos
2022 Cadillac CT5-V Blackwing Photos
Blackwing News
7

Finally, unique badging for the super sedans.

112

It seems size might matter after all, at least when it comes to desiring fast cars.
Sweepstakes Of The Month: Win a 2023 Corvette Z06 Convertible. Details here.
We are currently looking for experienced automotive journalists and editors to join our team. Make $60k-$80k per year doing what you love. We are also looking for an experienced web developer.
See details here
.