What's It Like To Drive A Chevy Impala Bubble Top Hot Rod?
28
I work for a high-end collector car publication as an auction analyst, which is a fancy way of saying I go to collector car auctions, pick out thirty or forty cars, and review them. Four years ago, I took my father to a Mecum sale in Kansas City so he could see what I do. Dad, being a car fiend himself, hung around for about five minutes, then gave in to his urge to see all the cool stuff up for grabs.
When I caught up to him, he had fallen in love with a 1961 Chevy Impala Bubble Top hot rod. It had custom paint, pinstriping, interior, suspension, polished billet Schott Bullet wheels wrapped in low-profile Goodyears, a glorious 409 W-Head Big Block with dual Edelbrock four-barrel carbs, a Muncie four-speed, a serpentine belt drive system, and so much more, and all of it was polished beyond belief.
The Chevy Impala crossed the block, but failed to sell. Dad put in an offer that was below reserve, but the seller agreed to let the car go. Dad was just giddy. A couple days later, we went back to the auction venue to collect the car.
My father is a great guy with bad knees. Because of this, he buys cars with automatics. He was so smitten with the Impala, he bought it anyway.  We drove from downtown Kansas City to Merriam, Kansas, about ten miles, so he could show the car to a friend of his. When we got ready to leave he asked, "Do you want to drive it?" I looked at him and said, "Like you have to ask."
I drove the Chevy Impala to our neighborhood (I only live a mile from my father), and stopped to show the car to my wife. That was when Dad floated the idea of swapping the Muncie for an automatic. I said it would ruin the car. He looked at me and asked if I wanted to buy the car. That's how I wound up with the coolest Impala I've ever seen. Its name is Vlad. That's right, Vlad the Impala.
Vlad hasn't always been Vlad. This Chevy Impala was originally white, powered by a 283 Small Block and Powerglide automatic. At some point somebody decided to make it into a show-worthy hot rod. When it sold at auction, it was accompanied by very little information. Owning it has been a bit like assembling a puzzle without the benefit of the picture on the box. What is clear is someone spent a ton on parts, paint, and labor before I got it.
When you get into the '61 Chevy Impala, you lower yourself into the bench front seat. The Impala sits much closer to the ground than a stocker, courtesy of a lowered suspension. Headroom is ample, and the outward view is great in all directions. Older cars have much thinner A-pillars than new ones, and the Bubble Top has thin C-pillars. You are surrounded by lots of glass. The steering column is a custom chrome tilting unit, and the steering wheel was made for the car, in black and red with Chevy crossed flags in the center. The floor-mounted Hurst shifter, topped with a white shift ball, falls readily to hand. The clutch is a bit stiff, but doesn't seem too bad… at first.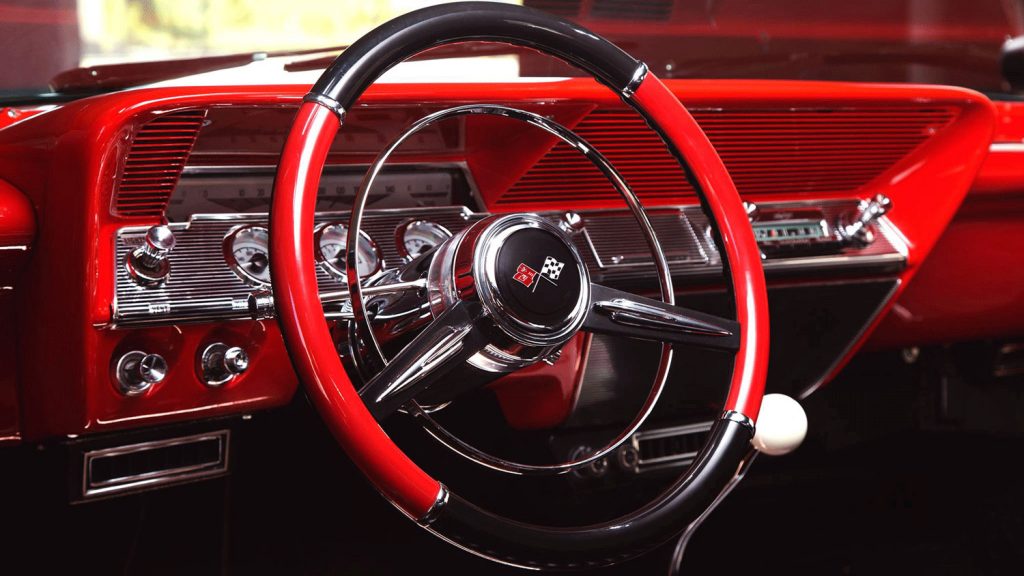 Turning the key to the "on" position kicks on the loud electric fuel pump. Don't worry, you won't be able to hear it for long. Let the pump run for a few seconds, give the throttle one full pump to the floor (two if it hasn't been run in the last few days), release, and key the ignition. The Impala comes alive with a roar from the hearty 409. The Big Block idles fast on the choke for around 45 seconds, then a quick throttle blip settles it into a lopey idle. This is the stuff you were daydreaming about in high school study hall.
Push in the clutch and move the shifter into first. The clutch release comes a few inches off the floor. Add in a bit of throttle, and you're off. You learn quickly to be careful on the gas, as the big Chevy wants to run. The exhaust exits through Flowmaster mufflers. The once-loud fuel pump can barely be heard. The cabin is filled with a cacophonous rumble. A little more throttle, and the 409 is beginning to talk. The sound as the revs come up is glorious. The hooligan in you wants to make bad decisions, push the boundaries of what is legal, scare the populace. Vlad is only too happy to accommodate.
Put your foot into the throttle, and you are instantly rewarded with rapid forward motion while you are simultaneously shoved back in the seat. All too soon, you are through first gear and grabbing second. A repeat of the roar-leap-clutch-grab the next gear sequence comes as the grin on your face spreads. Nothing sounds quite like a Big Block let loose. As the revs come up, and you find yourself shifting to fourth, you realize you haven't really put your foot into the gas all that hard, and likely haven't opened the big barrels on the carbs, despite your current velocity. More open road is needed.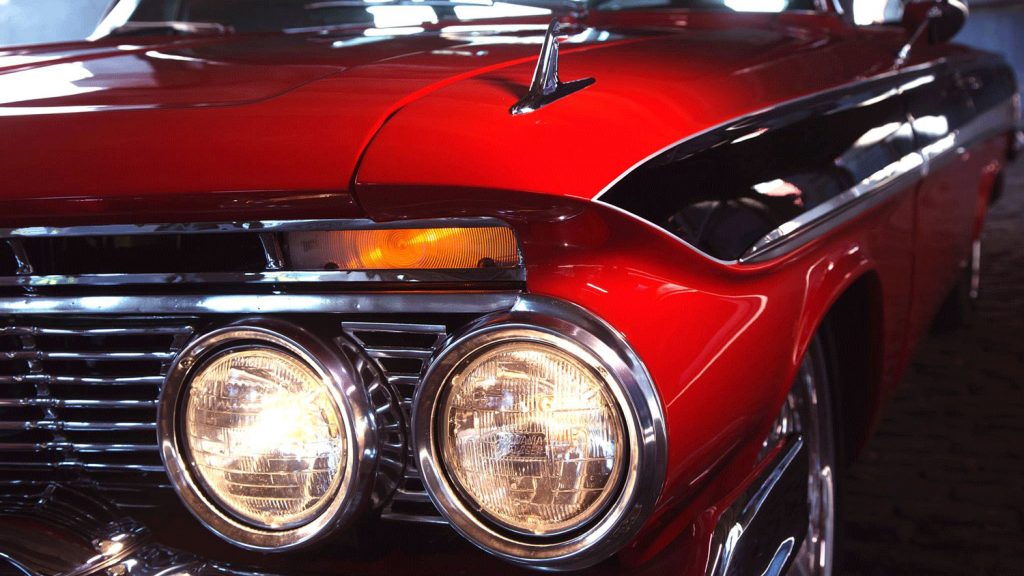 Braking and steering on the Chevy Impala is all too easy, courtesy of electric power brakes and steering. The feel isn't quite that of traditional power steering and brakes, but it beats no power at all. Front discs help arrest forward motion, as you aim for the highway. The entrance ramp provides the opportunity to really see what the Impala has under the hood. In second, you put your foot to the floor. The sound from under the hood and the exhaust is 409 fury and Big Block anger. You are rewarded by a forward lunge, as the Big Block swallows a huge gulp of fuel from the twin 500 CFM Edelbrock carbs. Your brain shouts at you, "THIS THING FLIES! YEEHAW!", as your peripheral vision begins to blur. You need to be looking for a hole in traffic.
Second gear flies by, as does third. You shoot by the hole you thought you were going to use, and start looking for one farther ahead. Grabbing fourth gear, the Chevy Impala chews up the road with ease. The ride and handling is pretty decent thanks to a tubular A-arm front suspension and meaty anti-sway bars front and rear. The car's performance is not what you would expect from an early-1960s Chevy passenger car. It accelerates, brakes, handles, and drives much better than any big sixty-year-old Chevy should.
There are a couple of things to consider when you decide to rip it up in this Chevy Impala hot rod. Firstly, it attracts a lot of attention. I never thought another car would get more attention than my 1960 Corvette, but this Impala does. This alone is a good reason to keep your foot out of the throttle and your hooligan urges locked down. Another is that those dual four-barrel carbs were not built with mileage in mind. As my friend Chris DiGanci is fond of saying, "When you put gas in it, you have to shut off the car so the pump can catch up."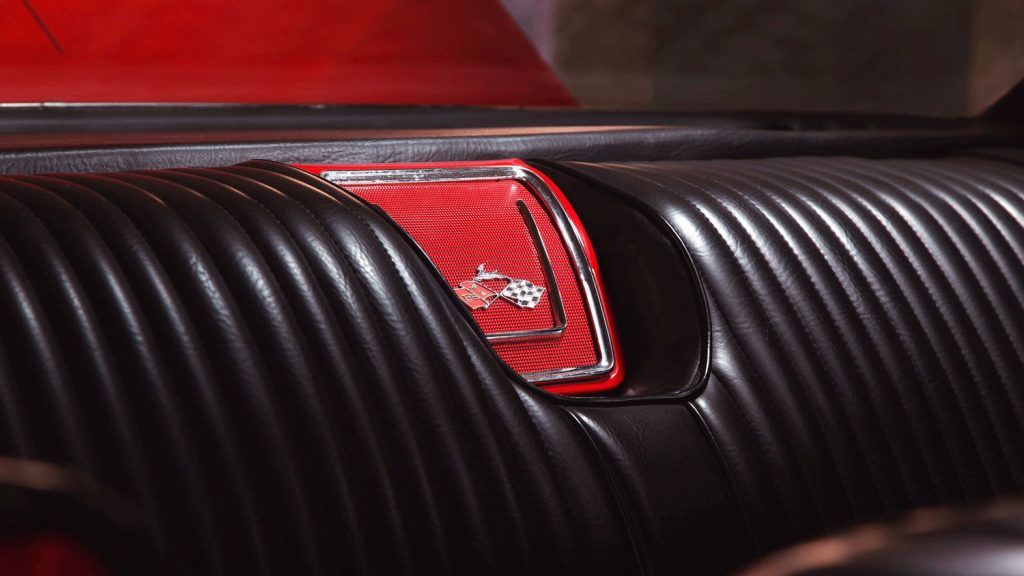 When you aren't acting like a juvenile delinquent, the Chevy Impala can be "practical." It is roomy in both front and back seats, and it has a capacious trunk. It has Vintage Air climate controls, a hidden Custom Autosound Secret Audio system with AM/FM/CD/USB ports, a subwoofer, amp, and remote control. All in all, not a bad car, just not overly efficient.
Vlad the Impala has been featured on YouTube channels ScottieDTV and Watch JR Go, has won several local shows, has been in multiple articles online, a couple of calendars, and an upcoming coffee table book. It is quite striking in the flesh, and has been a lot of fun to own. I own two vintage Corvettes in addition to Vlad. I'm not sure I will be able to hold on to the Chevy Impala and the Corvettes, but I'm sure trying to find a way. It's just too much fun to give up.
Photos by Ped Watt of Watt Design Photography.
Sweepstakes Of The Month: Win a Corvette Z06 and 2024 Silverado. Details here.
We are currently looking for experienced automotive journalists and editors to join our team. Make $60k-$80k per year doing what you love. We are also looking for an experienced web developer.
See details here
.