What It's Like To Drive A Mid Year Corvette Convertible
26
Some months back, I wrote a series of articles about buying my dream Mid Year Corvette, more specifically a 1965 Sting Ray, and driving it from California home to the Midwest. The drive was a bucket list item for me, allowing me four days to ponder car-related thoughts and lament I couldn't do drives like this more often. However, since I was so focused on making it home in one piece, not driving the car too hard, and trying to watch out for all the loons on the highways, I didn't get to really consider what it was like to drive the Corvette.
For the uninitiated, Mid Year Corvettes are what most people refer to as C2s. The C2 moniker didn't come about until the C5s debuted. Prior to that, Corvette generations were referred to as Solid Axles, Mid Years, Shark Bodies, and the "new ones." Once the C5 bowed, people were trying to figure out what to call them, and the whole C-whatever-generation thing came about, but I digress.
I've had the Chevy Corvette home for a little over five months. In that time, I have been able to address some of its mechanical and cosmetic needs, had to search high and low for parts, and gotten to know the car better. The Mid Year Corvette is a remarkable leap forward in engineering and design compared to my 1960 Solid Axle Corvette. When parked next to each other, it is difficult to fathom that these two cars are only five years apart. The Small Block engines are not all that different, aside from the 283 versus 327 cubic-inch displacement and the matter of 120 horsepower.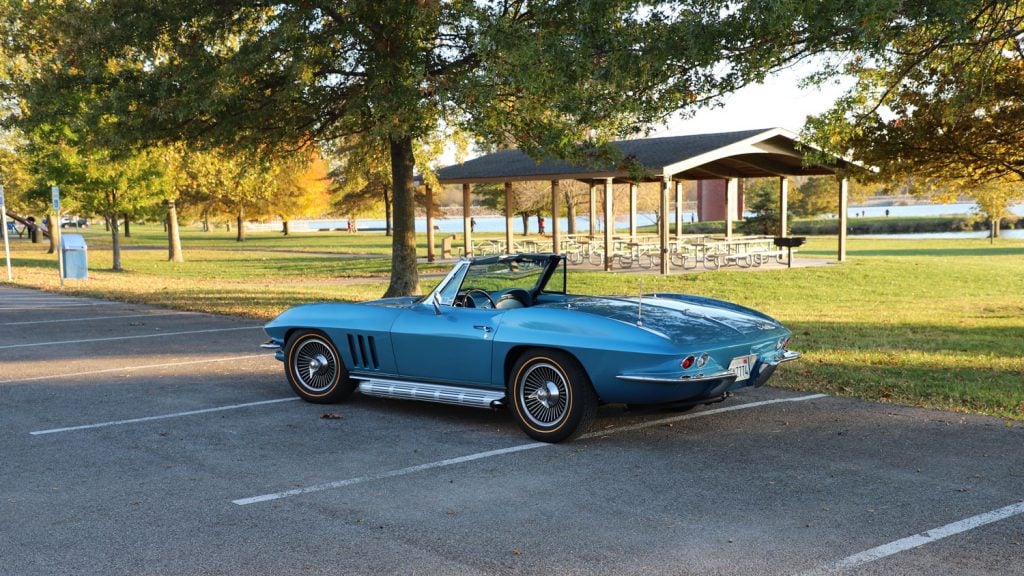 The best part about writing this article was I kept telling myself, "You need to take the Corvette for one more drive. Find some new roads with more curves, wring it out, listen to the side pipes." I've taken it on nearly a dozen drives preparing to write this, and the end result is always the same: I have a big grin on my face, and I wish I'd bought a Mid Year Corvette years ago. I should have had this article written a week ago, but I kept giving in to "just one more drive."
You sit down in the '65 Corvette, as it is low to the ground. It has a decent sized glove box, and plenty of headroom with the soft top up. The seats are comfortable, and the cabin seems roomier than other Corvettes I have owned.
The accelerator pedal requires a single push to the floor and release on a cold start (maybe two if the car hasn't been driven in several days), then you turn the key clockwise in the dash-mounted ignition. The 327 fires to life, and you are greeted by one-half of the exhaust note in your left ear. The right side pipe won't be audible until you put your foot down. The Corvette needs about a minute on the choke before a throttle blip settles it into a lumpy idle.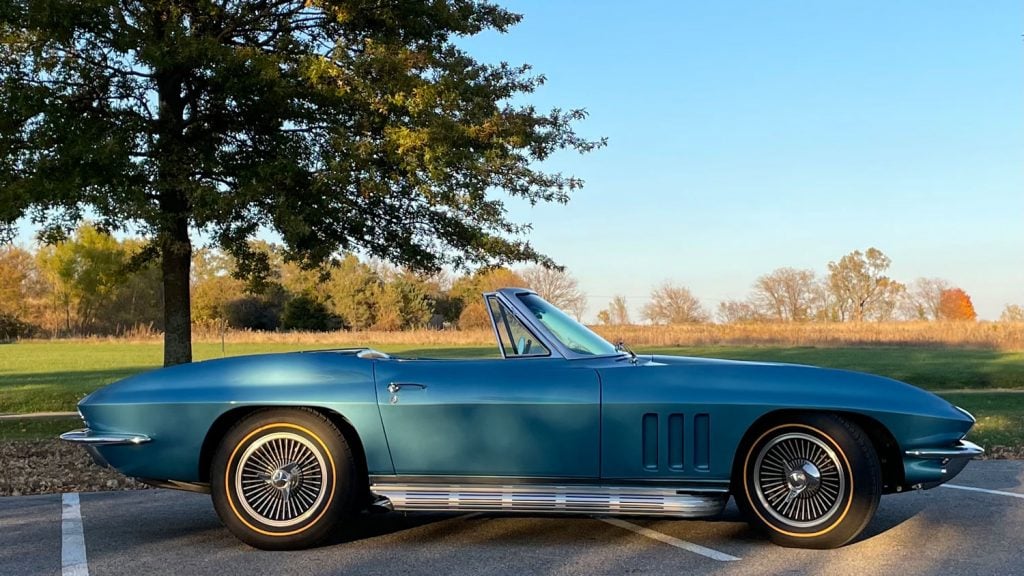 Aside from power steering and brakes, the Sting Ray is still raw and visceral. It has a 350-horsepower 327 Small Block, close-ratio four speed manual, knock-off wheels, and side-mount exhaust. You feel everything that is happening with the car. The 327 is fed by a Holley four-barrel carb that could probably use a bit of adjustment. You smell the gas and the rich exhaust. With the side pipe just a couple feet from your ear, you certainly hear everything that is going on. The Mid Year has four-wheel power disc brakes, and independent rear suspension. Its ride is nothing like modern cars. You still feel most imperfections in the road, and undulations make you feel a bit like a dolphin. But when the road is smooth, especially curvy and smooth, it shines.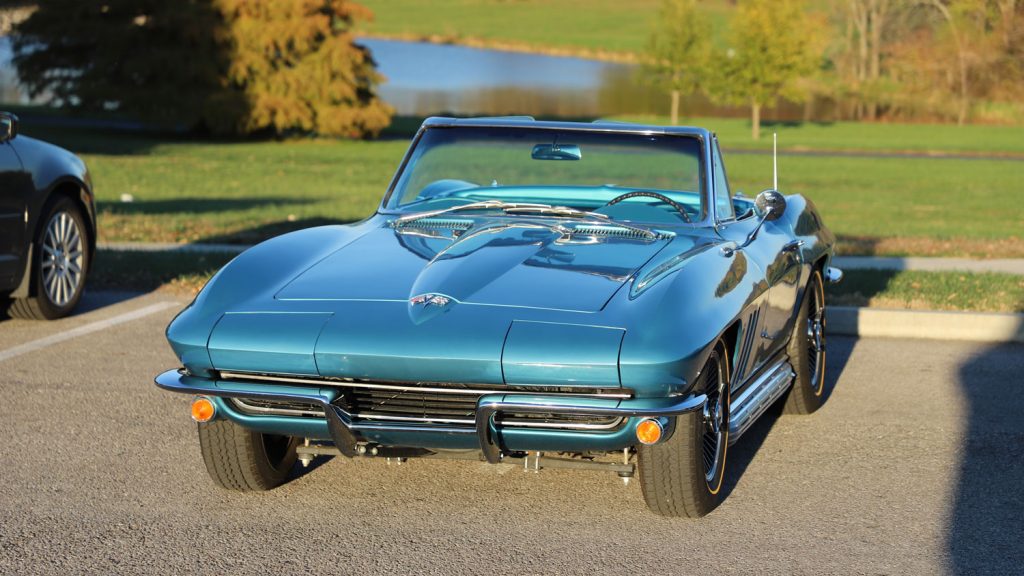 Press down on the somewhat heavy clutch, pull up on the shifter T-handle, and slide the gearshift fully left and up to engage reverse. The driveway has a bit of downward pitch, so backing out is really just overcoming resting inertia. Once in the street, just slide the shifter over until the T-handle drops back into place, push it into first, and let out the clutch as you give it a bit of throttle. It doesn't take much, and a quick shift to second will let you roll out of the neighborhood in a sedate manner. Hearing only half the exhaust note makes it sound a bit like something is amiss, but it also encourages you to run the revs up once out of the neighborhood so you can get the full song from both sides.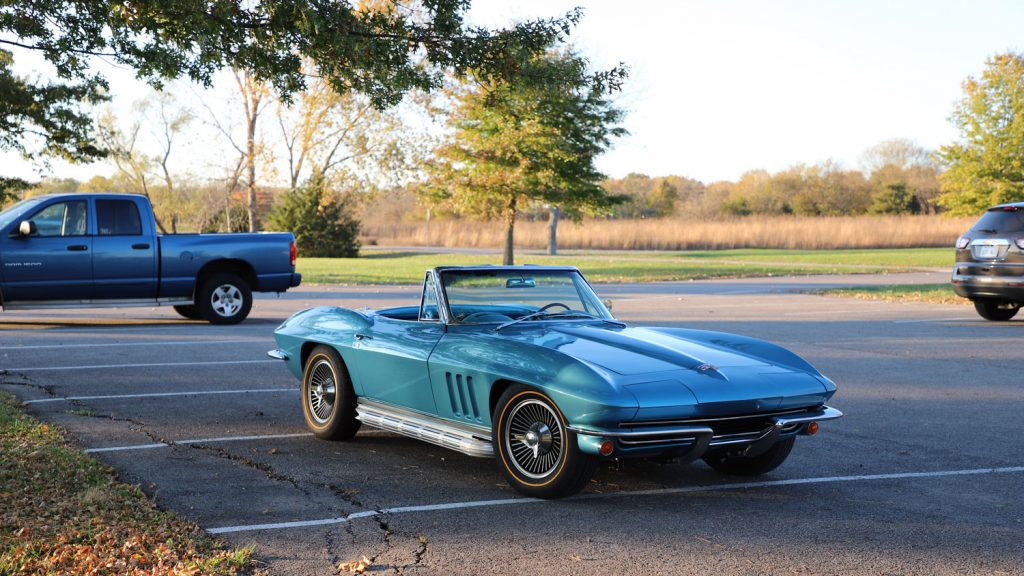 When I wrote the series about driving this Mid Year Corvette back from California, I said the sound from the pipes and the feel of the car was like that of a vintage race car, and it made you feel a bit like a public menace. None of that has changed. The close-ratio gearbox means you can keep the revs in a range that gives you that raucous sound without the risk of unwanted conversations with Officer Friendly.
Rowing through the gears means you are truly involved in driving the car, not messing with your phone, drinking coffee, eating a burger, practicing witchcraft, building a birdhouse, putting on clown makeup, or any of the other myriad things you see people doing instead of driving their cars. The shifter is smooth, not notchy. The steering is tight and direct, with just the right amount of power assistance. Brakes work quite well, with no sign of fade even after a few hard stops.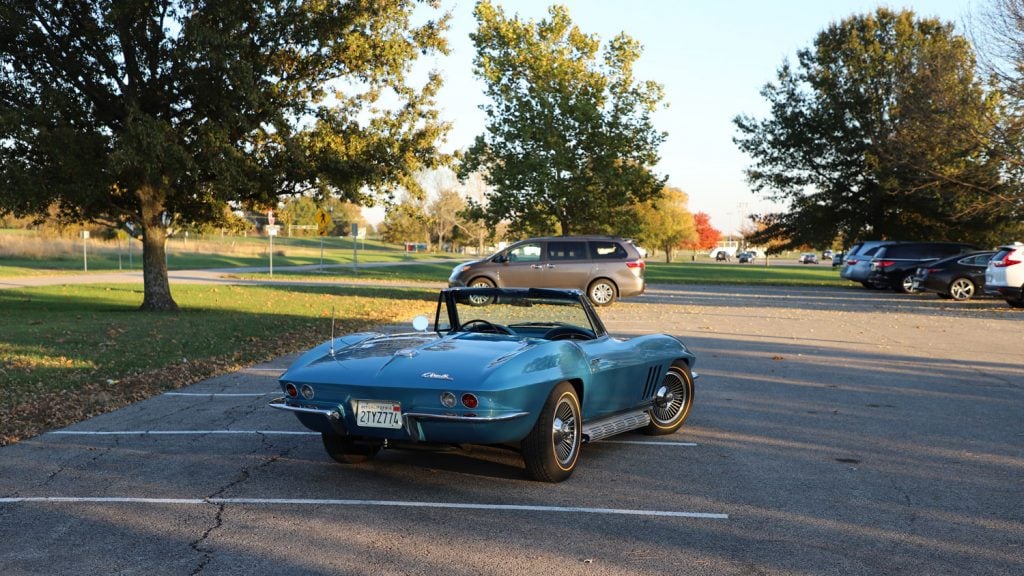 On the highway, the Sting Ray runs reasonably smooth, but it is loud. With the top up it is loud, and with the top down, it is louder. If you intend to drive very far, bring earplugs. The side pipes are fun for about the first thirty miles, then you are over it. That said, I have driven a Sting Ray with traditional belly exhaust, and it was too quiet for my taste.
The Mid Year tracks arrow straight, rides like a vintage sports car, and just feels fun. It is impossible to spend time behind the wheel and not smile. You'll never see a Sting Ray convertible outside a therapist's office unless it belongs to the therapist.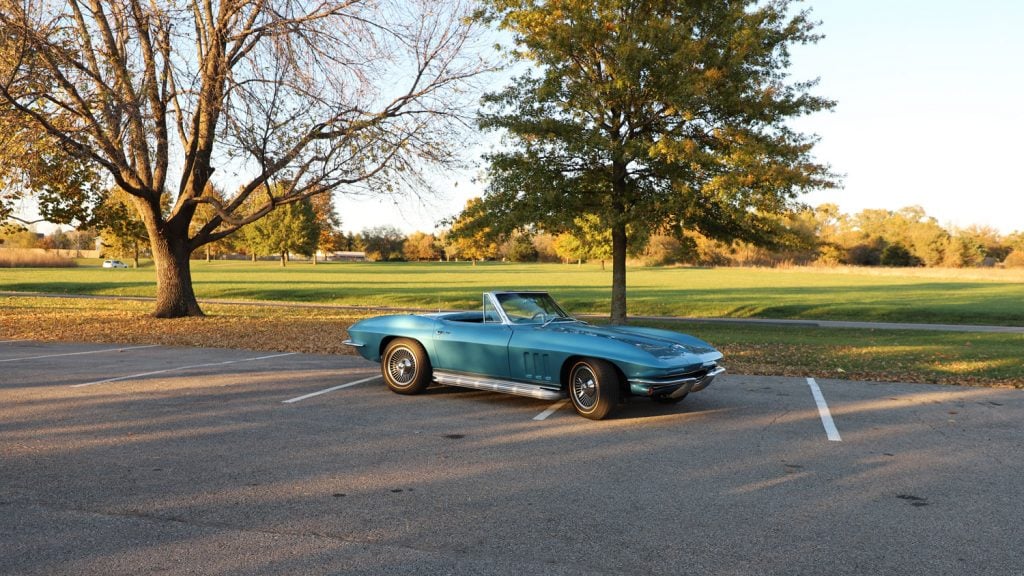 I have done one long trip in the Mid Year, and I want to do more. Luggage space is surprisingly good, certainly adequate for a weekend trip with the wife. The Sting Ray gets around 14 mpg on the highway running 75 miles per hour, which isn't great, but look what you get to drive?
People notice the Mid Year, but don't seem as compelled to talk about their Corvette stories as when they see the Solid Axle. I'm not quite sure why that is, but I have yet to have a half-hour long gas stop. I like talking to people about their stories, but people seem to approach me less often in the '65.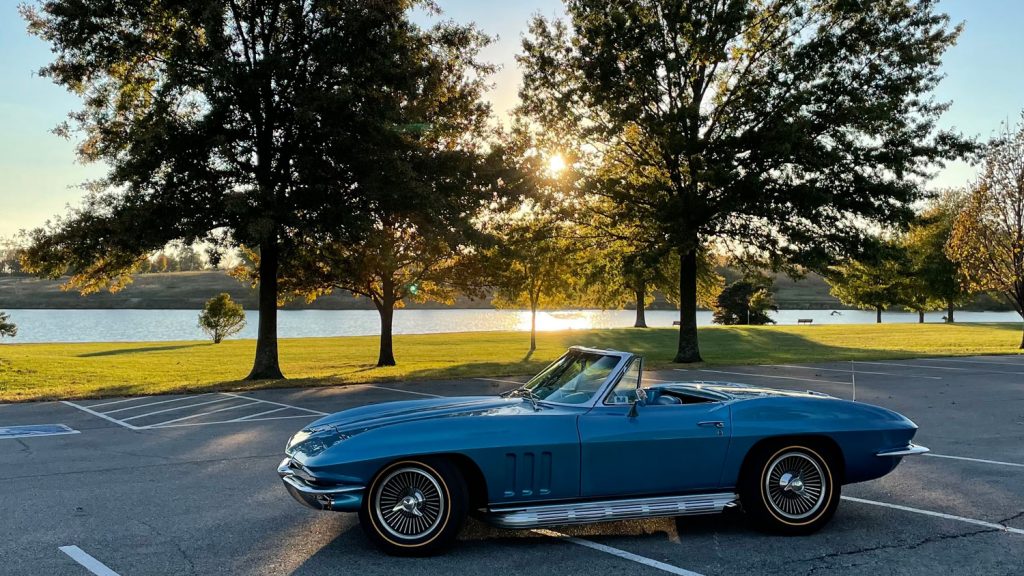 Being able to own a Mid Year Corvette convertible is a dream come true for me, every bit as good as I had hoped. It is far from perfect, it will make your clothes smell like old car, gas, and exhaust, it has some creaks and squeaks, it is not yet rain ready, and not one of those things makes me want to leave it in the garage. I look for excuses to drive it, reasons to spend time working on it, and skip watching TV or goofing off so I can polish it. I will freely admit I am damn lucky to own a car like this. Now, I just want to spend every moment I can behind the wheel.
Subscribe to GM Authority for more Corvette news, Chevrolet news, and around-the-clock GM news coverage.
Sweepstakes Of The Month: Win a Corvette Z06 and 2024 Silverado. Details here.
We are currently looking for experienced automotive journalists and editors to join our team. Make $60k-$80k per year doing what you love. We are also looking for an experienced web developer.
See details here
.