GM Needs A Ford Bronco Sport Rival, Like Yesterday: Opinion
51
The success of the Ford Bronco Sport after nearly a year on the market shows that GM needs to answer with a rival. For the time being, The General seems content on letting Ford and Jeep duke it out in the increasingly popular rugged compact crossover segment, but it shouldn't be. We're here to address exactly that in today's GM Authority Opinion Desk.
In July 2020, Ford introduced the 2021 Bronco in two-door and four-door form. Off-road enthusiasts clamored for the body-on-frame vehicles, something that GM isn't all too concerned about. The model that was noticed less, despite being introduced at the same time, was the Bronco Sport. Despite not featuring a ladder frame, the Bronco Sport has proven to be quite capable and, perhaps more importantly, also quite popular.
For instance, the Bronco Sport outsold Ford's own "regular" C-segment crossover entry, the Escape, in September. Then, the Bronco trailed the Escape by only 4.2K deliveries in October, taking only nine days to turn. The results are in folks, and Ford clearly has a winning formula on its hands with the Bronco Sport.
The 2021 Ford Bronco Sport is for those who desire a smaller vehicle that's also bit less hardcore than the "regular", midsize Bronco. Even so, Bronco Sport features standard all-wheel-drive, while also offering a segment-exclusive twin-clutch rear-drive unit with a differential lock feature. Four underbody skid plates, available 28.5-inch all-terrain tires, and available tow hooks give the Bronco Sport additional capability.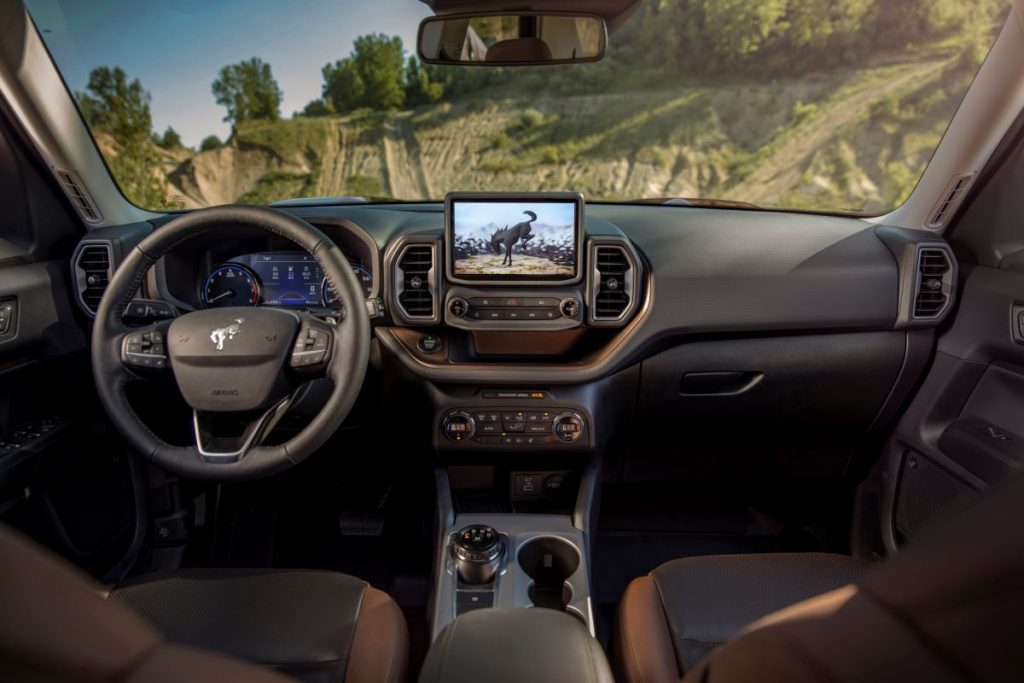 The Bronco Sport's interior is similar to that of the body-on-frame Bronco: it features a rugged aesthetic and offers available washable rubber flooring in the cabin and cargo area, easy-to-clean cloth seating surfaces, silicone-sealed control switches, plus a whole bunch of interior storage and item carrying solutions and accessories.
In creating the Bronco Sport, Ford essentially took a regular front-drive platform, gave it a boxy, rugged, and functional design, shortened it, and added some robust suspension bits. While the Bronco Sport is a unibody vehicle, it is extremely capable.
Moreover, by introducing the Bronco Sport, Ford is now fielding two entries in the C-crossover segment: the Bronco Sport for those interested in a capable and rugged product, and the Escape for those who value on-road behavior (or simply don't care much about off-roading, as a whole).
For GM's part, its unibody Chevy Trailblazer crossover offers an outdoorsy Trailblazer ACTIV trim that amplifies its sporty style with a two-tone roof, unique front and rear fascias, sport terrain tires, off-road suspension tuning enhancements, dual exhaust, and a simulated (non-functional) front skid plate. It's a nice package, but it's nothing close to the Bronco Sport in terms of off-road capability. So, GM has no viable B-segment competitor to the Bronco Sport.
Making matters worse is that GM also has no rugged C-segment crossover to rival the Bronco Sport. For instance, Chevy does not offer an Equinox ACTIV, which would have been more comparable with the Bronco Sport than the Trailblazer Activ.
But wait, GM's GMC will soon launch the Terrain AT4. That comes closer to the Ford offering than the Equinox and Trailblazer, at present. Notable upgrades on the GMC Terrain AT4 include a unique front fascia, gloss black-painted wheels wrapped in off-road tires, and a steel protective front skid plate. The 2022 GMC Terrain AT4 will come exclusively with AWD, which makes sense for an off-road trim level. However, the Terrain AT4 still has rather long front and rear overhangs as a result of its more plebeian roots, as opposed to being purpose-built to be rugged.
For those who aren't following, here's the scoop: a vehicle with long overhangs typically won't be as capable off-road compared to a vehicle with shorter overhangs. And generally speaking, vehicles that tend to have shorter overhangs were decidedly designed that way from the start, ala Bronco Sport, rather than being modified versions of existing models (like Terrain AT4).
With its onslaught of ACTIV and AT4 models, it is clear that GM understands that the market is continuing to shift in the direction off-road-capable vehicles, or at least ones appearing so. The Terrain AT4 satisfies the latter part, but not so much the former. That makes it clear that GM needs to bring to market a true rival to the Bronco Sport or else Ford (with the Bronco Sport) and Jeep (with Compass and Renegade) will have the market all to themselves.
Subscribe to GM Authority for more Chevy news, GMC news, and obsessively updated GM news coverage.
2021 Chevrolet Trailblazer Photos
Sweepstakes Of The Month: Win a 2023 Corvette Z06 Convertible. Details here.