1986 Corvette Indy Concept Was The C8 E-Ray 35 Years Ago: Live Photo Gallery
We are currently looking for experienced automotive journalists and editors to join our team. Make $60k-$80k per year doing what you love. We are also looking for an experienced web developer.
See details here
.
12
The 1986 Corvette Indy Concept was the one that helped the Corvette engineering team develop their final attempt at a mid-engine sports car – until of course the C8 Chevy Corvette Stingray finally made that a reality. We have some exclusive shots to peruse of the Corvette Indy Concept at an outdoor auto show.
But let's first see how it came to be.
The Corvette Indy Concept was developed by GM in a line of experimental prototypes as part of the Chevrolet Engineering Research Vehicle (CERV) program, where engineers tested various engine placements and chassis layouts – and most often a mid-engine setup.
Zora Arkus-Duntov was a Chevy staff engineer, designer, and race car driver who started development of the CERV I in 1959, which was unveiled to the public at the Riverside International Raceway in November 1960 as GM's first mid-engine effort. While Harley Earl designed the Corvette and has been called the "Father of the Corvette," that title is most often attributed to Duntov.
Duntov described the CERV I as "a design without limit," saying that it was an "admirable tool" to describe what Chevy should apply to the Corvette. The design was equipped with no less than seven different engine combinations, with the original being a Chevy small block V8 Duntov had helped to develop alongside Chevrolet chief engineer Ed Cole.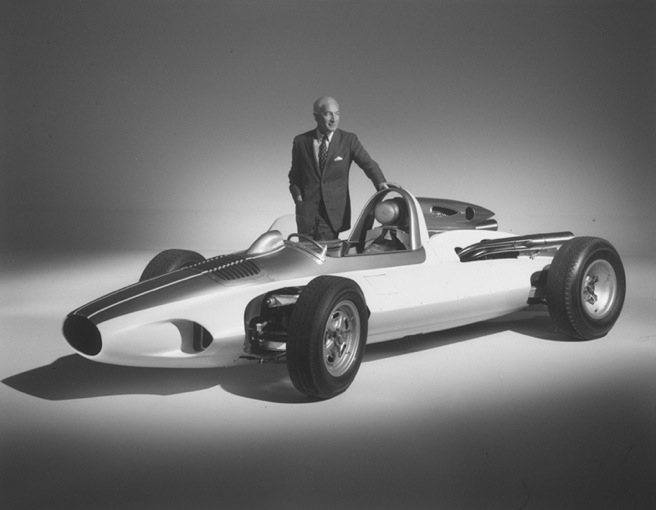 He continued this work in late 1961 with the next iteration, CERV II. It was built in an effort to keep the Corvette program competitive with other mid-engine sports cars of the era from Ferrari and, eventually, Ford as well. Duntov said that it was intended "to incorporate all the features necessary to make it a successful contender, not only in sprints but in such long-distance events as Le Mans and Sebring."
His team combined a complex all-wheel drive system with the same Chevy small block 6.2L/377 cubic-inch V8 engine from the CERV I. The 500-horsepower powerplant enabled the car to do 0-60 mph in 2.8 seconds and reach 212 mph.
Despite these unheard-of performance figures, Duntov and his team were never able to take the CERV II racing. Instead, he ended up convincing GM to let him demonstrate the car at select events to display the company's engineering prowess, but it was eventually placed into storage in 1970 and has since had a handful of different private owners.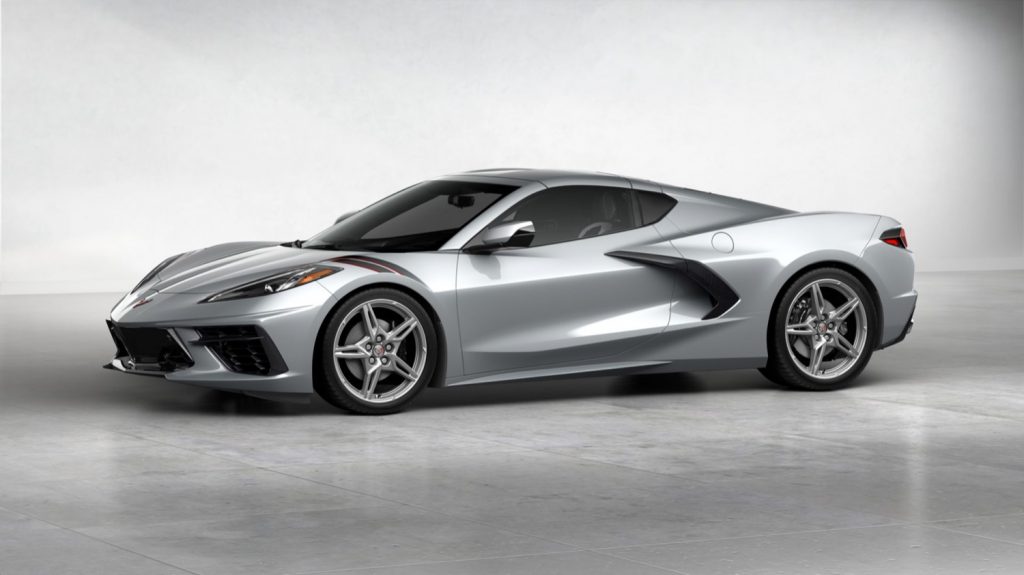 Enter the 1986 Corvette Indy Concept. Unlike concepts before it and since, the Corvette Indy Concept was designed solely as a stationary showpiece, but inspired GM to also build a fully roadworthy prototype and eventually its most advanced prototype to date, the CERV III.
The Corvette Indy Concept was constructed in 1985 and unveiled at the 1986 Detroit Auto Show. The car was developed when GM was in the midst of acquiring Group Lotus and wanted to show American consumers the British automaker's new Active Suspension technology and a racing-inspired engine while showcasing Chevy's advanced automotive technology.
That included all-wheel drive like that found on the CERV II, plus four-wheel steering. An all-wheel-drive, mid-engine Corvette concept was an early precursor of the upcoming C8 Corvette E-Ray, which adds a hybrid setup to the small block V8.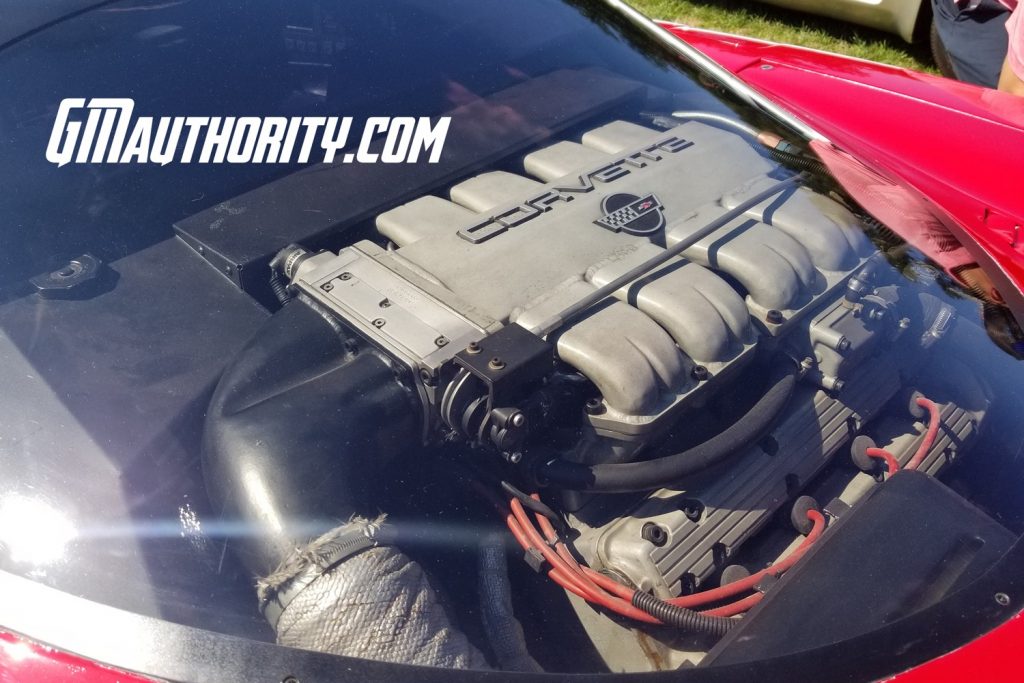 It also previewed many technologies that would soon become standard fare on many cars such as satellite navigation, a CRT instrument display, a rearview camera with in-dash view screen, and a drive-by-wire system.
The concept's carbon fiber and Kevlar construction also previewed the way many supercars are built today, with a carbon tub, body, or other types of carbon fiber components. The inoperative mid-engine show car was "powered by" a twin-turbo 2.65L/162 cubic inch V8 engine designed by Lotus Engineering.
For the roadworthy concept, the racing-based engine was ditched for a 5.7L/350 cubic-inch V8 engine, which was tuned in part by Lotus and later used in the production C4 Corvette ZR-1 from 1990 to 1995. This development testbed for the upcoming CERV III recorded a 0-to-60 mph sprint under five seconds and a top speed in excess of 180 mph.
The 1986 Corvette Indy Concept resides today in the GM Heritage Center. Let's take a close-up look at this mid-engine technology showcase and see how it compares to Vettes of the past and the current C8 Corvette.
At first glance, the Indy Concept shows little connection to Corvette design, but there are hints that are unique to the Chevy's iconic sports car and that would eventually make it into production.
For example, nearly two decades later, the C5 Corvette would incorporate the Indy Concept's clear-covered multi-beam headlights on either corner of a V-shaped front end with large wide airflow/grille opening below that, which is then separated from small openings on each end. The C5 filled those small sections with clear-covered fog lights.
But the Indy Concept has a smooth front and body overall, without any of the humps or design lines of production Vettes.
Also, the windshield of the Indy Concept is steeply raked and curved, making up the front part of a long egg-shaped all-glass greenhouse.
Going around the side, we see that the A- and B-pillars are black and inside the glass, blending in to the whole greenhouse, similar to the look of a C6 Corvette with black A- and B-pillars and roof panel. The round Indy Concept's greenhouse look is made possible by gull-wing doors.
The greenhouse glass also covers the engine bay, located of course behind the seats. The powerplant is transversely mounted, sitting high and close to the glass.
The side also gives a nod to the C8 Corvette with large vent openings in front of the rear wheels.
And the wheels hint at those on the C4 Corvette.
Around back, we follow the contour of a very long profile, with a rear as long as the front. It features body-colored louvers behind the greenhouse to provide engine venting, and then a long trunk with a deep, integrated spoiler that sits over long, rectangular taillights. Below the bumper is a lower spoiler that extends out back from the car. A single exhaust pipe extends under that on the driver side.
No connection to the Corvette look is to be found in the rear. Yet, the integrated spoiler, as well as the greenhouse design and smooth hood, can actually be found on the fourth-generation Chevy Camaro.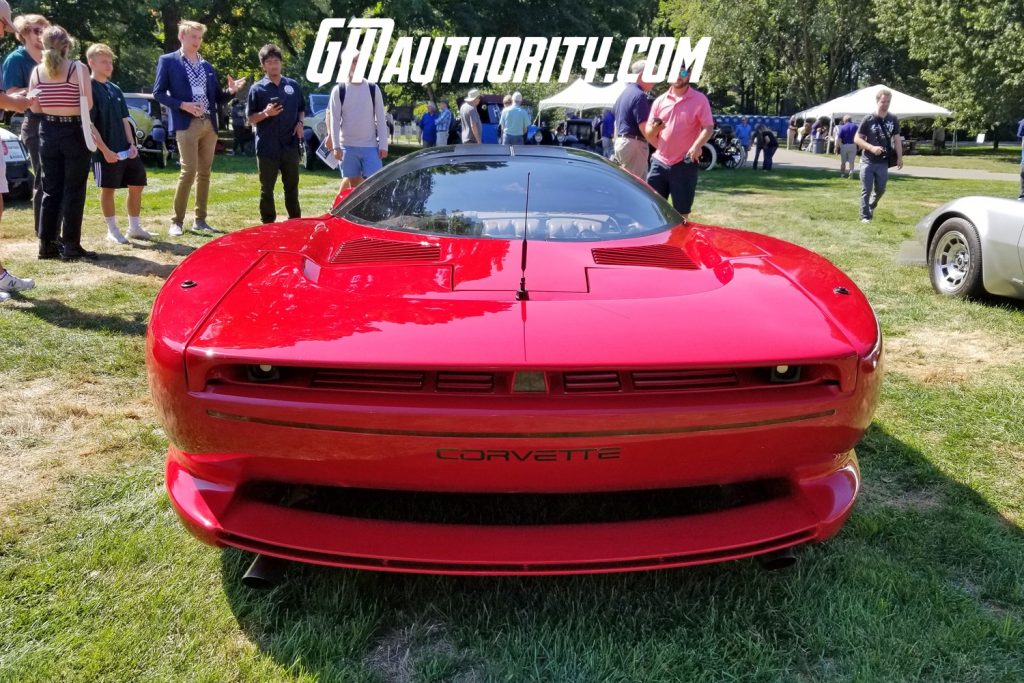 The 1986 Corvette Indy Concept lives up to its name with some hints of future production Corvette design while offering a futuristic look and even some details that made it to the Camaro. And its mid-engine configuration set the stage for the eventual mid-engine version of America's sports car, the C8 Corvette Stingray. Add in the all-wheel drive, and we have a pointer to the upcoming C8 Corvette E-Ray, sans its hybrid setup.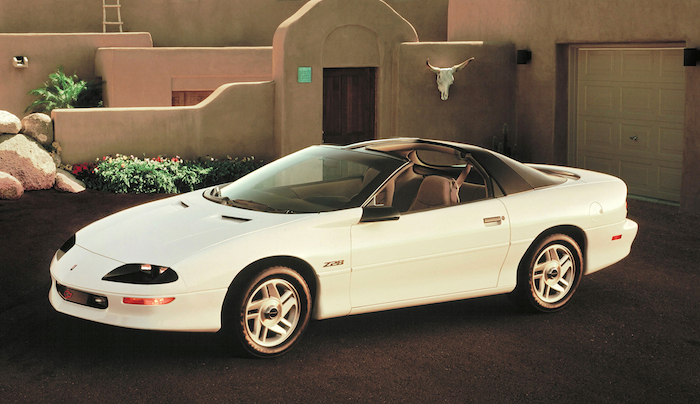 Subscribe to GM Authority for more mid-engine Corvette news, Corvette C8 news, Corvette news, Chevy news, and around-the-clock GM news coverage.
Chevrolet Corvette C8 Photos
Sweepstakes Of The Month: Win a 2022 Corvette C8.R IMSA GTLM Championship Edition. Details here.
We are currently looking for experienced automotive journalists and editors to join our team. Make $60k-$80k per year doing what you love. We are also looking for an experienced web developer.
See details here
.