GM Milford Proving Ground Turns 97 Years Old Today
12
Established as the automotive industry's first dedicated testing facility, the General Motors Milford Proving Ground turns 97 years old today. Since its initial introduction, it has grown to nearly four times its original size, incorporating multiple testing tracks and road courses while being credited for developing many industry firsts.
Let's take a few moments to review how GM's legendary proving ground came to be, and what it is today.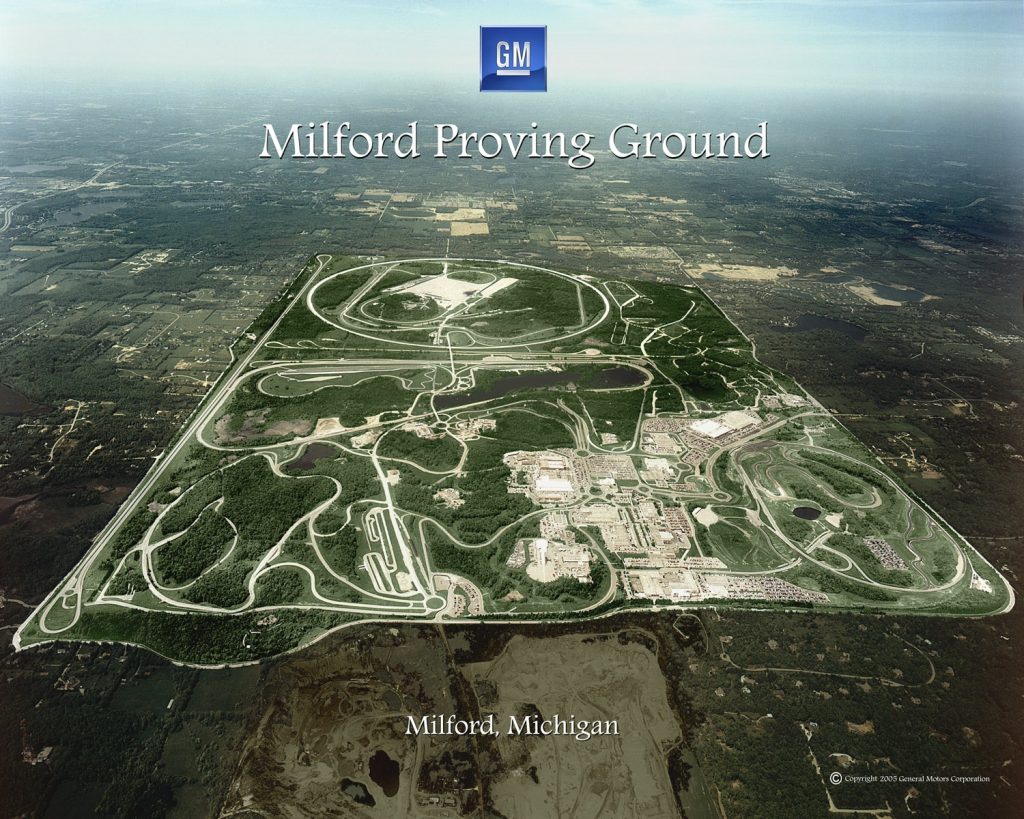 During the early days of the burgeoning automobile industry, manufacturers would simply test their vehicles on public roads.
In 1923, then-GM President and Chairman Alfred P. Sloan Jr. also became aware of a need for "extensive interchange of information among the divisions," and so formed General Technical Committee, which became responsible for the GM's first regular testing program.
According to the GM Heritage Center in its General Motors Proving Grounds 75th Anniversary document, the committee quickly determined that the current approach was not reliable for providing consistent test results: "General Motors engineers who took vehicles to Flint, Michigan, for comparison testing found that the roads used originally had been torn up, changed, and re-surfaced."
General Technical Committee members at their December 20th, 1923, meeting agreed that GM should obtain such property, and that it be located centrally to the GM car-producing divisions. Hence, the idea of the first automotive proving ground was born.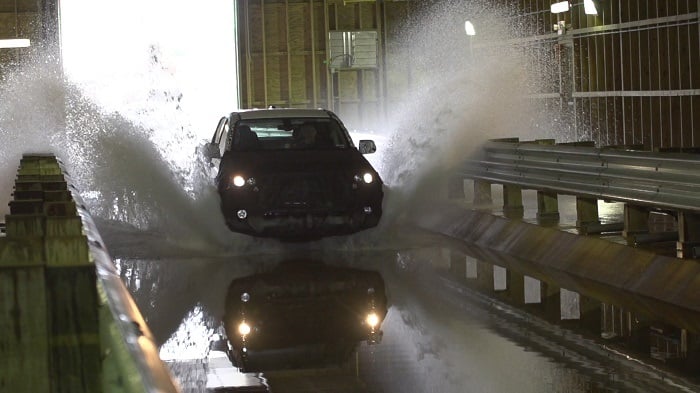 On September 25th, 1924, Sloan officially opened the automaker's new proving ground in Milford, Michigan. It was comprised of two buildings and 5.5 miles of test roads – a 4-mile gravel loop and a 1.5-mile straightaway – on 1,125 undeveloped acres about 40 miles west of Detroit. A Massachusetts Institute of Technology (MIT) electrical engineering graduate, Sloan realized the need for GM to monitor the quality and consistency of its product and to evaluate development ideas, all at a dedicated place.
"The most important step we took to standardize and improve test procedures was the establishment in 1924 of the General Motors Proving Grounds, the first of its kind in the automobile industry," Sloan wrote in his book, My Years With General Motors. "The thought was that we would have a large area, properly protected, entirely closed to the public. It would be provided with roads of various types representing all the various demands on the motorcar from the standpoints of high speed, hills of various grades, smooth roads, rough roads, ability of the car to move through water – which is frequently required in severe storms – and the like. There we would be able to prove out our cars under controlled conditions both before and after production, and we could also make comprehensive tests on competitive cars."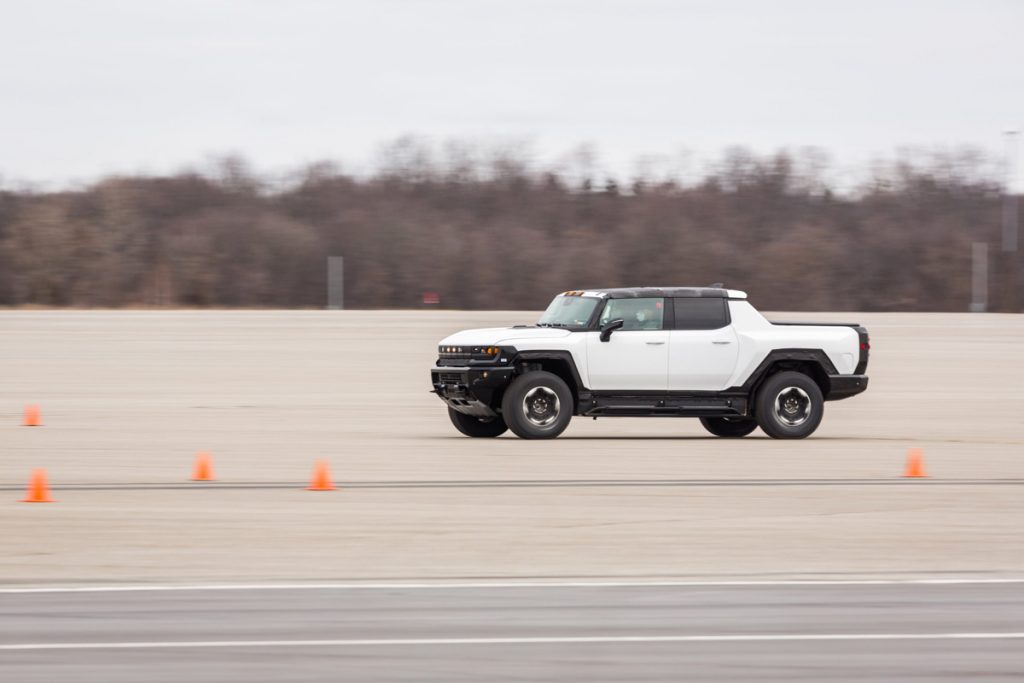 The Milford property was selected due to its varied terrain features and has been in constant use ever since, evolving over time as needed.
Today, GM's Milford Proving Ground is inconceivably large with 140 miles worth of roadways covering two Michigan counties, consisting of an oval track, a road course, two huge, separate straightaways, and much more. The site now stands at over 4,000 acres and employs more than 5,000 people spread across 107 buildings. The automaker uses the facility to test vehicles, benchmark competitors' offerings, and develop leading automotive innovations.
One of the oldest tracks at Milford is the North-South Straightaway. Built in 1955, the three-lane, 3-mile-long road is used for top-speed tests and features turnaround banks at either end.
There is also the Vehicle Dynamics Test Area, a similarly old, 67-acre square of asphalt used to test traction control, stability control, braking, and more. Known as "Black Lake," it can also be moistened and used as a skidpad or to replicate wet driving conditions. The name comes from waterfowl (birds) mistaking the massive asphalt surface for a lake.
Black Lake sits inside the Circle Track, a 4.5-mile banked circular track incorporating five lanes with posted speed limits that increase towards the outermost lane, with the outermost being 100-plus mph.
The newest major addition to Milford is the Road Course, unofficially known as the "Lutz Ring" because former GM Chairman Bob Lutz wanted a racetrack which emulated specific sections of some of the world's most challenging racetracks. In 2003, construction began on a 2.9-mile, 17-turn road course designed to test vehicle suspension and aerodynamics. There's also a straight allowing fast cars to top 150 mph.
In spite of their obvious importance, GM says these different tracks only account for about one percent of performance testing. When engineers aren't driving vehicles at Milford, they are preparing them for tests to ensure the collected data will be used for future vehicle development. None of GM's other testing and development facilities at Lang Lang, Australia, Shanghai, and Yuma, Arizona, match up to the inconceivably vast Milford Proving Ground.
At the 90th anniversary of the facility's opening, GM said it has provided customers with many industry firsts at the Milford Proving Ground, including:
Child restraint seat cushion extension feature: a patent-pending, segment safety first, the automaker enabled the jump seat headrest on the 2015 Chevrolet Colorado and 2015 GMC Canyon to be removed from the back of the seat and inserted into the base to give the child seat more area to rest on.
Belt assurance system: this was an industry-first that keeps drivers from shifting from "park" if not buckled up that was installed on a limited group of fleet vehicles at the end of 2014. Today, this feature is called Buckle to Drive.
Front center air bag: the automaker was the first to introduce the feature in 2013 on all full-size crossovers (first-generation Chevy Traverse, Buick Enclave, GMC Acadia), and then added it to its all-new 2015 full-size SUVs (Chevy Tahoe, Chevy Suburban, GMC Yukon/Yukon XL, Cadillac Escalade/Escalade ESV).
Rollover test facility: GM was the first in North America to build a rollover test facility, which opened in 2006.
Test dummies: in the early 1980s, GM's safety team developed several dummies, including the Hybrid III, which were "eventually adopted by the entire industry as the standard." Before then, an engineer would ride on a vehicle's running boards and then leap off "at the last second" before it hit a hard barrier.
As GM looks toward celebrating a century of testing and innovations at Milford Proving Ground, it uses the facility to validate its growing line of electric vehicles as it prepares for the next hundred years.
Check out GM's video, 90 Years of Safety Testing at GM's Milford Proving Ground, below.
Want the latest on all things GM? Then subscribe to GM Authority for ongoing GM news coverage.
Sweepstakes Of The Month: Win a Corvette Z06 and 2024 Silverado. Details here.
We are currently looking for experienced automotive journalists and editors to join our team. Make $60k-$80k per year doing what you love. We are also looking for an experienced web developer.
See details here
.