1965 Chevy Corvette Adventure Part 3: Days Two And Three
We are currently looking for experienced automotive journalists and editors to join our team. Make $60k-$80k per year doing what you love. We are also looking for an experienced web developer.
See details here
.
19
To recap, some weeks back I bought a 1965 Corvette convertible from an online ad. Instead of paying to have it shipped from Sacramento, California to Overland Park, Kansas, I elected to fly out and drive the car back. I decided to dodge hot weather through the desert southwest by driving a more northerly route through California, across Nevada to Utah, then south to catch I-70 through Colorado. After a late start the first day, I drove from Monterey, California to Reno Nevada.
On the second day, I left Reno, Nevada heading east on I-80 toward Salt Lake City, Utah. Driving across Nevada on I-80, there isn't much in the way of big towns, just wide spots in the road and some truck stops, restaurants and casinos. Every place had a casino. Even the port-a-johns had casinos. The scenery in between was interesting, with lots of desert scrub and snow-capped mountains in the distance.
I stopped for gas in Battle Mountain, Nevada. I was just finishing up when a group of thirty or so members of the Mongols Motorcycle Club rode up to the small Shell station. They were admiring the Corvette when one of them said, "You're going to trade me that Corvette for my Indian, right?" I replied, "No, Sir." When he asked me why not, I told him I had two Harleys in my garage at home. I jumped in the car and made a hasty exit. I did 80 miles per hour on the highway for quite some time, damn the rpms.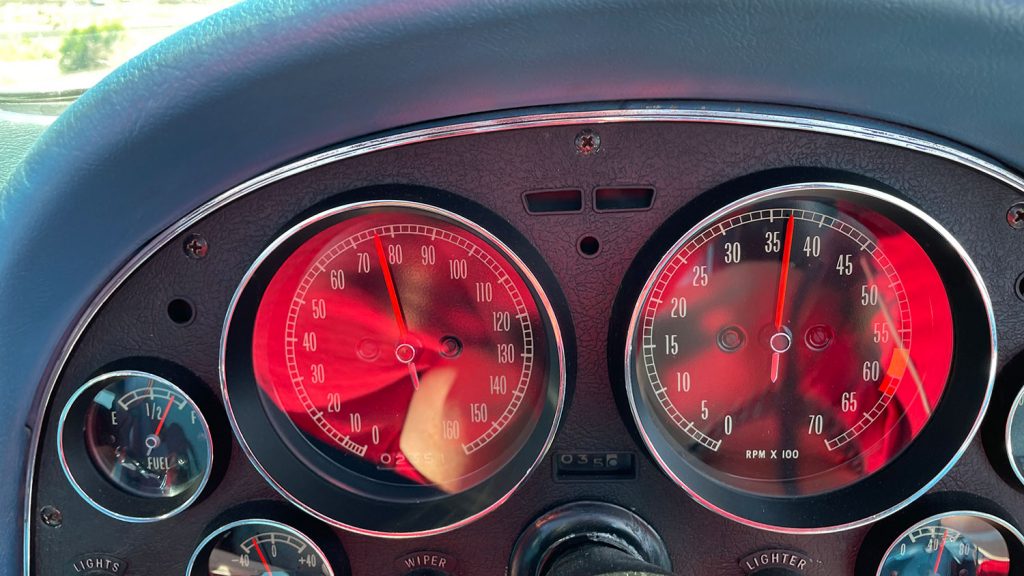 As I drove past the Bonneville Salt Flats in Utah, I got a few pics from the car. I very much wanted to stop, but there were some nasty storm clouds on the horizon. Time to keep moving. The view was something to behold, with sun peeking from behind clouds fat with rain, and stark white plains of salt on both sides of the road.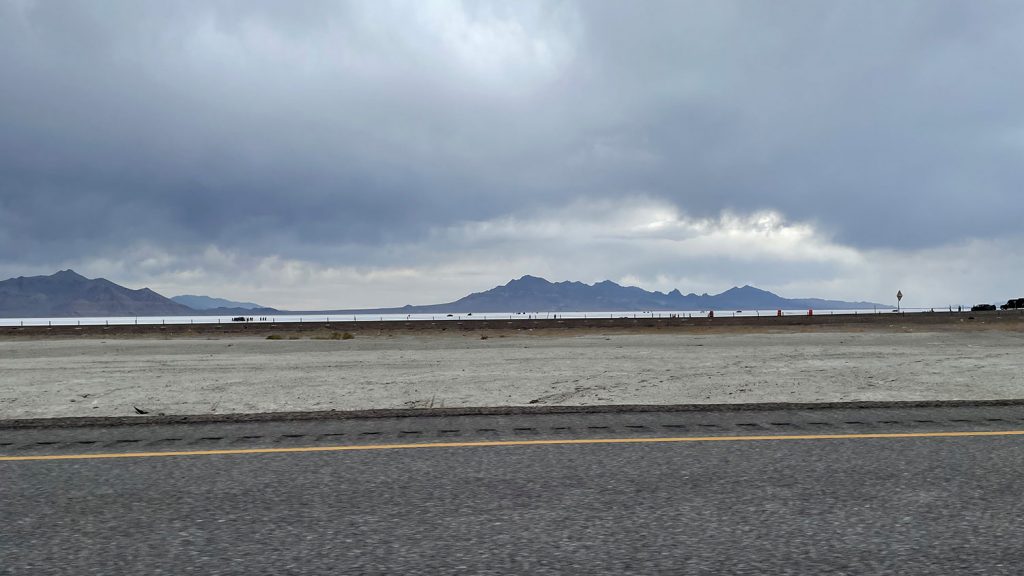 There was a short spate of heavy rain outside Wendover, Utah. I needed to stop for gas there, as the next 180 miles didn't offer much for facilities. The Corvette was getting around fourteen miles per gallon, but I wanted to be safe. During the entire trip, the gas gauge never reached the full mark, and it lied about fuel remaining. Apparently, a quarter tank left in the twenty-gallon gas tank equates to around seven gallons. If you figure out that math, please explain it to me.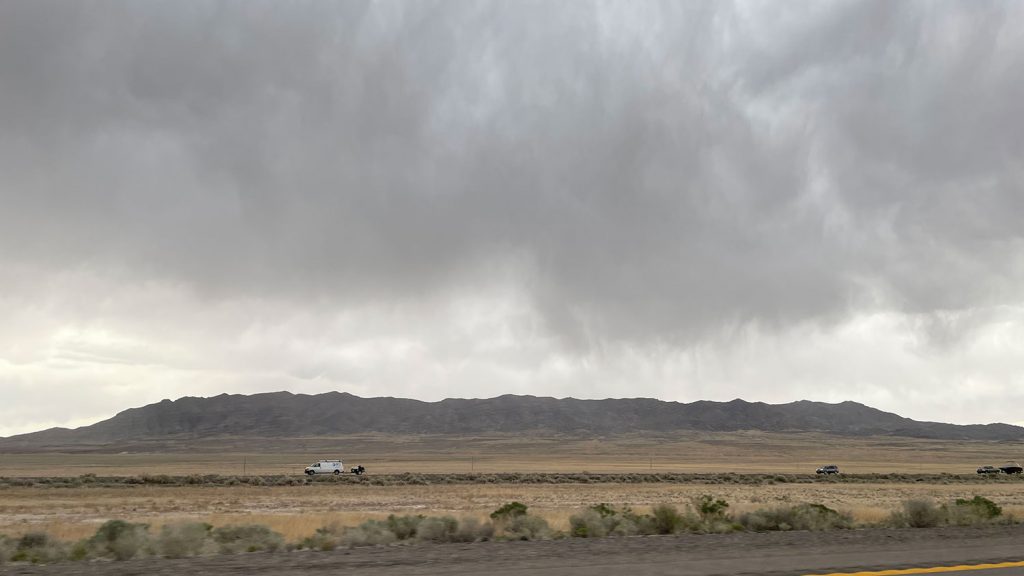 I got into Salt Lake City just as the sun went down, grabbed a room, a little food, hot shower, and went to sleep. The engine winding over 3,500 rpm, wind blowing in the car, cacophony of the side pipes, firm ride of the Corvette's suspension, and rather crummy condition of western US highways was taking its toll. I was more than a little rattled, and needed to unwind. I had at least one more long day ahead of me, or more likely two. I was starting to want to be home, sleep in my own bed, and sit in a quiet room.
The next day's drive from Salt Lake City to Green River, Utah was a beautifully scenic two-lane highway through canyons, mountains, and more desert. It was warm and sunny, but the Corvette did fine. It did better than fine. Snaking through the canyons, shifting gears, and listening to the car made up for some of the longer, boring straights.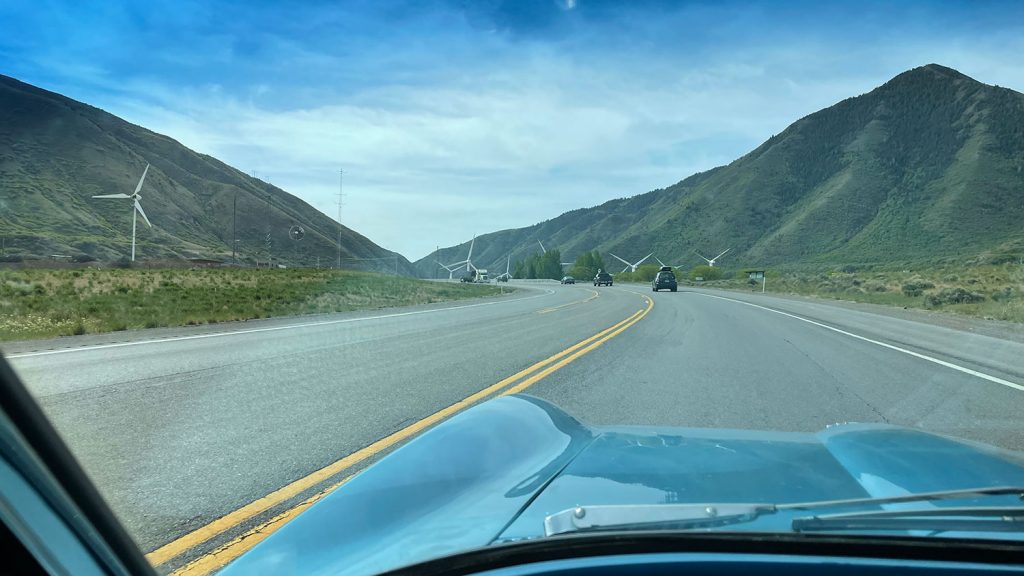 I stopped for gas, to check the oil, wheel knock-offs, and get a bite in Green River, Utah. From there, I got on I-70 and drove into Colorado. The Centennial State sure isn't spending any of the tax dollars collected from weed sales on maintaining infrastructure. I-70 was like a high-speed donkey trail for most of the state. I've visited Colorado many times, but I've never seen the roads in such poor condition. I am surprised I got through it without doing major damage to the Corvette.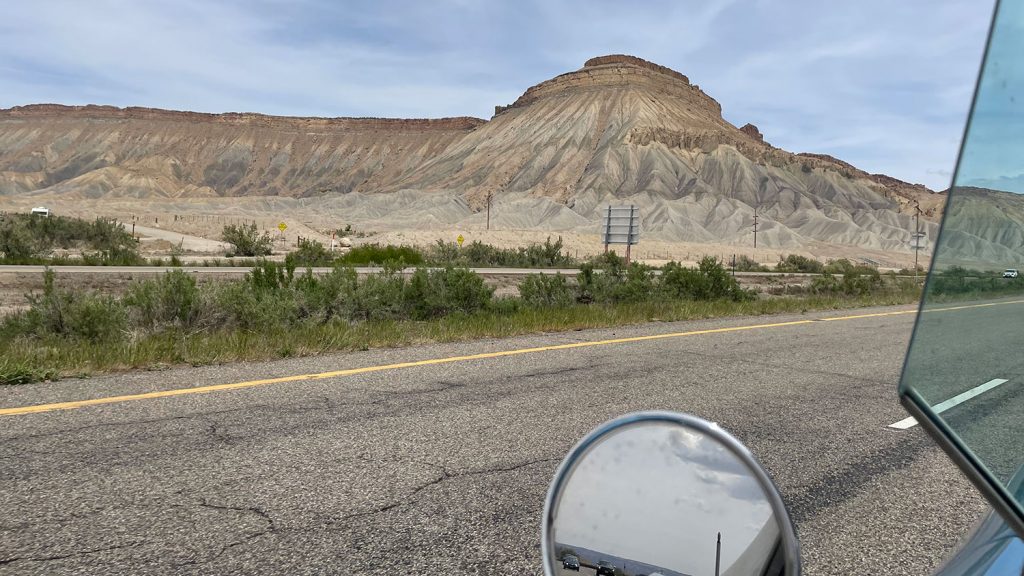 Outside of Glenwood Springs, Colorado, a semi truck had overturned on I-70. The highway was closed for a couple of hours, so I pulled to the side of the road and let the Corvette cool off. The car had been running fine, but started to get hot sitting in still traffic. After about an hour, a female officer came over and told me the road would be cleared soon. We talked for a few minutes and she was quite cordial. After a bit, the road opened up, and I was on my way.
I love driving through the Eisenhower tunnel. It was even more fun in a Corvette with side pipes.
By the time I got to Limon, Colorado, the road conditions and three days in the Corvette had me pretty frazzled. I was windblown, sunburnt, and my ears were ringing. I have tinnitus, so they always ring, but now they were ringing in two different tones. I stopped at Oscar's Bar and Grille to get a bite and an adult beverage. Tired of fast food and gas station junk, I vowed to eat something with veggies. I ordered chicken fried steak, mashed potatoes, and steamed broccoli. My waitress knew a weary traveler when she saw one and couldn't have been sweeter. After the best meal I'd had in a few days, I drove across the street to a hotel. The desk clerk at the Holiday Inn was equally kind. I thank you both.
The final leg of my journey lay ahead. I have done the Limon, Colorado-to-home drive a number of times, and thought it would be an easy drive. Yeah, right.
TO BE CONTINUED…
Subscribe to GM Authority for more Corvette news, Chevrolet news, and 24/7 GM news coverage.
Sweepstakes Of The Month: Win a 2022 Corvette C8.R IMSA GTLM Championship Edition. Details here.
We are currently looking for experienced automotive journalists and editors to join our team. Make $60k-$80k per year doing what you love. We are also looking for an experienced web developer.
See details here
.