1965 Chevy Corvette Adventure Part 2: The Drive Home, Day One
We are currently looking for experienced automotive journalists and editors to join our team. Make $60k-$80k per year doing what you love. We are also looking for an experienced web developer.
See details here
.
15
To recap, some weeks back I bought a 1965 Corvette convertible from an online ad. Instead of paying to have it shipped from Sacramento, California to Overland Park, Kansas, I elected to fly out and drive the car back. I had planned on fulfilling a bucket list wish by driving down the Pacific Coast Highway to San Diego, seeing my family there, then driving home across California, Arizona, New Mexico, Texas, Oklahoma, and Kansas.
It was hot when I picked up the Chevy Corvette, so once I managed to get the top to stay up and latched, I opened the vents, vent windows, and blasted toward Monterey. After about an hour, things cooled off, and I put the top down. The car was glorious! It sounded like a vintage race car and made me feel like a public menace. Going through the gears and listening to that throaty Small Block was gearhead nirvana.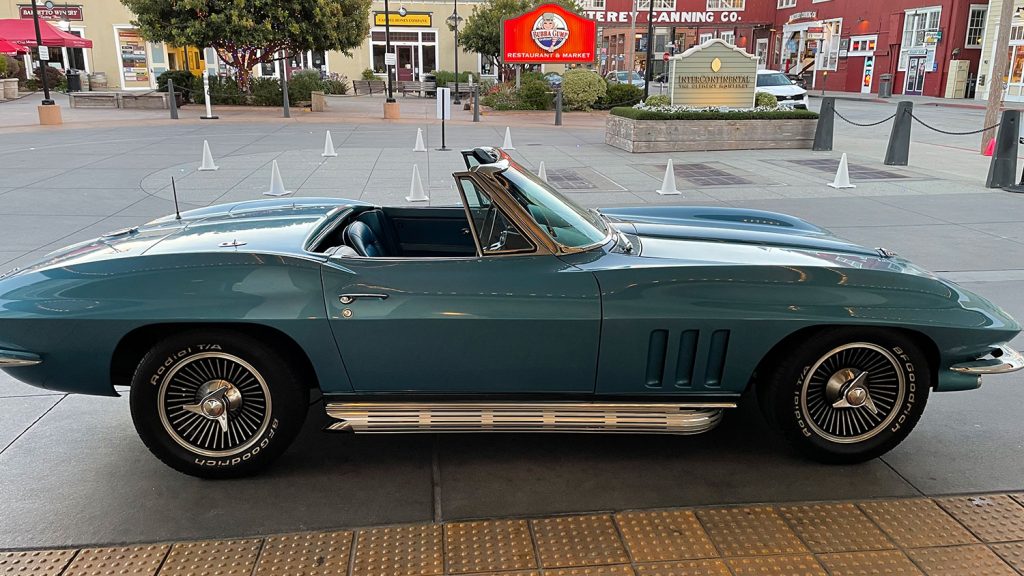 When I got to Monterey and found a hotel, I called my dad. He informed me most of the southwest United States was like a bubbling cauldron of lava. He said I would be much better off finding an alternate route home with cooler weather. A bit of investigation showed driving the Chevy Corvette back through Sacramento to Reno, across Nevada on I-80 to Salt Lake City, then down to Green River, catching I-70 through Colorado and Kansas would be far cooler weather-wise. This was the new plan.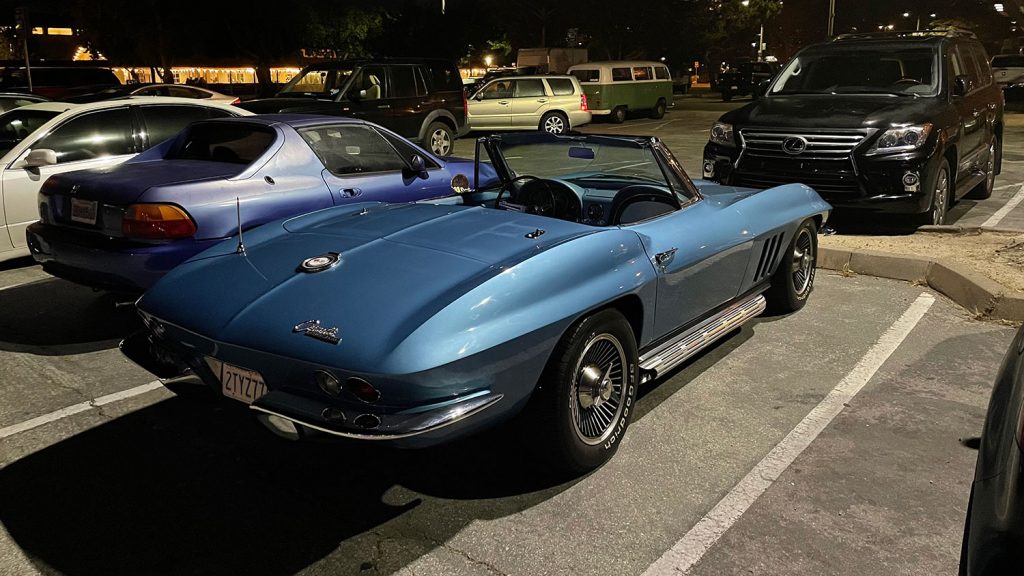 I stayed an extra day in Monterey relaxing, enjoying amazing seafood. For all the things I love about living in the Midwest, we don't get fresh seafood. At best it takes a couple days to get here. In Monterey, there is a chance your dinner was swimming in the Pacific that morning. I could see said Pacific from my hotel room, and the cool ocean air was divine. I spent the day driving around collecting things I thought I would want to have with me for the drive. I got a big tool set, a better jack, some work gloves, sunscreen, ear plugs, a great backup phone battery, and a few other items. Side pipes are fun for about 30 miles, but they are loud. I definitely needed the ear plugs.
Thursday morning I loaded the car, checked the fluids and tires, made sure the knock-off spinners were tight, and jumped in the Corvette. As I drove through Monterey toward the highway, I noticed the car was making a vibrating/grinding noise over larger bumps. Not wanting to get stranded off the side of the road several states from home, I located a shop that would take a look at the car.
Newton Brothers of Sand City, CA, saved the day. Despite being buried with other work, they got the Corvette up on a rack and found that some of the rear trailing arm shims were loose. Doug Newton, one of the brothers and owners, personally worked on my car for hours to put the shims right, did a four-wheel alignment, then grossly undercharged me. I can't say enough about Doug and the guys at Newton Brothers.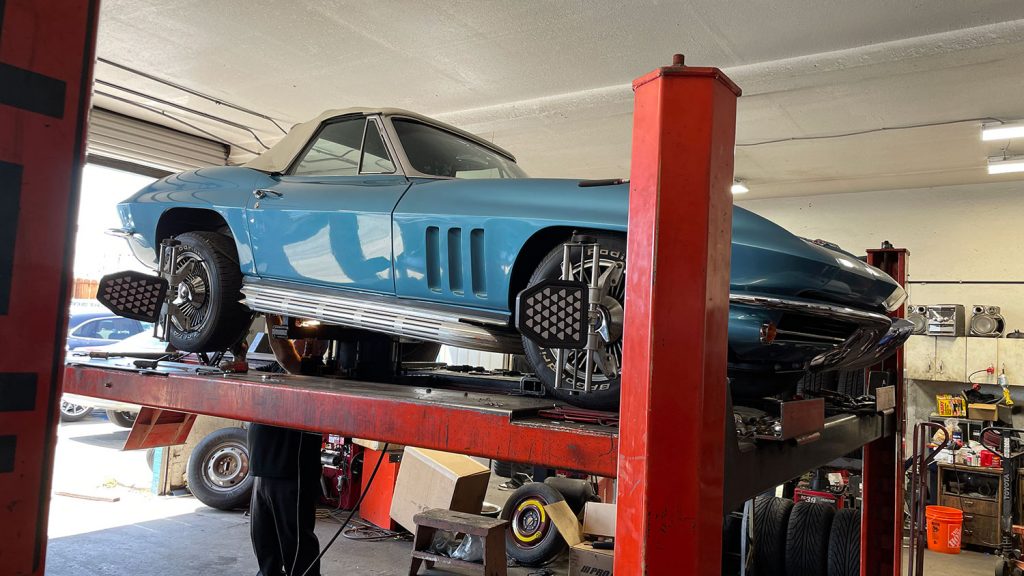 I got back on the road and headed for home. Unfortunately, the sound returned about 40 miles later. It turned out not to be the suspension, but something related to the top and rear deck, as the sound went away when the top was lowered. Dammit. How bad can it possibly be? This is a 1960s Chevy with a Small Block. I would just have to address the problem when I got home. Solution: put in ear buds, crank up the music, try not to let paranoia and anxiety ruin the trip. Fat chance of that.
I drove for a bit with the top up, but the weather was just too nice to leave it that way. Driving the Corvette with the top down is spectacular, and it's oh-so-much better while listening to the entire David Lee Roth-era Van Halen catalog. Driving through the Tahoe National Forest with the top down while listening to great music was something to experience. The weather was sunny and warm, cooling down just enough to need a fleece pullover after sunset.
Even with the late start, I made it to Reno, NV, the first day. Managed to find a hotel, unload my stuff, and grab a shower. I found out driving a Corvette with the top down puts a giant grin on your face, is an amazing way to travel, and makes you filthy. It seemed like a fair trade. I had managed to cover just over 300 miles. The car was driving well, and despite my anxiety about the possible issues, I was pretty sure I could make it home. The next few days would be the acid test.
TO BE CONTINUED…
Subscribe to GM Authority for more Corvette news, Chevrolet news, and 24/7 GM news coverage.
Sweepstakes Of The Month: Win a 2022 Corvette C8.R IMSA GTLM Championship Edition. Details here.
We are currently looking for experienced automotive journalists and editors to join our team. Make $60k-$80k per year doing what you love. We are also looking for an experienced web developer.
See details here
.