Cars Of The Vauxhall Heritage Collection: Vauxhall Firenza Droopsnoot
11
Vauxhall was the General Motors U.K. brand from 1925 to 2017. In this series we are looking at one model in the magnificent Vauxhall Heritage Collection representing each decade of the GM era. Our choice for the 1970s is the Vauxhall Firenza Droopsnoot.
The short-lived Vauxhall Viva HA described earlier in this series was replaced after three years by the Viva HB. This was in turn replaced after four years by the larger, though mechanically similar, Viva HC, which was produced throughout the 1970s. The HC was sold with various body styles including a two-door coupe, and with only a few exceptions the coupes were named Firenza.
The Firenza was not a great car, and developed such a poor reputation so quickly that it was renamed Magnum, which is a whole other story. The Firenza nameplate was retained for one specific model which was not only the rarest of the bunch but also by far the most evocative and, nearly half a century later, the most famous.
Officially, this car was called the Firenza HP (for High Performance), but right from the start it has been known as the Firenza Droopsnoot due to its most distinctive feature: a fiberglass nose section which greatly improved the aerodynamics of a previously flat-fronted car. Vauxhall had spent two years developing this design, which is largely credited to Wayne Cherry. Cherry had joined General Motors in 1962, and was sent from Detroit to the Vauxhall headquarters in Luton three years later. He remained there until 1983, when he moved to Opel, and did not return to the United States until the early 1990s, when he became GM's Vice President of Design.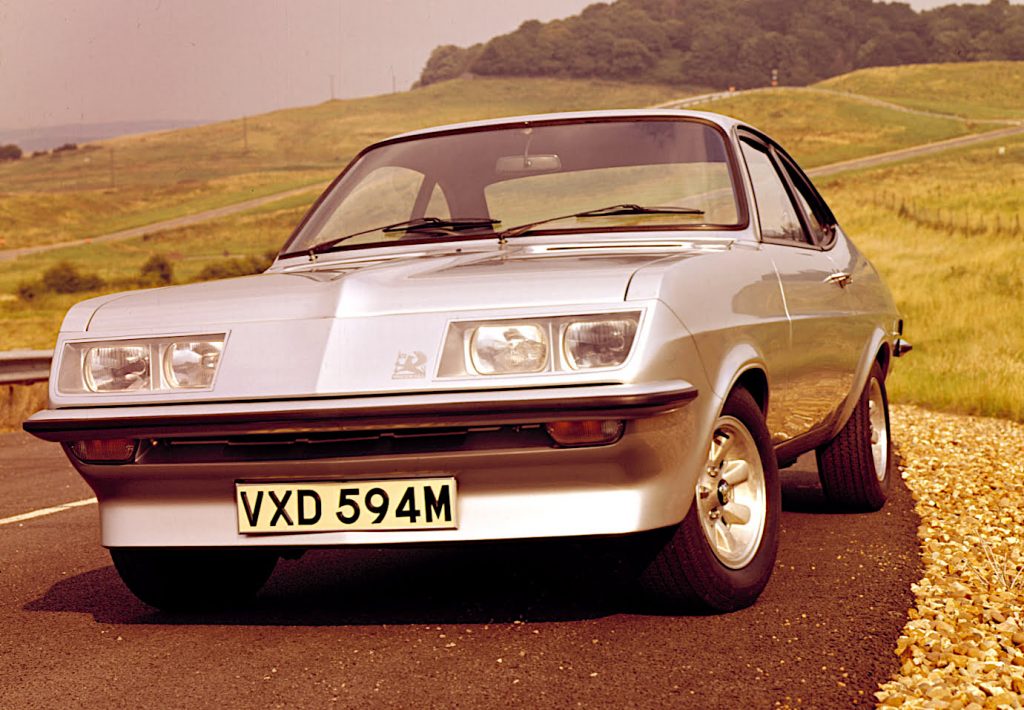 The prominent nose and swooping tail made the Firenza Droopsnoot one of the most dramatic-looking British cars of the 1970s, but there was more to it than its appearance. The engine was a 2.3-liter version of the Slant4 (whose story was briefly told in GM Authority's article about the 1966 Vauxhall XVR concept) with a reprofiled camshaft and a cylinder head which raised the compression ratio from 8.5 to 1 to 9.2 to 1. As fitted to the Firenza Droopsnoot, the Slant4 produced 131 horsepower at 5,500 rpm and 144 pound-feet of torque at 3,600 rpm – enough to give the car a top speed of at least 120 mph and a 0 to 62 mph time of 7.6 seconds.
To reduce costs, the rest of the car was adapted to accept this extra power mostly by carrying over parts from other models, predominantly the Bedford CF commercial vehicle (which supplied the ZF five-speed manual gearbox) and the Vauxhall Ventora, which was fitted as standard with a 3.3-liter six-cylinder engine.
The following silent footage was shot by Vauxhall at the Millbrook Proving Ground in September 1973, which is only 15 miles from Luton and was owned by GM at the time. The film shows the Firenza Droopsnoot being driven by an unnamed model and by Peter Arnold, Vauxhall's Senior Test Engineer.
One month later, the Firenza Droopsnoot made its official debut at the London Motor Show, where it caused a sensation. A British magazine reported that Vauxhall intended to build between 20,000 and 30,000 examples, "and it would not be a surprise to see this figure reached and surpassed". This was a wild exaggeration (possibly caused by writing down one zero too many during an interview), but production was certainly planned to reach four figures. As things turned out, Vauxhall didn't come close even to that.
The Firenza Droopsnoot went on sale early in 1974, priced at £2,625 including all taxes (approximately $35,330 today). That was a lot of money, considering that a rival British car, the Triumph Dolomite Sprint, was nearly as fast and cost only £1,868 (around $25,140 today). But although the Triumph was a pretty car, it didn't look as exciting as the Firenza (because nothing did), and British journalists told their readers that the Vauxhall was more fun to drive.
However, the Firenza Droopsnoot was a very difficult car to build, and there were supply problems. Vauxhall abandoned it in early 1975 after only 204 examples had come off the production line, though some sources suggest that a few prototypes ended up in public hands. Spare noses were later fitted to an even rarer Vauxhall model, the Magnum Sportshatch station wagon.
But the Droopsnoot had caught the public imagination in a way that no other Firenza ever did, and it continued to do so long after production stopped. In the 1970s, a dealer-funded motorsports team called Dealer Team Vauxhall (DTV), headed by expert tuner Bill Blydenstein, created a race version nicknamed Old Nail, and followed this up with the most famous Firenza of all, Baby Bertha. The powertrain in Baby Bertha was taken from a monstrous Ventora called Big Bertha (which was destroyed in an enormous crash after only a few races) and included a 5.0-liter Holden V8 engine which produced around 500 horsepower.
All of the cars mentioned in the last paragraph were raced by a large, cigar-smoking beer enthusiast called Gerry Marshall, who would have fitted in well to the NASCAR scene if he'd had a different accent. Marshall was an extraordinary driver who won over 600 races in his career and wasn't scared of anything – even the formidable Baby Bertha – as shown in this video:
Many other Firenza Droopsnoots were seen in competition. One of the most fascinating was built by the Scottish SMT dealer group, whose motorsport division supported future World Rally Champion Colin McRae early in his career. SMT's Droopsnoot used a 2.5-liter version of the Slant4 engine (naturally aspirated at first but later turbocharged) and was fitted with two gearboxes.
In the 1970s, technical regulations for Special Saloons, as the most highly modified racing sedans were called, allowed for extreme modifications, but they insisted that the gearbox had to remain in the standard position, which in the case of the Firenza was right behind the engine. SMT obeyed that rule but, having noticed that there was nothing saying you could only have one gearbox, fitted a Hewland transaxle at the rear. Bill Dryden, an SMT employee and an excellent driver, left the first gearbox in top at all times and changed gear with the Hewland only.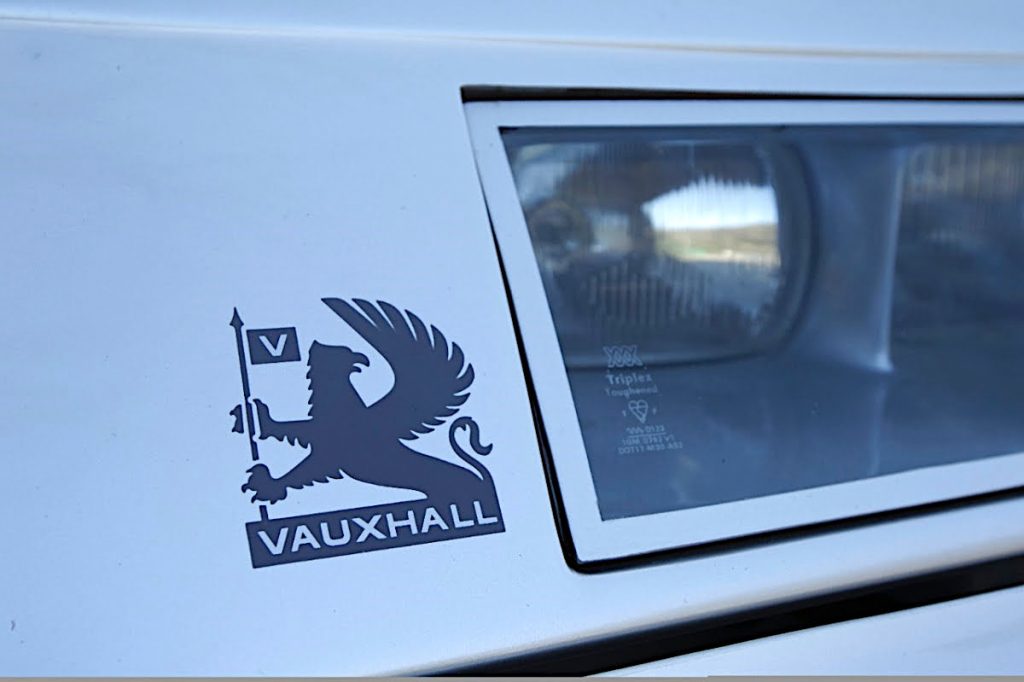 The Vauxhall Heritage Collection's Firenza Droopsnoot was taken down to the bare metal and completely rebuilt in 1983, when it was only eight years old. A second rebuild took place when it became part of the Collection in 2009. By that time, many things had gone wrong with it and had to be fixed. Sadly, one of the jobs was to scrap the bodyshell, which had rusted beyond repair and had to be replaced.
Technicians Andy Boddy and Terry Forder spent a very long time recreating the car in between other jobs, but their efforts were worthwhile. The Collection's Firenza Droopsnoot is now one of the finest examples of what may be the most dramatic vehicle that Vauxhall ever put into production.
Also in this series:
Want more stories like this? Then be sure to subscribe to GM Authority for more classic and modern GM news coverage.
Sweepstakes Of The Month: Win a 2023 Corvette Z06 Convertible. Details here.
We are currently looking for experienced automotive journalists and editors to join our team. Make $60k-$80k per year doing what you love. We are also looking for an experienced web developer.
See details here
.