An Experimental Vauxhall: The Black Magic Chevette
7
Vauxhall put its first car on sale in 1903, and is therefore coming up to its 118th anniversary as an automaker. For 92 years, from 1925 to 2017, it was owned by General Motors. During that time, it mostly had a reputation as a producer of dull, dependable vehicles, though there were occasional exceptions. The Vauxhall 10-4 of 1937 was a technological triumph, partly because of its unusual unibody construction, while the Vauxhall XVR revealed at the 1967 Geneva Show must have shocked onlookers who would hardly have believed that the brand could design anything like it. And then there was the Black Magic Chevette.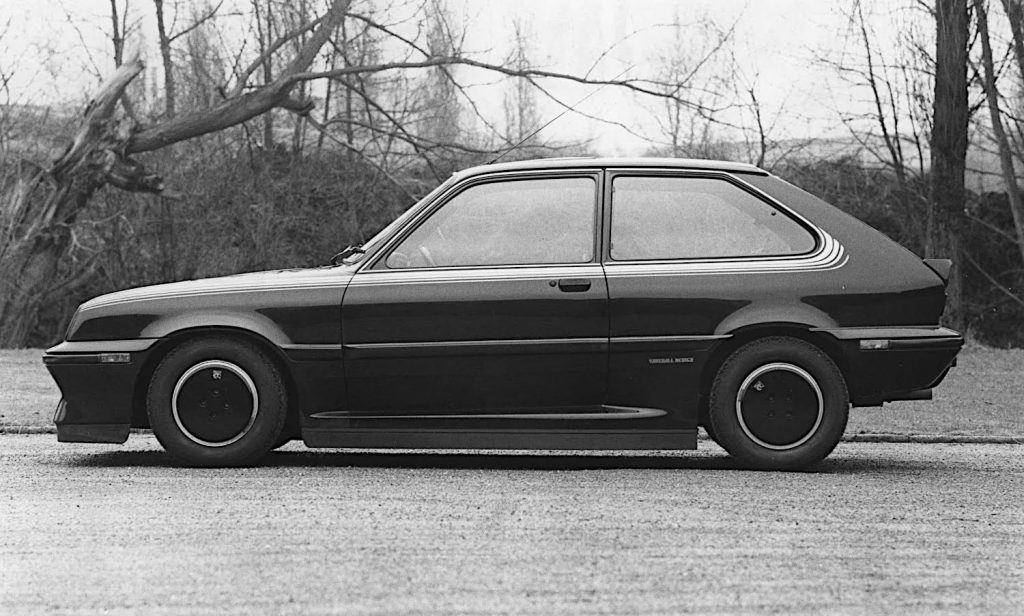 The Black Magic Chevette was a concept car which first appeared in public at the London Motor Show in October 1979. Compared with everything else on the Vauxhall stand it was glamorous, and perhaps even outrageous. What few people knew at the time was that this was not a new vehicle, but one which had gone through two transformation in the previous years.
To understand what the Black Magic Chevette was, it is first necessary to be aware of the Vauxhall Chevette production car. This was a compact car based on GM's rear-wheel-drive T platform, and therefore related to the Chevrolet and GMC Chevettes, though the "small Chevrolet" meaning of its name meant far less to U.K. customers than to those in the U.S. Other cars built on the same platform included the Opel Kadett (Germany), the Holden Gemini (Australia), the Isuzu Piazza (Japan) and the Daewoo Maepsy (South Korea).
The Vauxhall Chevette was introduced in May 1975 and was available at first only as a three-door hatchback. It was so attractive that Opel (another GM brand during that period) used its design for the Kadett, which had previously been sold as a sedan. Chevette sedan and station wagon versions would follow, and the station wagon was developed further into a commercial vehicle called the Bedford Chevanne.
With two exceptions, nearly every Vauxhall Chevette was powered by a 1,256 cc engine based on a design by Opel. In prototype form, it measured just 699 cc, but it never appeared in a production Opel at under 993 cc or a production Vauxhall at under 1,057 cc. By 1975, it was hardly a modern unit, but it was good enough for most versions of the Chevette.
Paradoxically, the fact that not every Chevette used it is due to Ford's motorsport activities. Vauxhall's great rival in the U.K. market had had great success in rallies with the first-generation Ford Escort Twin Cam and RS1600 since 1968, and it was about to introduce an even more dominant second-generation RS1800 version. It's only a slight exaggeration to say that anyone who wanted to win a British rally in the 1970s first had to buy a Ford Escort. Wonderfully noisy, and never happier than when being driven sideways, the Escort has remained so popular and well-loved that specialist companies are still building brand new competition versions more than 40 years after the standard car went out of production.
Bob Price, Managing Director of Vauxhall, was understandably irritated by all the publicity Ford was receiving from its rallying activities, and wanted Vauxhall to get a piece of the action. This led to the development of the Chevette HS – a hot version of the little Chevette with a 2.3-liter DOHC version of Vauxhall's Slant4 engine under the hood. The car did not look nearly aggressive enough to be a high-performance vehicle, so Vauxhall's design team (led by Wayne Cherry, who had been sent over from Detroit in 1965) was asked to update its appearance.
The development car for this part of the program would later become known as the Black Magic Chevette, though that name would not be used for several years. One of the major requirements was to reduce aerodynamic lift, which made the standard Chevette feel very light at the front end when it was traveling at 70 mph. A deep front airdam and a small rear spoiler improved the situation greatly. Aerodynamic drag was reduced by the use of flush fitting headlights which were not used on the Chevette HS, or indeed on any Chevette before 1980. To British eyes, the development car therefore looks several years younger than it actually is.
Other exterior changes included front and rear fog lights, an adventurous color scheme (mostly black but with five bands of increasingly light gray on the lower part of the body) and the wheels fitted to the Chevrolet Cosworth Vega.
Inside, the car featured a unique instrument panel, larger front seats (with Cadillac heaters), a 50/50 split folding rear seat, a wooden dashboard, black leather upholstery and four audio speakers, the two in front being individually adjustable for volume. Very little of this design work was transferred to the production Chevette HS.
Vauxhall registered the car for road use – the R at the end of the license plate shows that this must have happened between August 1st 1976 and July 31st 1977. Wayne Cherry used it as his daily driver, and soon found that the front end design had created cooling problems. After the DOHC Slant4 engine had suffered its second head gasket failure, a 118 horsepower SOHC Slant4 was fitted in its place.
Cherry and his team then used the same car for further aerodynamic work. This is where the Black Magic name comes in: the bodyshell was resprayed black, and the same color was used for the new aerodynamic devices. These included rubber extensions to the front airdam and side skirts (which reduced the car's ground clearance by 3.25 inches and inconveniently covered all the jacking points), side rubbing strips and wheel covers.
In September 1979, one month before the London Show, Vauxhall published a brochure for the Black Magic Chevette, revealing the effectiveness of the aerodynamic work. Front end lift had been reduced by 52.5 percent and rear end lift by 37.3 percent. Aerodynamic drag had been lowered by 20.4 percent, though it was not stated whether this was when the car was fitted with the wheel covers, which were removed for publicity photos because they didn't look good.
Vauxhall dealers could sell the front airdam, side skirts and rear spoiler, but they were expensive and difficult to fit, and there were very few buyers. Nothing quite like the Black Magic Chevette ever went into production, but it at least looked similar to the Chevette HSR, a lightweight development of the Chevette HS with improved rear suspension which allowed Vauxhall to remain competitive in rallying into the early 1980s.
Be sure to subscribe to GM Authority for more classic and modern GM news coverage.
Sweepstakes Of The Month: Win a 2023 Corvette Z06 Convertible. Details here.
We are currently looking for experienced automotive journalists and editors to join our team. Make $60k-$80k per year doing what you love. We are also looking for an experienced web developer.
See details here
.