Cars Of The Vauxhall Heritage Collection: Vauxhall Viva HA
We are currently looking for experienced automotive journalists and editors to join our team. Make $60k-$80k per year doing what you love. We are also looking for an experienced web developer.
See details here
.
8
Vauxhall was the General Motors U.K. brand from 1925 to 2017. In this series we are looking at one model in the magnificent Vauxhall Heritage Collection representing each decade of the GM era. Our choice for the 1960s is the Vauxhall Viva HA.
After discontinuing the astonishing 10-4 model in 1948, Vauxhall abandoned the small-car market for a decade and a half before returning with the Viva HA. The inspiration for this new compact two-door sedan came from Detroit. At the turn of the 1960s, General Motors had no answer to small European models such as the Ford Anglia, the Renault Dauphine, the Volkswagen Beetle or the innovative front-wheel-drive Mini which were selling well in their home markets and increasingly being imported to the U.S. But Vauxhall had a plan, and that plan was called XP-714.
XP-714 functioned approximately the way a platform does in today's auto industry, but GM brands had more freedom in how they could use it. Vauxhall was unique in deciding to opt for a transverse engine and front-wheel-drive configuration for what would become the Viva HA, though in fact the production car did not turn out that way. Instead, it used the rear-wheel-drive layout and many components from the first-generation Opel Kadett, which was also derived from the XP-714 program.
Among the Opel components was the four-cylinder engine, which Vauxhall modified extensively. Its intended size at first was 699 cc, but Opel enlarged it to 993 cc for the production Kadett. Vauxhall reckoned this still wasn't enough, and took it out further to a mighty 1,057 cc. Nevertheless, it was the smallest engine Vauxhall had used in a production car since 1904.
The four-pot produced 50.1 horsepower and 62.3 pound-feet of torque with an 8.5 to 1 compression ratio, and 47.5 horsepower and 58.1 pound-feet of torque with a CR of 7.3 to 1. The 993 cc Opel engine, on a CR of 8.8 to 1, could make 54 horsepower, but it needed more revs to do so, and it produced less torque. The figures seem very modest today, but the lightweight Viva HA had the best power-to-weight ratio in its class, and no rival could match its 0 to 50 mph time of just 13.3 seconds.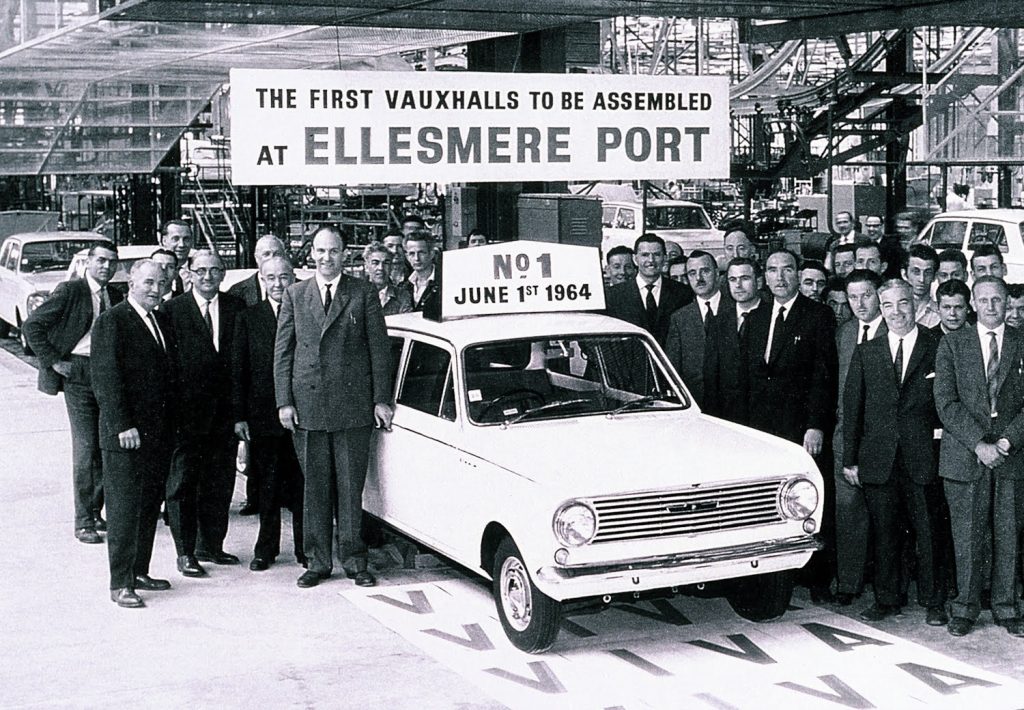 The first production car left the Vauxhall factory in Luton on August 14th, 1963. Ten months later, on June 1st, 1964, a Viva HA became the first car to be built at the more northerly Ellesmere Port plant. Customers were offered the choice of two trim levels. The Standard was priced very competitively at just £527 (approximately $13,000 today), while the Deluxe cost £566 ($14,000). Servo-assisted brakes were available for a further £15 ($370).
The white Vauxhall Heritage Collection Viva HA pictured on this page is a Deluxe. This was by far the more popular version, with a tempting range of extra equipment including a wider choice of exterior colors, a chrome strip down each side, full carpeting, extra sound insulation, a front passenger sun shade, a rear ashtray and – most importantly for British motorists – a heater. The even more luxurious SL trim level was introduced in 1965.
Although it was far more conventional than Vauxhall had at first intended, with unadventurous styling even for 1963, the Viva HA was a good, cheap, reliable and reasonably quick car, backed by Vauxhall's largest and most expensive market campaign to date. It was popular in the U.K., and was also offered in Australia and New Zealand. British models were exported to Canada and sold either with their original name via Buick and Pontiac dealers or as the Envoy Epic from Chevrolet and Oldsmobile dealers. Vauxhall's commercial arm produced its own version called the Bedford HA, which was in turn converted – by Martin Walter Limited of Folkestone, Kent – into a shooting brake called the Bedford Beagle.
Despite its success, the Viva HA sedan had a very short production life. Vauxhall stopped building it in July 1966, less than three years after it went on sale. It had taken more than four years to get from the launch of the XP-714 program to the completion of the first production car at Luton.
The fate of the Bedford HA was very different. Large British utility companies found the little van so useful that they continued buying it until well the 1980s. Fitted with increasingly large versions of the little Opel engine (latterly measuring 1,256 cc), it outlived not only the Viva HA sedan and its replacement, the Viva HB, but even the third and final HC version, which was discontinued in 1979.
Also in this series:
Be sure to subscribe to GM Authority for more classic and modern GM news coverage.
Sweepstakes Of The Month: Win a 2022 Corvette C8.R IMSA GTLM Championship Edition. Details here.
We are currently looking for experienced automotive journalists and editors to join our team. Make $60k-$80k per year doing what you love. We are also looking for an experienced web developer.
See details here
.