GM Stock Value Down 6 Percent During Week Of December 7 – December 11, 2020
2
The value of GM stock dropped during the December 7th, 2020 to December 11th, 2020 timeframe. Shares closed the week at $41.92 per share, which represents a decrease of $2.48 per share, or roughly 6 percent, compared to the previous week's closing value of $44.40.
Movement & Ranges
GM Stock Values - December 7 - December 11, 2020

| Date | Open | Close | High | Low |
| --- | --- | --- | --- | --- |
| 12/11/2020 | $42.48 | $41.92 | $42.68 | $41.62 |
| 12/10/2020 | $43.83 | $42.87 | $43.88 | $42.46 |
| 12/9/2020 | $44.13 | $44.43 | $44.55 | $43.91 |
| 12/8/2020 | $43.72 | $43.80 | $44.18 | $43.42 |
| 12/7/2020 | $44.40 | $44.31 | $44.40 | $43.58 |
By comparison, shares of GM's cross-town rival, the Ford Motor Company, fell $0.32 per share, or 3.4 percent, during the December 7th, 2020 to December 11th, 2020 timeframe.
GM Stock Factors
This week's loss follows last week's stable decrease, and before that GM stock value saw experienced four consecutive weeks of growth.
Another notable factor is a new non-binding memorandum of understanding between General Motors and Nikola, which states that the automaker will supply the start-up with hydrogen fuel cell technology only, scaling back a previous agreement wherein GM would also develop and build the Nikola badger electric pickup. Additionally, reports of a GM recall for Takata airbags affecting roughly 7 million vehicles worldwide may have impeded any upward momentum. GM was also on the receiving end of a class action lawsuit that claims the lithium-ion battery packs in the Chevy Bolt EV could pose a fire risk. In other legal news, GM was recently hit with yet another class-action lawsuit over alleged oil consumption issues with the Gen-IV 5.3L Vortec V8 engine. The automaker is already facing other lawsuits regarding this particular issue, two of which were filed in 2020.
Several weeks ago, GM CEO Mary Barra shared the company's plan to launch a total of 30 new electric vehicles globally by 2025, with a total investment of $7 billion. To put that in perspective, 40 percent of GM's offerings will be fully electric by the end of 2025, compared to just three percent in 2021. The General also teased its future Chevy EV pickup truck during the Barclays 2020 Global Automotive Conference live stream last week.
GM's EV plans also include a new electric van, the aforementioned Chevrolet EV pickup truck, the GMC Hummer EV as well as the Cadillac Lyriq, which was revealed in August in near-production form and should have a starting price of under $60,000. Shortly before the reveal of the all-new GMC Hummer EV pickup truck on October 20th, GM stock prices rose 6.75 percent to $35.60 per share before continuing on to a weekly high of $38.03 on the morning of Friday, October 23rd.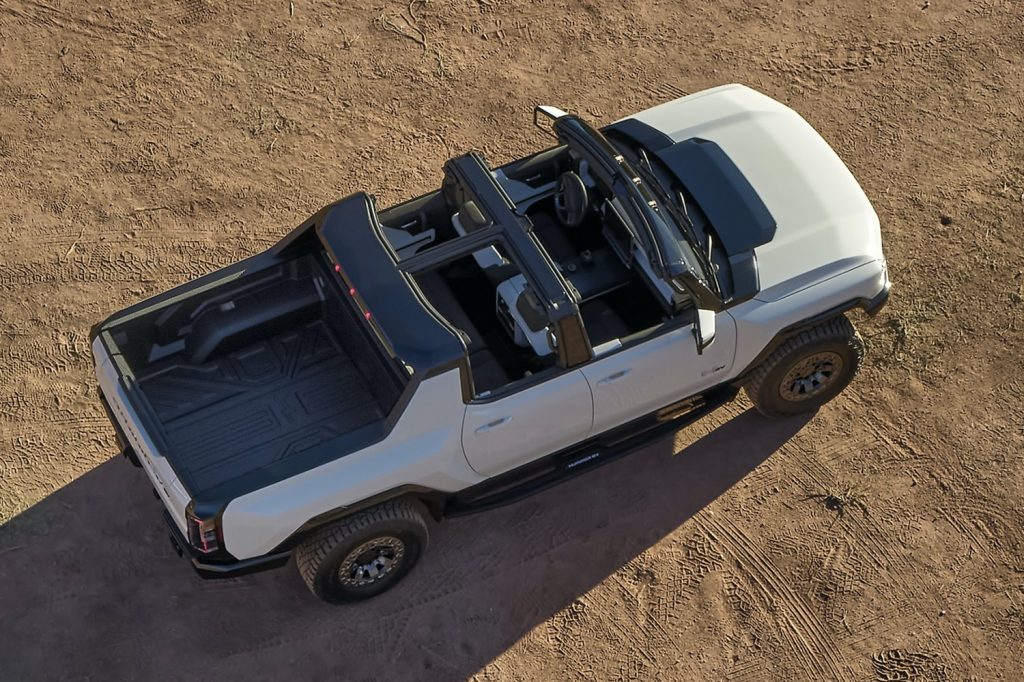 GM stock has been building momentum since the Hummer EV made its debut. More positive news include the Wuling Hong Guang Mini EV taking the title of 'best-selling electric vehicle in China' for the month of October and November. The Mini EV sold 33,094 units during November, beating the Tesla Model 3 and becoming the only EV in China that sold more than 30,000 units in a single month. The automaker has also confirmed its intention of selling its line of next-generation full-size SUVs in China. The news builds on the expectation of a significant boost to stock prices if GM were to spin-off its electric vehicle business. More recently, the announcement of the GM-Honda alliance may also be of great significance to investors, along with a new sales record for Buick in China for the month of November.
Another factor impacting GM stock performance is the election of Joe Biden as President of the United States, though it seems that this will be accompanied a rather shaky and unprecedented transition of power that may lead to some uncertainty in the market. Yet another substantial consideration amongst investors would be GM's Q3 2020 earnings, which were headlined by $4 billion income on $35.5 billion in revenue. Compared to the third quarter of 2019, these results represent a 74 percent jump in income on equal revenue.
Despite tight inventory, GM's large pickup trucks sold well during the third quarter, especially heavy-duty models – the Silverado HD and Sierra HD. Through the third quarter, GM's large pickups gained 1.7 percentage points in retail market share, leading the segment with 37.5 percent share, based on J.D. Power data. It's also worth highlighting the fact that the Chevy Corvette just received a segment award in the J.D. Power 2020 U.S. Resale Value Awards, which aim to identify which vehicle makes and models hold the highest percentage of their original resale value after three years of ownership.
Moreover, production of the C8 Corvette is back on track following a stop in production due to supplier constraints, marking the third "restart" of the eighth-generation sports car's assembly line this year. The 2021 Corvette C8 started production on December 11th.
Meanwhile, electric vehicle startup Lordstown Motors recently began publicly trading on the NASDAQ as "RIDE." This could seem favorable to investors, as GM previously announced it would invest $75 million into the EV startup, including $25 million in cash, and $50 million in production plant assets permits.
Other recent developments that may be influencing the value of GM stock include GM appointing Paul Jacobson to the role of CFO and executive Vice President. Additionally, General Motors Ventures' new interest in Envisics, a U.K.-based startup developing augmented reality (AR) technology for automotive applications. GM believes the tech may find a place in the automaker's upcoming all-electric vehicles, such as the Cadillac Lyriq. On a somewhat related note, The General and its autonomous driving subsidiary, Cruise, will soon apply for an exemption that will allow it to begin testing vehicles without a steering wheel or pedals on public roads in the United States.
GM has also resumed construction at the site of its Canada McLaughlin Advanced Technology Track in Oshawa, Ontario after it was forced to put the project on hold due to the COVID-19 pandemic. Meanwhile, General Motors recently announced that it would invest between $1 billion and $1.3 billion in the GM Oshawa Assembly plant in order to begin producing the Chevy Silverado and GMC Sierra pickup trucks. In fact, construction work at the facility is already under way and the company is already recruiting for various leadership positions at the plant. News that GM would produce trucks at the Oshawa plant has sparked a sense of concern amongst U.S. workers, who are now anxiously anticipating volume reduction at U.S. plants. However, others expect that truck production at Oshawa will be used to expand supply of GM trucks, and that it won't come at the expense of capacity at other GM truck plants.
Moreover, The General recently announced that it's seeking to add 1,100 new team members to the Ultium Cells LLC battery production plant in Lordstown, Ohio. The facility will mass-produce Ultium battery cells for use in General Motors' upcoming range of all-electric vehicles.
GM During COVID-19
GM During COVID-19
The coronavirus pandemic initially forced GM to idle production across North America, South America and China as a result of the virus, putting the firm in a very unfavorable position. During such a scenario, any automaker – GM included – sees revenues fall sharply while rapidly burning through cash, resulting in a loss-making turn of events. Since the beginning of the pandemic, GM production in China has resumed, as did production across North America on May 18th.
GM has taken major steps to get through the COVID-19 pandemic, with the actions primarily revolving around fortifying its balance sheet. These moves entail reducing and/or deferring expenses, while shoring up cash and other forms of liquidity. GM has since repaid over half of the $16 billion borrowed to get through the pandemic.
The General also had to cope with a small number of coronavirus cases at some of its facilities, including 22 confirmed cases at the Arlington plant in Texas and more recently, about 25 confirmed cases at the Flint plant in Michigan. Despite a high rate of worker absenteeism, GM has decided to keep the third shift at the Wentzville Assembly plant by relocating employees, after previously announcing that it would be cut. However, no major outbreaks have been officially reported so far, and GM is keeping a close eye on its suppliers to make sure parts keep coming in. The automaker has announced it will reveal a vaccination distribution plan in December.
Additionally, the refresh of many GM vehicles have been delayed by the pandemic, including the Cadillac XT4, Chevrolet Traverse, Chevrolet Equinox, GMC Terrain, and Chevrolet Bolt EV. In fact, the overall launch cadence of other GM products has been pushed back, which includes the launch of the Cadillac CT4-V Blackwing and CT5-V Blackwing models as well as the Corvette C8 Z06.
That said, there are still some good things happening for GM in 2020, including market share gains and production increases for the Silverado and the Sierra during Q2 2020 as well as strong Chevrolet Blazer sales and Chevrolet Trailblazer sales. Notably, GMC Sierra inventory is extremely low as the automaker can't build enough of them to meet strong demand. Most of GM's range of redesigned full-size SUVs are now in stock on dealer lots, which includes the 2021 Chevrolet Tahoe and 2021 Suburban as well as the 2021 GMC Yukon and 2021 Yukon XL. Notably, the diesel-powered Tahoe and Suburban are now available to order; the same rings true for the GMC Yukon diesel.
GM Before COVID-19
GM Before COVID-19
It's worth noting that GM share values were experiencing ongoing ups and downs since mid-2018, long before coronavirus complications, though shares never dipped to the levels observed in the first quarter of 2020.
For the most part, GM stock was in limbo throughout 2019, seeing a jump in value as a result of overwhelmingly positive Q2 2019 earnings, wherein the automaker outperformed expectations. Prior to the COVID-19 pandemic, several factors negatively impacted GM stock price during 2019, including:
A UAW labor strike that lasted 40 days, resulting in no vehicles being built in the United States during that timeframe. Production was also idled in other countries as a result of supply chain-related issues caused by the UAW strike
Warning signs of an economic slowdown
Escalations with a trade war with China
Over the last few years, GM has taken many steps to increase the value of its stock, including exiting markets where it can't find ways to turn a profit (such as Europe, South Africa and India), closing plants in various parts of the world, divesting loss-making divisions (such as Opel-Vauxhall), making adjustments to its business model in order to prioritize profitability over chasing market-share goals, focusing on its Cadillac luxury brand to increase its share of high-profit automobiles, investing heavily into new-age mobility ventures such as electric vehicles and autonomous driving tech, while discontinuing some sedans (Cruze, Sonic, Volt, Impala, Regal, LaCrosse, XTS, CT6) and closing various plants to focus on more profitable crossovers, SUVs and pickup trucks, such as the all-new 2021 Cadillac Escalade that was unveiled on February 4th.
Seeking to further minimize activities in unprofitable markets, General Motors also announced its intention to phase out the Holden brand in Australia and New Zealand, in addition to pulling the Chevrolet brand out of Thailand while selling the GM Rayong Manufacturing Complex to Great Wall Motors. In addition, GM recently announced its decision to shut down its Maven car-sharing service.
Despite these actions, the value of GM stock has historically struggled to surpass the $40 mark, spending most of its time in the $33-$38 per share range (prior to the COVID-19 pandemic). The chain of events is problematic given that the "new GM" had its Initial Public Offering (IPO) at $33 per share in November 2010, causing frustration upon many investors.
We remain interested in seeing how GM stock performs through the rest of 2020, especially as the COVID-19 crisis as well as the instability surrounding the POTUS election subside.
We'll be here to report more as it happens, so be sure to subscribe to GM Authority for ongoing GM stock news and complete GM news coverage.
Sweepstakes Of The Month: Win a Corvette Z06 and 2024 Silverado. Details here.
We are currently looking for experienced automotive journalists and editors to join our team. Make $60k-$80k per year doing what you love. We are also looking for an experienced web developer.
See details here
.