Corvette C7 ZR1: Some Interesting New Details On Its V8 LT5 Engine
We are currently looking for experienced automotive journalists and editors to join our team.  Make $60k-$80k per year doing what you love.  We are also looking for an experienced forum moderator to join our team. 
See details here
.
45
The supercharged 6.2L V8 LT5 engine fitted to the 2019 Chevrolet Corvette ZR1 may go down in history as one of the greatest engines GM ever produced, especially if the company's EV-heavy future reaches its logical conclusion. And now, we've uncovered a few interesting details about the LT5 that we'd like to share with you here today.
Some basics first. The V8 LT5 was rated at 755 horsepower and 715 pound-feet of torque in standard form, with power increasing to 772 horsepower when fitted with the C7 Corvette ZR1's optional Performance Intake. Even the lower figure is extremely impressive, since it represents a specific output of almost exactly two horsepower for each of the engine's cubic inches.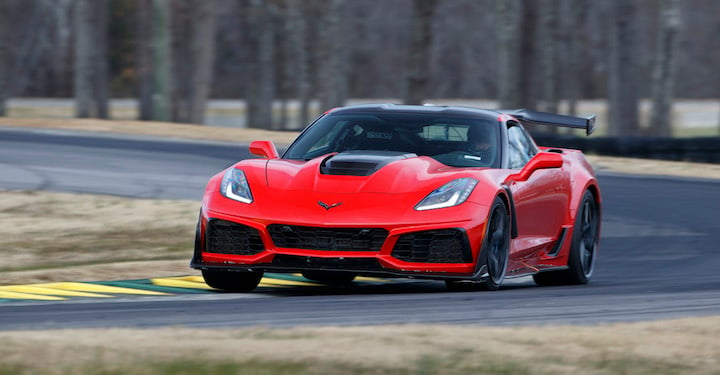 This, says SAE International, is "remarkable for a single-cam pushrod V8 with lineage reaching back to 1955". That description very nearly applies to Top Fuel dragster engines too, and they produce over 11,000 horsepower from 500 cubic inches, or 22 horsepower per cubic inch, but that's with the help of expensive nitromethane fuel, potential noise problems and a complete rebuild every few minutes. For a production road car engine, two horsepower per cubic inch is outstanding.
The LT5 engine was a development of the supercharged 6.2L V8 LT4 fitted to the Corvette C7 Z06, the third-generation Cadillac CTS-V and the 2017 Camaro ZL1. Among many other changes, the LT5 gained a different Eaton-developed Twin Vortices Series supercharger which spun more slowly (2.4 times crankshaft speed compared with 3.1 times for the LT4) but had a 52 percent greater displacement. Peak boost therefore increased from 9.4 to 14 pounds per square inch.
The larger supercharger required just one of the engine's horsepower to turn it when cruising, but this rose to 110 horsepower when it was operating at maximum boost and airflow. The parasitic loss from the LT4's supercharger was less severe at 94 horsepower. However, the LT5 compressor essentially absorbed only an extra 16 horsepower in return for adding over 100 horsepower to the total output.
The LT5 engine's impressive performance was also aided by two large intercoolers which provided double the LT4's charge-air heat rejection. All other things being equal, an engine can only benefit from being fed cooler air, so this was an important factor.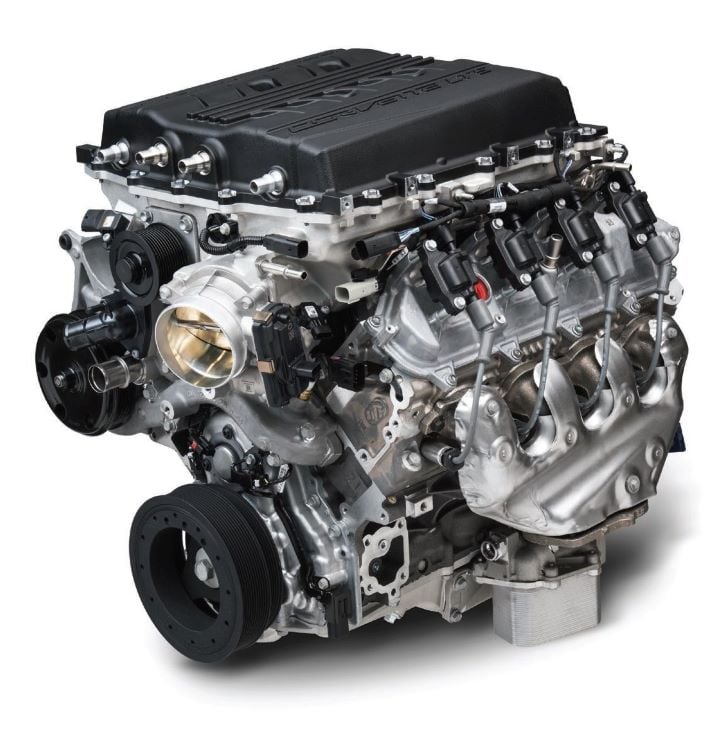 More power also means more chance of things going wrong. Corvette engineers got round this in several ways, including the following:
Fitting a larger key slot at the front end of the crankshaft to handle the supercharger's drive load
Using a new alloy steel for the crank for higher tensile and yield strength
Upgrading the main bearing inserts to a tri-metal material
Strengthening the eight-speed automatic transmission's flex plate and the seven-speed manual's flywheel
Increasing the number of ribs in the drive belt from eight to 11
In addition, two muffler valves (one passive, one electronically controlled) open when the Corvette C7 ZR1 is being driven aggressively, an 800 degree stream of exhaust trails out of the car, providing visible flames in low-light conditions.
Finally, the LT5 engine enabled the Corvette C7 ZR1's quoted top speed of 212 mph, which was achieved in seventh gear in a Coupe with the eight-speed automatic gearbox and the standard low-mount rear wing. The C7 ZR1 Convertible was slightly slower at 208 mph, while fitting the optional high-mounted wing and front splitter package would reduce the terminal speed by 10 mph due to extra aerodynamic drag, though the additional downforce would improve the car's cornering ability.
A car's top speed is more difficult to define than most people imagine, since it depends on several variable factors. Chevrolet therefore fitted a limiter to prevent the C7 ZR1 from exceeding 215 mph, if conditions made that possible, in order to protect the Michelin tires.
Want to stay up to date on fast GM cars and trucks? Then subscribe to GM Authority for more Corvette news, Chevrolet news and obsessive GM news coverage.
Want to see your GM ride featured on GM Authority? We welcome your submissions. See
here
for details.