How To Switch Between Adaptive Cruise Control And Regular Cruise Control
34
Digital driver assists abound these days, with a plethora of features on offer to make the experience behind the wheel easier, more comfortable, and safer. Some of these features even overlap in terms of functionality – for example, there's regular cruise control, and Adaptive Cruise Control, both of which can be equipped on modern GM vehicles. The question is – how do you switch between these two systems, and why would should you use one over the other?
First, to switch between Adaptive Cruise Control and regular cruise control, press and hold the disable cruise control button. A notification will appear in the Driver Information Display (DIC) indicating that the change was made.
The two systems will also display differently in the DIC when activated. When Adaptive Cruise Control is engaged, a green icon will appear in the instrument cluster with the following gap displayed. Conversely, when regular cruise control is engaged, a different green icon will be lit without the following gap.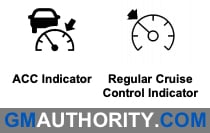 So when is one system preferred over the other? As it turns out, Adaptive Cruise Control performance can be limited in certain scenarios, primarily when the front-facing camera used to gauge the distances between vehicles cannot function at optimal levels. These scenarios include:
Winding and hilly roads
When visibility is poor due to rain, snow, fog, dirt, insect residue, or dust
When a foreign object obstructs the camera's view
When the lead vehicle or oncoming traffic obstructs visibility, such as with road spray
Additionally, Adaptive Cruise Control may not work properly in the following scenarios:
Vehicles in front of your vehicle have a rear aspect that is low, small, or irregular
Vehicle in front is an empty truck or trailer that has no cargo in the bed
Vehicle in front has cargo extending out from the rear
Non-standard shaped vehicles in front, including vehicle transports, vehicles with a side car, or horse carriages
Objects that are close to the front of your vehicle
Vehicles in front upon which extremely heavy cargo is loaded in the cargo area or rear seat
With limitations like this, it starts to make sense that both systems would be equipped on the same vehicle. So which do you prefer? Let us know in the poll below, and make sure to subscribe to GM Authority for ongoing GM news coverage.
Sweepstakes Of The Month: Win a 2023 Corvette Z06 Convertible. Details here.