Awful General Motors Car Mods, June 2020
We are currently looking for experienced automotive journalists and editors to join our team.  Make $60k-$80k per year doing what you love.  We are also looking for an experienced forum moderator to join our team. 
See details here
.
5
Last month, we kicked off our new monthly 'Awful General Motors Car Mods' series, which aims to showcase the strangest modified vehicles we've spotted over the past 30 days. The first installment in the running series featured oddities like a Geo Tracker-based tricycle and a Chevrolet Cobalt-based pickup truck, but now it's time to take a look at all the weird custom creations we saw throughout the month of May. So, without further ado, let's go over some of the weirdest custom General Motors vehicles the internet had to offer in the past 31 days.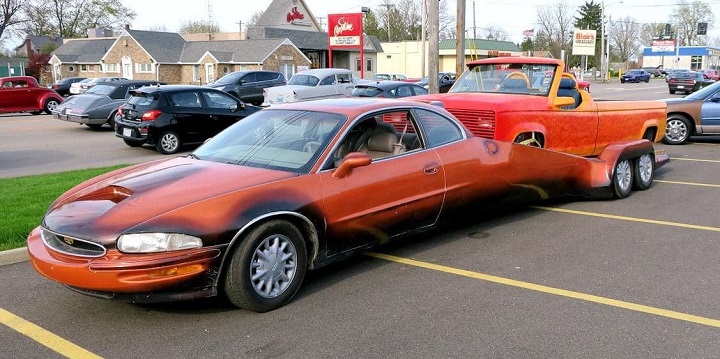 Starting things off is this absolutely ridiculous Buick Riviera Coupe, which has been converted into a terrible custom car hauler with a dual rear axle. Not only does this monstrosity look terrible, we can't imagine it would make a very good transporter, either. The eighth-generation Riviera Coupe and its 3.8L V6 are hardly suited to hauling heavy loads and we can't imagine that the custom pickup sitting on the "bed" is very light. Speaking of the truck, it's perhaps even worse than the Riviera hauling it, featuring an ugly custom grille, poorly finished custom paint and a chopped roof. Yuck.
---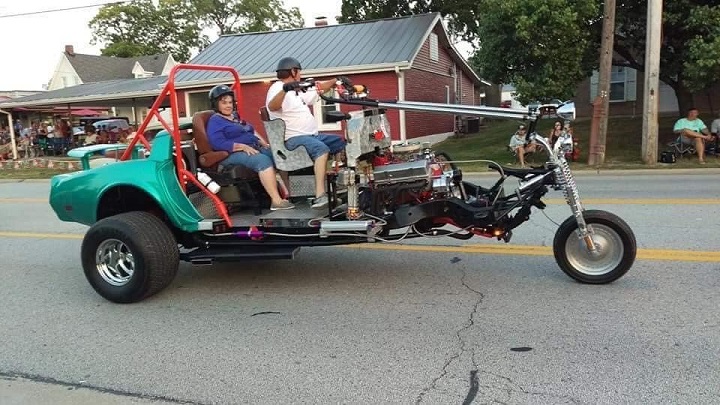 This custom trike is what happens when one mixes a Harley-Davidson Tri-Glide with a C3 Corvette. We don't have all the details on this odd custom creation, but it appears to have started out life as a regular C3 Corvette before the builder removed all the body panels and transformed it into a Small Block Chevy-powered trike. Maybe it's just us, but the man's passenger doesn't look overly happy to be riding atop this atrocity. We really get the feeling she would have preferred if he left it as a regular C3 Corvette.
---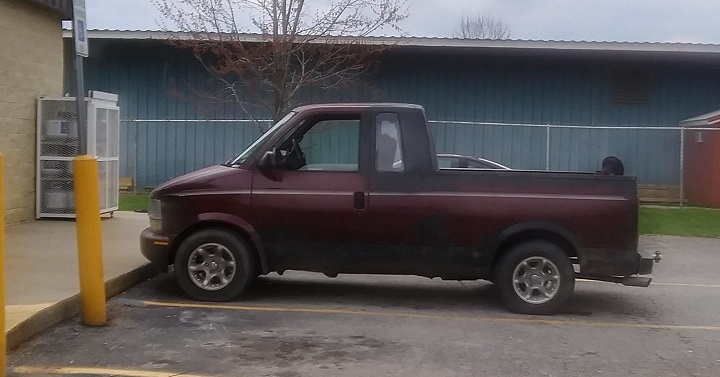 We were fairly mean to the previous two vehicles, but we can actually understand why someone would want to turn a Chevrolet Astro or GMC Safari van into a pickup truck like this. These body-on-frame vans are tough, reliable and cheap to repair, making them a great work vehicle. This conversion is also fairly well done, even retaining a small three-quarter window to give it an almost factory-like appearance. It may not be perfect, but we'll be honest – we totally get why the owner of this vehicle decided to convert it into a pickup and applaud the effort.
---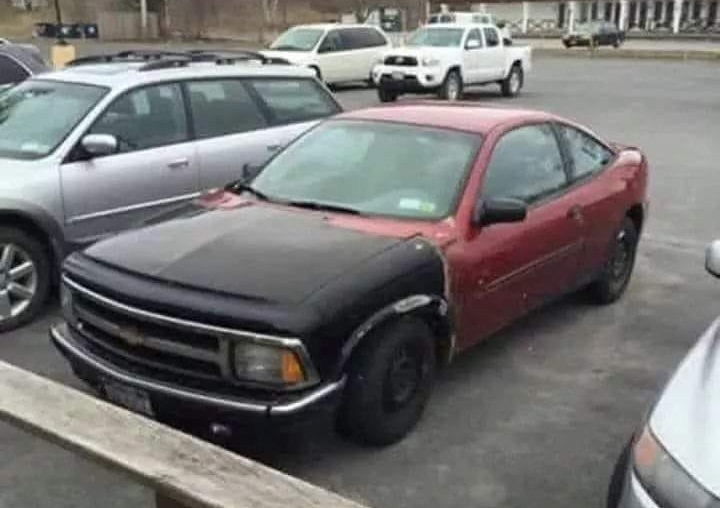 We really have no explanation as to why someone would want to tack a Chevrolet Blazer front fascia onto a Chevrolet Cavalier. It certainly doesn't improve the look of the Chevy compact car, though we have to thank the builder for the laugh – especially amid these rather difficult times.
---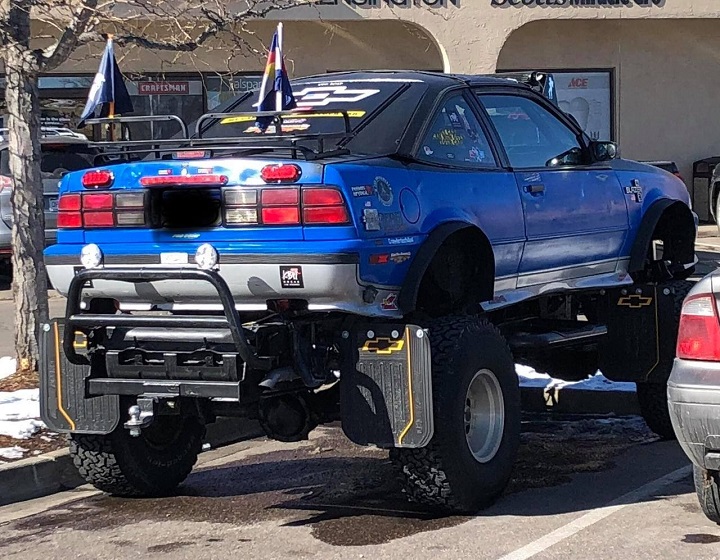 Have you ever wanted the looks of a Chevrolet Cavalier combined with the off-road prowess of a Chevrolet Blazer? Us either. The builder of this vehicle clearly did, though, and the result is something that is simultaneously terrible and impressive. We're impressed at how they were able to meld the Cavalier's body to a ladder frame chassis, but it doesn't look very cool and we can't imagine it's very good off road, either. As long as they enjoy it, we suppose.
---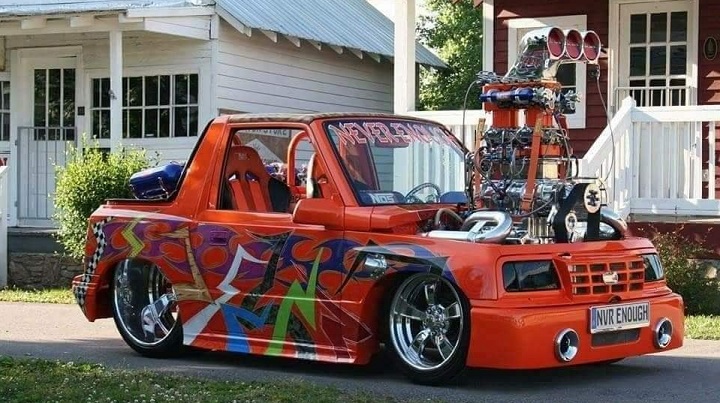 This Geo Tracker is actually fairly well-known in the car community. The owner/builder, Delton Hubbard, won the Charlotte leg of the Hot Wheels Legends Tour in 2018 with the car. Hubbard is a retired U.S. Army member that builds vehicles in his backyard for fun with his son. As in-your-face and over-the-top as Hubbard's Tracker might be, we can't actually hate on it. He's a car enthusiast just like us and is clearly a very talented fabricator and mechanic. Hubbard's "Never Enough" Tracker certainly isn't for everyone, though, and that's just fine.
---
The most notable modification made to this Saturn S-Series sedan is the chopped roof, but the custom purple and blue two-tone paint scheme and fake buckhorns affixed to the front end are not to be overlooked. We imagine the "Meyata" text spray-painted on the side is a reference to the iconic Mazda MX-5 Miata roadster, though it's safe to say this poorly modified Saturn isn't a beloved enthusiast vehicle like the Miata is.
---
If we didn't know any better, we'd say this Geo Metro was Photoshopped to look even shorter than it actually is. Don't be deceived, though – these photos have not been digitally altered in any way.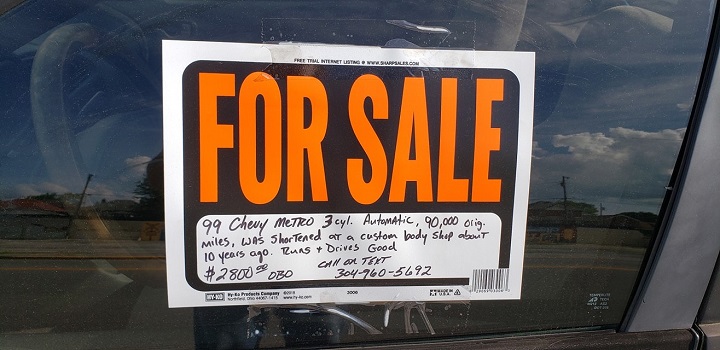 This Metro was shortened at a body shop at some point in time and now looks like it has leaped straight out of a Dr. Seuss book. It's certainly weird, but we kind of respect the originality, to be honest. It's also for sale for $2,800, if anyone really wants it.
---
The Chevrolet HHR is one of the more interesting designs GM has produced in the modern era. This person apparently didn't think the HHR was very unique, though, as they took it upon themselves to transform it into a retro-inspired pickup truck. It may not look amazing, but the execution here is pretty good – just look at that dual rear axle setup!
---
Completing this month's list of terribly modified General Motors vehicles is this custom Geo Tracker with a shortened Chevrolet S10 bed. We can't imagine that pickup bed is good for much considering its stubby shape, but hey, who knows what the builder had in mind when they decided to go ahead with this rather absurd idea?
Subscribe to GM Authority for more General Motors custom car news and ongoing General Motors news coverage.
Want to see your GM ride featured on GM Authority? We welcome your submissions. See
here
for details.