GM Patents Predictive Road Curvature Transmission Control Feature
We are currently looking for experienced automotive journalists and editors to join our team. Make $60k-$80k per year doing what you love. We are also looking for an experienced web developer.
See details here
.
10
General Motors has recently applied for a patent on a method for controlling the transmission of a vehicle by utilizing a predictive road curvature function, which incorporates a front-facing camera, GM Authority has uncovered.
Assigned application number 16/022,316, at the United States Patent and Trademark Office (USPTO), the GM patent application was filed on June 7th, 2018 and published on December 12th, 2019. Titled "METHOD AND VEHICLE UTILIZING PREDICTIVE ROAD CURVATURE IN THE TRANSMISSION CONTROL MODULE," the application lists the following individuals as its inventors:
Henry R. Wright of Huntington Woods, Michigan
Rakesh Mohanty of Milford, Michigan
Crystal J. Nassouri of West Bloomfield, Michigan
The patent is comprised of three primary parts – an explanation of the claims made in regard to the design and implementation of the air transmission control system, descriptions and definitions of the control system and hypothetical vehicle equipped with said system, and a collection of images that illustrate an example of the engineering when applied to a motor vehicle.

The Engineering
In an attempt to optimize transmission performance, this patent application describes a system configured to select a speed ratio for the transmission based on the predicted lateral G-force.
This system includes a front camera module (FCM) in addition to or in place of map data, an electronic control module (ECM) as well as a transmission control module (TCM), and may factor data from an inertial measuring unit (IMU).
The GM patent claims that "it is desirable to predict road conditions ahead of time to optimize performance of the transmission." However, "lateral G-forces measured by an IMU sensor represent delayed information of the driver's intent… In order to optimize a sports-shifting feature of the vehicle (i.e., to optimize the performance of the transmission), it is desirable to predict the road conditions ahead of time." The patent then describes the use of an FCM in addition to or in place of map data. The data is determined by an ECM, which predicts the lateral G-forces within a driving style detection algorithm in the TCM.
Interestingly, the patent notes that such a method of transmission control may further include determining the predicted lateral G-force, which includes "determining an amount of time the vehicle will take to reach the road curve from a current location as a function of a current vehicle speed." Such wording leads us to believe that the proposed technology might be particularly useful for autonomous vehicles.
In Plain English
If all that engineering jargon is too much, here's an explanation in simpler terms: by predicting the shift in weight balance for an upcoming turn, the transmission controls can be improved. The software controlling this function will be able to detect driving style, and match the controls to fit the driver's needs in a given situation.
So, as the vehicle approaches a sharp turn, the transmission controller can execute the best downshift, leaving the vehicle perfectly balanced and ready to accelerate out of the corner. Of course, not everyone is trying to carve through corners as fast as possible, but the same process can be used to enable smooth operation rather than speedy operation. The method is described in such a way that it can be tweaked for either optimum performance or efficiency, as it is designed to implement downshifts, inhibit upshifts, engine brake, coast, and provide axle torque upon corner exit.
The system will use a combination of sensors and modules to make all of the necessary measurements, and the controller will shift the transmission accordingly.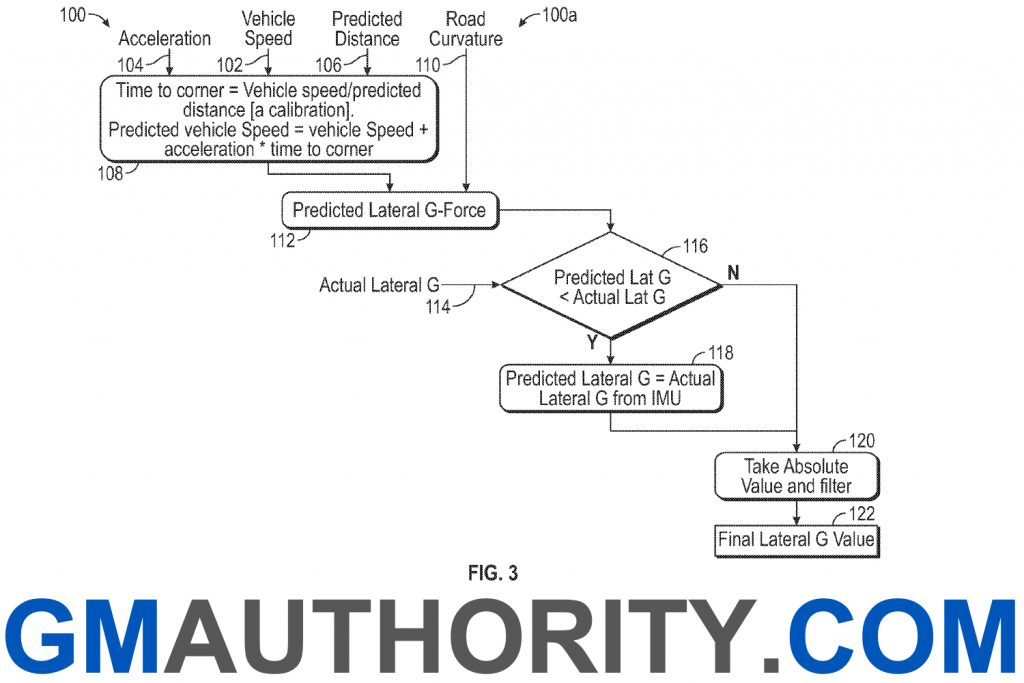 The Benefits
The patent states that the main goals for implementing such a control method would be to optimize transmission performance. As we've covered, there are a few different reasons why one might want to optimize transmission performance, including lap times, comfort, and self-driving vehicles.
The patent application states that such a control system would be incorporated in a vehicle with a combustion engine (gas or diesel), and that it could work with any given mechanical transmission, be it CVT or a conventional gearbox.
Given the utility of such a system, we think it's something that could certainly find its way to future iterations of the mid-engine Corvette / Corvette C8, to the all-new Silverado HD, and anything in between. The patent application doesn't specifically elude to this, but such systems have even been used to maintain cargo stability when large freight trucks are entering corners, especially corners with elevation changes.
Where To From Here?
Considering the patent was originally filed well over a year ago (in June of 2018), we believe that GM is looking to implement the proposed transmission control feature on its vehicles in the near future. It's worth highlighting the fact that all current GM vehicles offer a front-facing camera, which are already used to carry out a number of active safety functions.
As such, we expect to see a system like this one implemented sooner rather than later, as the use of such technology can be integrated to virtually any GM product, and is applicable in so many different applications. In addition, almost all GM vehicles currently on sale are already equipped or available with a forward-facing camera, used for the forward collision alert and autonomous emergency braking systems. At the same token, this new feature's versatility makes it tough to know where the General might want to implement it first, though we'd wager fuel efficiency is most likely going to be the main focus.
Something else to consider is that, as emissions regulations and fuel economy standards continue to rise, General Motors – along with other automakers – will be forced to bring to market innovative ways to deliver vehicles that are cleaner and more efficient. Understandably, a feature like that can dramatically improve fuel economy, such as the one described in this patent application, is worth investing in.
In that case, the idea behind this patent makes even more sense, as such a system could, in theory, make a vehicle more fuel efficient in various instances, such as when traveling along the highway or while driving in an "eco" mode, which can make the most out of the vehicles ability to coast before downshifting into a corner, and provide a ratio that allows for maximum efficiency when resuming speed.
Patent Document
Check out the complete patent application in its nine-page glory right here (PDF file format).
Subscribe to GM Authority for more GM patent news around-the-clock GM news coverage.
We are currently looking for experienced automotive journalists and editors to join our team. Make $60k-$80k per year doing what you love. We are also looking for an experienced web developer.
See details here
.