GM Stock Value Down 5 Percent During Week Of November 11 – November 15, 2019
We are currently looking for experienced automotive journalists and editors to join our team. Make $60k-$80k per year doing what you love. We are also looking for an experienced web developer.
See details here
.
0
The value of GM stock decreased during the November 11th, 2019 – November 15th, 2019 timeframe. Shares closed the week at $36.89 per share, which represents a decrease of $1.78 per share, or nearly 5 percent, compared to last week's closing value of $38.67.
Movements in GM stock value for the week were as follows:
Monday, November 11th: GM stock opened the day (and the week) at $38.60 and closed at $38.72
Tuesday, November 12th: GM stock opened at $38.74 and closed at $38.59
Wednesday, November 13th: opened at $38.40 and closed at $37.19
Thursday, November 14th: GM stock opened at $37.10 and closed at $36.80
Friday, November 15th: General Motors stock opened at $37.00 and grew to $36.89 at market close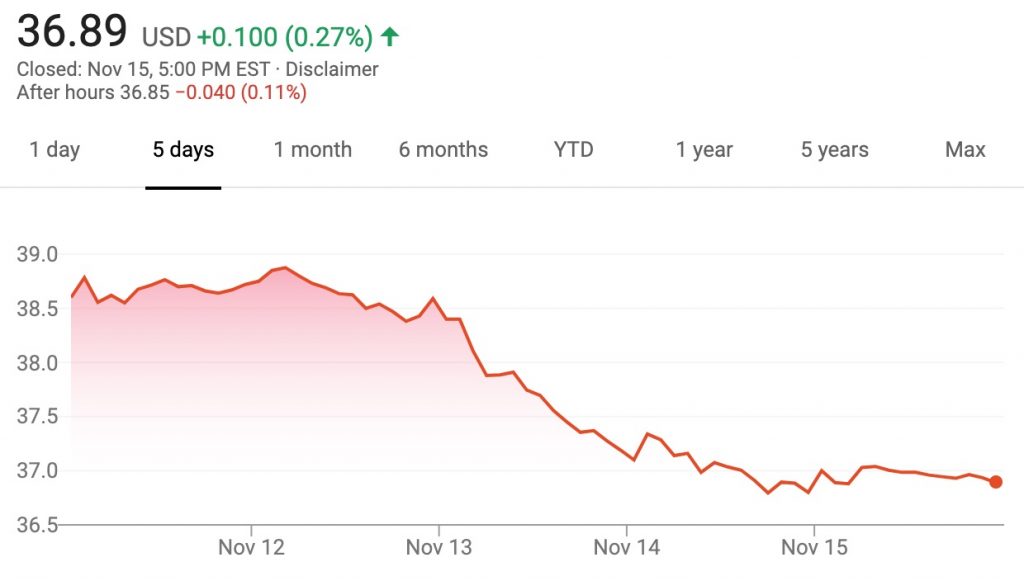 This week's decline in GM stock value ends a five-week streak of growth. The drop in value effectively scrubs the five-percent jump in value GM stock experienced after the release of its Q3 earnings report on October 29th. All told, the current value of $36.89 is $0.25 more than the value of GM stock the day prior to the release of the report.
The current ebb and flow is emblematic of GM stock value's overall performance, as it has been in limbo throughout most of 2019. GM stock saw an initial jump in value as a result of overwhelmingly positive Q2 2019 earnings, wherein the automaker outperformed expectations. Several subsequent drops in value prior to the strike are believed to have been related to warning signs of an economic slowdown, along with various escalating matters in the ongoing trade war with China.
Another factor that negatively impacted GM stock was the UAW strike. Luckily, the walkout has since ended due to progress made in contract negotiations between The General and the UAW, wherein the UAW has voted to ratify the automaker's proposed contract.
By comparison, shares of GM's cross-town rival, the Ford Motor Company, decreased $0.09 per share, or 1 percent, this week.
GM Stock Values - November 11, 2019 - November 15, 2019

| Date | Open | Close | High | Low |
| --- | --- | --- | --- | --- |
| 2019/11/15 | 37.00 | 36.89 | 37.11 | 36.72 |
| 2019/11/14 | 37.10 | 36.80 | 37.45 | 36.69 |
| 2019/11/13 | 38.40 | 37.19 | 38.40 | 37.09 |
| 2019/11/12 | 38.74 | 38.59 | 38.96 | 38.36 |
| 2019/11/11 | 38.60 | 38.72 | 38.80 | 38.38 |
Over the last few years, GM has taken many steps to increase the value of its stock, including exiting markets where it can't find ways to turn a profit (such as Europe, South Africa and India), closing plants in various parts of the world, divesting loss-making divisions (such as Opel-Vauxhall), making adjustments to its business model in order to prioritize profitability over chasing market-share goals, focusing on its Cadillac luxury brand to increase its share of high-profit automobiles, investing heavily into new-age mobility ventures such as electric vehicles and autonomous driving tech, while discontinuing some sedans (Cruze, Impala, LaCrosse, XTS) and closing various plants to focus on more profitable crossovers, SUVs and pickup trucks.
Despite these actions, the value of GM stock has struggled to surpass the $40 mark, spending most of its time stuck in the $33-$38 per share range. The chain of events is problematic given that the "new GM" had its Initial Public Offering (IPO) at $33 per share in November 2010, causing frustration upon many investors.
We remain interested in seeing how GM stock performs through the close of 2019, especially as the Detroit-based automaker launches its GEM-based vehicles for developing markets, completes the roll-out of its full-size pickup trucks and begins to launch its all-new full-size SUVs and various new Cadillac models. All of these products are expected to contribute significantly to GM's bottom line.
In addition, the automaker was planning to roll out an autonomous ride-sharing service from its Cruise division by the end of 2019, but has announced that it has delayed the launch timeline. GM sees the robo-taxi service as a significant opportunity for growth.
In July 2019, GM unveiled the new Corvette, which adopts a mid-engine layout for the first time in its history. The mid-engine Corvette, also known as Corvette C8 or the 2020 Corvette, is scheduled to launch by the end of 2019. The convertible model, announced in October 2019, will launch in 2020. The Corvette is a noteworthy contributor to GM's financial performance, since the Corvette carries healthy profit margins.
Subscribe to GM Authority for ongoing GM stock news and complete GM news coverage.
Sweepstakes Of The Month: Win a 2022 Corvette C8.R IMSA GTLM Championship Edition. Details here.
We are currently looking for experienced automotive journalists and editors to join our team. Make $60k-$80k per year doing what you love. We are also looking for an experienced web developer.
See details here
.