Hennessey Corvette ZR1 Does An 8.97s Quarter-Mile: Video
2
Hennessey Performance Engineering released a video earlier this year of its 1,000 horsepower C7 Corvette ZR1 putting down a 9.52s pass at 144 mph, briefly setting the quarter-mile world record for the vehicle. That pass was particularly impressive as it was done on stock wheels, which don't allow for thicker sidewall drag radial tires to be used and therefore limit traction.
Now an even more powerful Hennessey Corvette ZR1 is ready to step up to the plate. The Texas-based tuning company recently completed work on its 1,200 horsepower package for the vehicle and ventured out to the drag strip to see how fast it was in the real world. Not only does this car have more power than the 1,000 horsepower car, it's also wearing small, lightweight rear wheels wrapper meatier drag radials, giving it much more grip. The front wheels and tires remain stock, as far as we can tell.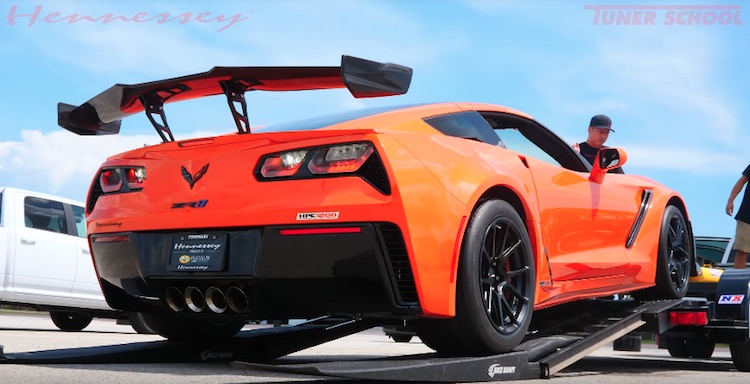 More power and more grip equals better acceleration and thus, more speed. The 1,200 horsepower Hennessey Corvette ZR1 set a fastest pass of 8.97s at 156 mph, which isn't an outright record for the car, but is still ridiculously fast for a street-legal, full weight car with air-conditioning and other luxury amenities. The fastest C7 Corvette ZR1 pass we've been able to track down is an 8.87 at 154 mph.
Notably, both the Hennessey Corvette ZR1 and the other car that clocked in at 8.87 were equipped with the optional ZTK Performance Package, which adds a front splitter and rear wing onto the car for road course use. John Hennessey previously remarked that they wanted to keep the wing on the car for the pass as the ZR1 was designed from the outset to retain the wing, with GM engineers envisioning it as a track-bred rival to cars like the Porsche 911 GT2 RS. If you take the wing off, is it really still a ZR1?
Want to see your GM ride featured on GM Authority? We welcome your submissions. See
here
for details.