Why Oh Why Didn't GM Produce The Chevrolet Volt MPV5 Concept?
46
Now that GM has discontinued the Chevrolet Volt, we keep wondering about the automaker's plans to integrate the excellent Voltec powertrain into another crossover SUV. But the fact of the matter is that GM almost brought such a vehicle to market years ago as the Chevrolet Volt MPV5.
Sometimes referred to as the CrossVolt, the Volt MPV5 was announced at the 2010 Beijing Auto Show. It was a pseudo-crossover, appearing more like an MPV-style minivan rather than a full-fledged crossover SUV. The vehicle bears a strong resemblance to the first-generation Chevrolet Orlando that was being launched at the time as well as the first-generation Chevrolet Volt, with an exterior design that's a mix of Volt and Orlando, and a cockpit lifted straight from the Volt.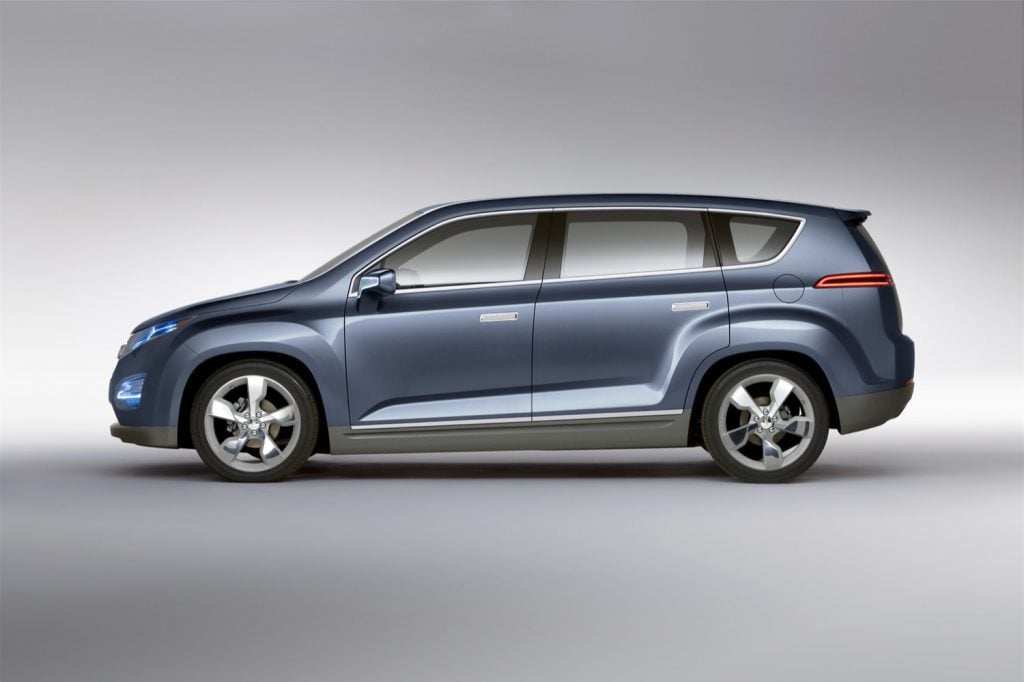 A few years later, it was evident that GM had no intention to bring Chevrolet Volt MPV5 to market, a move we questioned, since the vehicle would have made a solid rival to the Ford C-MAX Energi. Even now, with the growing demand for electric vehicles and plug-in hybrids as well as red-hot demand for crossover SUVs, we're scratching our heads as to why GM didn't scale its Voltec powertrain by expanding its use to other models.
The strategy of spreading development costs of an electrified powertrain across a bevy of models isn't new. Toyota was the first to do so with its hybrid technology by introducing it in the Prius dedicated hybrid, then hybridizing regular models like the Camry and Highlander, and then creating a family of Prius models. Meanwhile, Volvo currently sells a variety of plug-in hybrid cars and SUVs based on the same platform it calls SPA and the Hyundai Group is maximizing the scale of a single EV architecture with vehicles like the Hyundai Kona Electric, Kia Soul EV and Kia Niro EV. Each of these vehicles is essentially the same car with different bodies and aimed at entirely different segments.
It's worth underlining the superiority of the Chevrolet Volt when compared with other plug-in hybrid cars and SUVs currently on sale. In its second iteration, the Voltec powertrain could travel up to 53 miles before its gasoline range-extender generation (engine) fired up. The only competitor that comes close to this is the plug-in hybrid variant of the Honda Clarity, which can do 47 electric miles on a full charge.
Better still, the (arguably) best plug-in hybrid crossover on the market right now is the Mitsubishi Outlander PHEV, with a claimed 20 miles of all-electric range. Imagine what kind of a head start GM could have had in this space had it brought the Chevrolet Volt MPV5 concept to market almost a decade ago with twice the range, along with an exponentially greater retail sales and distribution network.
Today, GM is charting an electric future with battery electric cars like the Chevrolet Bolt EV. In due time, the Chevrolet Bolt EUV will join the Bolt as a crossover. It will ride on the same GM BEV2 platform as the Bolt and is scheduled to hit the market within the next two to three quarters.
In addition, GM CEO Mary Barra also promised that an all-new electric vehicle architecture as well as a new battery system would give birth to at least nine new separate electric vehicles by the 2021 model-year. Until then, GM's electrified offerings will be lacking. But hey, at least the Bolt EV is the best-selling mainstream electric car in the U.S. Still, we can't help but wonder what could have been had the Chevrolet Volt MPV5 concept been brought to market.
Subscribe to GM Authority for more Chevy Volt news, Chevrolet news, and ongoing GM news coverage.
2010 Chevrolet Volt MPV5 Concept
GM Authority is looking for professional automotive journalists with at least three years of experience to join our rapidly-growing team. We pay between $60,000 and $80,000 per year. More details
here
.