GM Stock Value Down 2% During Week Of April 29 – May 3, 2019
5
The value of GM stock decreased during the April 29th, 2019 – May 3rd, 2019 timeframe. Shares closed the week at $38.80 per share, which represents a decrease of $0.88 per share, or just over 2 percent, compared to last week's closing value of $39.68.
Movements in GM stock value for the week were as follows:
Monday, April 29th: GM stock opened the day (and the week) at $39.75 and closed at $40.01
Tuesday, April 30th: GM stock opened at $38.92 and closed at $38.95
Wednesday, May 1st: opened at $38.95 and closed at $38.75
Thursday, May 2nd: GM stock opened at $38.75 and closed at $38.25
Friday, May 3rd: General Motors stock opened at $38.48 and rose to $38.80 at market close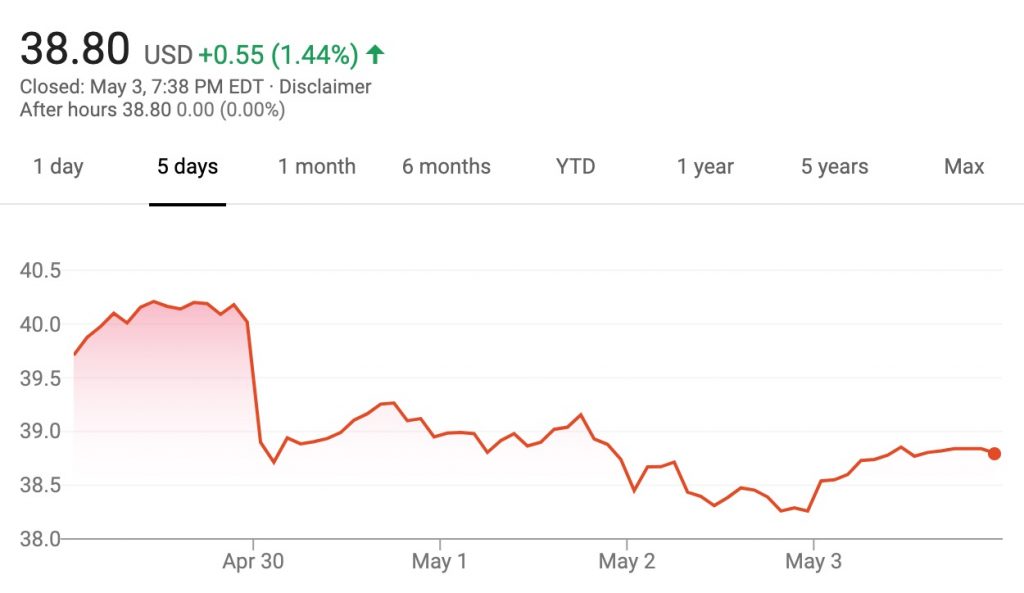 The decline in value experienced this week marks the second weekly drop for GM stock after four consecutive weeks of gains. Shares saw a weekly low of $38.17 (on Friday) and a weekly high of $40.28 per share (on Monday). As such, the value has again fallen below the $40 per share mark – which the stock has briefly surpassed five times so far this year (including this week's occurrence). By comparison, shares of GM's cross-town rival, the Ford Motor Company, remained steady at $10.41 per share during the week.
GM Stock Values - April 29, 2019 - May 3, 2019

| Date | Open | Close | High | Low |
| --- | --- | --- | --- | --- |
| 2019/5/3 | 38.48 | 38.8 | 38.9 | 38.17 |
| 2019/5/2 | 38.75 | 38.25 | 38.84 | 38.2 |
| 2019/5/1 | 38.95 | 38.75 | 39.2 | 38.655 |
| 2019/4/30 | 38.92 | 38.95 | 39.47 | 38.56 |
| 2019/4/29 | 39.75 | 40.01 | 40.275 | 39.69 |
Over the last few years, GM has taken many steps to increase the value of its stock, including exiting markets where it can't find ways to turn a profit (such as Europe, South Africa and India), closing plants in various parts of the world, divesting loss-making divisions (such as Opel-Vauxhall), making adjustments to its business model in order to prioritize profitability over chasing market share goals, focusing on its Cadillac luxury brand to increase its share of high-profit automobiles, investing heavily into new-age mobility ventures such as electric vehicles and autonomous driving tech, while discontinuing some sedans (Cruze, Impala, LaCrosse, XTS) to focus on more profitable crossovers, SUVs, and pickup trucks.
Despite these notable actions, the value of GM stock has struggled to surpass the $40 mark, spending most of its time in the $33-$38 per share range. To note, the IPO value of the "new GM" was $33 per share in November 2010. The circumstance has had many investors frustrated. However, the current value of $38.80 represents an improvement in the value of GM shares. In fact, GM stock has gained about 18 percent since opening the year at $33.64 per share on January 2nd, 2019, thereby outperforming the Dow Jones Industrial Average.
It will be interesting to see how GM stock performs during the rest of the year, especially as the Detroit-based automaker launches its GEM-based vehicles for developing markets, completes the roll-out of its full-size pickup trucks, begins to launch its all-new full-size SUVs and various new Cadillac models – all products that are expected to contribute significantly to its bottom line. In addition, the automaker was planning to roll out an autonomous ride sharing service from its Cruise division by the end of 2019. GM sees as a "trillion dollar opportunity", and its Cruise AV division is on track to launch the service in limited markets by the end of this year.
Subscribe to GM Authority for ongoing GM stock news and complete GM news coverage.
GM Authority is looking for professional automotive journalists with at least three years of experience to join our rapidly-growing team. We pay between $60,000 and $80,000 per year. More details
here
.