Chevrolet Sonic Sales Decrease 26 Percent To 4,460 Units In Q1 2019
2
Chevrolet Sonic sales decreased in the United States and South Korea in the first quarter of 2019.
Chevrolet Sonic Sales - Q1 2019 - United States
In the United States, Chevrolet Sonic deliveries totaled 4,460 units in Q1 2019, a decrease of about 25 percent compared to 5,983 units sold in Q1 2018.
| MODEL | Q1 2019 / Q1 2018 | Q1 2019 | Q1 2018 |
| --- | --- | --- | --- |
| SONIC | -25.46% | 4,460 | 5,983 |
Chevrolet Aveo Sales - Q1 2019 - South Korea
In South Korea, Chevrolet Aveo deliveries totaled 13 units in Q1 2019, a decrease of about 94 percent compared to 234 units sold in Q1 2018. The Sonic was sold in South Korea as the Aveo. The model was recently discontinued in that market.
| MODEL | Q1 2019 / Q1 2018 | Q1 2019 | Q1 2018 |
| --- | --- | --- | --- |
| AVEO | -94.44% | 13 | 234 |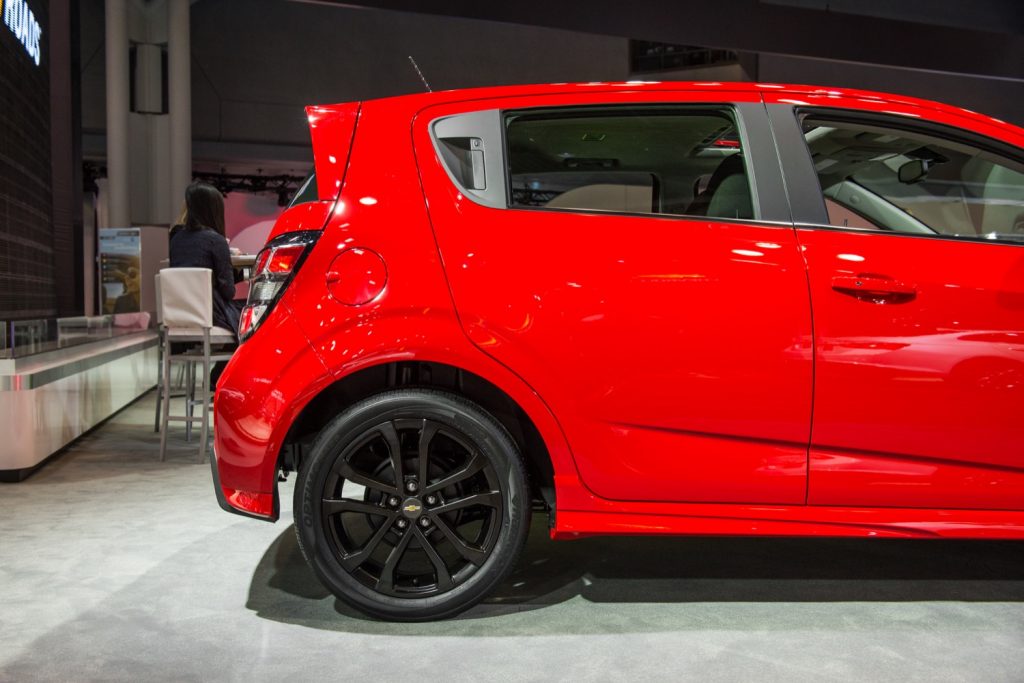 Competitive Sales Comparison
Chevrolet Sonic sales continued to nosedive during the first quarter of 2019 as they did throughout 2018, with the performance placing the subcompact model dead last in its competitive set in terms of overall sales volume. To compare, about five times as many Nissan Versa units were sold in the same timeframe, putting the Versa in first place in the segment by a wide margin. The Versa was followed by the now-discontinued Ford Fiesta (see Ford Fiesta sales), Toyota Yaris, Hyundai Accent, Honda Fit, Mitsubishi Mirage, and Kia Rio.
Sonic sales fell significantly faster than the segment average during the quarter, though not as sharply as Honda Fit sales. The results give the Sonic a 6 percent segment share, while the segment-leading Nissan Versa held a 32 percent segment share.
Sales Numbers - Subcompact Mainstream Cars - Q1 2019 - United States
| MODEL | Q1 19 / Q1 18 | Q1 19 | Q1 18 | Q1 19 SHARE | Q1 18 SHARE |
| --- | --- | --- | --- | --- | --- |
| NISSAN VERSA | -1.47% | 24,992 | 25,365 | 32% | 31% |
| FORD FIESTA | +29.64% | 15,943 | 12,298 | 20% | 15% |
| TOYOTA YARIS | -0.83% | 7,894 | 7,960 | 10% | 10% |
| HYUNDAI ACCENT | -8.59% | 6,781 | 7,418 | 9% | 9% |
| HONDA FIT | -43.42% | 6,388 | 11,291 | 8% | 14% |
| MITSUBISHI MIRAGE | +12.83% | 6,242 | 5,532 | 8% | 7% |
| KIA RIO | +16.30% | 5,844 | 5,025 | 7% | 6% |
| CHEVROLET SONIC | -25.46% | 4,460 | 5,983 | 6% | 7% |
| TOTAL | -2.88% | 78,544 | 80,872 | | |
To note, the mainstream subcompact car segment contracted 3 percent to 78,544 units in Q1 2019.
The GM Authority Take
We attribute the Sonic's dreadful sales performance during the first quarter of 2019 and in the year prior to GM/Chevy pretty much giving up on the subcompact passenger car segment. The Sonic is now one of two oldest and, by association, least competitive products in its segment – especially compared to new rivals from Kia and Hyundai, both of which are making a concerted effort to market and sell their offerings despite a contracting segment.
Exacerbating the ghastly state of affairs for the Sonic are the following factors:
Non-existent marketing support by GM/Chevrolet for what is still a rather new nameplate in the segment; typically, a new nameplate needs marketing support to create buyer awareness and consideration
Lack of dealer motivation on the part of GM's corporate sales operations to move the current model
GM's ongoing strategy to decrease sales to daily rental fleets, which was a very healthy sales channel for Sonic sales
A contracting subcompact passenger car segment as a result of an ongoing market shift that favors crossovers (CUV/SUV) at the expense of passenger cars
We don't foresee the state of affairs changing for Chevrolet in this space unless GM refocuses its attention on the space and introduces an all-new product. Notably, the Sonic launched as a great product with a significant amount of ambition, excitement, and potential. Over the course of the current model's lifecycle, all of those factors lost traction.
In addition, it's widely believed that the product itself lost its competitive edge and many distinguishing characteristics as part of the 2017 facelift. Prior to the update, the Sonic enjoyed a unique and youthful position in its segment thanks to a one-of-a-kind persona afforded by a unique exterior design, with distinct headlamps, gauge cluster, and other features.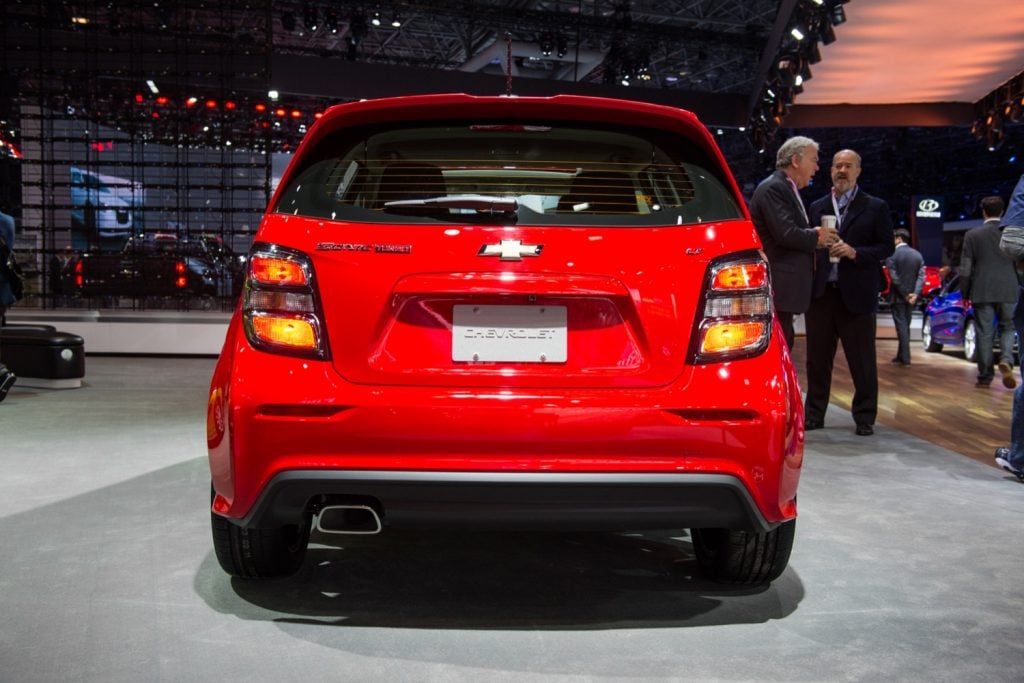 About The Numbers
All percent change figures compared to Chevrolet Sonic Q1 2018 sales
In the United States, there were 76 selling days in Q1 2019 and 76 selling days in Q1 2018
South Korea sales figures reflect actual vehicle registrations rather than wholesales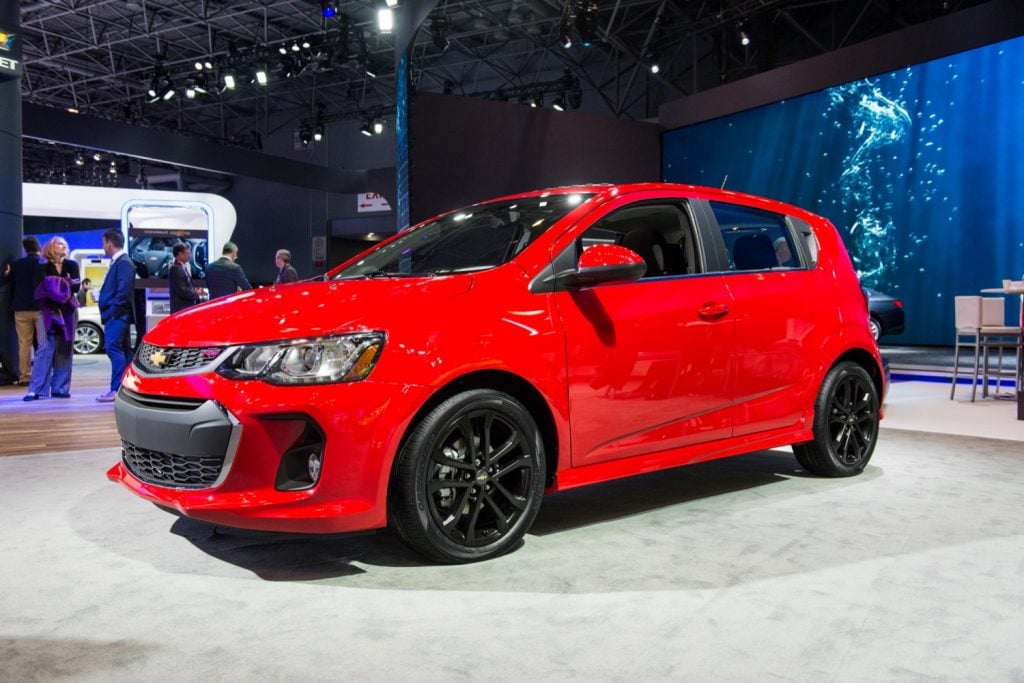 About Chevrolet Sonic
The Chevrolet Sonic is a subcompact family of vehicles that include a four-door sedan and five-door hatchback. Having replaced the Aveo in the Chevrolet lineup, the Sonic is currently Chevrolet's second-smallest car, slotting above the Chevrolet Spark city car but below the compact Chevrolet Cruze, midsize Chevrolet Malibu and full-size Chevrolet Impala.
The current model was introduced for the 2012 model year and represents the first generation of the Sonic nameplate. The model rides on the GM Gamma platform shared with the Chevrolet Trax and Buick Encore.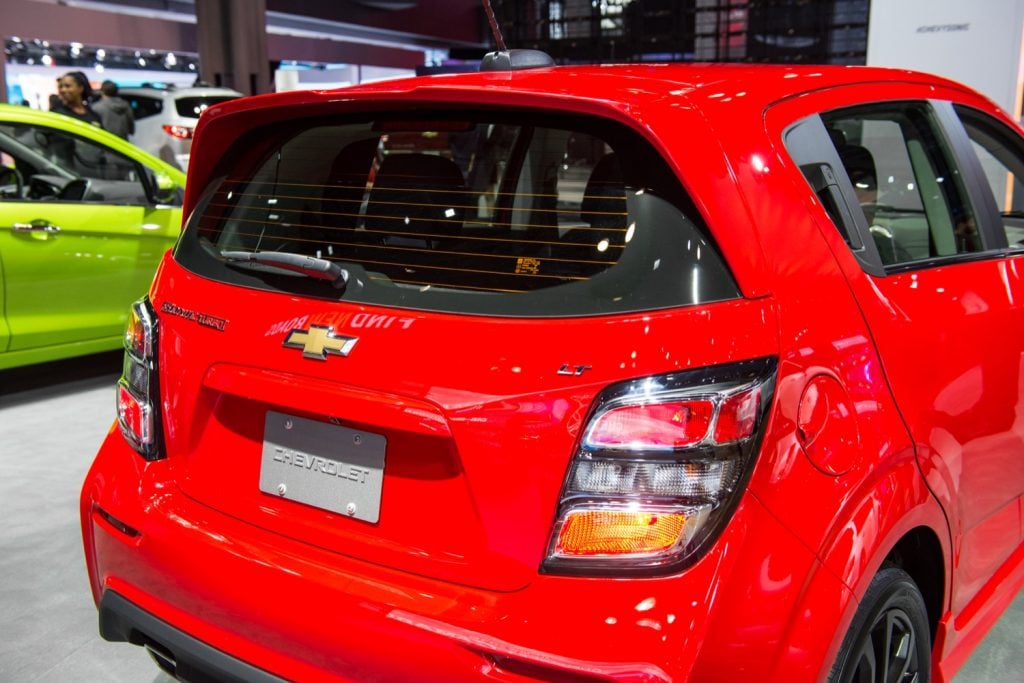 The Sonic was given a midcycle refresh for the 2017 model year. The 2018 Chevy Sonic represents the sixth model year of the first-generation Sonic. The vehicle remains fairly competitive in its segment and the 2018 model year brings a handful of changes, including a new exterior color, a change to the Sun and Sound Package, and the standardization of the seven-inch diagonal color touchscreen.
For the 2019 model year, the Sonic gained one new exterior color (while losing two other colors), the removal of the base 1.8L naturally-aspirated Ecotec engine, and several other minor equipment-level changes.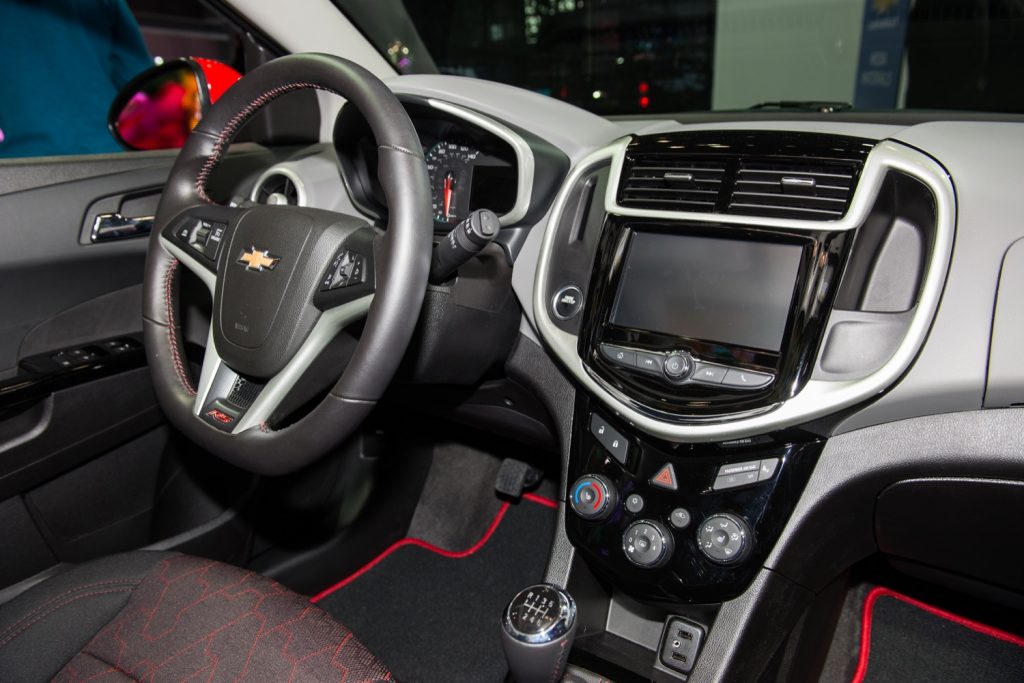 The Sonic is assembled at the following plants:
GM Lake Orion plant in Orion Township, Michigan, USA operated by GM USA supplying United States and Canada
GM Bupyeong plant in South Korea operated by GM Korea supplying Korea (previously supplied Holden Barina for Australia and New Zealand)
GM Cairo plant in Egypt operated by GM Egypt (plant idled)
GM Hanoi plant in Vietnam operated by GM Vietnam (plant sold and no longer producing GM models)
A March 2017 rumor stated that GM would discontinue the Sonic as soon as 2018. As of this writing, it's unclear whether or not the nameplate will see a second generation. In November 2018, General Motors announced that it will discontinue the Chevrolet Cruze, along with five other passengers cars. Though the Sonic was not on that list, the model was discontinued in Canada. The move leaves the United States and South Korea as the only two markets where the model is currently available.
Related News & Info
GM Authority is looking for professional automotive journalists with at least three years of experience to join our rapidly-growing team. We pay between $60,000 and $80,000 per year. More details
here
.