We're Racing This Buick Regal In The 24 Hours of Lemons This Weekend
We are currently looking for experienced automotive journalists and editors to join our team. Make $60k-$80k per year doing what you love. We are also looking for an experienced web developer.
See details here
.
8
This weekend, we'll be headed to the Carolina Motorsports Park in South Carolina to support our staff writer, Austin Rexinger, as he takes part in one of the most outrageous forms of motorsport known to man: the 24 Hours of Lemons. Not to be confused with the prestigious 24 Hours of LeMans, the Lemons race is just about the opposite of prestigious (as we'll explain in a second). And best of all, Austin and company will be driving a beat up Buick Regal with a troubled history.
You might be asking yourself, "what the heck is the 24 Hours Of Lemons?" Its concept is pretty simple: buy a car for $500 (or less), make it look as ridiculous as possible, grab some buddies, and attempt to race it all weekend. The name of the series refers to a lemon car, which is basically any vehicle that comes with flaws too great or severe to serve its intended purpose. The overwhelming majority of the participating cars have reached their expiration date, forcing them into retirement. Then a bunch of idiots pull those cars out of retirement, piece them back together, and attempt to race 'em. That's exactly what's taking place here.
The vehicle Austin and team will be driving is a 2002 Buick Regal with a supercharged GM 3800 V6 under the hood. Before you ask, this is not the original motor, no. The car has been used and abused for over 10 Lemons races now, and several engines and transmissions have bit the dust along the way. As you'll see in the photos, it's got a unique… shall we say… livery. The name of our team is Park Bench Racing, and on the back of the Buick sits – you guessed it – a park bench. There are flames made of AstroTurf on the hood, bark mulch glued to the trunk, a front splitter covered in duct tape, and No. 451 on each side. Despite having the appearance of a second grader's collage project, this thing is a thrill to drive on track.
And that brings us to the most important part: accessibility. Racing is typically quite an expensive endeavor, but Lemons is a brilliant solution for those looking to race wheel-to-wheel on a budget. It's grassroots racing that is taken seriously when it comes to safety, but that's about it. The $500 spending limit does not include safety equipment, brakes, or wheels and tires. Required safety equipment includes a 6-point (or better) roll cage, a race seat, race belts, an onboard fire suppression system, a kill switch, and either a 100 percent stock fuel system – or a pro-quality fuel cell. Drivers must wear a legal helmet, head-and-neck restraints, and a fire-resistant suit. Also, a requirement are fire-resistant gloves and shoes to keep all appendages covered up.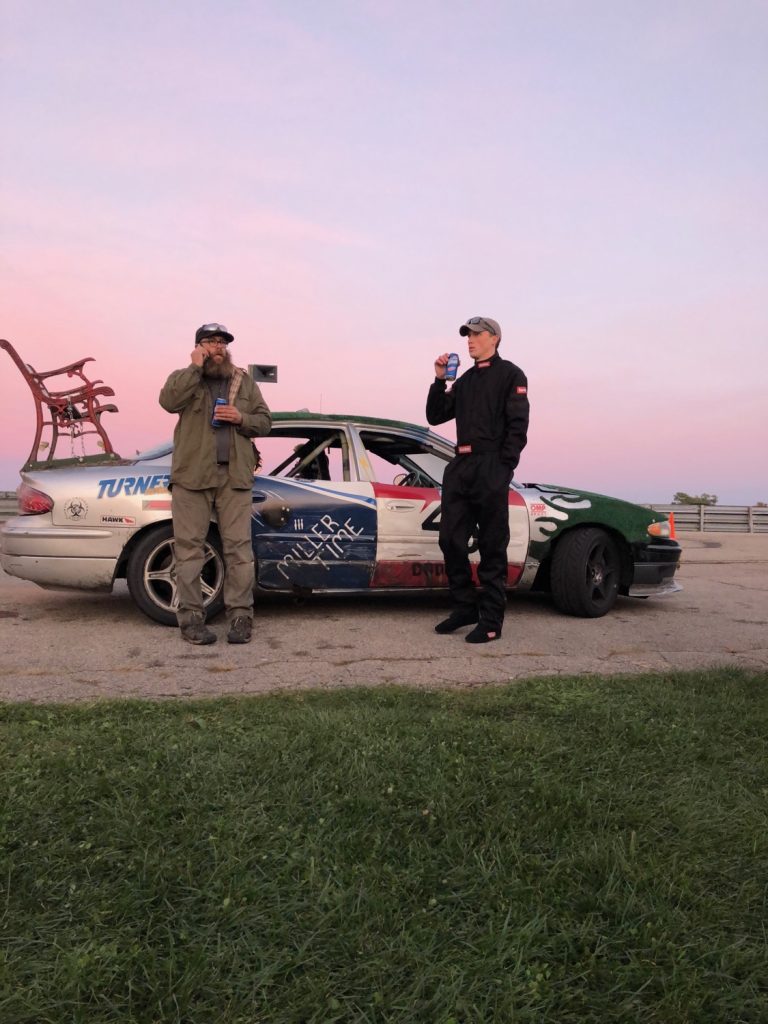 Despite the 24 Hour name, not all Lemons races last 24 hours. The first time that we participated in Lemons was last October at Gingerman Raceway in Michigan. That race took place over two days: eight hours on Saturday followed by six and a half hours on Sunday. This time around, however, will be a true 24 hour race. The green flag will fly at 11 a.m. on Saturday, April 27th, with the checkered flag coming in at 11 a.m. on Sunday, the 28th.
That means there will be a fair amount of racing in the dark. What makes Lemons particularly interesting is that there can be anywhere from 80 to 120 cars participating in a single event. That makes for lots of action, and for a driver, lots of necessary concentration.
As for the Park Bench Buick Regal, it has received several mechanical modifications over the years, including a smaller supercharger pulley, late-90s Camaro brakes, and – most recently – lots of lights. In order to (kind of) see where we're going throughout the night, we've affixed an assortment of LEDs throughout the front bumper. There are four square LED spotlights below the grille, thin LED bars under the factory headlights, and the factory headlights have been swapped for LEDs for good measure.
We'll be delivering updates throughout the weekend, so stay tuned if you're interested in hearing more about our stupidity (or genius). The main goal of every Lemons race is to stay on track, break down as little as possible, and of course, finish. We'll provide period updates about our progress, as time allows, right here on GM Authority. Wish us luck!
Sweepstakes Of The Month: Win a 2022 Corvette C8.R IMSA GTLM Championship Edition. Details here.
We are currently looking for experienced automotive journalists and editors to join our team. Make $60k-$80k per year doing what you love. We are also looking for an experienced web developer.
See details here
.