Photos Show Historic Multi-Level Parking System From The 1930s
0
We take this (very) brief departure from our ongoing GM news programming to bring you some interesting automotive photos, for the sake of fun.
If you live in any major city, you may be familiar with the struggle of finding parking. Take New York City, Chicago, Tokyo, or Shanghai, where finding street parking is next to impossible. What's more, some spots have so many signs posted that it becomes very confusing to figure out when it's okay to park there, and when it's not. This is when many people resort to parking garages and multi-level car parks. They may be somewhat pricy, but at least you won't have a ticket posted on your windshield upon your return.
If you've ever wondered how people used to park in these large cities, here's a look back at the past. The images in the gallery below show an experimental multi-level parking system in Chicago around the 1936-1940 time frame, as well as an experimental multi-level car park from 1970. All four images display a rotary parking system, also known as a car elevator, that is powered by electric motors or hydraulic pumps that operates in a similar way to a Ferris Wheel. The cars, many of which are GM vehicles in these photos, are parked in suspended cages that are attached to a "conveyor-like" belt. One at a time, all the cars/cages are rotated until the next cage is at the bottom of the structure. Besides helping to save space, such a system helps reduce pollution because the cars are not idling or running while in search of a parking space.
The rapidly growing amount of car commuters in Chicago around the aforementioned timeframe resulted in the construction of countless parking lots and garages. The car elevator system was presented as a modern solution that could accommodate more cars with less space.
These images may look familiar to many of you, whether you grew up using this system or are accustomed to parking your car in one today. That's right, these old-school rotary car parks are actually still used today, but in a more advanced (and safer) fashion. We say safer because, as you will notice in the image of a Denver parking lift below, sometimes cars were damaged, tilted or flipped on their side during the cage rotation process.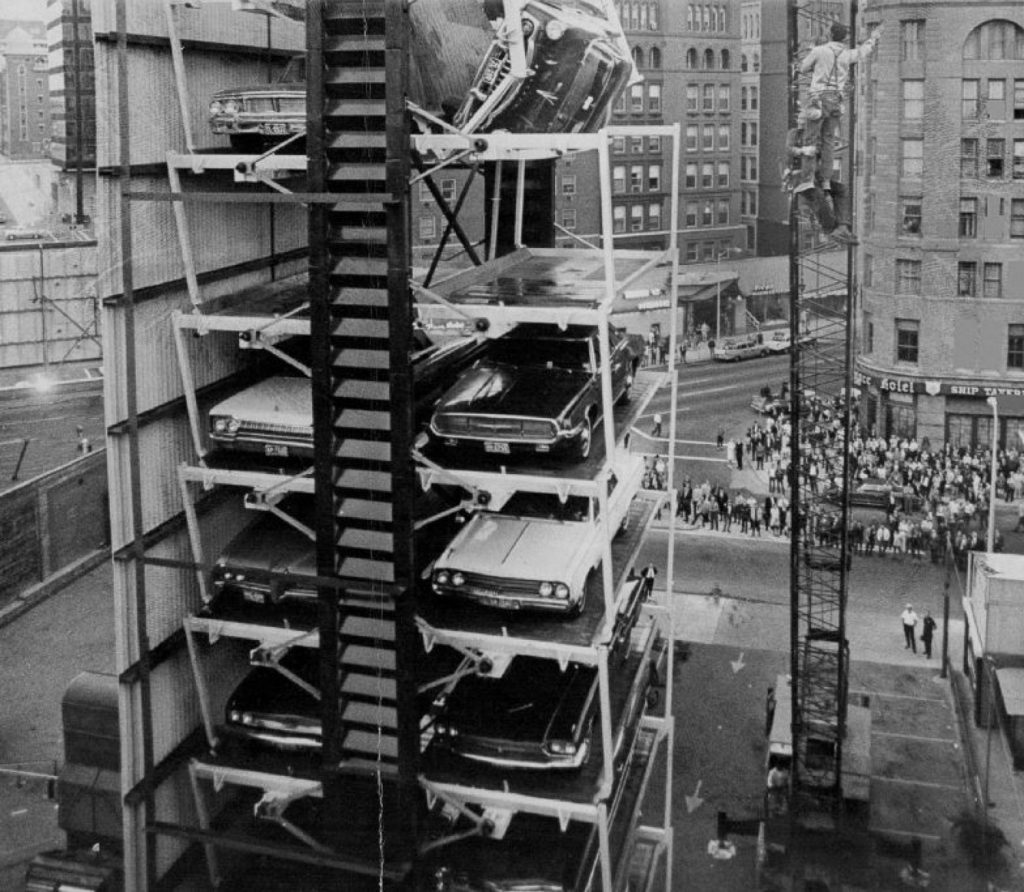 Would you entrust parking your car in one of these vertical parking systems? Let us know your thoughts in the comment section.
Like this story? Subscribe to GM Authority (it's free!).
GM Authority is looking for professional automotive journalists with at least three years of experience to join our rapidly-growing team. We pay between $60,000 and $80,000 per year. More details
here
.