GM Patents New Underbody Air Strake Design To Improve Aerodynamics
12
General Motors was recently granted a patent covering aerodynamic body panels of motor vehicles along with methods for using said panels and strakes, GM Authority has uncovered.
Assigned serial number 10,155,552 at the United States Patent and Trademark Office (USPTO), the GM patent was filed on January 30th, 2017 and granted on December 18th, 2018. Titled "aerodynamic strakes for underbody panels of motor vehicles", the patent lists Anthony V. Marmo of Detroit, MI as its inventor.
The patent is comprised of two primary parts – an explanation of the claims made in regard to the design and implementation of the underbody panel design, and a collection of four images that illustrate an example of the engineering when applied to the rear valence of a motor vehicle.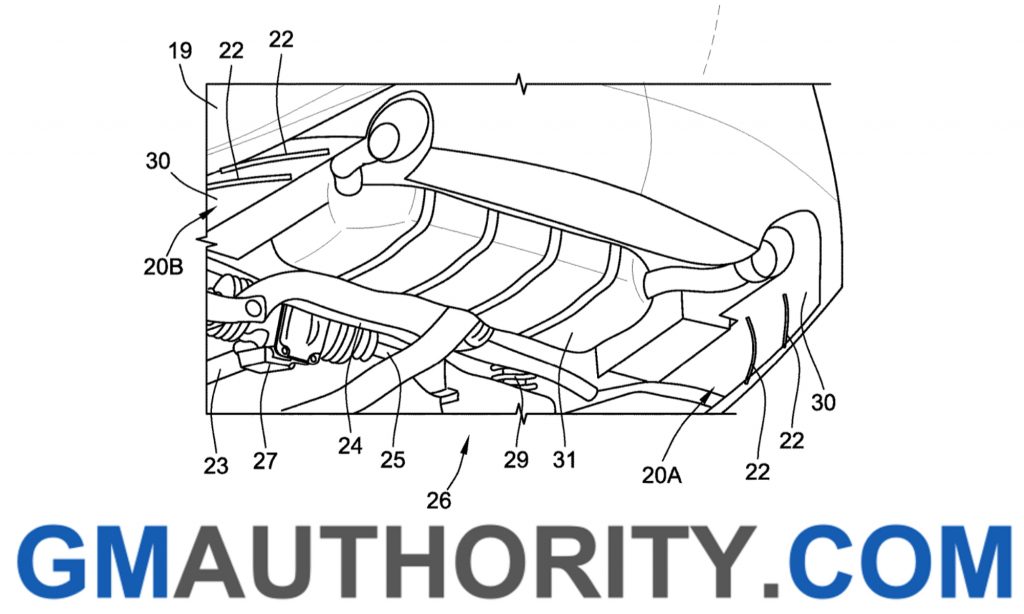 The Engineering
In an attempt to improve aerodynamic performance and fuel efficiency, a hypothetical vehicle is equipped with one or more vehicle underbody panels. The panels may feature one or more elongated air strakes positioned at specific "angles of attack" while the air strakes have curvilinear plan view profiles with inboard-facing radii of curvature. Exact dimensions are dependent on the application, but in the example presented in the patent, the air strakes help to guide airflow traveling fore-to-aft along the undercarriage to increase static pressure on the rear end of the vehicle.
The patent claims that the air strakes can help to achieve a measurable aerodynamic drag reduction of at least 0.004 CD, which may equate to a reduction of 1.0 gCO2/mile per vehicle.
The patent suggests that engineers would aim to make the components as lightweight as possible by using lightweight materials, such as carbon fiber composites, polyethylenes, polyethers and similar substances, along with steel, aluminum, and titanium alloys. The underbody paneling can either be built into the whole body panel itself, or affixed to the panel via fasteners of an undetermined sort.
In Plain English
If all that engineering jargon is too much, here's an explanation in simpler terms: by designing specific formations onto the inside (or the underbelly) of rear body paneling, engineers can improve a vehicle's aerodynamic performance by creating a smoother "transition" of air traveling underneath the vehicle from the front to the rear. The easiest way to understand this is to view the illustrations above and below. The image above shows the location of the underbody air strakes (labeled #22), and the image below is a zoomed-in view of various strake designs.
The ability to improve a vehicle's aerodynamic efficiency can be used to make the vehicle more compliant to drive at high speeds. Besides improvements in stability, the air strakes can also improve a vehicle's fuel efficiency by improving its aerodynamic properties (reducing its drag). If a vehicle has too much drag, it won't coast as well as a more aerodynamic vehicle, thereby require more output from the vehicle's powertrain to keep it moving.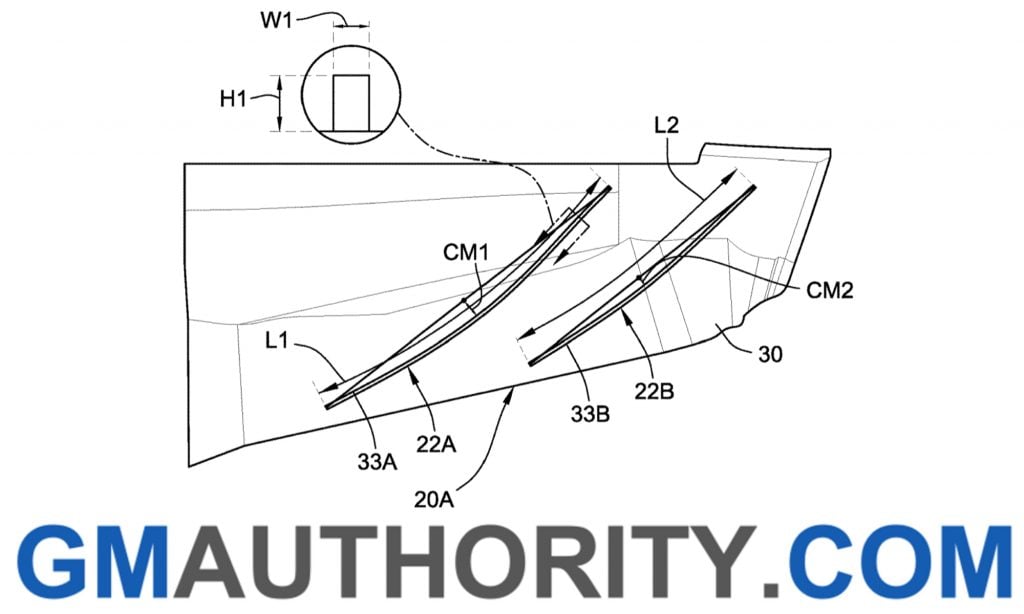 The Benefits
The proposed design of a body panel at the rear underside of a vehicle would improve the way air flows underneath said vehicle. By creating certain ridges at certain angles, the engineers can manipulate the effects of moving air, which would in turn allow for greater efficiency.
As we mentioned, the ability to improve a vehicle's aerodynamic efficiency can be used to give the vehicle greater stability at higher speeds, and it can also be used to design vehicles that 'coast' more easily and use less fuel, especially at highway speeds. The benefits of such a design continue to be beneficial no matter the powertrain, including internal combustion engines (gasoline/diesel), hybrids or electric vehicles.
Where To From Here?
As emissions regulations and fuel economy standards continue to increase, General Motors – along with other automakers – will be forced to bring to market innovative ways to deliver cleaner and more efficient vehicles. When it comes to things such as alternative fuel vehicles, weight reduction and aerodynamic efficiency are two factors that play increasingly critical roles.
The idea makes even more sense when one considers the fact that GM is heavily in electric vehicles, planning to introduce 20 new EVs by the year 2023 
Considering the patent was originally filed over two years ago (in January of 2017), we believe that GM is looking to implement the proposed underbody paneling on its vehicles. We expect to see a system like this one implemented sooner rather than later, as GM continues to improve and refine its technology while also meeting the demands of emissions regulations.
Current Uses
The use of underbody paneling to better manage and/or alter air flow and improve aerodynamic efficiency isn't at all a new concept – just take a look at a stock Chevrolet Corvette C7 Z06 and you'll see that the rear diffuser features strakes. However, the particular design and use of strakes outlined in the patent is something we haven't seen in current General Motors vehicles. And even though the patent uses a photo of the Cadillac ELR, pay no mind to that – it's just for illustration purposes.
Patent Document
Check out the complete patent application in its nine-page glory right here (PDF file format).
Sweepstakes Of The Month: Win a Corvette Z06 and 2024 Silverado. Details here.
We are currently looking for experienced automotive journalists and editors to join our team. Make $60k-$80k per year doing what you love. We are also looking for an experienced web developer.
See details here
.