More Details On The Mad LS3 V8 Swapped Chevrolet Sonic Rally Car
2
Late last year we showed you the insane Chevrolet Sonic rally car that had its puny little four-cylinder turbocharged engine swapped out in favor of a General Motors 6.2-liter LS3 V8. Now we have more details on the crazy V8 rally hatch, along with footage of it in action during a shakedown test.
The builders of the car, Pat Moro and his team at PMR Motorsports, recently sat down with Road & Track to chat about the build. The Sonic started out life as a rally cross car, with Moro driving it in the Red Bull Global Rallycross Championship. When the Red Bull-backed rally cross series went belly up, Moro had to find a use for his Sonic – so he converted it into a stage rally car.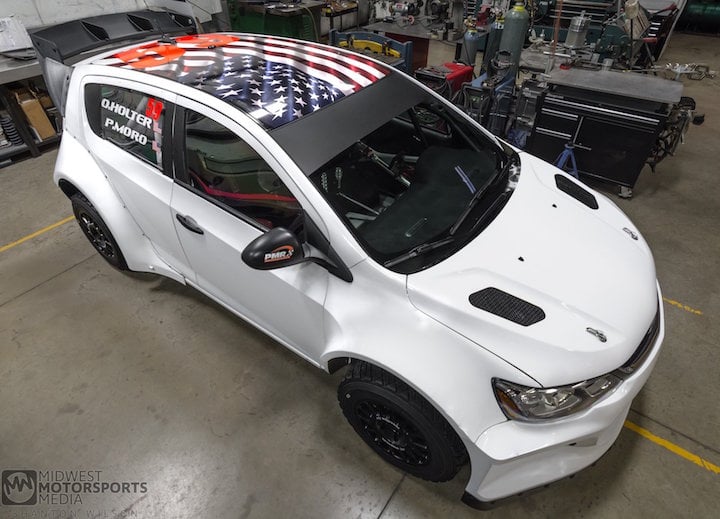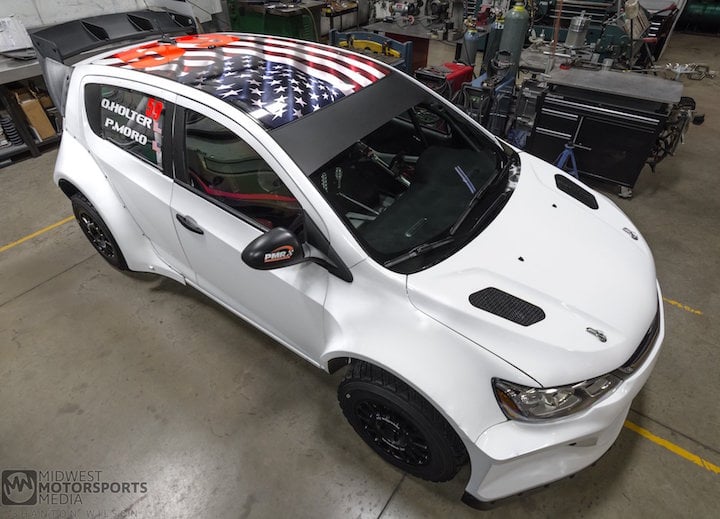 You might be wondering why the stage rally conversion necessitated such an extreme engine swap. It didn't really, but Moro wanted an engine that was cheap to fix/replace and still had a ton of low-end grunt. The natural answer, then, was an LS. The packaging may not be as good, with the engine looking as though it has to be mounted higher up in the chassis to fit , but the LS is actually 17 lbs lighter than the old turbo four and is way more reliable.
Moro told R&T that the LS engine, with its wide torque band and predictable power delivery, makes the rally sonic fairly easy to drive.
"It's kinda like a shifter kart, it's so much easier to control [versus a turbo-four car] because you have so much range to go through," he told the publication. "It's such an enjoyable rally car to drive."
The only downside to the V8 Sonic rally car build is the weight. The rallycross-spec Sonic tipped the scales at a fairly lightweight 2,861 lbs, but the ARA Championship that Moro intends to compete in bases vehicle weight on engine size. That means Moro has had to bolt in nearly 400 lbs of ballast to make his car competition legal, bringing the weight of the car up to over 3,200 lbs.
We hope to see more of the wild V8 Sonic rally car once the ARA season kicks off later this month.
(source: Road & Track)
GM Authority is looking for professional automotive journalists with at least three years of experience to join our rapidly-growing team. We pay between $60,000 and $80,000 per year. More details
here
.