Corvette Manta Ray And Corvette Mako Shark Headed To Bloomington Gold
0
Three absolutely iconic Corvettes, including the Corvette Manta Ray and Corvette Mako Shark, will make rare appearances at the upcoming 2019 Bloomington Gold Corvette show in Indianapolis, Indiana.
The legend of the Corvette Manta Ray and Mako Shark begins with Bill Mitchell, who allegedly had a shark mounted on the wall in his office and was inspired to recreate the fish's blue-to-grey fade on its underbelly on the bottom of a Corvette styling concept, resulting in the creation of the 1961 Corvette Mako Shark.
It's clear that the shark inspired other parts of the styling concept, too, like its pointed noise, dramatic center hood fin and rear flares.

Mitchell took another crack at a shark-inspired Corvette concept with the 1965 Corvette Manta Ray, also known as the Mako Shark II. This concept heavily inspired the C3 Corvette and could even be mistaken for a heavily modified C3 if you didn't know any better. It also featured the same dark blue to grey fade of its predecessor and a similar side-exist exhaust.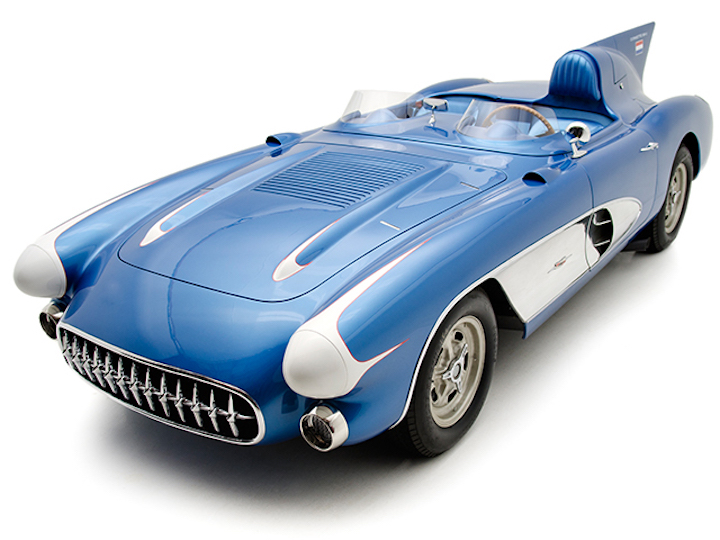 Both of these famous Mitchell design concepts will be present at Bloomington Gold in June, with another notable 'Vette set to join them: the Corvette SR-2. Based on the C1 Corvette, the SR-2 was the work of Zora Duntov and Harley Earl, who built it for Earl's son Jerry after GM became perturbed that he was racing a Ferrari and not something with a Chevy badge. A second SR-2 was also built for Bill Mitchell, which featured a Smokey Yunick built engine and a larger fuel tank.
Bloomington Gold will kick off at Indianapolis Motor Speedway on June 20th and wrap up on 22nd. Click here for more information on the show.
Source: Corvette Blogger/Bloomington Gold
Want to see your GM ride featured on GM Authority? We welcome your submissions. See
here
for details.