Bandit Tribute Jump Moved To Carlisle Chevrolet Nationals
0
The 2019 Detroit Autorama came and went without the planned Smokey and the Bandit tribute jump.
Detroit City Council may have put the put banhammer on the Northeast Ohio Dukes, but the Carlisle Chevrolet Nationals have decided to host the midwestern stunt group instead.
This year's Carlisle Chevrolet Nationals, schedule for June 21st and June 22nd, will play host to the Bandit jump that was supposed to happen at Autorama last month. The stunt jump will go down on the 22nd, but admission grants showgoers access for the weekend.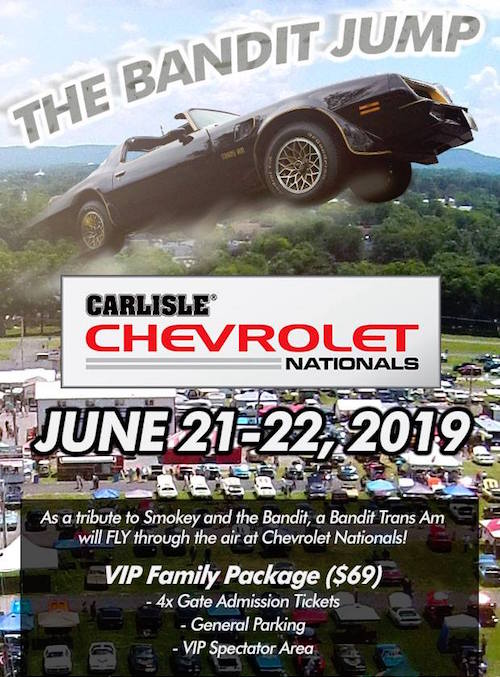 Detroit City Council didn't grant the stunt group approval for the Bandit tribute jump after it claimed the group "still proudly flies a Confederate flag." The council's grievances appeared to stem from a Dukes of Hazzard tribute jump the group performed at Autorama in 2017. That jump featured an accurate replica of the Dukes' 1969 Dodge Charger, otherwise known as the 'General Lee', which was always depicted with a confederate flag on its roof.
Detroit city council apparently claimed they had asked the Northeast Ohio Dukes to remove the flag from the car for the 2017 jump, but the group disputed this in a statement made on its Facebook page, saying it "was never told to take the flag off of the General Lee back in 2017." The group also added that it has "always strongly and publicly denounced any white supremacy or hate groups and any type of misrepresentation of the battle flag."
Detroit council also expressed concern that the group's Bandit Pontiac Trans Am would feature a front license plate with the former Georgia state flag on it, which features the Confederate battle emblem, like the movie car did. The Northeast Ohio Dukes say this is not true either, though.
Thankfully the drama can now subside, though, with the Bandit jump finding a new home at the annual General Motors show in Carlisle, Pennsylvania. You can click here for more information on the show and the jump if you're interested in checking it out.
Want to see your GM ride featured on GM Authority? We welcome your submissions. See
here
for details.